| | |
| --- | --- |
| | The little church of St Coloma, just outside Andorra la Vella. |
London to Andorra La Vella by train...
A French count and a Spanish bishop disagreed over who should rule a small rural enclave high up in the Pyrenees. They decided to rule jointly, and the result was the Principality of Andorra, the only country in the world whose official language is Catalan. Today it's no longer rural - its spectacular scenery is home to more ski resorts and duty-free perfumeries than you can shake a stick at. But if you look hard enough, the odd bit of historical interest remains...
Andorra has no rail station or airport, but it's easy to get there by Eurostar from London to Paris, Intercités de Nuit overnight train from Paris to l'Hospitalet près l'Andorre (the station just outside Andorra) and then a bus ride across a spectacular mountain pass into Andorra. It's cheap too: If you book online in advance, London-Paris starts at just £69 return, Paris-l'Hospitalet by overnight train starts at just €20 (£18) one-way in a reclining seat or €35 (£33) in a couchette, then it's just €9.50 for the connecting bus to Andorra. That's centre-to-centre.
Train times, fares & tickets...

London to Andorra La Vella by train

Andorra to Barcelona

Useful country information

Hotels & accommodation in Andorra

General European train travel information

Luggage Taking bikes Taking dogs
---
---
Option 1: By overnight couchette train...
The direct overnight couchette train between Paris and L'Hospitalet for Andorra used to run every day all year round, a simple message to give prospective passengers. Unfortunately, since 2013 it has run on an apparently random dog's dinner of different dates, thanks to French Railways obsession for running a different train service every day and cutting back on 'quiet' departure dates, resulting in a timetable that it is impossible to convey to travellers in any coherent way. I'm surprised even the French locomotive drivers know which dates to stay in the canteen and which dates to get out and drive it! So if it's running, here's the easiest and most time-effective way to reach Andorra from London or Paris, you'll just have to check whether it's running on your date of travel using www.raileurope.co.uk or www.capitainetrain.com. If it isn't running, use daily daytime trains as shown in option 2.
London ► Andorra
Travel from London to Paris by Eurostar, leaving London St Pancras at 16:22 (16:52 on Saturdays) arriving Paris Gare du Nord at 19:47 (20:17 on Saturdays). Cross Paris by métro to the Gare d'Austerlitz.
Andorra ► London
What's it like on the Intercités de Nuit overnight train from Paris to l'Hospitalet?
The train has air-conditioned couchette cars and a reclining seats car. Couchettes are flat padded bunks, each provided with a clean pillow and (on these French overnight trains) a special lightweight sleeping-bag, a welcome change from the traditional sheet and blanket. 2nd class couchettes have 6 bunks per compartment (upper, middle and lower on each side of the compartment), 1st class couchettes have 4 bunks (upper and lower each side). There are washrooms and toilets at the end of the corridor.
Formerly branded Lunéa, French overnight trains are now branded 'Intercités de Nuit', and each couchette passenger gets a small bottle of mineral water, earplugs (if you really feel you need them), and tissues. There's a security lock on the door which cannot be opened from outside, and staff are on hand if you need them. Only passengers with tickets and reservations are allowed on board, and there are minimal stops between midnight and 06:00 to ensure a safe and smooth journey through the night.
Men and women share the same compartments in couchettes, as you don't normally fully undress, but on French night trains, women travelling alone can ask for a place in a ladies-only compartment.
The train also has reclining seats, but a couchette allows you to sleep properly and is recommended.
Above right: The night train between l'Hospitalet and Paris, seen at the end of the line at Latour de Carol.
Near right: An air-conditioned French 2nd class couchette compartment with 6-bunks on the night train to l'Hospitalet.
Far right: 1st class couchettes have 4 berths and are carpeted and generally more comfortable. 1st class couchettes are wider and softer than the 2nd class couchettes.
The bus from l'Hospitalet to Andorra...
The bus ride across the Pyrenean mountain passes into Andorra is spectacular, although a new tunnel cuts off part of the original road over the pass. Get the front seats for the best views... www.andorrabus.com for bus times.
1. London to Paris

by Eurostar:

From £39 one-way, £69 return 2nd class.

From £107 one-way, £189 return 1st class. Child, youth, senior fares

2. Paris to

l 'Hospitalet

by overnight train:

In a 2nd class

reclining seat:

In a 2nd class

6-berth couchette:

In a 1st class

4-berth couchette:

Cheap Prems fares:

From £18 each way

From £33 each way

From £57 each way

Regular fare:

£78 each way

£104 each way

£147 each way

3. l'Hospitalet to
Andorra by bus:

About €9.50 (£8.50) one way, buy tickets from the driver on board the bus.
If you live in the UK, the best way to buy tickets for both Eurostar and the Paris-l'Hospitalet overnight train is online at www.raileurope.co.uk. Using www.raileurope.co.uk you can buy your Eurostar and onward tickets to l'Hospitalet together all in one place without relying on postage from France, it's easy to use, and prices are in pounds. If you use a debit card and collect tickets at the station there are no fees, and it's backed by a UK call centre if you need any help. Please read these tips before booking:
How to use this online booking form ...
This booking form links to www.raileurope.co.uk. Tickets can be collected at St Pancras or stations in France free of charge, or sent to a UK address for a £2.25 fee. There's no fee for debit cards, but they charge a 2.5% credit card fee. Only UK credit cards are accepted.

Reservations for French trains open 90 days before departure. You can't book before reservations open, but if you ask www.raileurope.co.uk for a date more than 90 days ahead, it may offer to send an email reminder when reservations open. Eurostar reservations open 120 days ahead, but I strongly recommend waiting till 90 days & book all your trains together. Note that the 90 days is often squeezed to maybe 60 for travel in the few weeks immediately after the European timetable changes in mid-June & mid-December.

To see the cheap fares, treat London to l'Hospitalet as two separate journeys, one from London to Paris, the other Paris to l'Hospitalet.

First book the train from Paris to L'Hospitalet and back. Enter 'Paris' and 'l'Hospitalet pres l'Andorre' and your dates of travel. Make sure you book a couchette, not just a seat. Add it to your basket. Double-check the trains departure/arrival times before booking the Eurostar connection, in case they change due to engineering work.

Then click 'Continue Shopping' and book the Eurostar from London to Paris and back as a separate journey. Use the Eurostar times on this page as a guide, but feel free to choose an earlier Eurostar from London, or a later Eurostar returning from Paris, if these have cheaper seats available or if you'd like to stop off in Paris. Don't forget that on your return journey, your departure date from Paris to London will be the day after your departure date from l'Hospitalet to Paris!

Tickets are sent from a UK office and normally arrive through the post in a couple of days.

There is no need to pre-book the bus from l'Hospitalet to Andorra. Just turn up, hop on and buy your ticket on the bus from the driver. You can check bus times at www.andorrabus.com.
How to buy tickets by phone or in person...
You can buy tickets from any UK European rail booking agency, including Rail Europe on 0844 848 5 848 (lines open 09:00-19:00 Monday to Friday, 09:00-18:00 Saturdays, £8 booking fee) or Ffestiniog Travel on 01766 772050 (8% booking fee). Rail Europe have a travel centre for personal callers at 193 Piccadilly, London W1J 9EU, open 10:00-18:00 Mon-Fri, 10:00-17:00 Saturdays. For more information about how to buy European train tickets, see the London to Europe general information page.
Anyone from any country worldwide can buy tickets direct from the relevant train operator websites as follows:
---
This option runs daily all year round. In the outward direction, it's not possible all in one day, so an overnight stop in Paris is required, but in the return direction you can get from Andorra to London the same day.
London ► Andorra
Travel from London to Paris by any afternoon or evening Eurostar you like. The last one is the 20:01 Mondays-Saturdays arriving Paris Gare du Nord 23:17, or the 20:31 on Sundays arriving Paris Gare du Nord 23:47.
Stay overnight in Paris. Hotel recommendations near the Gare du Nord here.

Travel from Paris to Toulouse by TGV or Téoz train. Again, French Railways seems to offer a different train service on every date. However, you'll often find a high-speed TGV from Paris Montparnasse at 09:28 arriving Toulouse Matabiau at 14:58 - just check trains for your date of travel using www.raileurope.co.uk or www.capitainetrain.com.

Travel from Toulouse to l'Hospitalet pres l'Andorre by TER (Train Exprès Regional) local train, departing Toulouse Matabiau at 16:49 and arriving l'Hospitalet at 19:20. In summer when it's light, this is a very scenic ride.

A daily bus service connects with the train, leaving L'Hospitalet station forecourt at 19:45 for Pas de la Casa (arriving 20:00), Soldeu (20:25), Encamp, and Andorra La Vella, arriving 21:05. In summer when it's still light, this is a very scenic ride through the Pyrenees - try and get the front seats for the best views. The bus is operated by La Hispano Andorrana SL, www.andorrabus.com. Subject to cancellation when the mountain passes are blocked by snow!
Andorra ► London
Travel from Andorra to l'Hospitalet by bus, leaving Andorra La Vella at 05:45, Soldeu at 06:10, Pas de la Casa at 06:40, arriving at l'Hospitalet station forecourt at 07:10. In Andorra la Vella, the bus does not leave from the bus station, but from bus stop number 510 outside the Poste Française (French post office). Get there in good time. The bus company is La Hispano Andorrana SL, www.andorrabus.com.

Travel from l'Hospitalet to Toulouse by TER (Train Exprès Regional) local train, leaving l'Hospitalet at 07:52 and arriving Toulouse Matabiau at 10:16. This is a very scenic ride!

Travel from Toulouse to Paris. Train service varies by date, though on most day's you'll find a high-speed TGV leaving Toulouse Matabiau at 13:04 arriving Paris Montparnasse at 18:33 or on many days a 125mph Téoz train around 10:42 arriving Paris Austerlitz at 17:18 - just check trains for your date of travel using www.raileurope.co.uk or www.capitainetrain.com. Make sure you allow at least 20 minutes to change trains in Toulouse. Cross Paris by métro to the Gare du Nord.

Travel from Paris to London by Eurostar, leaving Paris Gare du Nord at 20:13 arriving London St Pancras at 21:39.
How much does it cost?
London-Paris starts at £39 one-way, £69 return. The price varies like air fares, book early for the cheapest price.

Paris to Toulouse starts at €25 each way 2nd class, €45 in 1st class. The price varies like air fares, book early for the cheapest price.

Toulouse to l'Hospitalet costs €22.50 each way, fixed-price local ticket, no reservation required.
How to buy tickets...
TGV 2nd class (left) & 1st class (right). The interior is designed by Christian Lacriox, with power sockets at all seats. On the TGV Atlantique route from Paris to Toulouse via Bordeaux, one 1st class car has a conventional 'open plan' layout, the other two have a unique layout with bays of two seats facing across a table one side of the aisle, and semi-compartments of 4 seats around a table on the other, as pictured above. Very civilised! 1st class photo courtesy of Rafal Tomasik.
---
Andorra to Barcelona...
| | |
| --- | --- |
| | |
| | Right: The Petit Train Jaune from Perpignan/Villefranche to Latour de Carol... |
If you are heading on to Spain, the bus connections back to l'Hospitalet do not work well with the local railway to Barcelona. However, there are regular buses between Andorra and Barcelona taking about 4 hours, see www.autocarsnadal.com. There are trains from Latour de Carol to Barcelona, see www.renfe.com (the Barcelona-Latour de Carol route is classed as a Barcelona suburban service, so ignore the main journey planner, leave the site in Spanish mode, and look for the 'Cercanias' link below the main enquiry form on their home page. Select the Barcelona suburban area).
Andorra to Perpignan: Le petit train jaune...
If you don't mind paying for a taxi between Andorra and Latour de Carol (there's now no bus service), the scenic narrow gauge 'petit train jaune' runs from Latour de Carol through the Pyrenees twice-daily in winter, much more frequently in summer, connecting with a standard gauge service at Villefranche at the eastern end of the line into Perpignan. This makes for a very scenic and interesting alternative route into/out of Andorra. The 'petit train jaune' is run by the French national train operator SNCF, so train times, fares and online ticketing for the petit train jaune can all be done through the SNCF website, www.voyages-sncf.com. For info of the Petit Train Jaune, see www.trains-touristiques.sncf.com/region.asp?menu=1&train=jaune&lang=fr. For train times between London and Perpignan, see the London to France page.
---
The Thomas Cook European Timetable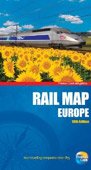 The Thomas Cook European timetable had train & ferry times for every country in Europe plus currency & climate information. It was essential for regular European train travellers and an inspiration for armchair travellers. Published since 1873, it had just celebrated 140 years of publication when Thomas Cook decided to pull the plug on their entire publishing department, and the August 2013 edition was the last to be published by Thomas Cook. The good news is that the dedicated ex-Thomas Cook staff have set up a private venture and will be publishing the first edition of a reborn European Rail Timetable in early 2014. This is the space to watch: www.europeanrailtimetable.eu. More information on what the European Rail Timetable contains.
The Thomas Cook Rail Map of Europe is the best and most comprehensive map of train routes right across Europe, from Portugal in the west to Istanbul, Moscow & Ukraine in the east, from Finland in the north to Sicily & Crete in the south. High speed & scenic routes are highlighted. Highly recommended! Buy online at www.amazon.co.uk (worldwide delivery). See an extract from the map.
---
---
◄◄◄◄ Search all the main hotel booking sites at once...

I'm a big fan of www.hotelscombined.com as it checks all the main hotel booking sites (Opodo, Expedia, Booking.com, Hotels.com, AsiaRooms, LateRooms etc.) to find the widest choice of hotels & the cheapest rates. Try it and see!
---
Travel insurance & health card...
Get travel insurance, it's essential...
Never travel without insurance from a reliable travel insurer with at least £1m or preferably £5m medical cover. It should also cover loss of cash (up to a limit) & belongings, and cancellation. An annual multi-trip policy is usually cheapest even for just 2 or 3 trips a year (I have an annual policy myself). Don't expect travel insurance to bail you out of every missed connection, though, see the advice on missed connections here. Here are some suggested insurers, Seat61 gets a little commission if you buy through these links, and feedback from using insurance for rail & ferry travel is always welcome.

In the UK, use www.confused.com to compare prices & policy features across major insurance companies.

If you have a pre-existing medical condition or are over 65 (no age limit), see www.JustTravelCover.com.



If you live in Australia, New Zealand, Ireland or the EU, try Columbus Direct's other websites.

If you live in the USA try Travel Guard USA.
Get an EU health card, it's free...
If you're a UK citizen travelling in Europe, you should apply for a free European Health Insurance Card, which entitles you to free or reduced rate health care if you become ill or get injured in many European countries, under a reciprocal arrangement with the NHS. This replaced the old E111 forms as from January 2006. The EHIC card is available from www.ehic.org.uk. It doesn't remove the need for travel insurance, though.
Get a spare credit card, designed for foreign travel with no currency exchange loading & low/no ATM fees
Taking out an extra credit card costs nothing, but if you keep it in a different part of your luggage you won't be left stranded if your wallet gets stolen. In addition, some credit cards are better for overseas travel than others. Martin Lewis's www.moneysavingexpert.com/travel/cheap-travel-money explains which UK credit cards have the lowest currency exchange commission loadings when you buy something overseas, and the lowest cash withdrawal fees when you use an ATM abroad.
You can avoid ATM charges and expensive exchange rates with a Caxton FX euro currency Visa Card, or their multi-currency 'Global Traveller' Visa Card, see www.caxtonfx.com for info.
Get an international SIM card to save on mobile data and phone calls...
Mobile phones can cost a fortune to use abroad, and if you're not careful you can return home to find a huge bill. Consider buying a global pre-paid SIM card for your mobile phone from www.Go-Sim.com, which can slash costs by up to 85%. Go-Sim cuts call costs in 175 countries worldwide, and you can receive incoming calls and texts for free in 75 countries. It's pay-as-you-go, so no nasty bills when you get home. It also allows cheap data access for laptops & PDAs. A Go-Sim account and any credit on it doesn't expire if it's not used between trips, unlike some others, so a Go-Sim phone number becomes your 'global phone number' for life.
---
Back to 'Rail travel to Europe' general page