| | |
| --- | --- |
| | R I P... The DFDS ferry to Norway was sadly withdrawn for good in September 2008, ending over 120 years of direct ferry links between the UK & Norway... Photo courtesy of DFDS |
| | |
UK to Norway without flying...
Although the last ferry between the UK & Norway (DFDS Newcastle to Bergen) was sadly withdrawn in September 2008, there's still no need to fly to Norway. It's easy to travel from London to Norway by train, using a lunchtime Eurostar to Brussels, a connecting high-speed train to Cologne, the excellent City Night Line sleeper overnight to Copenhagen and connecting trains to Oslo arriving in the evening the day after leaving London. Or spend the day in Copenhagen then sail overnight by cruise ferry to Oslo. Departures are daily.
Train times, fares & tickets...
On this page you'll find a step-by-step guide to planning, booking & making a journey from the UK to Norway by train, with train times, approximate fares, and the best way to buy tickets.
London to Oslo by train via Brussels, Cologne & Copenhagen.
London to Oslo alternative route via the Harwich-Esbjerg ferry
London to Kristiansand & Stavanger by train via Hirtshals.
Onward trains within Norway: Bergen, Stavanger, Trondheim...
How to buy Norwegian train tickets
Useful country information - dialling code, currency, time zone
Hotels & accommodation in Oslo, Bergen & Norway
General European train travel information
Luggage Taking a bike Taking a dog
Route map: London to Oslo, Norway & Scandinavia by train & ferry...
---
---
Here is the fastest way from London to Oslo without flying, marked in red on the route map above, and it's both comfortable and affordable, with daily departures. If you're travelling to Bergen, Trondheim, Bodo, travel to Oslo as shown below, then take an onward train within Norway. If you're travelling to Kristiansand or Stavanger you may prefer the 'short cut' via Hirtshals in northern Denmark, see below. The line to Narvik starts in Sweden, so for Narvik, first travel to Stockholm, see here.
London ► Oslo
Oslo ► London
Take Eurostar to Brussels, then a German ICE high-speed train to Cologne...
| | | | | |
| --- | --- | --- | --- | --- |
| | | | | |
| ICE3 2nd class. ICEs are one of the most comfortable trains in Europe... | | ICE3 1st class, with real leather seats. All seats have power sockets. | | An ICE to Cologne waiting to leave Brussels Midi. More ICE info. |
The Cologne to Copenhagen overnight train is one of the German Railway's excellent City Night Line sleeper trains with a choice of sleepers, couchettes & seats. The modern Comfortline sleeping-car offers proper beds in 1, 2 or 3-berth deluxe compartments with shower & toilet, or 1, 2 or 3-berth economy compartments with washbasin. All sleepers have power-points for laptop computers, hotel-style cardkey locks, and there is a shower at the end of the corridor. The air-conditioned couchette car offers simple flat padded berths with a rug & pillow in shared 4 & 6-berth compartments. There are also ordinary seats in 6-seater compartments, but you should always book a couchette. A bistro car is attached between Hamburg and Copenhagen in both directions. The train actually starts its journey in Amsterdam. More pictures & information about this City Night Line train.
Dinner in Cologne before you board? For a traditional German meal in Cologne before boarding your sleeper, try the Brauhaus Sion (www.brauhaus-sion.de), 5 minutes walk from Cologne hauptbahnhof, or the Malzmuehle restaurant (www.muehlenkoelsch.de), 10-15 minutes walk from Cologne Hauptbahnhof, or there's a restaurant inside the Hauptbahnhof itself at the Schweinske, www.schweinske.de. Feedback is always appreciated!
| | | | | | | |
| --- | --- | --- | --- | --- | --- | --- |
| | | | | | | |
| 1, 2 or 3 bed sleeper: The most civilised option, economy with washbasin or deluxe with shower & toilet. | | 4-berth couchettes: Ideal for families, much more space per person than 6-berth couchettes. | | 6-berth couchettes: A very economical option, far better than a seat for just a few euros more... | | A modern Comfortline sleeping-car used on the Cologne-Copenhagen City Night Line sleeper train Borealis. |
Then travel from Copenhagen to Oslo by train or by DFDS overnight ferry...
Option 1: Take an Öresund Train (Öresundtåg, pictured above) from Copenhagen to Gothenburg, then a connecting Norwegian train to Oslo (pictured below). The train crosses from Denmark to Sweden on the 1999-built Öresund Link tunnel & road/rail bridge...

Option 2: Spend the day exploring Copenhagen, then cruise to Oslo on the daily overnight DFDS ferry. This is the m/v Crown of Scandinavia.
| | | |
| --- | --- | --- |
| | | |
| Arrival at Oslo... This is the Norwegian train from Gothenburg to Oslo, arrived at Oslo central. Photos courtesy of Ivor & Ines Morgan. | | NSB 'Komfort' class on the train to Oslo. |
How much does it cost?
1. London to Cologne

by Eurostar + ICE

Fares for Eurostar+ICE start at €59 (£49) each way.

Fares for Eurostar+Thalys start at £56 one-way or £103 return

Fares vary like air fares, so book in advance to get the cheapest prices.

2. Cologne to Copenhagen

by sleeper train, per person

In a

seat

In a couchette

Economy sleeper

Deluxe sleeper

6-berth

4-berth

3-berth

2-berth

1-berth

2-berth

1-berth

Savings fare one-way from:

€43 (£36)

€59 (£49)

€69 (£58)

€84 (£70)

€104 (£87)

€144 (£120)

€134 (£112)

€174 (£145)

Savings fare return from:

€86 (£72)

€118 (£98)

€138 (£116)

€168 (£140)

€208 (£174)

€288 (£240)

€268 (£224)

€348 (£290)

Full price one-way:

€159

€175

€185

€200

€220

€260

€315

€355

Railpass supplement*

€11.50

€27.50

€37.50

€55

€75

€115

€75

€115

Child under 15**

€4

€20

€30

£71

€65

€105

€65

€105

Child under 6 without berth:

Child under 6 sharing a berth travels free

Berths are sold individually, so one ticket means one bed. The other beds in your compartment will be sold to other passengers.

For sole occupancy, simply book 1 ticket in a 1-berth sleeper, 2 tickets in 2-berth sleepers, 4 tickets in 4-berth couchettes & so on.

* This is the supplement you pay if you have a railpass, a 1st class pass is required for deluxe sleepers.

** Children under 15 travel free if accompanied by a fare-paying adult, but must pay the berth supplement shown here.

Savings fare = advance-purchase fare, price varies, limited availability, no refunds, no changes to travel plans.

Full price = fully flexible, refundable, buy any time.

Youth fares: 25% off full price (not Savings fares) at www.raileurope.co.uk if you're under 26, Savings fares usually cheaper!

Senior fares: 20% off full price (not Savings fares) at www.raileurope.co.uk if you're over 60, Savings fares usually cheaper!

3. Copenhagen to Oslo

By train, booked all in one go at www.sj.se 1,032 SEK (£103) each way.

It's cheaper to split the booking, Copenhagen-Gothenburg fixed-price 429 SEK (£42)

at www.sj.se, then book Gothenburg to Oslo at www.nsb.no from 199 Kr (£23).

By overnight cruise ferry with www.dfds.co.uk, fares start at £47 per person each way for two

people travelling together, £94 each way for a solo passenger, including private en suite cabin.
How to buy tickets online...
Anyone from any country can buy tickets this way, at the cheapest prices direct from the operators. Booking opens 120 days ahead for Eurostar, 92 days ahead for other trains, but I strongly recommend waiting and buying all tickets together, doing a dry run on all sites to check times, prices and availability before booking for real. Hotel accommodation can be booked before booking your trains risk-free if you use a site such as www.booking.com with free cancellation.
How to buy tickets by phone...
You can book through a number of UK agencies, but for this trip the best is probably Deutsche Bahn's UK office on 08718 80 80 66 (lines open 09:00-20:00 Monday-Friday, 09:00-13:00 Saturday & Sunday, no booking fee, 2% credit card charge but no charge for debit cards) or www.europeanrail.com on 020 7619 1083 (lines open 08:30-17:30 Mon-Fri, 09:00-13:00 sat, £35 booking fee). Click here for a list of agencies and more info on how to buy European train tickets.
Tailor-made train travel + hotel arrangements...
If you want a compete tailor-made trip with all your rail travel expertly booked for you and good quality hotels arranged, UK residents can call www.railbookers.com on 020 3327 0761. US & Canadian residents can call them toll-free on 1-800-408-3280 or see website. Australian residents can call their Sydney office toll-free on 1300 971 526 or see www.railbookers.com.au. New Zealand residents call toll-free on 0800 002 034 or see website. Just tell them what you want, and they'll advise you on the best trains, routes & hotels and sort it all out for you, hassle-free. They get very positive reviews and take good care of their guests.
---
The ferry alternative...
If you prefer cruise ferries to sleeper trains, you can travel from London to Copenhagen using a train to Harwich, the excellent 2 or 3 times a week DFDS Seaways cruise ferry to Esbjerg, then an InterCity train to Copenhagen. Then you can then take onward trains or the overnight ferry to Oslo as shown above. See the London to Denmark page for details of the Harwich-Esbjerg ferry option between London & Copenhagen. You can book the overnight Copenhagen-Oslo ferry at www.dfds.co.uk along with the Harwich-Esbjerg ferry as one transaction. Note that you arrive in Copenhagen too late to connect with that evening's ferry to Oslo, so plan on one night in a hotel in Copenhagen before continuing to Oslo by train or cruise ferry the next day. Via Harwich-Esbjerg, the whole London-Oslo journey will therefore take 2 nights using the train from Copenhagen to Oslo, or 3 nights using the Copenhagen-Oslo cruise ferry.
---
As you can see on the route map above, this short cut by-passes Copenhagen & Sweden, heading up to northern Denmark for a ferry direct to southern Norway.
London ► Kristiansand & Stavanger
Stavanger & Kristiansand ► London
Fares & how to buy tickets...
---
Train connections from Oslo to Bergen, Stavanger, Trondheim & other Norwegian cities...
How to buy Norwegian train tickets at www.nsb.no...
The scenic Flåm Railway...
A scenic tourist line worth mentioning is the famous Flåm Railway (Flåmsbana) from Myrdal (on the Oslo-Bergen line) 900m above sea level to Flåm on the Fjord below. Train run daily all year round, 4 departures a day in winter, 10 or so in summer. It can be done as a day trip from Oslo, as the Myrdal-Flåm journey itself only takes 40-50 minutes each way. See www.flaamsbana.no, then see www.nsb.no for connections from Oslo or Bergen to Myrdal.
---
---
The Thomas Cook European Timetable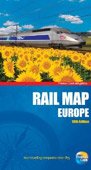 The Thomas Cook European timetable has train & ferry times for every country in Europe plus currency & climate information. Published since 1873, it costs £14.99. It's essential for any serious traveller and an inspiration for armchair travellers. Still not convinced you need one? More information on what the Thomas Cook Timetable contains. You can buy the latest monthly edition online at www.thomascookpublishing.com with worldwide delivery or buy it in person from selected UK branches of Thomas Cook (ask at the bureau de change), or from W H Smiths in Victoria station in London. Or buy the twice-yearly independent traveller's edition with laminated cover from Amazon.co.uk: Winter/Spring 2012/13 edition (Dec 2012 to June 2013) or (when available) Summer/Autumn 2013 edition (June to Dec 2013)
The Thomas Cook Rail Map of Europe is the best and most comprehensive map of train routes right across Europe, from Portugal in the west to Istanbul, Moscow & Ukraine in the east, from Finland in the north to Sicily & Crete in the south. High speed & scenic routes are highlighted. Highly recommended! Buy online at www.amazon.co.uk (worldwide delivery). See an extract from the map.
---



Make sure you take a good guidebook. For independent travel, I think this means either the Lonely Planet or the Rough Guide. Both guidebooks provide the same excellent level of practical information and cultural and historical background.

You won't regret buying one!
Click the images to buy at Amazon.co.uk
---
◄◄◄◄ Search all the main hotel booking sites at once...

I'm a big fan of www.hotelscombined.com as it checks all the main hotel booking sites (Opodo, Expedia, Booking.com, Hotels.com, AsiaRooms, LateRooms etc.) to find the widest choice of hotels & the cheapest rates. Try it and see!
Other hotel sites worth trying...
Backpacker hostels...
---
Travel insurance & health card...
Get travel insurance, it's essential...
Never travel without insurance from a reliable travel insurer with at least £1m or preferably £5m medical cover. It should also cover loss of cash (up to a limit) & belongings, and cancellation. An annual multi-trip policy is usually cheapest even for just 2 or 3 trips a year (I have an annual policy myself). Don't expect travel insurance to bail you out of every missed connection, though, see the advice on missed connections here. Here are some suggested insurers, Seat61 gets a little commission if you buy through these links, and feedback from using insurance for rail & ferry travel is always welcome.

In the UK, use www.confused.com to compare prices & policy features across major insurance companies.

If you have a pre-existing medical condition or are over 65 (no age limit), see www.JustTravelCover.com.



If you live in Australia, New Zealand, Ireland or the EU, try Columbus Direct's other websites.


If you live in the USA or Canada, try Travel Guard USA.
Get an EU health card, it's free...
If you're a UK citizen travelling in Europe, you should apply for a free European Health Insurance Card, which entitles you to free or reduced rate health care if you become ill or get injured in many European countries, under a reciprocal arrangement with the NHS. This replaced the old E111 forms as from January 2006. The EHIC card is available from www.ehic.org.uk. It doesn't remove the need for travel insurance, though.
Get a spare credit card, designed for foreign travel with no currency exchange loading & low/no ATM fees
Taking out an extra credit card costs nothing, but if you keep it in a different part of your luggage you won't be left stranded if your wallet gets stolen. In addition, some credit cards are better for overseas travel than others. Martin Lewis's www.moneysavingexpert.com/travel/cheap-travel-money explains which UK credit cards have the lowest currency exchange commission loadings when you buy something overseas, and the lowest cash withdrawal fees when you use an ATM abroad.
You can avoid ATM charges and expensive exchange rates with a Caxton FX euro currency Visa Card, or their multi-currency 'Global Traveller' Visa Card, see www.caxtonfx.com for info.
Get an international SIM card to save on mobile data and phone calls...
Mobile phones can cost a fortune to use abroad, and if you're not careful you can return home to find a huge bill. Consider buying a global pre-paid SIM card for your mobile phone from www.Go-Sim.com, which can slash costs by up to 85%. Go-Sim cuts call costs in 175 countries worldwide, and you can receive incoming calls and texts for free in 75 countries. It's pay-as-you-go, so no nasty bills when you get home. It also allows cheap data access for laptops & PDAs. A Go-Sim account and any credit on it doesn't expire if it's not used between trips, unlike some others, so a Go-Sim phone number becomes your 'global phone number' for life.
---
Back to 'Rail travel to Europe' general page