| | |
| --- | --- |
| | |
| | Series N700 shinkansen. These trains link Tokyo, Kyoto, Osaka, Hiroshima & Hakata. Photo James Chuang. |
Exploring Japan by rail...
The railways are the best way to get around Japan. On this page you'll find an introduction to train travel in Japan, plus:
How to check train times & fares in Japan
How to buy and use a Japan Rail Pass
The Seishun 18 Kippu (pass for local trains)
Staying in Ryokans & capsule hotels...
Useful country information - currency, time zone etc.
Ferries to & from Japan...
Ferries from Japan to South Korea
How to travel from London to Tokyo by Trans-Siberian Railway
---
---
Japan has an extensive and efficient rail network and you can pretty much assume that the trains in Japan will go to all the cities and towns you want to visit. Japanese trains are very clean and modern, and are amazingly punctual.

You'll find many major cities linked by high-speed standard-gauge Shinkansen, often called bullet trains by westerners, plus the dense original network of slower narrow-gauge lines serving cities and smaller towns, see a rail map of Japan here.

Travelling by train in Japan is easy. Language is seldom a problem, the stations have signs and departure boards in English as well as Japanese.

Two classes of seating are provided on most longer-distance trains, ordinary class and green car (1st class), the latter indicated by a green clover symbol next to the entrance door. As you'd expect, green car seating has more legroom and seats are arranged 2+2 across the coach, whereas ordinary class seats are normally arranged 2+3. However, travelling standard class is perfectly adequate.
How to check train times & fares in Japan...
Sample journey times, frequencies & prices...
Japanese train times & fares

Journey:

Distance

Time by Nozomi *

Time by Hikari *

One-way fare:

Train frequency:

Tokyo - Kyoto

513km, 320 miles

2 hours 18 min

2 hours 38 mins

¥13,910

Every 10-30 minutes, direct.

Tokyo - Shin-Osaka

552km, 345 miles

2 hours 33 min

2 hours 53 mins

¥14,450

Every 10-30 minutes, direct.

Tokyo - Hiroshima

894km, 559 miles

4 hours 1 min

4 hours 49 mins

¥19,080

Every 10-30 minutes, direct.

Tokyo - Nagasaki

1,328km, 830 miles

7 hours 14 min

8 hours 21 mins

¥27,540

Every hour, change Hakata.

Kyoto - Hiroshima

380km, 237 miles

1 hour 36 min

1 hour 59 mins

¥11,300

Every 10-30 minutes, direct.

Hiroshima - Nagasaki

434km, 271 miles

3 hours 10 min

3 hours 25 mins

¥13,690

Every hour, change Hakata.
£1 = 138 yen. $1 - 103 yen.
* Nozomi = fastest Shinkansen train type, Japan Rail Passes not valid. Hikari = next fastest train type, Japan Rail Passes valid.
Check Japanese train times & fares at www.hyperdia.com or www.jorudan.co.jp. Another useful resource is www.japanrail.com.
Children aged 0 to 5 travel free, children aged 6 to 11 travel at half fare, children aged 12 and over pay full fare.
Rail fares in Japan are expensive, and if you are an overseas visitor a Japan Rail Pass can be the cheapest way to travel even if you are only planning one return trip from (say) Tokyo to Hiroshima. See the Japan Rail Pass section.
What are Japanese trains like?
Shinkansen high-speed trains...
Everyone has heard of Japan's bullet train lines, more properly known in Japan as shinkansen. These are high-speed lines, built to European and North American standard gauge (4' 8½"). The first shinkansen was the Tokaido Shinkansen linking Toyo, Kyoto and Osaka opened in 1964, later extended as the Sanyo Shinkansen to Hiroshima, Kobe and Hakata. There are now a whole range of 'shinkansen' lines linking all the most important cities in Japan, including Niigata, Tokyo, Kyoto, Osaka, Hiroshima, Hakata and Kagoshima.
The trains have two classes, ordinary seats (2nd class) and Green Car seats (1st class). Reservation is normally required on each train, but there's usually one or more 'unreserved' cars.
| | | |
| --- | --- | --- |
| | | |
| A series 700 train on the Tokaido shinkansen, now used on most fast Hikari & super-fast Nozomi services on the Tokaido Shinkansen between Tokyo, Kyoto, Osaka, Hiroshima & Hakata. Photo courtesy of Peter Geran. | | Green car (1st class) seats on a series N700 train used on the Tokaido and Sanyo Shinkansen linking Tokyo, Kyoto, Osaka, Hiroshima and Hakata. Photo courtesy of James Chuang. |
| | | |
| --- | --- | --- |
| | | |
| Ordinary (2nd class) seats on a series 500 Shinkansen train. They are arranged "+£ (2 abreast, aisle, 3 abreast across the width of the car), so there's less elbow room than in the Green car seats. Courtesy James Chuang. | | A series 500 train on the Tokaido shinkansen. Amazingly, these now operate the secondary stopping trains, bumped off the front-rank Nozomi services by the series 700 when they were only 8 years old. Photo courtesy of James Chuang. |
Original narrow-gauge network...
An extensive network of original 3' 6" narrow-gauge lines remains, covering the whole of Japan and taking you to almost every city and town of any size. Nagasaki, for example, is well worth a visit but is not on the Shinkansen network. You take a Shinkansen high-speed train from Tokyo, Kyoto or Hiroshima to Hakata, then switch to a Kamome Limited Express on the regular narrow-gauge network, see the photos below.
| | | |
| --- | --- | --- |
| | | |
| Limited Express Kamome connecting Hakata with Nagasaki. Courtesy David Smith | | Ordinary class seats on the Limited Express Kamome to Nagasaki. Courtesy of David Smith. |
Sleeper trains...
There are only a few sleeping-car trains left, most have been replaced by new shinkansen lines. The sleepers run on the original narrow-gauge lines, but they can save time compared with daytime travel. Unfortunately they are an endangered species - the useful Tokyo-Nagasaki sleeper train is already gone, and the Hokutosei and Cassiopeia sleeper between Tokyo & Sapporo disappeared in late 2015/early 2016. More information about overnight trains in Japan
---
Sponsored links...
---
| | |
| --- | --- |
| | |
| | Finding your train is no problem as departure boards are in English as well as Japanese. Here, a departure board at Tokyo shows a Nozomi (which Japan Railpass holders can't use) and slightly slower Hikari (semi-fast) & Kodama (all stations) high-speed departures on the same Shinkansen route which can be used instead. Photos courtesy of David Smith. |
| | |
| | Tokyo Station: All Shinkansen routes converge on the same central Tokyo station. Its western facade (above) survives from its opening in 1914. Map showing Tokyo station. |
A Japan Rail Pass will probably save you money...
Train fares in Japan are expensive - there's just one fixed flexible price for each journey with no cheap advance-purchase or off-peak fares. So even if you are only planning a couple of inter-city journeys, a Japan Rail Pass can save money over normal tickets.

For example, a 7-day Japan Rail Pass costs £173 or $254 for unlimited travel throughout Japan.

The normal return fare from Tokyo to Kyoto is 27,800 Yen which is about £170 or $250. From Tokyo to Hiroshima it's 38,160 Yen, about £240 or $345.

So a rail pass breaks even for a one round trip from Tokyo to Kyoto and saves money for one round trip between Tokyo & Hiroshima.

You can use www.hyperdia.com to check point-to-point fares for the journeys you intend to make.

Compare these with the Japan railpass prices at www.japan-rail-pass.com (residents of UK, Europe, Asia, Africa, USA & Canada), www.railplus.com.au/japan-by-rail or www.internationalrail.com.au (residents of Australia & NZ).
The Japan Rail Pass...
A Japan Rail Pass covering the whole of Japan is available for 7, 14 or 21 consecutive days unlimited travel on the Japan Railways (JR) network, in a choice of ordinary class (2nd class) or green car (1st class).

You need to buy the pass before you leave home, you can't buy a Japan Rail Pass when you get to Japan.

The pass covers all JR train services, including high-speed Shinkansen trains, the classic narrow-gauge trains, and even the Narita Express airport train between Narita Airport & Tokyo. There are just the following exceptions...

You can't use a Japan Rail Pass on the top-rank Nozomi expresses on the Tokyo-Osaka-Hakata Tokaido Shinkansen or Mizuho services on the Hakata-Kagoshima Kyushu Shinkansen.

But this is no big deal as you can use the next rank down, the Hikari expresses on the Tokaido Shinkansen and Sakura services on the Kyushu Shinkansen. These are only slightly slower, and link the same cities on the same Shinkansen tracks.
You can't use a Japan Rail Pass on lines run by private rail operators, only lines operated by Japan Railways (JR) Group. For example, it doesn't cover the Tobu Railway from Tokyo to Nikko. But does cover the Narita Express airport train, as that's run by JR.

Sleeper trains: You can also use overnight sleeping-car trains with a Japan Rail Pass, if you pay the rather hefty sleeper supplement, around ¥10,000 (about £77) one-way for a basic 'B' category bunk in addition to your pass.

Which class of pass? A green class pass is great if you can afford it, but standard class on Japanese trains is perfectly adequate, there's no real need to pay more.

See www.japan-rail-pass.com (residents of UK & Europe, Asia, Africa, USA & Canada), www.railplus.com.au/japan-by-rail or www.internationalrail.com.au (residents of Australia & NZ) for more detailed information.
Regional rail passes: Japan East Pass, Sanyo pass, Kansai pass...
There are also 3 regional Japan Rail Passes covering smaller areas.

The Japan East Pass covers Tokyo, Nagano, Niigata, Sendai, Morioka, Misawa & Akita.

The Sanyo area pass covers an area including Osaka, Himeji, Okayama, Hiroshima & Hakata.

The Kansai area rail pass covers Kyoto, Osaka, Kobe, Nara & Himeji and costs only around £15 ($23) a day, a pretty good deal.

www.japan-rail-pass.com (residents of UK & Europe, Asia, Africa, USA & Canada), www.railplus.com.au/japan-by-rail or www.internationalrail.com.au (residents of Australia & NZ) for more information.
You need to buy your Japan Rail Pass before you leave your home country as you can't buy a pass once you're in Japan. A voucher is sent to you, which you exchange at a ticket office in Japan which is designated as Japan Rail Pass exchange office. You have to do this within 3 months of buying the voucher.

| | | | |
| --- | --- | --- | --- |
| | | If you live in the UK, Ireland, other European countries, Asia or Africa, click to check pass prices & buy a Japan Rail Pass online at www.japan-rail-pass.com. Prices are in various currencies including euros. | |

| | | | |
| --- | --- | --- | --- |
| | | If you live in the USA or Canada, buy from Japan Railpass specialist www.japan-rail-pass.com. Passes can be sent to any US or Canadian address or any address worldwide. | |

Or buy a Japan Rail Pass by phone... If you live in the UK, Ireland or elsewhere in Europe, you can buy a Japan Rail Pass by phone from International Rail, call 0844 248 248 3, lines open 09:00-17:00 Monday-Friday. From outside the UK +44 844 248 248 3.
| | |
| --- | --- |
| | |
| | Day trip to Nikko? Nikko is a great day trip to make from Tokyo. You can get there in less than 2 hours on the Tobu Railway's Spacia Express from Tokyo Asakusa station. Departures are frequent, though the Tobu railway isn't covered by Japan Rail Pass, so you'll need a normal ticket. |
How does a Japan Rail Pass work?
When you buy a Japan rail pass, you will be sent a voucher which needs to be exchanged for the railpass itself in Japan any time within the following 3 months. Vouchers can be exchanged at all the most important Japan Railways stations, including Tokyo and its international airports, and even Sakaiminato where you arrive by ferry from Vladivostok.

Good pages for further Japan Rail Pass information are www.japantravel.co.uk/jrp.htm and www.japanrailpass.net and (with excellent information on all the different trains) www.jprail.com.
How do you make reservations with your pass?
It's easy to make seat reservations once you get to Japan at any ticket office, showing your Japan rail pass and passport. Reservations are free of charge with a pass.

You can make reservations at stations when you get to Japan. With one notable exception reservations cannot be made before you get there. But don't worry, unless you are travelling at the busiest peak times you are unlikely to have any problem getting reservations on the trains you want.

The exception is JR East, who have set up a website for Japan Railpass holders to make reservations on their high speed trains north & east of Tokyo, including the Narita Express and Tokyo-Niigata Joetsu Shinkansen, but obviously not the Tokaido, Sanyo or Kyushu shinkansen linking Tokyo, Kyoto, Osaka, Hiroshima, Hakata, Kagoshima as these aren't run by JR East.

To make reservations on JR East services, see www.eki-net.com/pc/jreast-shinkansen-reservation/English/wb/common/Menu/Menu.aspx (if this link stops working, try www.jreast.co.jp/e/eastpass/index.html#category08 and please let me know). Seat reservations made using this service must be collected before 21:00 the day before ravel, or they will be cancelled.
---
Seishun 18 : 5 days unlimited travel on local trains for £13 or $22 per day...
The Seishun 18 Kippu (= Youthful 18 Ticket) is sold to both Japanese citizens and overseas visitors, of any age in spite of its name, during specific Spring (March-April), Summer (July-September) & winter (December-January) periods.

It gives 5 days unlimited travel on Japan Railways local & trains and kaisoku (accelerated local) trains for around 11,850 yen. That's just £67 or $109, about £13 or $22 per day. It's possible to travel all the way across Japan this way, incredibly cheaply, but only using the narrow-gauge local trains.

Rather than explain it here, see this page for full details: www.japan-guide.com/e/e2362.html or http://en.wikipedia.org/wiki/Seishun_18_Ticket or www.jreast.co.jp/e/pass/seishun18.html
---
London to Tokyo in 12-14 days by Trans-Siberian Railway
You can reach Japan from London without flying in just two weeks, by Trans-Siberian Railway. First, travel from London to Moscow, see the London to Russia page. This takes 48 hours using the Paris-Moscow Express. You then have a choice.

Option 1, take the Rossiya from Moscow to Vladivostok, this runs every second day taking 7 days. The 1993-built ferry Eastern Dream then sails from Vladivostok to Sakaiminato in Japan once a week all year round, taking 36 hours.

Option 2 is to travel from Moscow to Beijing on one of two weekly Trans-Siberian trains, taking 6 days. From Beijing, take an overnight train to Shanghai, then there are two weekly ships to either Osaka or Kobe in Japan.

Going via Vladivostok is easier to organise as you need fewer visas, but going via Beijing is the more varied and interesting option.
---
Ferry links Japan to China, Korea, Russia
Japan is linked by regular ferries to China, Korea & Vladivostok in Russia.
---
Ryokans...
There are two unique types of overnight accommodation which you should try in Japan. 'Ryokans' are traditional Japanese inns. The rooms don't have beds, but are covered with 'tatami' matting on which you place a bedroll. You will probably be offered a hot cup of green Japanese tea when you first arrive. Ryokans are the Japanese equivalent of B&Bs, so they are an inexpensive option compared with hotels, as well as an experience. You can now find ryokans online on hotel booking sites such as www.booking.com, if you search at the less expensive end of the market. Search for Ryokans in Tokyo. Search for Ryokans in Kyoto.
Capsule hotels...
Another Japanese experience, which (purely incidentally) is an ultra-cheap option for staying a night in the heart of Tokyo or other big cities, is a night in a capsule hotel. These are more civilised than you might think.
The hotel reception looks like any other hotel reception - just remember to take your shoes off before you walk in, and place them in one of the lockers in the lobby. Upstairs, there will probably be several floors of fibreglass sleeping capsules, each floor with its own locker room and shared showers. You change in the locker room and put your clothes and bags into your locker. Your capsule has radio, alarm clock and TV, and a screen or curtain pulls over the capsule entrance for privacy. Unfortunately, the main clientele for these hotels is Japanese businessmen who have missed their last train home, so they don't tend to cater well for women or couples.
The picture shows end-entry capsules, but some capsule hotels have side-entry types, and you'll now find some capsule hotels with larger, more hotel-style capsules too.
You can usually walk into a capsule hotel and ask for a bed for the night, but if you want to pre-book this unique experience, try the Capsulevalue Kanda in downtown Tokyo not too far from Tokyo station, a bed in Tokyo for as little as £24 per night! Only men can stay there, no women or children.
How to book hotels & ryokans...
I generally use two sites for hotels & accommodation worldwide, and they'll find some (though not all) ryokans and capsule hotels, too. (1) www.booking.com, which usually allows me to book accommodation at no risk with free cancellation, and (2) www.hotelscombined.com, named the World's Leading Hotel Comparison Site at the World Travel Awards 2013, which can find hotels in even the smallest places, and find the cheapest seller of any given hotel from the many major hotel booking sites out there.
---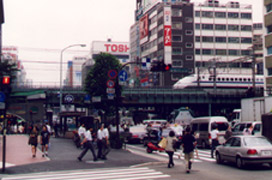 It's impossible to mention every sight or attraction Japan has to offer, but here are some highlights of a visit to Japan that might give you some ideas.
Tokyo
One of the world great cities... Stay in a capsule hotel; visit the site of the Tokyo castle (now just foundations) near the entrance to the Emperor's palace; shop till you drop in Tokyo's busy Shinjuku district; take a JR suburban train out to Kamakura to see the Great Buddha, the second largest bronze Buddha in the world.
Nikko
A not-to-be-missed day trip from Tokyo, Nikko's history as a sacred site began in the middle of the 8th century AD. There are many temples and historic buildings spread through woodland in the hills around this small town, including the famous three monkeys: 'See no evil, hear no evil, speak no evil' (pictured, left).
Frequent trains of the Tobu Railway link Tokyo Asakusa station with Nikko in less than 2 hours - but note that Japan Rail Passes don't cover the Tobu Railway so you'll need to buy a ticket.
Kyoto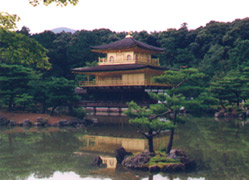 Capital of Japan from 794AD until 1867, Kyoto should be on every visitor's itinerary. Office blocks and pinball arcades in the modern city rub shoulders with tiny wooden houses in the older parts of town. There are several important temples in and around the city, including the famous Kiyomizu-dera Temple, and the Kimkaku-ji Temple or 'Golden Pavilion', pictured right.
Nara
A worthwhile day trip from Kyoto, Nara is home to the Great Hall of the Buddha, the world's largest wooden building, housing the world's largest bronze Buddha. The train trip from Kyoto takes just 35 minutes, and there are usually two trains each hour. This line is run by the Kesei Railway.
Himeji
The best-preserved traditional Japanese castle (pictured, left) is to be seen at Himeji, on the Shinkansen between Osaka and Hiroshima - well worth a stop.
Nagasaki
The second atomic bomb exploded in Nagasaki three days after the Hiroshima one - although this time not quite in the centre of town, but in a suburb called Urakami. However, Nagasaki has much more to offer than reminders of 1945. Nagasaki has a long and fascinating history, and many beautiful temples and historic buildings have survived.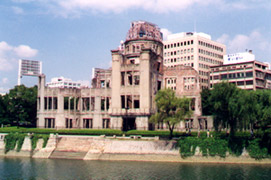 Hiroshima
Hiroshima needs no introduction. It's a large modern city, but you'll never forget your visit to the Peace Park, site of the epicentre of the atomic bomb explosion, or a tour of the museum there. You can see the 'T' shaped bridge (or rather, it's modern replacement) at the top of the Peace Park - this was allegedly the aiming point of the bomb-aimer of the 'Enola Gay'. Pictured right is the 'atomic bomb dome', previously the Industrial Promotions Hall, and one of the few buildings not completely flattened by the bomb.
---



Paying for a guidebook may seem an unnecessary expense, but it's a tiny fraction of what you're spending on your whole trip. You will see so much more, and know so much more about what you're looking at, if you have a decent guidebook. The Trailblazer 'Japan by Rail' guide is specifically aimed at train travel around Japan, with both city and train information. For the serious independent traveller, the best guidebooks to take are either the Lonely Planet or the Rough Guide. I personally prefer the layout of the Lonely Planet, but others prefer the Rough Guides. Both guidebooks provide excellent levels of both practical information and historical background.
Click the images to buy online at Amazon.co.uk...
---
◄◄ Hotel search & price comparison.

www.hotelscombined.com checks all the main hotel booking sites at once to find the widest choice of hotels & the cheapest seller. It was named as the World's Leading Hotel Comparison Site at the World Travel Awards 2013 and I highly recommend it, both to find hotels in even the smallest places and to check that another retailer isn't selling your hotel for less!

www.booking.com is my favourite booking site. It's really clear and you can usually book with free cancellation and so confirm your accommodation at no risk months before train booking opens.
Other hotel sites worth trying...
www.tripadvisor.com is the place to find independent travellers' reviews of all the main hotels.

www.booking.com is my own preferred hotel booking system (Hotels Combined being a search/comparison system). It has a simple interface, a good selection in most countries worldwide, useful online customer reviews of each hotel, and decent prices, usually shown inclusive of unavoidable extras such as taxes (a pet hate of mine is systems that show one price, then charge you another!).
Backpacker hostels...
www.hostelbookers.com: If you're on a tight budget, don't forget about backpacker hostels. Hostelbookers offers online booking of cheap private rooms or dorm beds in backpacker hostels in most cities at rock-bottom prices.
---
Overland travel around Japan by train is an essential part of the experience, so once there, don't cheat and fly, stay on the ground! But a long-haul flight might be unavoidable to reach Japan in the first place.
1) Check flight prices at Opodo, www.opodo.com...
2) Use Skyscanner to compare flight prices & routes worldwide across 600 airlines...
---
Take out decent travel insurance, it's essential...
Never travel overseas without travel insurance from a reliable insurer, with at least £1m or preferably £5m medical cover. It should also cover cancellation and loss of cash and belongings, up to a sensible limit. An annual multi-trip policy is usually cheaper than several single-trip policies even for just 2 or 3 trips a year, I have an annual policy myself. Here are some suggested insurers. Seat61 gets a small commission if you buy through these links.

In the UK, try Columbus Direct or use Confused.com to compare prices & policies from many different insurers.

If you have a pre-existing medical condition or are over 65, see www.JustTravelCover.com - 10% discount with code seat61.



If you live in Australia, New Zealand, Ireland or the EU, try Columbus Direct's other websites.

If you live in the USA try Travel Guard USA.
Get a spare credit card, designed for travel with no currency exchange loading & low or no ATM fees...
It costs nothing to take out an extra credit card. If you keep it in a different part of your luggage so you're not left stranded if your wallet gets stolen, this is a form of extra travel insurance in itself. In addition, some credit cards are significantly better for overseas travel than others. Martin Lewis's www.moneysavingexpert.com/travel/cheap-travel-money explains which UK credit cards have the lowest currency exchange commission loadings when you buy something overseas, and the lowest cash withdrawal fees when you use an ATM abroad. Taking this advice can save you quite a lot on each trip compared to using your normal high-street bank credit card!
---