London to Cyprus without flying...
It's possible to travel by train + ferry from the UK (or anywhere in Europe) to Cyprus, an exciting journey across Europe and the Mediterranean, although expect it to take at least 5 days. There are three options, each explained here:

London to Cyprus via ferry from Turkey - Now the only practical year-round option from Europe to Cyprus. You enter via Northern Cyprus.

London to Cyprus via ferry from Greece - All regular ferries suspended since 2001, but there may be cruises offering one-way voyages;

London to Cyprus via freighter from the UK & Italy - Limited number of passenger places available on direct UK-Italy-Cyprus freight ships.
---
---
Thanks to a daily ferry from southern Turkey to northern Cyprus, it's possible to travel from the UK or anywhere in Europe to Cyprus via Istanbul, year-round, without flying. With virtually all ferries between Greece and Cyprus suspended since 2001, this is now the only practical year-round route to either north or south Cyprus.
London ► Nicosia
Travel from London to Istanbul by train as shown on the London to Turkey page. The journey from London takes 3 or 4 nights and departures from London are daily.

From Istanbul to Cyprus, see the route map below.

Travel from Istanbul to Arifiye or Eskisehir by bus, then Arifiye or Eskisehir to Karaman by overnight sleeper train. Whether you go to Arifiye of Eskisehir depends on where the train is currently starting, as there's a fair amount of engineering work going on, rebuilding Turkey's railways, see the train travel in Turkey page. If going to Arifiye, the bus destination will be Adapazari / Sakarya. Use any suitable afternoon bus, and have dinner in Arifiye or Eskisehir. Then take the overnight Içanadolou Mavi Train with comfortable air-conditioned sleeping-cars from Arifiye or Eskisehir to Karaman leaving at 20:30 and arriving in Karaman at 08:48 next day, check times on the train travel in Turkey page. See the train travel in Turkey page for more information about this train and photos showing what the sleepers and seats are like. The fare is around TL 44 (£17 or $27) one-way in a seat or TL 84 (£30 or $49) with a bed in a 2-bed sleeper. You can also reach Karaman by high-speed train and connecting train from Ankara, see the train travel in Turkey page.

In Karaman, you can take a taxi or even walk to the bus station. Now take a bus from Karaman bus station to Silifke, which is the main town in the area. The best bus operators for Karaman to Silifke are Özkaymak and Kontur, which both do the ride in 2½ hours, fare around TL 18 (£7 or $13). The scenery is breathtaking as the bus descends from the Taurus along the steep and cavernous valley of the Göksu River to the Mediterranean. A dolmus taxi from Silifke to the ferry terminal at Taşucu costs about TL 1.5 (less than £1) and takes 15-20 minutes. You'll probably need to stay overnight somewhere along the way, perhaps in Silifke, and catch the fast ferry from Taşucu the following morning, unless you want to catch the midnight truckers' ferry with cabins available.

Take a fast ferry (daily departure at 11:30, crossing time 2 hours) or the truckers' ferry (4 or 5 sailings a week, midnight departure, crossing time 4-5 hours) from Taşucu to Girne (Kyrenia) in northern (Turkish) Cyprus, just north of Nicosia. The fare is about TL 69 (£29 or $45) one-way, TL 138 return, though there may also be port taxes to add. Two ferry companies run to almost identical times and fares, www.fergun.net or www.akgunler.com, with Akgunler operating the larger craft, see the photo below. The return fast ferry leaves Girne daily at 09:30. See www.fergun.net or www.akgunler.com.tr to confirm sailing times & fares.

Note that you arrive in northern (Turkish) Cyprus. The traveller's report below might help explain arrival formalities and the crossing into southern Cyprus.

Feedback from travellers on this route is always appreciated.
You should arrange tickets for the London-Istanbul train journey as shown on the London to Turkey page. You can book the Istanbul-Karaman train at the station when you get to Istanbul, or pre-book it via one of the agencies recommended on the train travel in Turkey page. You can book the ferry at the port when you get there, or book in advance via the ferry operator's website, www.fergun.net. It may seem a bit daunting to plan a train + ferry journey from the UK to Cyprus this way, so you may find this planning technique helpful.
A private 1 or 2 bed sleeper, in daytime mode with beds folded away. Easily the nicest way to travel between Istanbul & Karaman. Inexpensive, relaxed & civilised, no airport stress, no long cramped bus journeys. Interior photo courtesy of Heather Williams.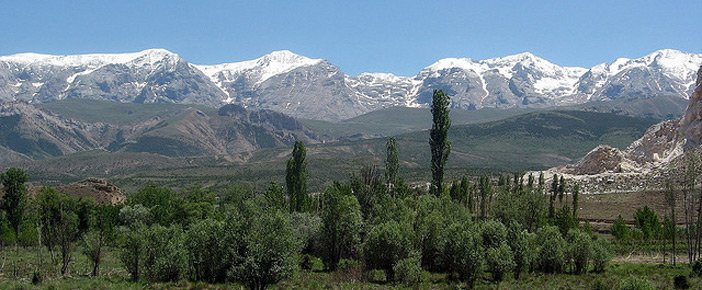 The snow-capped Taurus Mountains, seen from the Içanadolou Mavi Tren from Istanbul to Adana. Photo courtesy of Conor Meleady.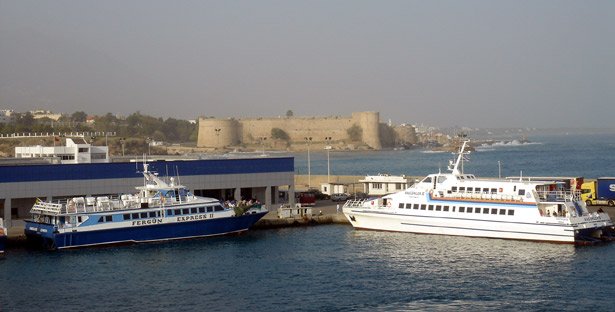 Cyprus' only ferry link with the outside world: Akgünler and Fergün fast ferries link Cyprus with Turkey, seen here in front of the Girne Fortress in Cyprus. All non-flying travellers to Cyprus must therefore enter Cyprus via the northern part of the island. Photo courtesy of Malte Fuhrmann
Traveller's reports...
Traveller Philip Bignell reports from a London-Cyprus trip by train and ferry (2007): "In Tasucu we were advised to arrive 90 minutes before ferry departure to buy tickets and clear security (10am for 11.30am departure). A return ferry ticket is TRY 92, including TRY 12 departure tax. The departures hall has a till to issue a receipt for the departure tax, and there is much waiting, queuing, several examinations of passports and or boarding cards, scanning of luggage and persons. Having cleared all this there are two or three tax free shops, then a catamaran to board in the harbour. Luggage, substantial and various, is placed on deck and covered with a tarpaulin for the voyage, with passengers taking a seat in the one large saloon, three steps down. This room has about twenty five rows of seating in all, with two aisles front to back and each row has about six seats either side and eight seats in the centre block. A group of rows in the very centre of the saloon is replaced with a small cubicle forming a shop. There are several television screens dotted around tuned to a local station in port or playing a film at sea. The ferry left about half an hour late, and the journey is around two and a half to three hours. Leaving the port the saloon doors are secured closed and passengers have to be seated, but they may go on the deck at sea, especially to enjoy smoking, after the doors are unlocked around five minutes into the voyage. It can be quite a bumpy ride, and I noticed it was particularly choppy when having generally followed the coast for about forty minutes we struck out past a headland over the open sea towards Cyprus. Poor sailors should consider taking the air. On the way out, around quarter of the passenger complement was manifestly queasy.
Cyprus is unhappily partitioned. Broadly, the northern third forms the Turkish Republic of Northern Cyprus, TRNC, a state recognised only by Turkey; the currency is Turkish Lira (TRY). The places in the north have both Turkish and Greek names. The southern part is Greek Cyprus, a member of EU and from January 2008 the currency is the euro - the Cyprus pound for the few remaining days of this year. In the last three years there has been free movement between the north and the south, through a very small number of crossing points on the green line, which is still supervised by United Nations armed forces. The ferry lands at Girne (Kyrenia in Greek) in TRNC and passengers arriving go through passport control. A TRNC visa is required, which is free of charge on entry. This can be provided on a separate piece of paper, postcard sized, which is stamped on arrival and again on departure and UK passport bearers should specifically ask for this. We had been categorically informed that TRAVELLERS WISHING TO VISIT SOUTHERN CYPRUS MUST NOT HAVE THEIR PASSPORTS STAMPED ON ARRIVAL IN THE NORTH - evidence in a passport would demonstrate that the traveller arrived on the island at an unrecognised port of entry and could be denied entry to the south.
Taxis and cars hired in the north cannot cross the green line to the south. The ferry port is east of the town centre of Girne, the main tourist resort in TRNC, with plenty of hotels shops and restaurants, and its old castle and pretty yacht harbour. From the port there are taxis or dolmus available, or it is about twenty minutes walk to the main town. Our destination was in the south. The dolmus from Girne to Lefkosa (Lefkosia in Greek, Nicosia in English) was TRY 3 per person for a 20 km journey, just over half an hour, ending at the north walls of the old city by the Kyrenia gate. The green line bisects the old city of Nicosia. There are no signposts either side indicating where or how to cross to the other, indeed it seems that each side disregards the existence of the other. There is a crossing at the Ledra Palace, outside the western walls of the old city. From the dolmus stop it is about seven minutes walk to the Ledra Palace, following the exterior of the city walls west or anti clockwise. Having completed the exit formalities of TRNC, including the stamping of the visa, it is necessary to walk about 200m south along a street between the city walls on one side and boarded property on the other to reach the entry point at the south. Once entry formalities are completed at the south, then it is a further fifteen minutes walk continuing anti clock wise around the walls, to reach Eleftheria Square, a transport hub of southern Nicosia.
The return journey is the reverse of the outward, with the following observations. For the return ferry, holding a return ticket, arrive one hour before departure (8.30am for 9.30 departure) and go to a first floor office in a side building to obtain boarding card and pay a further sum of TRY 20 for TRNC departure tax. In the departures hall, similar to the way out, passport, visa and boarding card documents are inspected several times, luggage and persons are scanned, a further cash payment of TRY 5 has to be made, luggage is deposited, taken to the harbour side then collected again for boarding the ferry.
On landing at Tasucu, be prepared for a thorough customs inspection of luggage. We had more time on the return journey so had lunch in Tasucu after landing, then took a dolmus for TL 1.25 to Selifke otogar, which is on the west side of the town. There is competition between coach companies and travellers will be greeted by several representatives each stressing the merits of their appointed coach company. We travelled on an Ozkaymak coach to Karaman, only waiting for a few minutes for the 1.45pm departure: each ticket cost TRY 17.5, and the coach arrived about 5pm, when it was getting dark. We stayed in the centre of Karaman, then the following morning took a dolmus TRY 1 from the centre to the otogar - this dolmus went via the railway station. With the same company, the coach to Konya was TRY 10 and took an hour and a half. From Karaman this company runs twenty coaches a day to Konya (from 7am to midnight), and seven to Adana (via Selifke), six between 8am and 7.30pm and one leaving at 3am. The dolmus from the otogar at Konya to the centre cost TRY 1.25 for a forty minute journey.
---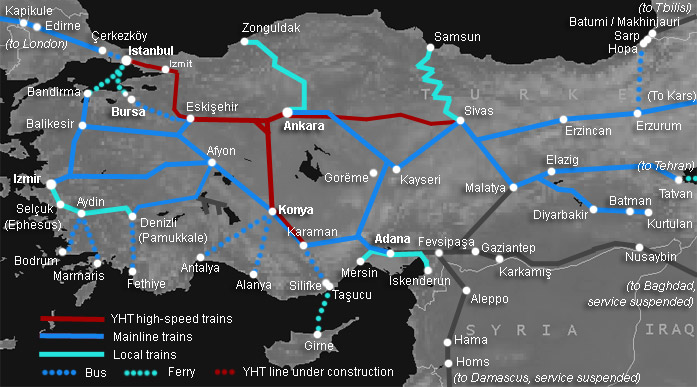 ---
Regular ferries Piraeus-Cyprus: Still suspended...
It used to be easy to travel to Cyprus by train and ferry via Athens, using one of three regular all-year shipping lines (Poseidon Lines, Salamis Lines or Access Ferries) from Piraeus to Limassol. However, all three services stopped running indefinitely in 2001 because of unrest in Israel, which was the ships' ultimate destination. There is no sign of any ferry service resuming, indeed the lack of any ferry between Cyprus and mainland Europe is something of a Cypriot political issue! You can check the latest situation at www.viamare.com, their UK agents.
Cruises Rhodes/Crete to Cyprus (summer only)...
In 2008, regular weekly Louis Lines cruises started running in summer (June to October) between Rhodes and Limassol on Cyprus, on which one-way tickets can allegedly be booked, at least in theory - one report suggests in practice requests for one-way bookings have been rejected, another suggests that one-ways can only be booked a week or less before sailing date, and are only sold if spare places are left available (and the cruise ship often runs full). But by all means see what the booking agent says. It ran again in summers 2009 & 2010. It may or may not resume in 2011. Feedback would be appreciated. Ships sail at least weekly, usually leaving Rhodes in the afternoon and arriving in Cyprus next morning. Some cruises also operate from Crete to Cyprus, but far less frequently. See http://www.varianostravel.com/Cruises/Limassol-Cyprus-Rhodes-Greece-ferry-boat-service.htm for sailing dates, sailing times & prices.
To reach Rhodes, travel from the UK to Athens as shown on the London to Greece page, then take one of the several overnight ferries from Piraeus (port of Athens) to Rhodes. www.ferries.gr will help with the Piraeus-Rhodes ferry. The total journey London-Cyprus will therefore take at least 5 nights, including a night & free day in Athens (as you will probably arrive in Athens from London via Bari too late to catch a ship to Rhodes the same day). It may seem a bit daunting to plan a multi-stage train + ferry journey from the UK to Cyprus via Athens, Piraeus & Rhodes, but you may find this planning technique helpful.
---
Grimaldi freighter cruises UK-Italy-Cyprus...
Grimaldi Freighter cruises (www.grimaldi-freightercruises.com) sail to Cyprus from Southampton calling at Salerno in Italy. Reckon on 13 days for the voyage from Southampton to Limassol, 4 days for Salerno to Limassol. They are freight ships which carry just 10-15 passengers, their schedule can change at short notice as freight is the priority. It's easier to travel all the way from the UK to Cyprus than to take the train to Salerno and pick up the ship there, because Grimaldi will only take bookings for the shorter Salerno-Cyprus journey a maximum of 10 days before each sailing date, whereas they will take bookings for the whole UK-Cyprus run months ahead.
Sponsored links...
---
The European Rail Timetable & maps




The European Rail Timetable (formerly the Thomas Cook European Timetable) has train & ferry times for every country in Europe plus currency & climate information. It is essential for regular European train travellers and an inspiration for armchair travellers. Published since 1873, it had just celebrated 140 years of publication when Thomas Cook decided to pull the plug on their entire publishing department, but the dedicated ex-Thomas Cook team have set up a private venture and published the first edition of a reborn European Rail Timetable in March 2014. You can buy it online with worldwide shipping at either www.stanfords.co.uk or www.europeanrailtimetable.eu. More information on what the European Rail Timetable contains.
A Traveller's Railway Map of Europe covers the whole of Europe from Portugal in the west to Moscow & Istanbul in the east, Finland in the north to Sicily & Athens in the south. On the back are detailed maps of Switzerland, Benelux & Germany, plus city plans showing stations in major cities. Scenic & high-speed routes highlighted. Buy it online for £14.50 + postage worldwide (UK addresses £2.80) at www.stanfords.co.uk/Continents/Europe/Maps--Atlases/Europe-A-Travellers-Railway-Map_9789077899090.htm or (in the Netherlands) for €13 + €5.50 postage from www.treinreiswinkel.nl.
---
Find hotels in ...
◄◄ Hotel search & price comparison.

www.hotelscombined.com checks all the main hotel booking sites at once to find the widest choice of hotels & the cheapest seller. It was named as the World's Leading Hotel Comparison Site at the World Travel Awards 2013 and I highly recommend it, both to find hotels in even the smallest places and to check that another retailer isn't selling your hotel for less!

www.booking.com is my favourite booking site. It's really clear and you can usually book with free cancellation and so confirm your accommodation at no risk months before train booking opens.
---
Travel insurance & health card...
Take out decent travel insurance, it's essential...
Never travel without proper travel insurance from a reliable insurer with at least £1m or preferably £5m medical cover. It should also cover loss of cash & belongings (up to a limit), and trip cancellation. An annual multi-trip policy is usually cheapest even for just 2 or 3 trips a year - I have an annual policy myself. However, don't expect travel insurance to bail you out of every missed connection, see the advice on missed connections here. Here are some suggested insurers, Seat61 gets a little commission if you buy through these links, and feedback from using insurance for rail & ferry travel is always welcome.

In the UK, use www.confused.com to compare prices & policy features across major insurance companies.

If you have a pre-existing medical condition or are over 65 (no age limit), see www.JustTravelCover.com.



If you live in Australia, New Zealand, Ireland or the EU, try Columbus Direct's other websites.

If you live in the USA try Travel Guard USA.
Get an EU health card, it's free...
If you're a UK citizen travelling in Europe, you should apply for a free European Health Insurance Card, which entitles you to free or reduced rate health care if you become ill or get injured in many European countries, under a reciprocal arrangement with the NHS. This replaced the old E111 forms as from January 2006. The EHIC card is available from www.ehic.org.uk. It doesn't remove the need for travel insurance, though.
Carry a spare credit card, designed for foreign travel with no currency exchange loading & low/no ATM fees
Taking out an extra credit card costs nothing, but if you keep it in a different part of your luggage you won't be left stranded if your wallet gets stolen. In addition, some credit cards are better for overseas travel than others. Martin Lewis's www.moneysavingexpert.com/travel/cheap-travel-money explains which UK credit cards have the lowest currency exchange commission loadings when you buy something overseas, and the lowest cash withdrawal fees when you use an ATM abroad.
You can avoid ATM charges and expensive exchange rates with a Caxton FX euro currency Visa Card, or their multi-currency 'Global Traveller' Visa Card, see www.caxtonfx.com for info.
---
Back to 'Rail travel to Europe' general page