Once upon a time, Spain had one of the most backward train networks in western Europe. Now, they have one of the best, indeed, one of my favourite rail systems. High-speed AVE trains (Alta Velocidad Española) link major cities at up to 186mph, and if you book in advance online you can find some great cheap fares at the official Spanish rail website, www.renfe.com. This page will give you a heads-up on how to travel cheaply around Spain by train.
Information on this page...

Spain by train, in a nutshell - the key points you need to know.

Railpasses for Spain

Spanish train classes explained

What are Spanish trains like?

How to buy train tickets for Spain - the cheapest way!

How to use www.renfe.com

How to transfer between Atocha & Chamartin in Madrid

Tailor-made tours & holidays in Spain by train

Hotels & accommodation in Spain
Information on other pages...

UK to Spain by train - Train times, fares, how to buy tickets.

Paris to Barcelona TGV trains

Train travel from Spain to other European cities

Train travel from other European cities to Spain

Eurail passes InterRail passes

General European train travel information: luggage, bikes, pets, maps, timetables, tips.
Sponsored links...
---
---
The key things you need to know, in a nutshell..
Where do the trains go? The network links all the major towns & cities. For a train route map, try www.bueker.net or http://en.wikipedia.org/wiki/File:Red_ferroviaria_espa_ola.png.

| | |
| --- | --- |
| | Spain's high-speed AVE trains... Madrid to Barcelona by train now takes just 2 hours 40 minutes, Madrid to Seville 2 hours 30. There's no need to fly anywhere in Spain! |

Who runs the trains? Renfe. The Spanish rail network is run by Renfe (pronounced Ren-fay), originally Red Nacional de los Ferrocarriles Españoles but now a brand name in its own right, see www.renfe.com. Renfe runs Spain's superb high-speed AVEs, other mainline trains, and local and suburban trains nationwide.

Local operators FEVE & Euskotren: In addition to Renfe there are two local train operators you might need to know about, who run metre-gauge local lines in northern Spain. FEVE (www.feve.es) runs a rambling local network along the north Spanish coast. They've recently been absorbed into Renfe, see www.renfe.com/viajeros/feve. Euskotren (www.euskotren.es) runs local trains from the French frontier at Hendaye & Irun to San Sebastian and Bilbao. However, this page is mainly concerned with Renfe mainline trains.

Classes: Renfe normally offers two classes, Turista (2nd class) and Preferente (1st class), but on the best high-speed AVE trains it also offers Club class (Premium first). On a few AVEs you'll also find Turista Plus, which means Preferente-type seats but without the Preferente service or access to the Sala Club. More explanation about classes on Spanish trains.

Food & drink: On most long-distance trains there's a cafe-bar serving tea, coffee, drinks and snacks. Preferente fares used to include an at-seat meal with wine on all AVE, Altaria, EuroMed and most Alvia trains, but this is almost completely discontinued as from December 2013. A meal and wine remains included in Club & Preferente class on AVE & EuroMed trains, but only on Mondays-Fridays.

First class lounges at stations: All Preferente & Club class ticketholders including Promo+ but excluding Promo give you access to the Sala Club (1st class lounges) at Madrid Atocha, Madrid Chamartin, Barcelona Sants, Cordoba, Seville, Malaga, Alicante, Zaragoza and several other major stations, opening hours and full list on the Renfe website. You can see what these classes are like in the section below.

Do you need a reservation? Should you pre-book? Yes! All long distance trains in Spain and even some shorter distance regional ones require a seat reservation, you cannot just turn up and hop on. There's usually places available on the day of travel, but at peak times such as Christmas and Easter trains can get full so pre-book if you can. If you book in advance you can find deeply-discounted Promo fares, but if you wait to buy your tickets on the day you'll pay an expensive full fare.

When do reservations open? In theory, bookings normally open 60 days ahead, although booking for AVE trains may open up to 90 days ahead. However, this isn't exact - I often find that Renfe loads trains as and when it feels like it, often significantly less than 60 days and often loading some trains before others. If you go online and don't see the complete train service which you're expecting to see, and it's more than a month to go before departure, the chanes are that all trains are not yet loaded.

Fares. There's a fairly simple fares structure for long-distance trains including the high-speed AVE: Flexible (shown as F). Promo+ (shown as P+, limited changes, limited refunds), Promo (shown as P, no changes, no refunds). Promo fares are available to anyone if they book in advance, the price and availability vary like air fares, book early for the cheapest prices. There are also Mesa fares, shown as M, which are for small groups of 3 or 4 people.

How to buy tickets & check train times: You can buy tickets at any Renfe station or online at www.renfe.com following the advice below. Wherever you live, this is the cheapest and best option. However, if you have any problem with Renfe.com, you can now buy Spanish train tickets very easily and at similar prices with just a small booking fee added at www.raileurope-world.com or www.petrabax.com/renfe in plain English with no payment problems and still with print-at-home tickets. Alternatively, if you live in the UK you can buy Spanish train tickets by phone from Renfe's UK agent, www.spanish-rail.co.uk who charge the Renfe price plus a €10 fee. At the time of writing, the UK-based Rail Europe can only sell full price tickets for Spanish domestic trains, they cannot sell Promo or Promo+ fares.

Free suburban tickets with any long-distance ticket (CombinadoCercanias): When you buy an AVE or other long-distance Spanish train ticket of any type or class for a journey within Spain, you can get free travel from any Renfe suburban station at the start of your journey and free travel to any Renfe suburban station at the end of your journey, in the following cities: Asturias, Barcelona, Bilbao, Cadiz, Madrid, Malaga, Murcia/Alicante, San Sebastian, Santander, Seville, Valencia and Zaragoza. You also get free travel from/to any FEVE local station in Asturias, Santander, Bilbao and Cartagena.

To use these suburban (Cercanias) trains you must get a free suburban train ticket from a self-service ticket machine or staffed ticket office using the CombinadoCercanias password printed on your Renfe long-distance ticket, underneath the main ticket number & localizador. At your starting city, you must use the suburban ticket within 3 hours of your long-distance train departure, and at your destination you must use the suburban ticket within 3 hours of your long-distance train's arrival.

Full details are at www.renfe.com/viajeros/larga_distancia/servicios/combinado_cercanias.html (in Spanish, use Google Chrome browser to translate).

The CombinadoCercanias offer applies to any Spanish domestic long-distance tickets bought directly from Renfe.com, and probably also tickets bought on websites which directly connect to Renfe's system such as petrabax.com/renfe & raileurope-world.com. As far as I know it does not apply to international tickets such as Paris-Barcelona, nor to tickets bought from non-Renfe websites such as voyages-sncf.com, as these won't print any CombinadoCercanias password on the ticket, but feedback would be appreciated.
Luggage & luggage weight limits on Spanish trains: You keep your bags with you, putting them on the racks above your head and at the end of each car. Renfe is unusual in specifying a weight limit for passengers' baggage, which is a nonsense, first because a weight limit is totally unnecessary on a train as it does not have to take off, and second because your bags will not be weighed at any stage, so as long as you don't take the Mickey, this weight limit is pretty much irrelevant and can be taken with a big pinch of salt. It's probably the result of employing an ex-airline senior manager! For information about left luggage at Spanish stations, see the luggage on trains page.

Bikes: See the bikes by train page.

Taking animals: See the dogs & pets section on the Europe by train page.
---
Turista, Turista Plus, Preferente, Club...
Spanish long-distance trains usually have two classes. Turista = 2nd class, and Preferente = 1st class. Before December 2013, a simple hot tray meal with wine used to be included in the Preferente fare on the most important AVE, Alvia, EuroMed & Altaria trains.

On their front-rank high-speed AVE trains, they then introduced a premium 1st class, called 8Club. Leather seats and a higher-quality meal and wine were included in the fare, and still are. Simple enough.

In early 2013, they cut catering costs on some less-business-orientated AVEs by replacing Turista, Preferente & Club with Turista, Turista Plus & Preferente, where Turista Plus = 1st class Preferente seating but without the meal & wine. Other AVE trains retained Turista, Preferente and Club. Turista Plus has now been extended onto other long-distance trains, meaning Preferente (1st class) seating but without the at-seat included meal & wine.

Then in December 2013, Renfe abolished the included at-seat meal & wine for Preferente passengers on all trains except Monday-Friday AVE & EuroMed trains. So now, Turista Plus means 1st class seating without any included at-seat food or wine, and, erm, so does Preferente. No, I don't know what the difference is either, now, apart from the price. Oh, you get access to the Sala Club 1st class lounge at major stations with a Preferente ticket. But now that too is dropped if your Preferente class ticket is of the cheapest Promo type. Is there any point in paying for Preferente rather than Turista Plus? As the Americans would say, "Go figure..."

On the few high-speed AVE trains which still have it, if you can afford it, Club class service is wonderful, with good wine and a high-quality meal, highly recommended.

On all other trains, Turista is perfectly comfortable, and the way most people travel. But if you want the extra space and legroom of a 1st class seat, you'll get this with either a Turista Plus or Preferente ticket. First class seats are usually arranged 2+1 across the car widths, so will include some tables-for-2 and individual solo seats as well as tables-for-4 and unidirectional 2-abreast seats. Turista seats are arranged 2+2 across the car width, so only feature tables for 4 and unidirectional 2-abreast seats.
---
AVE trains...

AVE trains come in various types. These photos of the original French-designed S100 AVE type used between Madrid & Seville give you a good idea of the difference between the three classes. See photos of the German-designed S103 AVE used between Barcelona & Madrid. See photos of the Spanish Talgo-designed S102 AVE used between Madrid & Malaga, Barcelona & Malaga, Barcelona & Seville.

All aboard! This is an S100 AVE from Madrid to Seville. All AVE trains have a cafe-bar serving drinks and snacks, or you feel free to bring your own food, wine or beer on board.

First class Sala Club lounge. Club & Preferente passengers including Promo+ tickets but excluding Promo tickets may use the Sala Club lounge at major Spanish stations, with coffee, juices & beer...
| | | |
| --- | --- | --- |
| | | |
| AVE Club class with reclining leather seats, power sockets for laptops & mobiles. | | A hot at-seat meal with wine is included in the Club class fare... |
| | | |
| --- | --- | --- |
| | | |
| AVE Preferente class with reclining seats, power sockets for laptops & mobiles. | | AVE Turista class with comfortable seats, power sockets for laptops & mobiles. |
Turista Plus? No Club class? You'll now find Turista Plus class on some AVEs, this means a Preferente-type seat. Some AVEs now lack Club class - on these trains you may find yourself in a Club class seat with a Preferente ticket.
Alvia & EuroMed trains...
These S130 trains operate the EuroMed services linking Barcelona, Valencia & Alicante, as well as Alvia trains from Madrid to Cadiz & Huelva. They consist of little articulated coaches built by the Talgo company sandwiched between two duck-billed power cars. There are other Alvia services operates by similar trains with a diesel power-car added, and a few Alvia trains operated by slightly different train types, but of similar high quality.
| | | |
| --- | --- | --- |
| | | |
| An Alvia train at Barcelona Sants. It's a type S130 nick-named 'pato' or 'duck', for obvious reasons! | | Turista (2nd class) seats on an Alvia train... |
| | | |
| --- | --- | --- |
| | | |
| Preferente (1st class) seats on an Alvia train... | | An Alvia (EuroMed) train at Barcelona Franca station. |
Altaria trains...
These run on many long distance routes, including Madrid-Ronda-Algeciras and Madrid-Granada. Little articulated trains built by the Talgo company and hauled by a separate locomotive, they have adjustable axles so they can run at up to 125mph on the high-speed AVE lines (which are standard European gauge) then go though a gauge-changing shed to emerge on traditional Spanish broad gauge to complete their journey on the classic network.
| | | |
| --- | --- | --- |
| | | |
| An articulated Talgo Altaria train at Madrid Atocha. | | Turista (2nd class) on an Altaria train. |
| | | |
| --- | --- | --- |
| | | |
| Preferente (1st class) seating on an Altaria train... | | An Altaria train at Madrid Atocha, just arrived from Ronda & Algeciras... |
---
Option 1: Buy online at the Spanish Railways site www.renfe.com, cheap fares, no fees...
The Spanish Railways website www.renfe.com sells tickets for almost any long-distance train wholly within Spain including sleepers, and you simply print out your own ticket. It sells some amazingly cheap online Promo & Promo+ fares that you can't buy from agencies or even at the ticket office, making it well worth getting to know. It will also book the international trainhotels in either direction between Madrid & Lisbon or the French border & Lisbon, with self-print tickets. It has a few quirks, so please read the advice on using Renfe.com below.
Option 2: If you have any problems with Renfe.com, buy at www.petrabax.com/renfe...
If you have any difficulty with Renfe.com, for example payment problems or quirky translations, you can book Spanish trains online in plain English with no payment problems at www.petrabax.com/renfe. This is a US-based agency that has been allowed to link to the Renfe ticketing system, so has the same trains and cheap Promo prices (although priced in US$ with a modest mark-up), no payment problems, and no language problems. It issues the same print-at-home tickets as Renfe themselves, so anyone from any country worldwide can use it, including the UK, United States, Canada and Australia. Feedback if you use the Petrabax site would be appreciated.
Option 3: Buy by phone in the UK on 0844 248 248 3...
You can buy Spanish train tickets by phone in the UK with one of Spanish Railway's UK agents:
International Rail on 0844 248 248 3, lines open 09:00-17:00 Monday-Friday, £10 booking fee for orders under £100.

Spanish Rail (www.spanish-rail.co.uk) on 020 3137 4464, lines open 09:30-17:30 Monday-Friday, closed lunchtimes. €10 booking fee per ticket.
| | |
| --- | --- |
| | How to use renfe.com... |
| | |
| | 1. The renfe.com home page... |
| | 2. I recommend registering first... |
| | |
| | |

Spanish train bookings usually open 60 days ahead, AVEs may open up to 90 days ahead. You can't book before reservations open! If you see 'Train blocked' in the search results it means that date or train hasn't opened for booking. The opening of reservations can be delayed for dates after the twice-yearly timetable change in June and December, as they're always late loading the data. The 60/90 days isn't exact, indeed, I often find that Renfe loads trains as and when it feels like it, often less than 60 days and sometimes certain trains appear on the system before others. If you don't see the complete train service which you are expecting to see, and it's over a month to go before departure, the chances are that not all trains have been loaded yet.

Before we start, here's an alternative to Renfe.com: Buying direct from Renfe is the cheapest option, their site works fine for me and always accepts my credit card. But I guesstimate from feedback that 25% of overseas travellers have credit card rejection problems when using Renfe.com, especially Americans or Australians, so if you have any problems there's an easy alternative, www.petrabax.com/renfe. This is a private agency which links directly to the Renfe ticketing system, with Renfe's prices converted to US$. There's a small markup, of course, but it's in plain English with no payment problems. But try Renfe.com first!

Go to www.renfe.com. Use Internet Explorer if possible. It doesn't work as well in Safari, although Firefox now seems fine to me.

Click 'Welcome' top right to switch it to English.

I strongly recommend registering first: If you register, you can log in and retrieve your booking if for any reason a connection fails or your pop-up e-ticket fails to appear. And if you're registered, you can log in to change or cancel your bookings at any time.

- Click the tab marked '+Services', then click 'Register me' in the 'My account' login box.

- change ID No to 'passport'.

- 'Documento' means your passport number.

- the UK is listed under R as 'Reino Unido'

- the USA is listed under E as 'Estados Unidos'.

- click 'Acceptar'. On the next page, enter all the necessary details.

- if it won't accept a UK-style postcode, simply use '12345'. If it won't accept UK counties, leave blank or use a Spanish province.

- You can leave 'Complemento de Direccion' and 'Complemento de Numero' blank.

- When asked for a phone number, enter it without any '+' or '00' or '0', starting with the 44 for calling the UK, then area code without the '0', then number with no spaces between the numbers, for example 441844292884.

Now use the journey planner to check prices & buy tickets online. Do not click 'Timetables and Prices' as this will only show train times & full-price fares, it won't allow you to buy tickets or check availability of the cheap Promo fares.

For a round trip, select 'Return', for a one-way trip, select 'Outward'. Enter your enquiry details and click 'search'.

The system cannot generally handle changes of train, it will only show direct trains plus a few important connecting services that their webmasters have manually programmed in. So if you ask it for San Sebastian to Algeciras it won't show any trains as there are no direct ones, but of course you'll see several trains if you ask it first for San Sebastian to Madrid, then separately for Madrid to Algeciras. The German railways journey planner at www.bahn.de can be useful in identifying journey options involving a change of train, which can then be booked at www.renfe.com in two stages.

On the search results page you'll see a list of trains, each with a price in all classes.

'Train blocked' simply means booking for that train or date haven't opened yet. Just wait and keep trying!

Classes: Turista = 2nd class. Turista Plus = 2nd class service, but with a more comfortable Preferente-style seat. Preferente = 1st class. Club = premium 1st class, available only on AVE trains.

If booking a sleeper, make sure it says 'cama' ('bed').

Cama Turista = bed in 4-berth sleeper.

Cama Preferente = 1 or 2 bed, breakfast included.

Cama G. Clase = gran clase 1 or 2 bed with private shower & toilet, dinner & breakfast included.

Indiv = single-bed, doble = 2-berth.

Fare types and what they mean:

M = Mesa fare for small groups and families of up to 4 people. Mesa is Spanish for 'table'. The price shown is per seat for each of the four seats around a table, and with a Mesa fare you must always buy all 4 seats. So if the Mesa fare is shown as €30, you pay €120 and get all 4 seats. Which obviously only works out as €30 per person if there's 4 of you, it's €40 if there's 3 of you, €60 if there's 2 of you, or €120 if there's only 1 of you. The cost per person will appear in a box if you select a Mesa fare, to save you working it out. Obviously, if there's only 1 or 2 of you, it is usually cheaper to ignore the Mesa fare and go for a Promo fare.

P = Promo fare, no refunds, no changes to travel plans, no seat choice. This is the cheapest fare, you'll be allocated seats (but if there's 2 or more of you you'll still get seats together, so don't worry) but you aren't given the chance to select specific seats from a seating plan and in Preferente class you won't qualify for access to the Sala Club first class lounges at main stations.

P+ = Promo Plus fare, limited refunds, limited changes, seat choice. The next cheapest fare, you'll be given the chance to select a specific seat from a seating plan when you book and (if you're booking a Preferente class ticket) you'll get access to the Sala Club first class lounges at main stations with complimentary snacks, tea, coffee and beer.

Promo and Promo+ fares are available to anyone of any age, and are the best deal for Spanish rail travel. If booking at very short notice you may also see some cheap Ultima Hora (last minute) fares.

Double-arrow = Return fare. If you're enquiring for a return trip, you'll see this option. It's simply a fully-flexible return fare (half of the return fare is shown for the outward and half for the return), this is the same as a Fully-Flexible fare but with the 20% round trip discount applied. It's usually cheaper to book a Promo or Promo+ fare each way.

F = Flexible fare, also known as Tarifa General or General price = the full price. Seating choices & lounge access as for Promo+.

D = Duo, M = Mini à Deux, only found on the international trainhotels, these are cheap advance-purchase fares for two people travelling together, no refunds, no changes to travel plans. Just buy whichever is the cheapest.

Can't see any cheap Promo fares? The cheap Promo fares are sometimes not loaded for the whole 60 days ahead, so if none of these cheap fares appear on any of the trains on your date of travel, only expensive full price fares, it may be worth waiting a little longer and the promo fares may appear, assuming it isn't such a busy day for travel in Spain that they've decided not to offer any, of course.

Select the train & class you want and click 'Continue' right at the bottom.

Booking a sleeper? 'Cama' means bed, or sleeper. If it doesn't say 'cama', it isn't a bed. It may now be fixed, but there may be a glitch in the English version that on the following page after selecting a price sometimes results in the drop down 'class' box not being properly filled with options, which means that you can't continue. The solution here is to book in Spanish on the Spanish version of the renfe site. This really isn't as difficult as it sounds, as all you need are place names, dates, times, 'cama' means bed, 'ida' means one-way, 'ida y vuelta' means return, 'salida' means departure and llegada' means arrival. You can use Google language tools to translate any words or phrases you don't understand.

For one-way trips, ignore the warning "We wish to inform you that you have selected an OPEN RETURN journey". This warning is nonsense, as if you have selected 'Outward' at the beginning you are indeed booking a one-way. Well, it's not really nonsense, as you can add an optional return trip later if you want to, complete with the 20% return-leg discount, that's what they are trying to say.

Ignore the "-- Descuento F.Numerosa" box as it's almost certainly irrelevant for you, so leave it alone. The Numerous Family discount is a political Spain-wide thing for Spanish residents only. Check the journey details & price and click 'Continue' again.

On the next page, enter your details. Change 'Type of document' drop down box to 'Passport' and enter your passport number in the 'Document number' box. The UK is listed as 'Great Britain' in the countries list. Under 'Province' enter your county.

Enter your phone number without any '+' or '00' or '0', starting with the 44 for calling the UK, then area code without the '0', then number with no spaces between the numbers, for example 441844292884.

Payment page: Now enter your card details and complete the purchase. They use the 3D Secure/Verified by Visa/MasterCard Secure system, it's a good idea to enable your credit cards for this.

Make sure your browser will allow pop-ups as you might otherwise lose your PDF format tickets, which pop up as a new tab or window.

Error GU001 at payment stage? If you get error message GU001 when paying, it could be your bank blocking an unusual foreign transaction, rather than renfe.com itself. Try another credit card, and/or call your bank and tell them you're making a legitimate payment on a foreign website. Renfe uses the 'Verified by Visa' and 'MasterCard Secure' schemes, and anecdotal evidence suggests that a card that doesn't work before it is enrolled in one of these schemes suddenly works once you've signed up.

Print your tickets: When you've booked and paid, the tickets should automatically pop up in PDF format in a new window or tab. You can print them out on your own PC printer, and save them to your PC. Personally, I not only print a spare set of tickets to place elsewhere in my luggage, I save the tickets to a dropbox.com account I can access from anywhere.

These PDF format print-at-home tickets are valid for travel without further formality. You do not need to 'check in' or exchange them for anything. Just board the train and show the printout when asked! It has your reserved seat and coach numbers printed on it, along with your travel date, train time and journey.

If your print-at-home tickets fail to appear, do not navigate away from the confirmation screen before noting down the 'localiser' booking reference code, which will also be shown in an email you'll be sent. Even if you haven't got the localiser, if you registered, you can log in, click 'My Journeys' and find the localiser and print tickets. If you have the localiser, you can enter it in the ticket machines at the station to print your tickets. If you get really stuck, try calling renfe for help on 00 34 902 10 94 20. The operators usually speak English and even if you didn't register they can provide you with your booking's 'localiser' which then allows you to print your ticket at the station either at the staffed ticket office or self-service machines.

Feedback (positive or negative) is very welcome if you use renfe.com to buy tickets, especially as things change from time to time and I won't always spot it.

If you have any difficulty, for example credit card payment errors, buy from www.petrabax.com/renfe instead, see the alternative ways to buy Spanish tickets.
---
Some trains use Madrid's modern Chamartin station in the north of the city. The trains to Seville, Granada, Malaga leave from Madrid Atocha station (also known as Puerta de Atocha) about 20 minutes walk south of the city centre. It's easy to transfer between stations by frequent suburban train. The Spanish for suburban train is 'Cercanias', look for the orange and white 'C' logo.
| | |
| --- | --- |
| | An air-conditioned Spanish suburban train at Madrid Chamartin, going to Madrid Atocha... |
| | |
| | Madrid Atocha station: The old historic trainshed at Madrid Atocha has been turned into an attractive tropical garden, with café... High-speed trains to Barcelona, Malaga & Seville leave from a modern concourse, out of shot directly behind the photographer. For train departures to Seville, Malaga, Barcelona & Algeciras, you must climb the stairways or escalators shown in the right and left of this photo to a first-floor departure area and X-ray check. Suburban trains to/from Chamartin station (plus a few mainline trains that start at Chamartin) use underground through platforms shown in the renfe.com timetables as 'Atocha Cercanias'. |
Madrid Chamartin ▶ Madrid Atocha
You can buy a suburban ticket to Atocha from the self-service machines, which have an English language facility. The fare is only €1.50, the machines accept euro notes and coins.
If you have an AVE or other long-distance train ticket, you may get a suburban ticket free, see the advice here.

Go to platform 8. Trains from this platform all go to Atocha, leaving every 5-10 minutes.

The journey is 3 stops and it takes just 10-15 minutes.

Alternatively, the Madrid metro (www.metromadrid.es) links Chamartin station with Madrid city centre and Atocha station, though this takes longer.

Or you can take a taxi. A taxi from Chamartin to Atocha will cost around €10.

On arrival at Puerta de Atocha Cercanias platforms, follow the 'Salida' ('Way out') then 'Grandes Lineas' ('Main Line Trains') signs to the mainline concourse. For departures, take the escalators one floor up. Your luggage will be X-rayed before access to the departure area. When your train is ready for boarding you descend via a travelator to the platform to board your train. Note that a handful of mainline trains start at Chamartin and call at Atocha suburban platforms (Atocha Cercanias) rather than starting from Atocha's terminal platforms like other mainline trains.

If you have a Preferente or Club class ticket, including a Promo+ ticket but excluding a Promo ticket), you can use the Sala Club 1st class lounge at Madrid Atocha station just off the first floor departure area (turn right after going through the luggage X-ray check, walk along a bit, then the door it's on your right). In the Sala Club you'll find a quiet, civilised and relaxing lounge in which to wait, with complimentary tea, coffee, juices and free beer. It's open 06:00-22:00 Mondays-Saturday, 06:30-22:00 Sundays.

Panorama photo of Madrid Atocha old hall. If you open this photo, turn around 180 degrees so you can see the escalators, the flow of people immediately above the black-and-orange departure display are filing through the baggage X-ray into the high-speed departures area. The trains are in a modern annex beyond that point.
Madrid Atocha ▶ Madrid Chamartin
You can buy a suburban ticket to Chamartin from the self-service machines, which have an English language facility. The fare is only €1.50, the machines accept euro notes and coins. If you have an AVE or other long-distance train ticket, you may get a suburban ticket free, see the advice here.

Go to platforms 1 & 2. Trains from these platforms all go to Chamartin, every 5-10 minutes.

The journey is 3 stops and it takes just 10-15 minutes.

Alternatively, the Madrid metro (www.metromadrid.es) links Atocha station, Madrid city centre and Chamartin station, though this takes longer.

Or you can take a taxi. A taxi from Atocha to Chamartin will cost around €10.

If you have a Preferente or Gran Clase ticket (including Promo+ but excluding the cheapest Promo fares), you can use the Sala Club 1st class lounge at Madrid Chamartin station, through a poorly marked door next to platform 14. In the Sala Club you'll find a quiet, civilised and relaxing place to wait, with complimentary tea, coffee, juices and free beer. It's open 06:00-22:45 Mon-Fri, 06:10-22:45 Sat, 07:10-22:45 Sun.
Maps of Madrid...
---



Paying for a guidebook may seem an unnecessary expense, but it's a tiny fraction of what you're spending on your whole trip. You will see so much more, and know so much more about what you're looking at, if you have a decent guidebook. For the independent traveller I'd recommend either the Lonely Planet or the Rough Guide, both provide an excellent level of practical detail and useful background. You won't regret buying either of these guides! My own book, an essential handbook for train travel to Europe based on this website called "The Man in Seat 61", was published in June 2008, and is available from Amazon with shipping worldwide.
Click the images to buy online at Amazon.co.uk...
Alternatively, download just the chapters or areas you need in .PDF format from the Lonely Planet Website, from around £2.99 or US$4.95 a chapter.
---
The European Rail Timetable & maps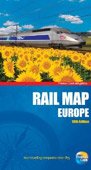 The European Rail Timetable (formerly the Thomas Cook European Timetable) has train & ferry times for every country in Europe plus currency & climate information. It is essential for regular European train travellers and an inspiration for armchair travellers. Published since 1873, it had just celebrated 140 years of publication when Thomas Cook decided to pull the plug on their entire publishing department, but the dedicated ex-Thomas Cook team have set up a private venture and published the first edition of a reborn European Rail Timetable in March 2014. You can buy it online with worldwide shipping at www.europeanrailtimetable.eu. More information on what the European Rail Timetable contains.
The Thomas Cook Rail Map of Europe is the best & most comprehensive map of train routes right across Europe, from Portugal in the west to Istanbul, Moscow & Ukraine in the east, from Finland in the north to Sicily & Crete in the south. High speed & scenic routes are highlighted. Highly recommended, if you can find a copy! Buy online at www.amazon.co.uk (worldwide delivery). A new edition will be published by the European Rail Timetable team in 2014. See map extract.
---
◄◄ Hotel search & price comparison.

www.hotelscombined.com checks all the main hotel booking sites at once to find the widest choice of hotels & the cheapest seller. It was named as the World's Leading Hotel Comparison Site at the World Travel Awards 2013 and I highly recommend it, both to find hotels in even the smallest places and to check that another retailer isn't selling your hotel for less!

www.booking.com is my favourite booking site. It's really clear and you can usually book with free cancellation and so confirm your accommodation at no risk months before train booking opens.
Other hotel sites worth trying...
www.tripadvisor.com is a good place to find independent travellers' reviews of the main hotels, and it has the low-down on destination sights & attractions, too.

www.venere.com has a wide selection of hotels and a well-presented website. They're also good because the price you see is the price you pay, no hidden extras, you just pay the hotel when you get there. Barcelona Madrid Granada Seville Cordoba Malaga Alicante Valencia Costa del Sol Costa Brava Algeciras.

www.mrandmrssmith.com (no relation!) is the place to start if you want something special for an anniversary, honeymoon, romantic break or other special occasion. www.mrandmrssmith.com lists hand-picked boutique hotels in Barcelona, Madrid, Seville, Ronda, Granada an a few other Spanish destinations.
Backpacker hostels...
www.hostelbookers.com: If you're on a tight budget, don't forget about backpacker hostels. Hostelbookers offers online booking of cheap private rooms or dorm beds in backpacker hostels in Paris and most other European cities at rock-bottom prices.
Environmentally aware, actively ethical adventures in Spain: www.wildsideholidays.com...
For environmentally-aware guesthouses offering walking, hiking, riding or nature-watching in the Spanish countryside and national parks, try www.wildsideholidays.com, a new site listing independent, environmentally-aware properties across Spain. It was started by British ex-pats Clive Muir and Sue Eatock, when they found nowhere to advertise their own wonderful property deep in the heart of the Sierra de Grazelema near Ronda in Southern Spain. Clive and Sue can show you the local sights and wildlife, from wild orchids to ibex (wild mountain goats) to colonies of Griffon vultures. See www.natural-images.co.uk for details.
---
020 3327 0761 (UK)

1-800-408-3280 (USA)

1300 971 526 (Aus)

0800 002 034 (NZ)
Tailor-made tours of Spain by train...
If you want to tour Spain by train, with all your train reservations and hotels sorted for you to your own specification, contact rail travel specialists Railbookers and they'll create the best rail holiday for you, hassle-free. Unlike some overseas travel agents, they really do know all about train travel in Italy and right across Europe, and they know some excellent hotels, too. They take good care of their clients and it's not surprising they get a lot of repeat business, so I have no hesitation in recommending them.
New Zealand call toll-free 0800 002 034 or see website.
---
Spanish city centres and cars don't mix well, so stick with the train for city-based tours. But if you want to get out of the cities and into the countryside, hiring a car can be a great idea. Start by trying Holiday Autos, www.holidayautos.co.uk, they're part of Lastminute.com so are reliable and have a wide range of locations and very good prices.
Compare 50 different car hire companies: www.carrentals.co.uk
The award-winning website www.carrentals.co.uk compares many different car hire companies including Holiday Autos, meaning not only a cheapest price comparison but a wider choice of hire and drop off location.
---
Travel insurance & health card...
Get travel insurance, it's essential...
Never travel without insurance from a reliable travel insurer with at least £1m or preferably £5m medical cover. It should also cover loss of cash (up to a limit) & belongings, and cancellation. An annual multi-trip policy is usually cheapest even for just 2 or 3 trips a year (I have an annual policy myself). Don't expect travel insurance to bail you out of every missed connection, though, see the advice on missed connections here. Here are some suggested insurers, Seat61 gets a little commission if you buy through these links, and feedback from using insurance for rail & ferry travel is always welcome.

In the UK, use www.confused.com to compare prices & policy features across major insurance companies.

If you have a pre-existing medical condition or are over 65 (no age limit), see www.JustTravelCover.com.



If you live in Australia, New Zealand, Ireland or the EU, try Columbus Direct's other websites.

If you live in the USA try Travel Guard USA.
Get an EU health card, it's free...
If you're a UK citizen travelling in Europe, you should apply for a free European Health Insurance Card, which entitles you to free or reduced rate health care if you become ill or get injured in many European countries, under a reciprocal arrangement with the NHS. This replaced the old E111 forms as from January 2006. The EHIC card is available from www.ehic.org.uk. It doesn't remove the need for travel insurance, though.
Get a spare credit card, designed for foreign travel with no currency exchange loading & low/no ATM fees
Taking out an extra credit card costs nothing, but if you keep it in a different part of your luggage you won't be left stranded if your wallet gets stolen. In addition, some credit cards are better for overseas travel than others. Martin Lewis's www.moneysavingexpert.com/travel/cheap-travel-money explains which UK credit cards have the lowest currency exchange commission loadings when you buy something overseas, and the lowest cash withdrawal fees when you use an ATM abroad.
You can avoid ATM charges and expensive exchange rates with a Caxton FX euro currency Visa Card, or their multi-currency 'Global Traveller' Visa Card, see www.caxtonfx.com for info.
Get an international SIM card to save on mobile data and phone calls...
Mobile phones can cost a fortune to use abroad, and if you're not careful you can return home to find a huge bill. Consider buying a global pre-paid SIM card for your mobile phone from www.Go-Sim.com, which can slash costs by up to 85%. Go-Sim cuts call costs in 175 countries worldwide, and you can receive incoming calls and texts for free in 75 countries. It's pay-as-you-go, so no nasty bills when you get home. It also allows cheap data access for laptops & PDAs. A Go-Sim account and any credit on it doesn't expire if it's not used between trips, unlike some others, so a Go-Sim phone number becomes your 'global phone number' for life.
---
Back to 'Rail travel to Europe' general page