| | | |
| --- | --- | --- |
| | | |
| ICE1 or ICE2, 2nd class... | | An ICE2 at Berlin Hbf... |
| | | |
| --- | --- | --- |
| | | |
| Boarding an ICE2 at Berlin Hbf... | | ICE1 or ICE2 1st class seats... |
Food on board an ICE, served on proper crockery with metal cutlery. No airline plastic here...
Tips for travelling by ICE train...
Seat numbering plans for ICEs: Click here.

Should you go 1st or 2nd class? 2nd class is very comfortable and perfectly adequate. But if you get a good price, 1st class gives you more legroom and elbow room and usually a quieter environment, with more business laptops and fewer kids. The only real difference is the seating quality, see the photos on this page, but in first class food & drink orders are taken by a steward at your seat so you don't have to go to the bistro car yourself, a useful service, and there are also first class lounges at major stations. In 1st class seats are arranged 2+1 across the car width, so you'll find tables for two and solo seats as well as tables for four and dual side-by-side seats as in 2nd class. For couples a first class table for two is ideal, when booking at www.bahn.de simply select 'table' (tisch in German).

Open saloon or compartment? The majority of seats on an ICE is in open-plan saloons as shown in the photos on this page, but there are a handful of 6-seater compartments in both classes which you can select when booking if you prefer. See a virtual tour inside an ICE1. See panorama photo of 2nd class seats on an ICE3.

Tables... If you select 'table' when booking you'd get seats at a fixed table for four or table for two, although all seats have a drop-down table if they aren't at a fixed one.
Fares & ticketing: You can book at www.bahn.de and print out your own ticket. Reservation is compulsory on the ICE trains to and from Paris, and tickets on the Paris route always come with the necessary seat reservation included. On other ICE routes seat reservation is almost always optional, there's a small extra charge for a seat reservation if you want one, otherwise you just find any empty unreserved seat, as shown by the little LED reservation display above every seat. That means you can always buy a full-price ticket and get on the next train, ICE trains can never sell out. However, a seat reservation is a good idea for a long journey and you will find much cheaper fares if you are willing to commit to a specific train with a limited-refund, limited-changes sparpreis ticket booked in advance at www.bahn.de. Booking usually opens 92 days before departure.

Boarding: As with most European trains, there's no check-in, you just walk into the station, look at the indicator boards to find your train and step on, any time before it leaves. Exterior displays next to the carriage door show the train number, its destination, calling points and car number. Information displays inside each carriage also show the train's destination, carriage number, calling points, the next station stop and (from time to time) the train's speed. On board announcements are usually made in both German and English.

Luggage: You take your bags with you and put them on any suitable luggage rack near your seat. If you can carry it you can take it, as within reason there are no baggage limits. The overhead racks above all seats will take anything up to backpack-sized. There are floor-standing racks for larger items inside the passenger saloons, so you can put your big bags near where you're sitting. Still need reassurance? The ICE video shows the luggage space on board the train.

Bikes & dogs: However, bikes are not carried on any ICE train. You can take a dog on ICEs, see the dogs by train page.

Food & drink: ICE1 & ICE2 trains have a proper restaurant car with a restaurant at one end and a bistro-bar area at the other. ICE3 trains have a bistro car with a cafe-bar area and small 12-seat restaurant area. Breakfast in the restaurant costs around €8, €10 or €15, depending on what menu you want. A 3-course meal with a beer costs about €30. Treat yourself! In ICE 1st class, orders are taken by a member of staff and drinks and food are served at your seat, all using proper china & glassware.

Children: ICE1 & ICE2 have baby-changing facilities and a small play area in a special 'parent & child' compartment. ICE3 also has baby-changing facilities.

WiFi: A few ICE routes have WiFi on board, but not all. There's more info on which routes are equipped at www.bahn.de, click 'English' at the top, then 'services'.

Power sockets for laptops & mobiles: In ICE1 & ICE2, only the seats around tables have power sockets in both classes. On ICE3, ICE-T & ICE-TD there are sockets between every pair of seats in both classes.

Station first class lounges: If you have a first class ticket, you can use the DB Lounges at the following stations, usually open from 07:00-21:00: Berlin, Bremen, Dresden, Dόsseldorf, Frankfurt am Main, Frankfurt Main Airport, Hamburg, Hanover, Cologne, Leipzig, Mannheim, Munich, Nuremberg, Stuttgart.
Viewing screen behind the driver: ICE 3 & ICE-TD trains have a seating area at each end of the train (one end 1st class, the other 2nd class) with a glass screen behind the driving cab, giving you a view along the track ahead or behind the train. See the photo below. Though you'll find Dutch and Belgian drivers switch the glass to opaque! The new class 407 (ICE4?) trains coming into service from 2015 onwards on some international departures to Paris do not have a viewing area.
ICE3 or ICE3M (the latter equipped for international routes into Belgium & the Netherlands) operates Brussels-Cologne-Frankfurt, Amsterdam-Cologne-Frankfurt, Cologne-Munich & various other routes. The latest ICE3 trains (designated class 407) operate Frankfurt-Paris. ICE3s can reach 300km/h (186mph) - in fact, they can reach 320km/h (199 mph) on high-speed lines in France.
| | | |
| --- | --- | --- |
| | | |
| ICE3 at Frankfurt (Main)... | | ICE3 2nd class seats... |
| | | |
| --- | --- | --- |
| | | |
| ICE3 1st class, with leather seats & power sockets... | | ICE3 bar counter & standing area. See sample menu. |
| | | |
| --- | --- | --- |
| | | |
| Meals are served on proper crockery with metal cutlery, wine & beer available... | | Table for two... ICE3 has a small 12-seat restaurant area, 2 tables for 2, 2 tables for 4. |
| | | |
| --- | --- | --- |
| | | |
| Boarding an ICE3 at Brussels Midi... | | Viewing area behind the cab at each end (not class 407). |
Watch the video...

A video guide to the ICE3M (international ICE3) trains used between Amsterdam, Cologne & Frankfurt, Brussels, Cologne & Frankfurt, and Paris & Frankfurt.
Fitted with a tilting body so it can corner faster on conventional routes, the ICE-T is similar in appearance and interior to ICE3, but with a slightly blunter nose. Some ICE-Ts have 7 cars and feature a restaurant car, other ICE-Ts have 5 cars with a smaller bistro car. Seating is similar to ICE3. You'll find ICE-T on routes such as Vienna-Nuremberg-Frankfurt.
This is the diesel version of the ICE, found on routes such as Hamburg-Copenhagen. Inside it's similar to ICE3, though the bistro car has no seating area.
| | | |
| --- | --- | --- |
| | | |
| A Copenhagen-Hamburg ICE-TD on board the train ferry... | | A Vienna-Frankfurt ICE-T arrived at Frankfurt... |
Sponsored links...
---
This is an ICE3 bistro menu, a more extensive menu may be offered on ICE1/2 trains with a full restaurant. 2013 prices.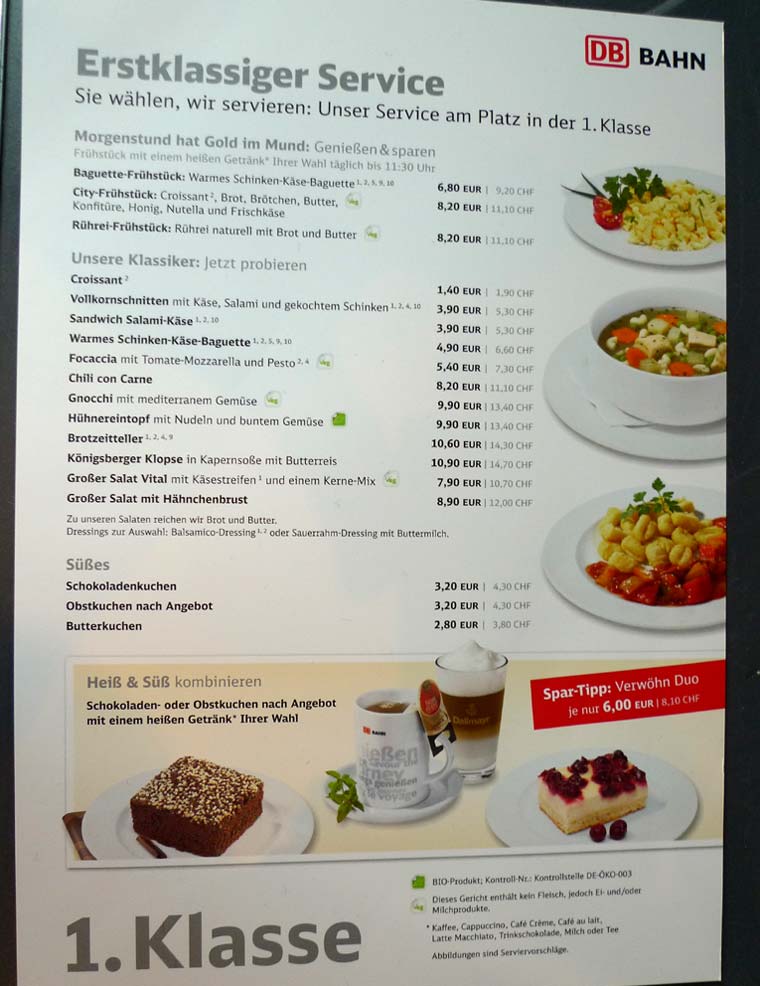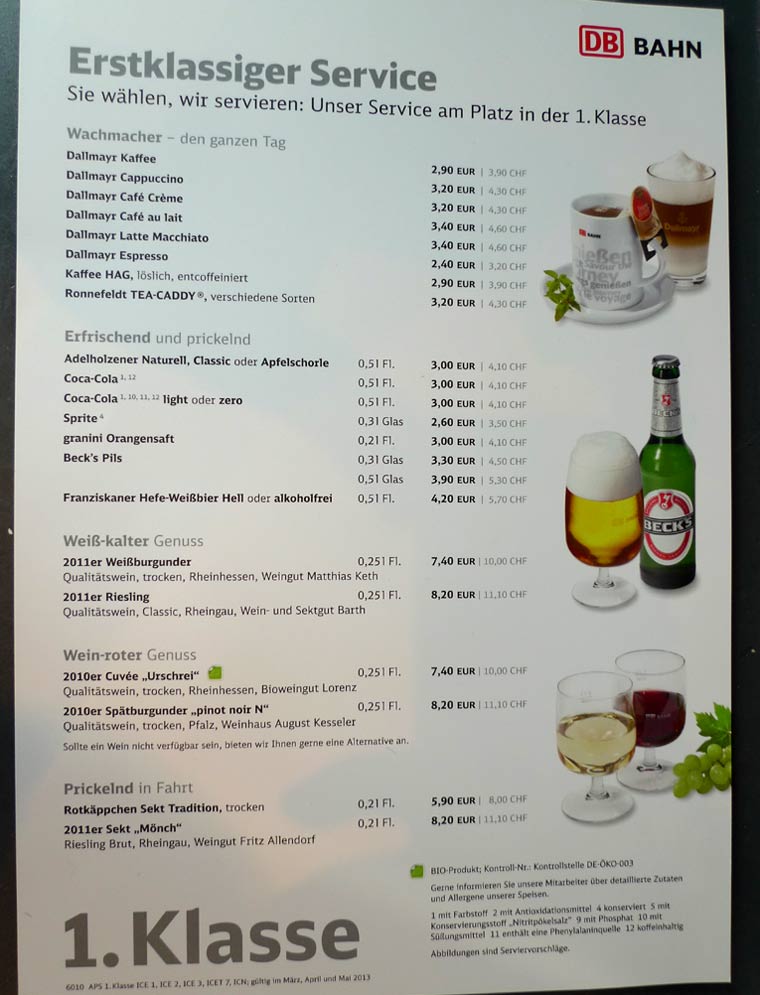 ---
Back to 'Rail travel to Europe' general page