What is RailJet?
RailJet is Austrian Railways (OBB's) high-speed train, capable of 230 km/h (143 mph) where the route allows this speed. RailJet trains operate on the Munich-Salzburg-Vienna-Budapest route, on the Zurich-Innsbruck-Salzburg-Vienna-Budapest route and now (together with some similar blue-liveried Czech Railways Railjets) on the Graz-Vienna-Prague route. In the future, they may also operate on the Vienna-Graz-Venice & Vienna-Graz-Zagreb routes. At present, Railjets run at up to 200 km/h (125 mph) on sections of upgraded track, and at lower speeds on more curvaceous (and usually more scenic!) sections of line.
| | | |
| --- | --- | --- |
| | | |
| All aboard! The morning RailJet about to leave Munich for Vienna & Budapest. Munich Hauptbahnhof is just 15 minutes walk from Munich's famous Dom & Marienplatz. | | The RailJet has landed... The RailJet has arrived spot on time in Budapest's historic Keleti station, built 1881-1884. |
What's it like on board RailJet?
RailJet is unusual as it has 3 classes, Economy, First & Business*. Business class costs €15 more than the normal 1st class, and features comfortable leather armchairs in a unique arrangement of intimate semi-partitioned 2, 3 or 4 seat compartments. Snacks & soft drinks are included in the business class fare. The train is all non-smoking, though station stops at Salzburg & Vienna are long enough for a smoke! Wheelchair-accessible toilets and several wheelchair spaces are available in each train. For more information for travellers with disabilities, see the Europe page. * = Business class replaced Premium class in March 2012, with the same seating but a reduced surcharge of €15 over normal 1st class and with free drinks but not free meals.
| | | | | |
| --- | --- | --- | --- | --- |
| | | | | |
| Business class has spacious 2, 3 & 4 seat semi-compartments with reclining leather armchairs with footrests. | | First class with reclining leather seats, some around tables for 2 or 4 people, some unidirectional. A welcome drink of fruit juice is included. Meal & drinks can be served at your seat for an extra charge. There are power sockets at all seats. | | Economy class (2nd class) with comfortable seating with good legroom, some at tables for 4, most unidirectional. A trolley service serves drinks & snacks, or you can go to the restaurant for meals. Power sockets at all seats. |
| | | | | |
| --- | --- | --- | --- | --- |
| | | | | |
| Restaurant car serving meals, snacks, drinks, beer, wine, hot & cold dishes. The Budweiser (Czech, not American!) & Paulaner beers are very good... | | Meals & drinks are served at your seat in first & business class using proper china & glasses (meals & drinks are not included in the fare). You order from the menu as the steward comes by. Economy passengers can visit the restaurant car. | | Kid's cinema... The end car has a children's TV screen with cartoons to keep them entertained. |
Tips for travelling by Railjet...
Fares & ticketing: Reservation is optional on Railjets, there's a small extra charge for a seat reservation if you want one, otherwise you just find any empty unreserved seat. That means you can always buy a full-price ticket and get on the next train, Railjet trains can never sell out. However, a seat reservation is a good idea for a long journey and you will find much cheaper fares if you are willing to commit to a specific train with a limited-refund, limited-changes ticket booked in advance as shown below. Booking usually opens 92 days before departure. Which website you use to book depends on where your journey starts, see the how to buy tickets section below.

Boarding: As with most European trains, there's no check-in, you just walk into the station, look at the indicator boards to find your train and get on, any time before it leaves.

Luggage, bikes & dogs: You take your bags with you and put them on any suitable luggage rack near your seat. If you can carry it you can take it, as within reason there are no baggage limits. However, bikes are not carried on Railjet trains, see the bikes by train page for more info. You can take a dog on Railjet, see the dogs by train page.

For a Railjet seat numbering plan, see here.

Power sockets for laptops & mobiles: Railjets have sockets at all seats or pairs of seats in all classes.

Free WiFi: Railjets are being progressively fitted with WiFi, with all Railjets fitted by the end of 2012. It's free, but will only work while the train is within Austria.

Station first class lounges: If you have a first class international ticket you can use the DB Lounge at Munich Hbf, the ÖBB first class lounges at Vienna Westbahnhof, Salzburg & Innsbruck, the SBB first class lounge at Zurich and the MAV first class lounge at Budapest Keleti.

For breakfast or lunch in Munich before boarding a RailJet to Vienna or Budapest, try the typically Bavarian Mongdratzerl restaurant, located in the hauptbahnhof itself. It's also good for an evening meal between the RailJet arriving from Budapest & Vienna and the City Night Line sleeper departing for Paris.
What's the journey from Munich to Vienna & Budapest like?
The train soon leaves the Munich suburbs behind and snakes through pretty Bavarian countryside, past tiny villages nestling in green valleys, picturesque chalets and Bavarian churches with tall, slender spires. Approaching Salzburg the Alps come into view, making a great backdrop to your train ride, often with snow on the highest peaks even in June. Just before arriving at Salzburg the train crosses the Salzach river - look to the right for great views of Salzburg's citadel & castle (see the photo below). Soon after Salzburg the train leaves the Alps behind and snakes through hilly Austrian scenery, past Austrian churches with their bulbous spires, so different from those in Bavaria. The train calls at Linz before reaching its maximum 200 km/h (125mph) speed on the fastest part of the journey, then it slows down again through more green hilly countryside into Vienna Westbahnhof, where the train reverses. The train spends ten minutes in Vienna and you can stretch your legs if you like. From Vienna to Budapest the landscape is flat, wide open farmland, now sporting more wind turbines that you've ever seen before, allegedly over 200. Just before arriving in Budapest the train crosses the Danube, although a modern road bridge obscures the view along the river. The train normally keeps good time, so expect an on-time arrival into Budapest's historic Keleti station, built 1881-1884.
The view from the train: This is the view of Salzburg as the RailJet crosses the Salzach river approaching Salzburg station...

TV screens show the arrival times at the next station stops, the train's current speed, and maps show your current location...
Sponsored links...
Sample menu...
Railjet menu for first class at-seat service, 2013 prices.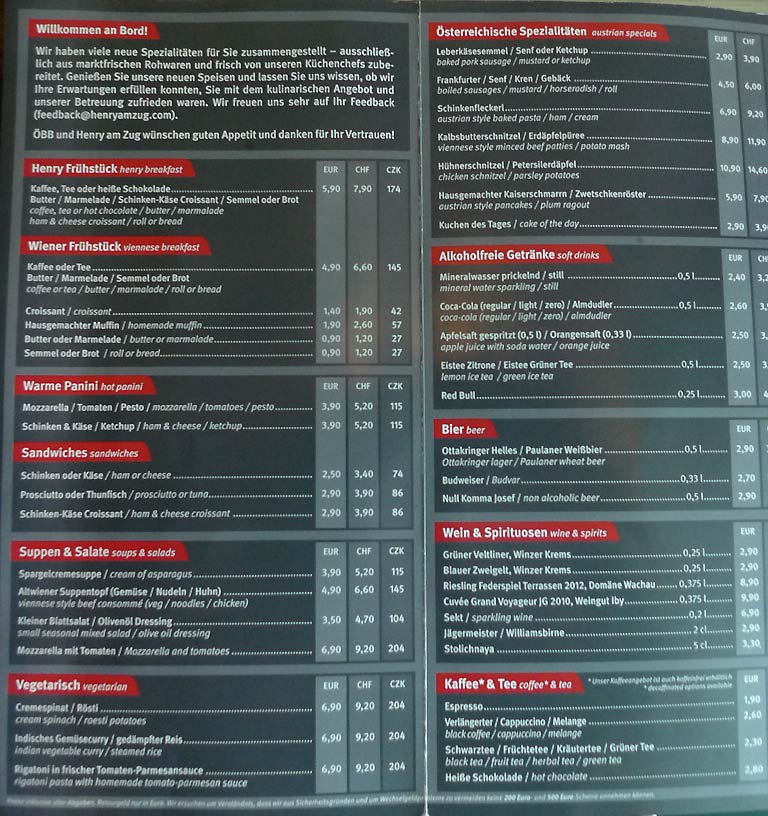 ---
Back to 'Rail travel to Europe' general page