| | |
| --- | --- |
| | The Smyril Line cruise ferry Norröna sails weekly from mainland Europe to Iceland... |
The Smyril Line ferry to Iceland...
A Smyril Line passenger & car ferry called the Norröna sails from Hirtshals in northern Denmark via Torshavn in the Faeroe Islands to Seydisfjördur in Iceland, roughly once a week from March to November.
The voyage from Denmark to Iceland takes 2 or 3 nights depending on the sailing schedule. Sailing days & times vary, so use the Direct Ferries website or en.smyrilline.fo for times, fares & booking.
The passenger part of the 36,000 ton Norröna is to cruise ship standards, all cabins have TV, shower and toilet. There is a swimming pool, sauna, children's playroom, restaurant & shops.
The Smyril Line ship used to call at Lerwick in the Shetland Islands, but stopped calling there in 2008. In the past she has used Esbjerg & Hanstholm as her Danish ports, but currently sails from Hirtshals on all sailings.
On this page: Useful country information London to Reykjavik
---
It's possible to reach Iceland by comfortable cruise ferry, though you'll need to travel to Denmark to board the ferry and it will take you several nights each way. Here's how...
Leaving Seydisfjördur aboard the ferry Norröna.

Photo courtesy of Phil Horton.

The ferry Norröna calls at Torshavn on the Faroe Islands... Photo courtesy of Phil Horton.
How to travel from the UK to Iceland
You'll need to travel to Hirtshals at the northern tip of Denmark to board the Smyril Line ship to Iceland as she no longer calls at any UK port.
Step 1, pick a sailing from Hirtshals to Iceland using the Direct Ferries website or see en.smyrilline.fo for the sailing schedule. She sails to Iceland March-November, sailing time from Hortshals vary but it's normally around 15:00.

Step 2, now work out train connections from the UK to Hirtshals as follows.

(a) You travel from London to Brussels in the evening of day 1, using any suitable Eurostar, the least on usually leaves at 19:34. Book this at www.eurostar.com.

(b) Stay overnight in Brussels. I recommend the excellent Pullman Hotel Brussels Midi which is an integral part of Brussels Midi station itself, or the inexpensive Ibis Brussels Midi just across the road.

(c) Now travel from Brussels to Odense, leaving Brussels Midi at 06:23, changing at Cologne & Hamburg. Book this at the German Railways website int.bahn.de.

(d) Stay overnight in Odense. Try the Hotel Odeon, a short walk from the station or the cheaper Cabinn Odense, just outside the station.

(e) Travel from Odense to Hirtshals by train, leaving Odense around 07:00 or 08:00 to reach Hirtshals in time for an afternoon ferry sailing.

Remember to allow plenty of time for the ferry check-in, including time for any unforeseen travel delays.
How to travel to Iceland from mainland Europe
If you're starting in mainland Europe, the best place to pick up the Iceland ferry is in Denmark. First check ferry sailings at en.smyrilline.fo or use the Direct Ferries website. To find train times from anywhere in Europe to Hirtshals, use int.bahn.de (English button upper right).
On arrival in Iceland
Seydisfjördur is on the east of Iceland, a 9-hour drive by car from Reykjavik. For long-distance bus services in Iceland, see straeto.is.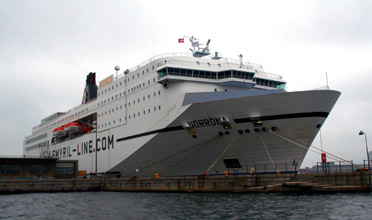 The Smyril Line cruise ferry Norröna sails weekly from mainland Europe to Iceland...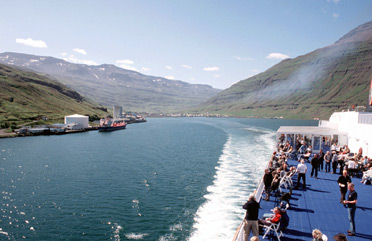 Leaving Seydisfjördur aboard the ferry Norröna...
Photo courtesy of Phil Horton.
Traveller's reports
Traveller Nicolò Wojewoda reports: "I stayed at the Danhostel Hirtshals (a 10 minutes' walk from the train station) and enjoyed it. It was not possible, when I traveled, to get to Hirtshals from Hamburg on the same day in time to get on the ship. Enjoyed the evening and morning after in the town (to experience: the bunker museum, the lighthouse, and walking on the beach as well as on the cliffs). Give yourself plenty of time to get to where the ship is, if you're by foot – it's much harder to get there than it looks on the map and it involves crossing a highway at the right spot.
Hirtshals-Seyðisfjörður: Comfortable ship journey. Gym on board, as well as a small cinema. Danish kroner accepted, as well as card payments for most things. You can exchange currency on board. Internet access available, but expensive and spotty. There's a small shop where I recommend buying alcohol before arriving in Iceland (beer, wine and spirits are expensive there). Food on board varies: plain for the cheapest set menu option (The Diner), tastier for the buffets. Discounts by booking your meals in advance. I had a mixed experience in terms of sleeping in a couchette (9 people in a small room), so next time I'll definitely be going in the 4-berth rooms. Finally, there is a stopover at the Faroe Islands: you can hike across the mountains to Kirkjubøur (approx. 7km) and take the (free) bus back comfortably before your ship leaves again. Top new nordic cuisine restaurants (like Koks or Áarstova) near the harbour in Tórshavn (and for something cheaper but still tasty, Etika has amazing sushi with local fish).
Seyðisfjörður-Reykjavik: I hitchhiked from my arrival point in Iceland – on the ship you can make friends with people who have a car, and they're most likely happy to drive you at the very least to Egilsstaðir, a town where direct buses to Reykjavik leave from. Unfortunately, it didn't seem possible to do the trip to Reykjavik in one day from Egilsstaðir (you'd need to get there by around 7 for a direct bus to Reykjavik, and the ship arrives in Seyðisfjörður at around 9), so I hitchhiked to Akureyri instead and then car-pooled from there (I contacted a driver in advance through samferda.is and paid my share of petrol), which I recommend since it gives you a chance to interact with the locals right away."
Traveller Alexander Peace reports: "I made the journey last week and thought it would be useful to have it up to date. For those travelling on foot and backpacking, the Norröna remains a great way of getting to Iceland. I took the slightly off peak sailing in mid June, which is cheaper and more convenient with timings (sailing at 3pm means you can get a 6am train from Copenhagen that arrives with ample time in Hirtshals to find the ferry port), and means you don't have to stay in Hirtshals, which is not the most exciting town in Denmark.
There are three/four restaurants on board, and the cafeteria prices could be a lot worse – around 80 Danish Krone for a meal. I took my own food, and the staff have no problems with you eating it on board in any of the open areas. There were no fridges though. Importantly, and for anyone who has done the Trans-Siberian, there is no free hot water, so noodles, and coffee just don't work. Take a small travel kettle... There is also a duty free shop, which sells beer and cigarettes really rather cheaply (as well as all the other touristy bits).
The ship itself is large and comfortable, with plenty of space to lounge around, and they do not mind you sitting in the bars/restaurants and not buying anything. It does not roll too much in the swell, though the weather was rough on the first two days of sailing. There is a large (heated) covered area up on deck to smoke/drink/enjoy the scenery, and there is even a small swimming pool and sauna in the lower decks which are free to use. I stayed in a four berth cabin, which was fine (single travellers can book just one bed and share). I would not recommend staying in the larger dorms. Though cheaper, they are in the bowels of the ship, and a lot more crowded. It is not a lot more expensive to stay in the four berth cabins.
The journey itself if great fun, stopping for a morning in the Faeroes, which allows a chance to stock up on food (atm and supermarkets are near the tourist info office) and to stretch one's legs – I walked up into the hills behind Torshavn, which was very pleasant. You can stay/go hiking in the Faeroes, then pick up the ferry again later to carry on to Iceland – I would recommend it, I wish I had. However, the ferry continues slowly on a scenic route through the Faeroes, so you get a wonderful view of the islands.
On arrival in Iceland, it leaves you on the east coast, in Seyðisfjörður, which is a beautiful little town of about 400 people. I stayed in the Hafalden Youth Hostel, which is a nice old building, pretty cheap, and very well run. They accept advance bookings by phone (which I would recommend, especially in the summer when it gets busy with everyone off the ferry). There is also a decent supermarket and ATM, a few hotels, etc. Mainly the town is wonderful because it's so remote, and working along the fjord and up the mountains around it is glorious.
Moving on from there – which I found no information about when I researching on the internet before – is actually extremely easy. There is a bus to Egilsstadir, the regional hub (basically an aiport and a few car rentals), every morning at 7.55, which costs 1000 Icelandic Krone, and takes half an hour. From Egilssatdir, you can fly or rent a car (I rented and drove across Iceland, which I would really recommend). The road to Egilsstadir is paved, so not difficult to drive up, and from there you are on highway 1.
However, and very importantly – there are bus services that cross Iceland. When I was researching in March, the Iceland travel website said there were no buses. This is the winter schedule. By June, the summer schedule comes into play. So you can take a bus to Hofn, (about three hours south), then take another one the next day to Reykjavik. They are not cheap though, and you cannot do the journey in one day."
Traveller Martin reports: "When booking, it's considerably cheaper to pay in Danish Krone than in Euros. Smyril Line's Faroese sales office speak excellent English and reply promptly to emails. The ship is pleasant, the only downside is the Scandinavian prices for drinks & food onboard, though you can buy alcohol from the duty-free shop and drink it in the covered area on deck. You could instead bring food with you and keep it in the fridge that is provided in outside cabins. There's a discount for pre-booked meals, but seasoned travellers recommend against this, since if the sea is choppy you may not want anything (though we found the Norröna remarkably stable). Ship-board announcements are in Faroese, then Danish, then English. An alternative to a cabin is to take a couchette berth. I would recommend against this - it's usually nine berths stacked 3 high in a room beneath the car deck, with very little space. You aren't allowed to sleep elsewhere on the ship. I would recommend travelling during the off-peak timetable. Not only is it cheaper, but the ship leaves and arrives at more sociable times. Also the ship pauses in Torshavn in the Faroe Islands for 9 hours on the way to Iceland and 6 hours on the way back. If driving, when you book the ticket tell the ticket office and the check-in staff that you want to drive off the ship in Torshavn, so that they place your car in the right place. This means that rather than pay a lot of money to take the official bus tour, you can drive around at your own convenience, taking in some of the most fantastic scenery you'll ever see. The ship travels close enough to Fair Isle and Shetland for an excellent view (mist dependent), and a half-hour window to make mobile phone calls on a British network. But the most amazing views are as Norröna passes through the Faroe Islands, waterfalls tumbling down steep cliffs on both sides, and puffins diving out of the way in front. Iceland itself isn't bad either."
UK to Iceland by freighter...
Freight ships run by Eimskip used to have a limited number of passenger places on their regular weekly sailings from Rotterdam to Reykjavik in Iceland, calling briefly at Torshavn (Faroe Islands). However, sadly they no longer carry passengers.
More information...
If anyone has any more information. photos or travel reports that would be useful for this page, please e-mail me!
---
European Rail Timetable & maps




The European Rail Timetable (formerly the Thomas Cook European Timetable) has train & ferry times for every country in Europe plus currency & climate information. It is essential for regular European train travellers and an inspiration for armchair travellers. Published since 1873, it had just celebrated 140 years of publication when Thomas Cook decided to pull the plug on their entire publishing department, but the dedicated ex-Thomas Cook team set up a private venture and resumed publication of the famous European Rail Timetable in March 2014. You can buy it online at www.amazon.co.uk (UK addresses) or www.europeanrailtimetable.eu (shipping worldwide). More information on what the European Rail Timetable contains.
Rail Map Europe is the map I recommend, covering all of Europe from Portugal in the west to Moscow & Istanbul in the east, Finland in the north to Sicily & Athens in the south. Scenic routes & high-speed lines are highlighted. See an extract from the map. Buy online at www.europeanrailtimetable.eu (shipping worldwide) or at www.amazon.co.uk (UK addresses).
---
Find hotels...
---
Travel insurance & other tips
Always take out travel insurance
You should take out travel insurance with at least £1m or preferably £5m medical cover from a reliable insurer. It should cover trip cancellation and loss of cash & belongings up to a reasonable limit. These days, check you're covered for covid-19-related issues, and use an insurer whose cover isn't invalidated by well-meant but excessive Foreign Office travel advice against non-essential travel. An annual policy is usually cheapest even for just 2 or 3 trips a year, I have an annual policy with Staysure.co.uk myself. Don't expect travel insurance to bail you out of every missed connection, see the advice on missed connections here. Here are some suggested insurers, I get a little commission if you buy through these links, feedback always welcome.

www.staysure.co.uk offers enhanced Covid-19 protection and gets 4.7 out of 5 on Trustpilot.

www.columbusdirect.com is also a well-know brand.

If you live in the USA try Travel Guard USA.
Get an eSIM with mobile data package
Don't rely on WiFi, download an eSIM with a European mobile data package and stay connected. Most newer mobile phones can download a virtual SIM including iPhone 11 & later, see device compatibility list. There's no need to buy a physical SIM card! Maya.net is a reliable eSIM data retailer with a 4.5 out of 5 Trustpilot rating and a range of packages including unlimited data.
Most banks give you a poor exchange rate then add a foreign transaction fee on top. A Curve MasterCard means no foreign transaction fees and gives you the mid-market exchange rate, at least up to a certain limit, £500 per month as I write this. The money you spend on your Curve card goes straight onto one of your existing debit or credit cards. And you can get a Curve card for free.
How it works: 1. Download the Curve app for iPhone or Android. 2. Enter your details & they'll send you a Curve MasterCard - they send to the UK and most European addresses. 3. Link your existing credit & debit cards to the app, you can link up to two cards with the free version of Curve, I link my normal debit card and my normal credit card. 4. Now use the Curve MasterCard to buy things online or in person or take cash from ATMs, exactly like a normal MasterCard. Curve does the currency conversion and puts the balance in your own currency onto whichever debit or credit card is currently selected in the Curve app. You can even change your mind about which card it goes onto, within 14 days of the transaction.
I have a Curve Blue card myself, it means I can buy a coffee on a foreign station on a card without being stung by fees and lousy exchange rates, just by tapping the Curve card on their card reader. The money goes through Curve to my normal debit card and is taken directly from my account (in fact I have the Curve card set up as payment card on Apple Pay on my iPhone, so can double-click my phone, let it do Face ID then tap the reader with the phone - even easier than getting a card out). I get a little commission if you sign up to Curve, but I recommend it here because I think it's great. See details, download the app and get a Curve card, they'll give you £5 cashback through that link.
| | |
| --- | --- |
| | |
When travelling you may use free public WiFi which is often insecure. A VPN encrypts your connection so it's always secure, even on unsecured WiFi. It also means you can select the geographic location of the IP address you browse with, to get around geoblocking which a surprising number of websites apply. See VPNs & why you need one explained. ExpressVPN is a best buy with a 4.7 out of 5 Trustpilot ranking which I use myself - I've signed up as an ExpressVPN affiliate, and if you go with expressvpn.com using this link you should see a special deal, 3 months free with an annual subscription. I also get some commission to help support this site.
Carry an Anker powerbank
Tickets, reservations, hotel bookings and Interrail or Eurail passes are often now held on your mobile phone. You daren't let it run out of power, and you can't always rely on the phone's internal battery or on being near a power outlet. I always carry an Anker powerbank which can recharge my phone several times over. Buy from Amazon.co.uk or Buy from Amazon.com.
Touring cities? Use hill walking shoes!
One of the best things I've done is swap my normal shoes for hill-walking shoes, in my case from Scarpa. They're intended for hiking across the Pennines not wandering around Florence, but the support and cushioning for hiking works equally well when you're on your feet all day exploring foreign cities. My feet used to give out first and limit my day, now the rest of me gives up before they do!
---