Two sleeps to Tangier...
This page explains how to travel from London to Tangier, Marrakech, Fez, Rabat or Casablanca without flying, in comfort & safety on regular scheduled trains & ferry. What a journey! Take Eurostar to Paris, have lunch at the fabulous Train Bleu restaurant, then speed south to Barcelona at up to 320 km/h (199 mph) by double-deck TGV Duplex. Stay overnight, then ride superb Spanish high-speed trains through wonderful Spanish scenery into Andalusia, before sailing across the Straits of Gibraltar from Europe to Africa. Once in Morocco, the real Marrakech Express will speed you south towards the Atlas mountains. No flights, no airports, no stress.
UK to Morocco by train

London to Morocco train times, southbound

Morocco to London train times, northbound

What's the journey like?

How much does it cost?

How to buy tickets

Video guide: Tangier to Madrid by ferry & train

Alternative routes & options
Other useful information

Useful country information: currency, dial code...

Places to stay & things to see in Tangier

Car hire in Morocco - ideal for south of Marrakech

Recommended hotels in Algeciras & Morocco

Insurance, mobile data, VPN & other tips
Train travel in Morocco

Train travel in Morocco: Tangier to Fes, Rabat, Casablanca & Marrakech
Route map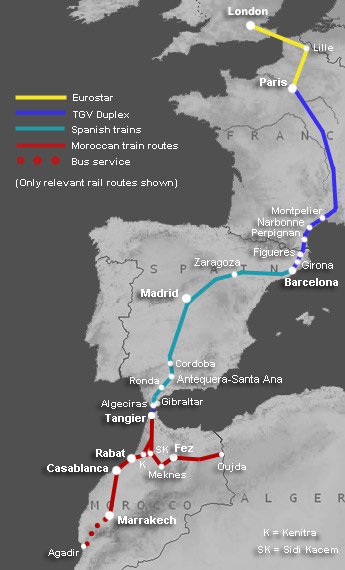 ---
---
London to Tangier & Marrakech
| | |
| --- | --- |
| | |
| | |
| | The mud-built town at Aït ben Haddou, south of Marrakech. Many movie scenes were filmed here, including the North African scenes in Gladiator. It's well worth hiring a car for a few days and exploring. |
Day 1, travel from Paris to Barcelona by TGV Duplex

Leave Paris Gare de Lyon at 14:42 every day, arriving Barcelona Sants at 21:27.

This 320 km/h (199 mph) double-deck high-speed train has a café-bar, power sockets at all seats & free WiFi. Book an upper deck seat for the best views as the train speeds along the scenic Rhône valley past pretty French villages & picturesque churches, then look out for colonies of flamingos on the étangs in southern France. Map of Barcelona showing station.
Can I stop off on the way?
Of course. The London-Paris Eurostar, the Paris-Barcelona TGV, the Barcelona-Madrid AVE & Madrid-Algeciras train are all ticketed separately, so feel free to book each of them on whatever dates you like, spending however long you like between trains Paris or Barcelona.

I'd also consider a stopover at Figueres for the amazing Salvador Dali museum. Dali's home at Port Lligat is just a bus or taxi ride away on the coast, also a museum and well worth visiting.

The trains from Madrid to Algeciras stop at Cordoba and Ronda on the way, both wonderful places to visit. Left luggage facilities at stations.
Why not stop off in Granada?
Or in Gibraltar?
Bus M-120 links Algeciras bus station (across the road from the station) with La Linea, the frontier with Gibraltar, every 30-45 minutes, taking about 45 minutes, fare about €2.50. You then walk across the frontier through Spanish then UK passport control into Gibraltar (5-10 minutes), then either walk (10-15 minutes) or take a taxi from the taxi stop just inside the border into Gibraltar town centre. The walk or taxi ride takes you across Gibraltar Airport's main runway, but don't worry, they stop the cars and pedestrians when a plane comes in to land! The M-120 bus operator website is siu.ctmcg.es.

Alternatively, a taxi from Algeciras railway station to La Linea at the gates to Gibraltar costs €24.75 (fixed-price, the Spanish taxis don't use the meter for longer runs like this, and aren't allowed to cross into Gibraltar itself).

A fast ferry may occasionally operate from Gibraltar to Tangier (the operator is www.frs.es) but there were only Friday & Sunday evening crossings in 2008 & 2009, check what's happening now at www.frs.es. In most cases, after visiting Gibraltar you'll need return to Algeciras by bus or taxi for the regular ferries from there.
1. London to Paris by Eurostar
Eurostar trains link London & Paris in 2h20, travelling at up to 300 km/h (186 mph). There are two bar cars, power sockets at all seats and free WiFi. Standard Premier and Business Premier fares include a light meal with wine (or breakfast, on departures before 11:00). There's a 30-minute minimum check-in as all border formalities are carried out before you board the train. More information about Eurostar including check-in procedure. St Pancras station guide. Paris Gare du Nord station guide. How to change trains & stations in Paris by metro or taxi.
2. Paris to Barcelona by TGV Duplex See TGV Duplex video guide
The Paris to Barcelona TGV Duplex is an impressive 320 km/h (199 mph) double-deck high-speed train. You board the train through a wide sliding external door into a small hall at one end of the lower deck, where an internal door opens into a lower deck seating area. A wide, short & easy flight of stairs leads from the entrance door to a landing at one end of the upper deck. You walk along the train from car to car at the upper level, and the café-bar is also at the upper level. There are toilets both upstairs & downstairs. If you have problems with stairs or very heavy luggage, the lower deck might be best. But for the best views, definitely choose an upper deck seat. For couples in 1st class, an upper deck club duo table-for-two is the nicest option. More pictures & an account of what to see on the Paris to Barcelona journey.
3. Barcelona to Madrid by AVE
These superb-quality AVE high speed trains are amongst the classiest trains in Europe. They have three classes, Comfort (premium 1st class), Comfort (1st class seating) and Standard (2nd class). AVE trains run at up to 310 km/h (193 mph) over the Spanish high-speed lines.
4. Madrid to Algeciras by Intercity train
5. Tarifa to Tangier Town by FRS ferry with free bus from Algeciras
Or Algeciras to Tangier Med Port by ferry, taxi or bus to Tangier
Day 0, travel from Marrakesh or Fez to Tangier by train:

For train travel information from Marrakech, Casablanca, Rabat, Fez, Meknès to Tangier, see the train travel in Morocco page. Stay overnight in Tangier, ideally at the historic Continental Hotel, perfectly located on the edge of the medina, walking distance from the FRS ferry terminal.
Day 1, sail from Tangier Town to Tarifa by FRS fast ferry & take the free transfer bus to Algeciras.

Check ferry times at www.frs.es. There's usually an 09:00 ferry arriving Tarifa at 10:00. You should allow several hours between arrival in Algeciras and the15:16 train departure for Madrid, just in case of delay.

The FRS ferry still sails from the old ferry terminal in the heart of Tangier town, just 5 minutes walk from the Continental Hotel. In Tangier, check-in for the ferry is a minimum of 45 minutes. The Moroccan passport checks can be very slow, so get there sooner rather than later.

First, exchange your self-print FRS ticket for a boarding pass at the FRS office on the right as you approach the flying-saucer-like ferry terminal, then go upstairs into the terminal for passport control and boarding.

The crossing takes around an hour, at Tarifa the distinctive red transfer coach will be waiting outside the small but modern ferry terminal when you emerge from passport control.

The 22 km (14 mile) drive to Algeciras takes just 30 minutes through pretty hills past many wind turbines. It arrives right in front of Algeciras passenger ferry terminal (Estación Maritima), 10 minutes walk from the railway station or the Hotel Reina Cristina.
Or transfer to Tangier Med Port bus or taxi & take a conventional ferry to Algeciras.

Take a bus or taxi from Tangier town to Tangier Med Port. Since 2010, all ferries to Algeciras leave from the new ferry terminal at Tanger Med port (Port Tanger Mediterranée, see map) some 52 km east of Tangier town.

A frequent bus run by Alsa leaves every 10 minutes from a bus stop outside Tangier Ville railway station, see www.alsa.ma/tanger/lignes and click on LI3. It costs around 25 dirhams (€2.50) and takes around 60 minutes. A taxi from Tangier town to Tangier Med Port costs 250-300 dirhams or €25-€30.

At Tanger Med Port's modern Gare Maritime there are ferry company ticket offices and check-ins, you pass through passport control and customs, then a free transfer bus shuttles you down the hill to the actual ferry dock before each ferry departure.

You can check sailing times prices for multiple operators using the Direct Ferries form here, or you can check each ferry operator separately at www.comarit.es (ships), www.trasmediterranea.es (fast ferry & ships), www.balearia.com (fast ferry & ships) or www.aml.ma (ships). If you use Tanger Med and have any feedback, please email me. Just make sure you allow as many hours as you can between ferry arrival and the departure of the afternoon train to Madrid, as Morocco-Spain ferries can often run late, sometimes by hours not minutes.
Day 1, travel from Algeciras to Madrid by Intercity train.

Travel from Algeciras to Madrid by Intercity train, leaving Algeciras at 15:16 & arriving Madrid Atocha 21:12.

The Intercity train is an articulated air-conditioned Talgo train with cafe-bar. It takes the classic curvaceous (and scenic) line from Algeciras to Antequera-Santa Ana, where it is propelled through a gauge-changing shed. This adjusts axles adjust from Iberian gauge, (5'6") to standard gauge (4'8½), used for Spanish high-speed lines. It then joins the high-speed line for a scenic dash through the mountains to Madrid. You'll see the wonderful scenery shown in this Gibraltar to Madrid video guide.

Stay overnight in Madrid. The classic Hotel Mediodia is across the road from Atocha with good reviews, or try the NH Hotel Madrid Atocha or Only YOU Hotel Atocha, also across the road from the station.

Day 2, travel from Madrid to Barcelona by train.

A lo-cost high-speed Avlo train leaves Madrid Atocha at 06:15 and arrives Barcelona Sants at 08:45.

This is a lo-cost train, 2nd class only, no catering, check their luggage limits and fees. More about Avlo.
Day 2, travel from Barcelona to Paris by TGV Duplex, leaving Barcelona Sants at 09:28 & arriving Paris Gare de Lyon 16:12.

This 320 km/h (199 mph) double-deck high-speed train has a café-bar, power sockets at all seats & free WiFi. Book an upper deck seat for the best views as the train rolls past colonies of flamingos on the étangs in southern France, then speeds along the scenic Rhone Valley towards Paris.

Cross Paris by metro or taxi, just 2 stops on RER line D. Why not have an early dinner in Paris and catch a later Eurostar? The Brasserie Terminus Nord (www.terminusnord.com) is good and typically French, directly across the road from the Gare du Nord.
| | |
| --- | --- |
| | Andalusia: The sun is low in the sky as the afternoon train from Madrid to Algeciras snakes across the Andalusian plateau on its way south to the Straits of Gibraltar. |
| | The Slow Boat to Africa. Next day, aboard the ferry from Algeciras to Tangier with the Rock of Gibraltar on the port beam. |
The cost is the sum of the fares for each train & the ferry.

London to Paris by Eurostar starts at £52 one-way or £78 return in standard class, £97 one-way, £168 return standard premier (1st class).

Paris to Barcelona by TGV starts at €39 each way in 2nd class or €59 in 1st class. More details here.

Barcelona to Madrid by AVE starts at €29 in standard class or €58 in comfort class (1st class).

Madrid to Barcelona by Avlo starts at €7.
Madrid to Algeciras by Intercity train starts at €25 in standard class or €38 in comfort class.

Tarifa to Tangier starts at €18 each way with FRS, with free transfer bus to/from Algeciras.

Fares for all these trains vary like air fares, book ahead for the cheapest prices.
Buy tickets for each of the trains at www.raileurope.com or www.thetrainline.com.

Both sites connect to the British, French & Spanish rail ticketing systems so you can buy all your tickets together in one place, easily in plain English, in €, £ or $, overseas credit cards no problem. There's a small booking fee. You can book a one-way or round trip in either direction. About Raileurope. About Thetrainline.
When do bookings open?

Bookings for Eurostar open up to 6 months ahead, sometimes more. The Paris-Barcelona TGVs open up to 4 months ahead, I recommend waiting until you can confirm times & prices for (at least) the Paris-Barcelona TGV before committing to a non-refundable Eurostar ticket.

Spanish AVE trains open 60 days ahead, but it varies as Renfe releases dates in blocks pretty much when it feels like it. By all means book London-Barcelona as soon as bookings open and wait to book the Madrid-Barcelona-Algeciras part of the journey later.
Step 1, go to www.raileurope.com or www.thetrainline.com and book from London to Barcelona & back by Eurostar & TGV following the simple instructions on the London to Spain page. Allow at least 60 minutes between trains in Paris, ideally more. If you are returning, book London to Paris as a round trip as with Eurostar a return fare is significantly less than two one-ways. Beyond Paris, all trains are one-way ticketed so a round trip is simply two one-ways, you may find it easier to book one train at a time. Add this to your basket.

Step 2, now book from Barcelona to Madrid & Madrid to Algeciras and add these to your basket. Check out and pay for all your tickets as one transaction.
Step 3, buy a ferry ticket from Algeciras or Tarifa to Tangier. Tickets for the ferry can easily be bought at the ferry terminal when you get to Algeciras as there are regular ferries and always places available, but you can sort out your ticket before you go if you like. The easiest way to check sailing times and prices for all ferry operators on the Spain-Tangier route is using the Direct Ferries website. Alternatively, assuming you're going to use the FRS fast ferry from Tarifa you can of course book online direct with FRS at www.frs.es. You make the booking between Tarifa & Tangier, their free Algeciras-Tarifa transfer bus cannot be pre-booked.

You can also make this journey using an Interrail pass, this option is explained below. But it isn't usually any cheaper unless you're under 28, and is more hassle to arrange than simply buying regular tickets online. However, a pass does give more flexibility than inflexible cheap advance-purchase tickets.
How to buy tickets by phone
Let Tailor Made Rail or Byway arrange it as a package
Yes, there are now two tour firms which offer holidays to Morocco from the UK by train not plane, the most hassle-free way to arrange such a journey, with trains, hotels & stopovers all sorted for you.

Tailor Made Rail's suggested tour package from London to Marrakech by train is at www.tailormaderail.com/itinerary/moroccan-discovery. This can be customised your own requirements, one-way or round trip, with any stopovers you want. They welcome complex itineraries! As it's a package, they'll take care of you if anything happens on one part of the trip, for example, a national strike. They're TTA-protected - like ATOL, but not only for agencies that sell air travel.

Call their dedicated seat61 phone line 020 3778 1461 and quote seat 61 when booking. From outside the UK call +44 20 3778 1461. Lines open 09:00-17:30 Monday-Friday.

Byway (Byway.travel) is a new UK-based eco-holiday firm with a 5-star TrustPilot rating. If you're nervous about booking trains all the way to Morocco travel yourself, they'll book a London-Morocco holiday for you as a package, including overnight hotels. Byway includes package protection, a 100% Covid refund guarantee, free disruption & re-planning and on-demand WhatsApp support while you're away.

Simply email them or use this Byway/Seat61 contact form. Please say you heard about them from Seat 61.
How to make this journey with an Interrail pass
If you simply want to travel to and from Morocco, forget railpasses, just buy regular advance-purchase tickets as explained above, a railpass is unlikely to save any money over these especially once you add the passholder reservation fees.

However, if you are under 28 the youth Interrail pass may be almost as cheap as advance tickets even with the reservation fees included and better value as it gives flexibility.

Even if you are 28 or over, a pass may still be worthwhile if you have to travel at short notice when the cheapest regular fares are sold out, or if you want to make other side trips on the way or simply want to pay extra for the flexibility a pass gives compared to train-specific, no-refunds, no-changes advance-purchase tickets bought several months ahead. Here's how to use a railpass for this journey:

See the Interrail pass page to check global Interrail pass prices & buy online. The pass gives unlimited travel across most of Europe, including UK, France & Spain, as explained on the Interrail page.

You still need to pay a Eurostar passholder fare from London to Paris, €30 each way in standard class with a 2nd class pass. Passholder places on Eurostar are limited, so check availability before you buy the pass. More information about Eurostar passholder fares & how to buy them.

You also need to pay the following reservation fees: Paris-Barcelona TGV £35, Barcelona-Madrid AVE train €10, Madrid-Algeciras Intercity train €10. Passholder places on Eurostar and the Paris-Barcelona TGVs are limited, so book ahead. If you find passholder places sold out, try splitting the booking or using an alternative route. The Interrail reservation page explains how to make these passholder reservations.

You then need to pay for the ferry to Morocco and trains in Morocco, which are not covered by the pass. Either buy the ferry ticket when you get to Algeciras as this is easy, or book the FRS ferry from Tarifa at www.frs.es.

You also need to buy a normal ticket for Avlo if you use them from Madrid to Barcelona as Interrail does not cover this lo-cost operator.
---
Video:
Tangier to Madrid by ferry & train
See for yourself how straightforward, comfortable and scenic a Morocco to Europe journey can be by train & ferry. The video shows a journey on the FRS fast ferry from Tangier to Tarifa and the train ride from Algeciras to Madrid.
---
(1) London to Morocco by GNV or Grimaldi Lines ferry Barcelona to Tangier
This is an attractive alternative to the route via Algeciras. Indeed, with a day exploring Barcelona then a cruise to Tangier, it's a holiday in itself. However, it's not daily and not necessarily cheap, given the cost of the cruise ferry. Grandi Navi Veloci operate superb regular cruise ferries from Barcelona to Tangier up to 3 times a week, with Grimaldi Lines also running a cruise ferry once a week.
London ► Morocco via ferry from Barcelona
Travel from London to Barcelona by Eurostar & TGV, arriving at 21:25, see the London to Spain page. You may need to stay overnight, a same-day connection is sometimes possible depending on the ferry time and required check-in time.

Check Grimaldi Lines sailing dates and times at www.grimaldi-lines.com. Their cruise ferry usually sails at 23:59 on Sundays (which could be your day 2 from London) arriving Tangier at 10:30 on Tuesdays (day 4 from London). Check the required check-in time carefully.

Check Grandi Navi Veloci ferries at www.gnv.it. GNV's ferry usually sails on Tuesdays at 17:00, on Fridays at 10:00 and on Sundays at 14:00, arriving at Tangier 26 hours later. With a departure at 17:00 or 14:00, a departure from Barcelona on day 2 is possible, getting you to Tangier day 3. With a 10:00 departure, the connection with the sleeper from Paris is too tight, so you'd sail on day 3, arrive Tangier day 4 from London.

Both companies' ships are true cruise ferries, with comfortable cabins with en suite toilet and shower, swimming pools, self-service and a la carte restaurants, cinema and bars. Having said that, don't be surprised to see many Moroccan families who haven't paid for a cabin, camped in the hallways!

As a rough guide, Barcelona to Tangier one-way for two people sharing a 2-bed cabin in May might cost €232, in other words €116 per person. See the Spain page for details of prices London-Barcelona.

To buy tickets, start with the ferry, as they only sail on certain days but the trains run daily. Book either ferry using the Direct Ferries website or book the Grandi Navi Veloci ferry at www.gnv.it, Grimaldi Lines at www.grimaldi-lines.com. Then book the trains from London to Barcelona as shown on the Spain page.
Morocco ► London via ferry to Barcelona
Day 1: To check Grandi Navi Veloci's sailing days and times, see www.gnv.it. The cruise ferry usually sails on Mondays at 23:00, on Wednesdays at 23:00 and on Saturdays at 16:00. The 23:00 departures arrive in Barcelona around 08:00 two nights later (day 3), the 16:00 departure arrives at 19:00 one night later (day 2).

Day 1: To check Grimaldi Lines sailing days and times see www.grimaldi-lines.com. Grimaldi usually sail from Tangier on Tuesdays at 17:00, arriving Barcelona at 20:00 on Wednesdays. Don't risk any tight connections, stay overnight in Barcelona!

Both companies' ships are true cruise ferries, with comfortable cabins with en suite toilet and shower, swimming pools, self-service and a la carte restaurants, cinema and bars. Having said that, don't be surprised to see many Moroccan families who haven't paid for a cabin, camped in the hallways!

Day 3: Travel from Barcelona to London by TGV & Eurostar, arriving London in the evening, see the London to Spain page.
On board a Grimaldi Lines ferry from Barcelona to Tangier Med Port
(2) France to Morocco by GNV ferry
If you prefer a longer sea voyage, there are regular passenger ships from Sète in the South of France to Tangier, originally run by Comanav (Compagnie Maroccaine de Navigation), now taken over by the Italian ferry operator Grandi Navi Veloci. See www.gnv.it for sailing dates, fares & online booking. It's easy to get from London to Sète by train - You can check train times & buy tickets online at www.raileurope.com. Allow several hours minimum to connect in Sète, if necessary staying overnight.
---
Tangier's Continental Hotel: Check prices
In Tangier, easily the most interesting, historic & atmospheric place to stay is the venerable Continental Hotel. Whatever your budget, and it's one of my favourite places. If you arrive by FRS fast ferry from Tarifa, you'll easily spot it on your right high up on the edge of the Medina as you walk into town - as I did, the first time I stayed there in 1984. Opened by a British family in 1888 and used by many famous people including (allegedly) Winston Churchill and Queen Victoria's son Alfred, it's a travellers' favourite, with classic Moroccan décor and an atmosphere straight out of Agatha Christie - indeed, it's been used as a film location at various times.
In spite of all this history, it's cheap, a single room with shower & toilet costs around 595 dirhams (£49) per night including a light breakfast, a double room with shower & toilet around 735 dirhams (£61) including breakfast. Ask for a room on the first floor with a balcony overlooking the port and new town. Rooms are fairly basic, only a handful have A/C, but they have clean en suite showers & toilets, the hotel is handy for the FRS ferry, superbly located inside the old medina walls a stone's throw from the old town centre, Petit Socco & Grand Socco. The hotel now has free WiFi and 24 hour reception. It has a good and cheap restaurant for lunch and dinner, too, although alcohol isn't served. Rooms can now be booked online at Booking.com. Or just turn up, they usually have rooms available. The address is 36, Dar Baroud (Medina), Tangier
Tip: There's a flight of steps straight up to the hotel, but you can see how high the hotel is in the photo below. If you have heavy luggage you might prefer to zig-zag further into town then turn right up the sloping road to the hotel.
Things to see in Tangier
Tangier sometimes gets a bad press from travellers who are hassled by a few touts at the port, who then hurry through without seeing it and tell everyone else to do the same. This is very short-sighted, as Tangier is the intriguing and atmospheric city where Europe meets Africa. Indeed, fans of the film Casablanca will find it a much more plausible setting for Rick, Elsa, Captain Renault and Major Strasser than the big and unremarkable city to the south. Tangier was an international zone from 1923 until its incorporation with Morocco in 1956, and it really was awash with spies from both sides in world war 2. It retains an air of mystery and intrigue even today, although I've always felt very safe there. It's a wonderful and fascinating place to spend a day or two, so make sure you include it in your itinerary.
Make sure you see the medina (old town), kasbah (fort), the Petit Socco (small square, be sure to have a coffee or mint tea here) and Grand Socco (large square), the lovely English Church, and Tangier American Legation museum (the first bit of overseas territory ever acquired by the United States). For more information on Tangier, see en.wikipedia.org/wiki/Tangier.
Where next? Take the train to Fez, Casablanca & Marrakech
Modern air-conditioned trains are waiting to whisk you south to the rest of Morocco, see the Train travel in Morocco page. Rabat is the country's capital and well worth a stop; Casablanca is certainly a name to conjure with (you have to say you've been there!) but in reality it's just a large city. Marrakech is the obvious destination, and a worthy (if touristy) one. Why not hire a car for a few days and explore the country south of Marrakech? Meknès & Fez are amazing places, as good or better than Marrakech with fewer tourists, so don't miss them!
---
Make sure you take a good guidebook. Easily the best guidebooks for the independent traveller are Lonely Planets and Rough Guides. Both provide an excellent level of practical information and historical background. You won't regret buying one of these!
Click the images to buy online at Amazon.co.uk
---
European Rail Timetable & maps




The European Rail Timetable (formerly the Thomas Cook European Timetable) has train & ferry times for every country in Europe plus currency & climate information. It is essential for regular European train travellers and an inspiration for armchair travellers. Published since 1873, it had just celebrated 140 years of publication when Thomas Cook decided to pull the plug on their entire publishing department, but the dedicated ex-Thomas Cook team set up a private venture and resumed publication of the famous European Rail Timetable in March 2014. You can buy it online at www.amazon.co.uk (UK addresses) or www.europeanrailtimetable.eu (shipping worldwide). More information on what the European Rail Timetable contains.
Rail Map Europe is the map I recommend, covering all of Europe from Portugal in the west to Moscow & Istanbul in the east, Finland in the north to Sicily & Athens in the south. Scenic routes & high-speed lines are highlighted. See an extract from the map. Buy online at www.europeanrailtimetable.eu (shipping worldwide) or at www.amazon.co.uk (UK addresses).
---
In Algeciras: For Algeciras hotels, click here. I recommend the Hotel Reina Cristina, which is easily the best hotel in Algeciras as well as the most historic, set in its own grounds just 10 minutes walk from either rail station or ferry passenger terminal. For such a grande dame of a hotel, it's remarkably inexpensive.
In Tangier, the classic and wonderfully atmospheric Continental Hotel is the top choice, and inexpensive. Ideally located for both port and old medina, and with its own restaurant too. It can now be booked online at Booking.com.
In Marrakech, the Hotel Islane is a good mid-range choice at around €35-€45 (£26-£31) per room per night, with an excellent central location just round the corner from the Jemaa el Fnaa, the main market square. It also has a good rooftop restaurant. The most famous hotel in Marrakech is of course the top-notch La Mamounia Hotel, if you can (a) afford it and (b) get a room!
You can arrange hotels before booking opens for train tickets if you use a site with free cancellation such as www.booking.com.
Hotel Reina Cristina, Algeciras: Book here
The classic Hotel Reina Cristina is easily the best place to stay in Algeciras, set in its own grounds just 10 minutes walk from both rail station and ferry terminal.
Backpacker hostels
www.hostelworld.com: If you're on a tight budget, don't forget about backpacker hostels. Hostelworld offers online booking of cheap private rooms or dorm beds in backpacker hostels in most cities at rock-bottom prices.
---
Hiring a car isn't the first thing you'd think of in Morocco, but the roads are relatively empty and driving is surprisingly easy. If you've a few days to spare when you get to Marrakech I highly recommend hiring a car and driving south over the High Atlas Mountains via the absolutely incredible Tizi n Tichka Pass, perhaps the most amazing road I've ever driven. Stay the night at the Kasbah at Tifletout (now a hotel) and visit the Gorge du Dadès, Todra Gorge, and the remarkable mud-built town of Aït ben Haddou. Driving really isn't difficult, indeed the roads are far less crowded than in the UK or Europe, making it a very pleasant way to get around the countryside. Instead of searching multiple websites to sort out your car, try this search engine which compares different hire companies' prices.
Compare 50 different car hire companies: www.carrentals.co.uk
---
Always take out travel insurance
You should take out travel insurance with at least £1m or preferably £5m medical cover from a reliable insurer. It should cover trip cancellation and loss of cash & belongings up to a reasonable limit. These days, check you're covered for covid-19-related issues, and use an insurer whose cover isn't invalidated by well-meant but excessive Foreign Office travel advice against non-essential travel. An annual policy is usually cheapest even for just 2 or 3 trips a year, I have an annual policy with Staysure.co.uk myself. Don't expect travel insurance to bail you out of every missed connection, see the advice on missed connections here. Here are some suggested insurers, I get a little commission if you buy through these links, feedback always welcome.

www.staysure.co.uk offers enhanced Covid-19 protection and gets 4.7 out of 5 on Trustpilot.

www.columbusdirect.com is also a well-know brand.

If you live in the USA try Travel Guard USA.
Get an eSIM with mobile data package
Don't rely on WiFi, download an eSIM with a European mobile data package and stay connected. Most newer mobile phones can download a virtual SIM including iPhone 11 & later, see device compatibility list. There's no need to buy a physical SIM card! Maya.net is a reliable eSIM data retailer with a 4.5 out of 5 Trustpilot rating and a range of packages including unlimited data.
Most banks give you a poor exchange rate then add a foreign transaction fee on top. A Curve MasterCard means no foreign transaction fees and gives you the mid-market exchange rate, at least up to a certain limit, £500 per month as I write this. The money you spend on your Curve card goes straight onto one of your existing debit or credit cards. And you can get a Curve card for free.
How it works: 1. Download the Curve app for iPhone or Android. 2. Enter your details & they'll send you a Curve MasterCard - they send to the UK and most European addresses. 3. Link your existing credit & debit cards to the app, you can link up to two cards with the free version of Curve, I link my normal debit card and my normal credit card. 4. Now use the Curve MasterCard to buy things online or in person or take cash from ATMs, exactly like a normal MasterCard. Curve does the currency conversion and puts the balance in your own currency onto whichever debit or credit card is currently selected in the Curve app. You can even change your mind about which card it goes onto, within 14 days of the transaction.
I have a Curve Blue card myself, it means I can buy a coffee on a foreign station on a card without being stung by fees and lousy exchange rates, just by tapping the Curve card on their card reader. The money goes through Curve to my normal debit card and is taken directly from my account (in fact I have the Curve card set up as payment card on Apple Pay on my iPhone, so can double-click my phone, let it do Face ID then tap the reader with the phone - even easier than getting a card out). I get a little commission if you sign up to Curve, but I recommend it here because I think it's great. See details, download the app and get a Curve card, they'll give you £5 cashback through that link.
| | |
| --- | --- |
| | |
When travelling you may use free public WiFi which is often insecure. A VPN encrypts your connection so it's always secure, even on unsecured WiFi. It also means you can select the geographic location of the IP address you browse with, to get around geoblocking which a surprising number of websites apply. See VPNs & why you need one explained. ExpressVPN is a best buy with a 4.7 out of 5 Trustpilot ranking which I use myself - I've signed up as an ExpressVPN affiliate, and if you go with expressvpn.com using this link you should see a special deal, 3 months free with an annual subscription. I also get some commission to help support this site.
Carry an Anker powerbank
Tickets, reservations, hotel bookings and Interrail or Eurail passes are often now held on your mobile phone. You daren't let it run out of power, and you can't always rely on the phone's internal battery or on being near a power outlet. I always carry an Anker powerbank which can recharge my phone several times over. Buy from Amazon.co.uk or Buy from Amazon.com.
Touring cities? Use hill walking shoes!
One of the best things I've done is swap my normal shoes for hill-walking shoes, in my case from Scarpa. They're intended for hiking across the Pennines not wandering around Florence, but the support and cushioning for hiking works equally well when you're on your feet all day exploring foreign cities. My feet used to give out first and limit my day, now the rest of me gives up before they do!
---