| | |
| --- | --- |
| | Helsinki bound! Sailing out of Stockholm past all the islands on the cruise ferry to Helsinki... Courtesy of Michael Herbert & Bernadette Hyland |
UK to Finland without flying...
It's easy to travel from London to Helsinki by train and ferry, a wonderful 3-day 2-night journey across Scandinavia with a lot to see on the way. It's a great alternative to an unnecessary flight. On this page you'll find a step-by-step guide to planning, booking & making a journey from the UK to Finland by train or ferry, with train & ferry timetables, approximate fares, and the best way to buy tickets.
Train times, fares & tickets...

Which route should you choose?

UK to Scandinavia route map

London to Helsinki via ferry from Stockholm

London to Helsinki via ferry from Travemünde

Train travel within Finland - Night Train to Lapland...

Helsinki to other European cities by train or ferry

Other European cities to Helsinki by train or ferry

Helsinki to St Petersburg & Moscow by train
Sponsored links...
---
---
There are several good options for reaching Finland in comfort without flying:
Interactive map: London to Helsinki by train & ferry
...click on a route for train & ferry times from the UK, and how to buy tickets.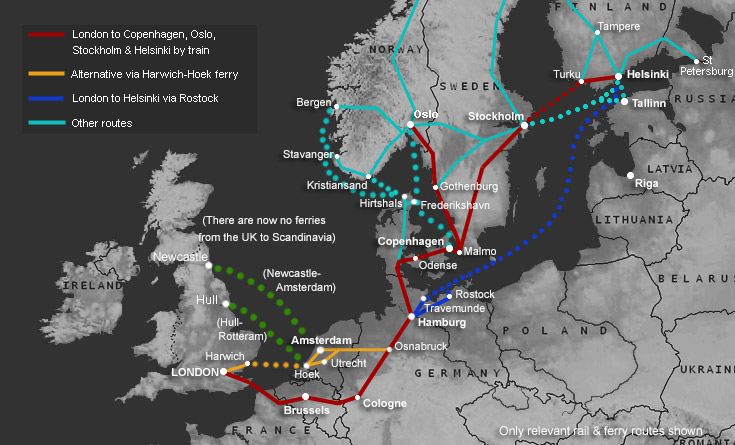 ---
This is the fastest option, with daily departures. You travel from London to Hamburg by Eurostar & onward trains on day 1 from just €59, stay overnight in Hamburg, then travel from Hamburg to Stockholm on day 2 from as little as €39. Take a bottle of wine and a good book, and enjoy a 2-day train ride across Europe on modern & comfortable trains with not an airport security queue in sight. Stay overnight in Stockholm and take the daytime ferry+train service to Helsinki next day, for as little as €39.50. Or spend the day in Stockholm and take the overnight cruise ferry to Helsinki with a comfortable en suite cabin reserved. What's the journey like? Note that the Cologne to Copenhagen sleeper train was discontinued from November 2014.
London ► Helsinki
Alternatively, spend day 3 exploring Stockholm and sail overnight to Helsinki. Both Viking Line and Silja offer luxurious overnight cruise ferries from Stockholm direct to Helsinki - I'd suggest Silja, www.tallinksilja.com. Silja's ferry sails from Stockholm at 17:00 every day arriving in Helsinki at about 09:30 next morning (which would be day 4 from London). Viking Line sails at 16:30. It's a very scenic voyage, as the liner sails out of Stockholm past all the islands, see the video. You can have dinner in the restaurant and retire to your cabin, or party all night in the nightclub, it's up to you! The Silja terminal is about 2.5km from Stockholm city centre, 500m from Gärdet metro station. A shuttle bus links the Cityterminal (the bus terminal next to the central railway station) with the Silja terminal. Map of Helsinki showing Silja terminal.
Helsinki ► London
How much does it cost?
London to Hamburg starts at just €59 each way with a Sparpreis London fare from Germany Railways (DB). Like air fares, the price varies significantly from date to date and departure to departure, and prices rise as departure date approaches, so book early and pick your date carefully for the cheapest prices.

Hamburg to Stockholm can cost as little as €39 each way with a sparpreis fare from German Railways. Again, the price varies significantly, rising as departure date approaches so book early for the best deals.

Stockholm to Turku by Viking Line ferry can cost as little as €15 each way without any accommodation, you can add various types of private cabin from €13 upwards. Silja Line is similarly priced.

Turku to Helsinki by train costs as little as €8 if booked in advance in Eco class (2nd class) or €35 full-price.

If you take the direct overnight ferry from Stockholm to Helsinki, fares start from around €88 including a bed in a shared 4-berth with Viking Line or €111 with sole occupancy of a cabin with Silja Line. But there are whole range of cabin types and prices, just check both ferry company websites.
Above: Helsinki's beautiful art nouveau station, by famous Finnish architect Eliel Saarinen.

Photo courtesy of Adrian Tanovic
How to buy tickets online...
How to buy tickets by phone...
Step 1: Buy your train tickets from London to Stockholm. You can buy all these tickets through a number of UK agencies, but the best for this trip is probably Deutsche Bahn's UK phone line on 08718 80 80 66 (lines open 09:00-20:00 Mon-Fri, 09:00-13:00 Sat & Sun, no booking fee, 2% credit card charge, no charge for debit cards). Click here for a list of agencies and more info on how to book.

Step 2: Viking Line tickets can be booked online at either the Seat61 Ferry Shop or www.vikingline.fi or by phone though its UK agent, Emagine Ltd, on 01942 262662. Silja Line tickets can be bought online at www.tallinksilja.com or through their UK agents, DFDS Seaways, on 0871 522 9955.
Custom-made train travel + hotel arrangements...
If you want a custom-made trip with train & ferry travel, hotels & transfers all arranged for you, contact Railbookers. Tell them what you want and they'll advise you on the best trains, routes & hotels and sort it all out. They get positive reviews and look after their customers very well.

US call free 1-888-829-4775, see website.

Canada call free 1-855-882-2910, see website.

Australia call toll-free 1300 971 52 see website.

New Zealand call toll-free 0800 000 554 or see website.
...Cologne to Hamburg by InterCity train.
| | | | | |
| --- | --- | --- | --- | --- |
| | | | | |
| Most Cologne-Hamburg trains are InterCity trains, a few are high-speed ICEs. Virtual tour of InterCity train... | | InterCity 2nd class. You'll also find a few compartment coaches on InterCity trains, and a bistro or restaurant car... | | InterCity 1st class, often available in both open-plan saloons like this and in compartments. More info... |
...Hamburg to Copenhagen by EuroCity (Danish IC3 train).
| | | |
| --- | --- | --- |
| | | |
| A Danish IC3 train at Copenhagen station... | | Comfortable 2nd class seats on an IC3 train... |
...Copenhagen to Stockholm by X2000.
| | | | | |
| --- | --- | --- | --- | --- |
| | | | | |
| An X2000 train at Copenhagen, about to leave for Stockholm... | | 2nd class seating on the X2000. All seats have power sockets... | | Self-service buffet car. More information about X2000 |
...Stockholm to Turku by cruise ferry & train to Helsinki.
| | | | | |
| --- | --- | --- | --- | --- |
| | | | | |
| The Viking Line ferry from Stockholm to Turku. Silja line operate a competing ferry. These 3 photos courtesy of Matthew Philips | | 2-berth cabin on the cruise ferry to Finland... | | The InterCity boat train from Turku Harbour to Helsinki is a double-deck InterCity train. Note the children's play area! |
...or Stockholm to Helsinki by direct overnight cruise ferry.
The Stockholm-Helsinki overnight ferry... Sail direct from Stockholm to Helsinki by overnight luxury ferry, a true floating hotel. Above, the massive Silja Symphony towers over the Silja Line terminal in Helsinki. Photos courtesy of Discoverbyrail.com
---
Don't fly to Finland, cruise there! A Finnlines Travemunde-Helsinki Star class ferry. Below: A cabin on the Finnlines ferry.

Photos courtesy of www.finnlines.com
This leisurely option runs every day and takes 3 nights outward to Helsinki, just 2 nights inward back to London. In the outward direction it includes a day at leisure exploring Hamburg, too. Take a morning Eurostar to Brussels and onward trains to Hamburg, and stay overnight. After a day exploring Hamburg, transfer by local train to Travemünde on Germany's Baltic coast, then take the daily Finnlines ferry from Travemünde to Helsinki, a 2-night cruise. This route is shown on the route map above in red between London & Hamburg and in dark blue between Hamburg & Helsinki.
London ► Helsinki
Day 2 evening, transfer from Hamburg to 'Lübeck Travemünde Skandinavienkai Terminal' by local train and bus. You take a local train from Hamburg Hauptbahnhof to Lübeck which runs every 30 minutes throughout the day, hourly in the evening, journey time 42-43 minutes. At Lübeck, leave the station and follow the signs to the ZOB bus station. Lübeck is a good place for an early dinner, there are plenty of bars and restaurants in the old town just 5 minutes walk from the bus station. Now take a bus from Lübeck bus station to 'Travemünde Skandinavienkai Terminal' (note that this is not the same stop as 'Travemünde Skandinavienkai'), the bus ride takes 28 minutes and the last bus goes around 21:00. You can check journey times from Hamburg to Travemünde Skandinavienkai Terminal at the German Railways website, just use this link to bahn.de as it has the bus times in its database as well as the trains, or you can find bus information at www.xn--sv-lbeck-95a.de. At the terminal, walk into the unassuming building next to the bus stop for check in. You're looking for a large building marked HafenHaus and with a green neon 'Check in' sign by the front door. After check-in, you go downstairs to a large waiting hall, with a bar/cafe open until 10pm, toilets and a large supermarket open until 01:30 selling alcohol and chocolate.

Day 2-3, sail from Travemünde to Helsinki on the daily Finnlines ferry, see www.finnlines.com. The ship boards from 22:30 to 24:00 (day 2), foot passengers are driven onto the car deck in a minibus. The ship sails at 03:00 (day 3), arriving at Helsinki Vuosaari ferry terminal outside Helsinki at 08:00 on day 4. The ship may not be quite as glamorous as some other cruise ferries on the Baltic, but it has all the essentials: Comfortable cabins with private shower & toilet and free internet access (but not WiFi, so bring a network cable), restaurant, shop, bar, sundeck, and (naturally, being Finnish) a sauna. It's a very civilised way to travel.

Day 4, transfer from the Vuosaari terminal to central Helsinki. Helsinki's new Hansa Ferry Terminal in the Vuosaari Harbour is 16km east of central Helsinki. There is a bus connection (bus 90B) between Vuosaari harbour and Vuosaari metro station. Take the metro from Vuosaari into central Helsinki, journey time 25 minutes. Map of Helsinki showing Vuosaari.
Helsinki ► London
Day 1, transfer from Helsinki to the Vuosaari ferry terminal, some 16 km east of Helsinki. You can take the metro from anywhere in central Helsinki to Vuosaari station, then bus 90B from Vuosaari metro station to the Vuosaari's Hansa ferry terminal. Map of Helsinki showing Vuosaari.

Day 1, sail from Helsinki to Travemünde on the daily Finnlines ferry, see www.finnlines.com. Check in is between 13:30 and 16:30. The ship sails at 17:30 (15:00 Sundays) and arrives at Travemünde at 21:00 the next day (day 2). The ship is has all the essentials: Comfortable cabins with private shower & toilet and free internet access (but not WiFi, so bring a network cable), restaurant, shop, bar, sundeck, and sauna.

Day 2, transfer by bus and local train to Hamburg Hauptbahnhof. Buses link the ferry terminal (Travemünde Skandinavienkai Terminal) with Lübeck ZOB bus station, it's a short walk to Lübeck station, then local trains run every 30-60 minutes to Hamburg Hbf.

Spend the night in a hotel in Hamburg. Starting with the cheapest, suggested hotels next to Hamburg Hauptbahnhof with good reviews include the Hotel Continental Novum, Hotel Furst Bismarck, Hotel Europaischer Hof, Hotel Atlantic Kempinski. If you're on a budget, private rooms with en suite shower & toilet in the A&O Hotel near Hamburg Hauptbahnhof start at around £33 for one person or £49 for two people booked at www.hostelworld.com. Alternatively, you could spend the night in Travemünde or Lübeck if you prefer, and transfer into Hamburg next morning.

Day 3, travel from Hamburg to London using any of the options shown on the Germany page. For example, the earliest departure leaves Hamburg Hbf at 06:46, changing at Cologne & Brussels to arrive London St Pancras at 16:05. Or you can leave at 07:46 arriving London 16:57 (18:06 on certain dates). Or have a leisurely breakfast and leave Hamburg at 10:46 arriving London at 19:57 (21:03 on Saturdays & some other dates).
How much does it cost?
London to Hamburg by train starts from €59 (£46) with a Sparpreis London fare at www.bahn.de, though the price varies.

Hamburg to Travemünde by local train and bus costs only a few euros.

Travemünde to Helsinki by Finnlines ferry costs between €120 and €155 (£95-£120) each way in a reclining seat depending on the day and season. However, I recommend a cabin. The fare including a bed in a 3-bed shared inside cabin is between €200 and €287 each way. The fare including a bed in a 2-bed outside cabin is between €279 and €413 each way. Children under 6 go free, and there are reduced fares for children 6 to 12 and youth fares for children 13-17. See the fares at www.finnlines.com.

Hamburg to London by daytime trains starts at just €49 (£46) with a Sparpreis London fare, if one is available, though the price varies.
How to buy tickets online...
It takes several websites so it's best to try a dry-run on all of them first to check prices and availability before booking for real. Here's how it's done:
If you don't see any suitable fares from London to Hamburg using these links, split the journey, and book London to Brussels & back at www.eurostar.com then Brussels to Hamburg & back at www.bahn.de.

You can buy your Hamburg-Lübeck-Travemünde local ticket at the station when you get to Hamburg (although you could try booking from London direct to Lübeck instead of Hamburg, it may well be the same price so could save a few euros).
How to buy tickets by phone...
Step 1, buy your ferry ticket: Finnlines telesales number in Germany is 00 49 451 1507 443.

Step 2, buy your London-Hamburg train tickets: You can buy tickets from the UK's Deutsche Bahn office, on 08718 80 80 66 (lines open 09:00-20:00 Monday-Friday, 09:00-13:00 Saturday & Sunday, no booking fee, 2% credit card charge). Alternatively, you can also buy them from www.europeanrail.com (a booking fee is charged).
---
How to check train times & buy tickets for Finland...
It's easy to check Finnish train times and buy tickets online at the Finnish Railways site www.vr.fi, English button top right. Bookings open several months in advance, and note that it goes offline 01:30 to 04:00 Finnish time. If you book more than 7 days but less than 60 days in advance, you can buy lower-priced Advance fares, so pre-booking usually saves money. You can choose to print your own ticket, collect it from the self-service machines or staffed ticket counter at any main VR station, or in some cases an e-ticket can be sent to your mobile phone.
Helsinki station...
Designed by famous Finnish architect Eliel Saarinen, at Helsinki station you'll find the usual range of services: Ticket counters, left luggage, food stores, newsagents, restaurants and cafes. Photos courtesy of Michael Banbrook
The night train to Lapland...
There are daytime trains from Helsinki to Oulu, Kemi, Rovaniemi & Kemijärvi, or you can use one of the time-effective sleeper trains, now equipped with air-conditioned double-deck sleeping-cars, all sleepers with cosy duvets, washbasin, soap & towels provided. Some deluxe compartments have a private toilet & shower. You can buy sleeper tickets to Lapland at www.vr.fi and print out your own ticket.
| | | |
| --- | --- | --- |
| | | |
| A snowy scene at Helsinki station, with a Pendolino train on the left and a double-deck sleeping-car on the right... Photos courtesy of Michael Banbrook | | 2-berth sleeper in one of VR's double-deck sleeping-cars. Some have a private toilet & shower. |
| | | |
| --- | --- | --- |
| | | |
| A double-deck sleeping-car... Photos courtesy of Michael Banbrook | | The sleeper train to Rovaniemi features a restaurant car (above) and on-board shop.. |
---
---
You should take a good guidebook. For the independent traveller, I think this means either the Lonely Planet or the

Rough Guide. I personally prefer the layout of the Lonely Planet, but others prefer the Rough Guide. Both guidebooks provide the same excellent level of practical information and historical background. You won't regret buying one! My own book, an essential handbook for train travel to Europe based on this website called "The Man in Seat 61", was published in June 2008, and is available from Amazon with shipping worldwide.
Click the images to buy at Amazon.co.uk...
Or buy direct at the Lonely Planet website, shipping worldwide.
---
European Rail Timetable & maps




The European Rail Timetable (formerly the Thomas Cook European Timetable) has train & ferry times for every country in Europe plus currency & climate information. It is essential for regular European train travellers and an inspiration for armchair travellers. Published since 1873, it had just celebrated 140 years of publication when Thomas Cook decided to pull the plug on their entire publishing department, but the dedicated ex-Thomas Cook team have set up a private venture and published the first edition of a reborn European Rail Timetable in March 2014. You can buy it online with worldwide shipping at either www.stanfords.co.uk or www.europeanrailtimetable.eu. More information on what the European Rail Timetable contains.
A Traveller's Railway Map of Europe covers the whole of Europe from Portugal in the west to Moscow & Istanbul in the east, Finland in the north to Sicily & Athens in the south. On the back are detailed maps of Switzerland, Benelux & Germany, plus city plans showing stations in major cities. Scenic & high-speed routes highlighted. Buy it online for £14.50 + postage worldwide (UK addresses £2.80) at www.stanfords.co.uk/Continents/Europe-A-Travellers-Railway-Map_9789077899090.htm or (in the Netherlands) for €13 + €5.50 postage from www.treinreiswinkel.nl.
---
Hotels in Helsinki & Scandinavia
◄◄

Hotel search & price comparison

.

www.hotelscombined.com checks all the main hotel booking sites at once to find the widest choice of hotels & the cheapest seller. It has been named as the World's Leading Hotel Comparison Site in the World Travel Awards and I highly recommend it, both to find hotels in even the smallest places and to check that another retailer isn't selling the same hotel at a cheaper rate.

►►

My recommended booking site:

www.booking.com

www.booking.com is my favourite hotel booking site, and unless HotelsCombined throws up major price differences I prefer doing my bookings in one place here.

You can usually book with free cancellation - this allows you to confirm your accommodation at no risk before train booking opens. It also means you can hold accommodation while you finalise your itinerary, and alter your plans as they evolve - a great feature I use all the time when putting a trip together.
www.hostelworld.com: If you're on a tight budget, don't forget about backpacker hostels. Hostelworld offers online booking of cheap private rooms or dorm beds in backpacker hostels in Paris and most other European cities at rock-bottom prices.
---
Travel insurance & health card
Take out decent travel insurance, it's essential...
Never travel without proper travel insurance from a reliable insurer with at least £1m or preferably £5m medical cover. It should also cover loss of cash & belongings (up to a limit), and trip cancellation. An annual multi-trip policy is usually cheapest even for just 2 or 3 trips a year - I have an annual policy myself. However, don't expect travel insurance to bail you out of every missed connection, see the advice on missed connections here. Here are some suggested insurers, Seat61 gets a little commission if you buy through these links, and feedback from using insurance for rail & ferry travel is always welcome.

In the UK, use www.confused.com to compare prices & policy features across major insurance companies.

If you have a pre-existing medical condition or are over 65, see www.JustTravelCover.com - 10% discount with code seat61.



If you live in Australia, New Zealand, Ireland or the EU, try Columbus Direct's other websites.

If you live in the USA try Travel Guard USA.
Get an EU health card, it's free...
If you're a UK citizen travelling in Europe, you should apply for a free European Health Insurance Card, which entitles you to free or reduced rate health care if you become ill or get injured in many European countries, under a reciprocal arrangement with the NHS. This replaced the old E111 forms as from January 2006. The EHIC card is available from ww.nhs.uk. It doesn't remove the need for travel insurance, though.
Carry a spare credit card, designed for travel with no currency exchange loading & low/no ATM fees
Taking out an extra credit card costs nothing, but if you keep it in a different part of your luggage you won't be left stranded if your wallet gets stolen. In addition, some credit cards are better for overseas travel than others. Martin Lewis's www.moneysavingexpert.com/travel/cheap-travel-money explains which UK credit cards have the lowest currency exchange commission loadings when you buy something overseas, and the lowest cash withdrawal fees when you use an ATM abroad.
---
Back to 'Rail travel to Europe' general page