| | |
| --- | --- |
| | |
| | The California Zephyr at Winter Park... |
| | |
Cross-country by train from $197
Crossing the USA by train from coast to coast is one of the world's great travel experiences. Amazingly, it's also one of the world's great travel bargains as a 3,000 mile 4-day trip on Amtrak can cost as little as $197 (£144, €162) at www.amtrak.com. There are daily departures and half a dozen possible routes to choose from. What's a 3-day coast-to-coast train journey actually like? This page will show you in pictures, using the most scenic route via Amtrak's Lake Shore Limited from New York to Chicago and the celebrated California Zephyr from Chicago to San Francisco. The train travel in the United States page will explain the practicalities of which cross-country route to choose, train schedules, prices & how to buy tickets. It also explains what the trains themselves are like, and what type of seat or sleeper to choose.
By train across America, in pictures

New York to Chicago on the Lake Shore Limited

Changing trains in Chicago

Chicago to San Francisco on the California Zephyr
Practical information

How can you book a trip like this?

Amtrak train routes, schedules & prices

Amtrak on-board accommodation & facilities

How to buy tickets
Route map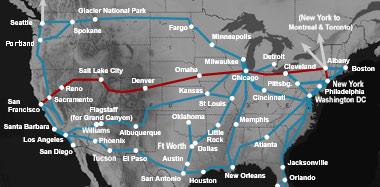 ---
New York, New York!
North by northwest: Along the Hudson River Valley
A bit of history... We're following the classic New York Central Railroad route from New York to Chicago, from Grand Central Terminal (or these days Penn Station) north along the Hudson to Albany then west along Lake Erie and Lake Michigan via Cleveland, Rochester & Syracuse to Chicago. Marketed for years as The Water Level Route - You Can Sleep, this was a jibe at the rival Pennsylvania Railroad's shorter but far more steeply-graded route from New York Penn Station to Chicago via Philadelphia & Pittsburgh which struggled through the Allegheny Mountains. In its heyday, the Pennsy's premier train, the Broadway Limited ran to the same schedule as the Central's Twentieth Century Limited (New York depart 6pm, Chicago arrive 9am) but it never achieved quite the same fame. Today's Lake Shore Limited perpetuates the name of one of the New York Central's secondary New York-Chicago trains.
Dining-car update: It seems that from 1 June 2018 Amtrak will replace the dining-car on the Lake Shore with cold tray-meals served to sleeper passengers and a cafe service to seats passengers. These photos will continue to show what I experienced, if you get photos of the new food service, please email me.
Wake in the farmlands of Indiana
Hell-o Chicag-o!
Arriving on the Lake Shore Limited at 9:45am, you've a morning to explore Chicago until the California Zephyr leaves at 2.00pm.
The second leg of this coast-to-coast trip is a 2-night, 2,438-mile journey aboard one of the world's greatest trains, the California Zephyr. A train called the California Zephyr first took to the rails in 1949, run jointly by the three railroads over which it ran, the Chicago, Burlington & Quincy (the 'Burlington'), the Denver & Rio Grande Western ('Rio Grande') and the Western Pacific. It couldn't compete on speed with the rival Union Pacific City of San Francisco but it more than made up for that with superb scenery and gleaming stainless steel carriages which featured no fewer than four vista domes for sightseeing. This original 'CZ' ran until 1970. Amtrak's modern incarnation of the California Zephyr follows much of the same route, through superb scenery in the Rockies, across the arid country of Utah and Nevada, and through the snow-capped Sierra Nevada in California to the Bay Area. It's the most scenic and historic of all the Amtrak train routes across the United States. When you step off this train in California, you'll have seen more of America than many Americans! Don't forget to watch the video, too!
Boarding in Chicago
Galesburg, Illinois
Ol' Man River: Crossing the mighty Mississippi
Dinner in the diner
Ottumwa, Iowa
Denver, the Mile High City
The Big Climb into the Rocky Mountains
Winter Park
Those beautiful Colorado Canyons
'Moon' River...
Glenwood Canyon & Glenwood Springs
Utah's buttes & mesas: Beautiful, colourful, eerie
Breakfast in the Nevada desert
California Dreamin'...
High Sierra: Sierra Nevada & the Donner Pass
Sittin' on the dock of the Bay...
San Francisco!
A 6-minute snapshot of a trip on the California Zephyr...
Compare the Amtrak trip on this page with the 1950s train in this 1950s promotional video for the original California Zephyr. It's amazing how similar the journey is!
We booked our New York to San Francisco tickets online at www.amtrak.com. We then sorted hotels through www.booking.com with free cancellation so there was no risk if our plans changed or something happened. You'll find Amtrak cross-country timetables, advice & practical information on the Train travel in the United States page. Alternatively, there are two travel companies who will do all the work for you...
Let Amtrak Vacations arrange your trip
Amtrak Vacations is Amtrak's official partner for vacations, tours & packages.

Amtrak Vacations can put a package together from anywhere to anywhere to your specification, with private sleeping accommodations on the train, stopovers at cities or national parks, hotels & transfers.

They'll also do ticket-only bookings for cross-country Amtrak journeys, and you may get more help and advice if you book through them as they specialise in Amtrak's long-haul routes.
Let Railbookers arrange your trip
Train travel specialist Railbookers have offices in the UK, USA & Australia. They can arrange coast to coast tours by train to your own specification, with trains, stopovers, hotels, transfers and (if necessary) flights all sorted. Just tell them what you want (or ask them for their advice & suggestions) and they can make all your arrangements.

UK call 0207 864 4600, www.railbookers.co.uk, see their train tours & holidays in the USA.

From mainland Europe call +44 207 864 4600, www.railbookers.co.uk.

Australia call toll-free 1300 971 526, www.railbookers.com.au, see their U.S. tours & holidays.

New Zealand call toll-free 0800 000 554 or see their U.S. tours & vacations.
---