London to Amsterdam in comfort
Fed up with flying? This page explains how to travel from London or anywhere in the UK to Amsterdam or anywhere in the Netherlands by train or ferry, avoiding airport hassle and reducing your impact on the environment. Upgrade from a stressful flight to the civilised comfort of Rail & Sail or Eurostar...
Times, fares & tickets

Which option to choose?

London to Amsterdam by Eurostar

London to Amsterdam by Stena Line train & ferry

Hull to Rotterdam & Amsterdam by ferry

Newcastle to Amsterdam by ferry

London to all other destinations in the Netherlands
International trains to/from Amsterdam

Trains from other European cities to Amsterdam

Trains from Amsterdam to other European cities

Amsterdam to Berlin by InterCity train

Amsterdam to Brussels & Paris by Thalys train

Amsterdam to Bruges by train
Other useful information

Amsterdam Centraal station guide

Hotels in Amsterdam - suggested places to stay

Map of Amsterdam

Useful country information: currency, dial code...

Short breaks in Amsterdam by Eurostar

General information for train travel in Europe

Luggage arrangements

Left luggage lockers in Brussels & Amsterdam

Taking a bike Taking a dog

Travel insurance, Curve Card & VPN
Interactive map
Click a route for times, fares & tickets.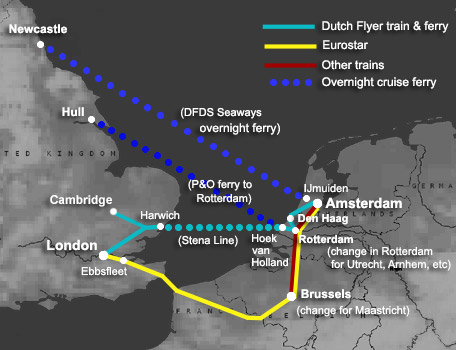 Holland or the Netherlands?
What's the difference?
Holland is a region made up of 2 of the 12 provinces of the Netherlands, Noord Holland & Zuid Holland. The other 10 provinces are not Holland. Telling someone from Utrecht, Arnhem, Eindhoven, Groningen or Maastricht that they come from Holland is like telling a Glaswegian that he comes from England... Check out this nifty video explanation...
---
---
---
| | |
| --- | --- |
| | Above: A Dutch double-deck InterCity train. |
| | Above: These are top deck seats on a Dutch double-deck InterCity train from Rotterdam to Amsterdam... |
London to Rotterdam
You can travel from London to Rotterdam by direct Eurostar several times a day in just 3h30, see the London to the Netherlands by Eurostar page.
You can also travel from London to Rotterdam overnight in a cosy en suite cabin using the excellent Stena Line train-ferry-train service, see the London to Amsterdam by train & ferry page.
London to Den Haag (The Hague)
Take a Eurostar from London St Pancras to Rotterdam Centraal in just 3h30, then take a frequent Dutch Intercity train from Rotterdam Centraal to Den Haag HS taking 18 or 19 minutes more. These Intercity trains run roughly every 10 minutes.
Alternatively, Eurostar runs more frequently from London to Brussels Midi, from where there are hourly Intercity trains to Den Haag, a handful direct, most with 1 change.
Buy tickets from London to Den Haag as one transaction with no booking fee at www.nsinternational.nl. You print your own ticket.
Alternatively, the excellent Stena Line Rail & Sail service via Harwich-Hoek van Holland also goes via Den Haag, see the London to Amsterdam by train & ferry page.
London to Maastricht
Maastricht, right down in the southern tip of the Netherlands, is most easy reached by Eurostar changing in Brussels. There are hourly Belgian InterCity trains from Brussels to Maastricht with one easy and quick change in Liège, journey time 1 hour 46 minutes.
You can buy a through ticket from London to Liège, simply go to www.eurostar.com and buy a ticket from London to a destination listed as Any Belgian Station from £51 one-way or £69 return. This is valid on a specific Eurostar to Brussels, then onwards to any station in Belgium using any suitable connecting train (including Belgian InterCity trains but not international Thalys or ICE trains) within 24 hours of arrival in Brussels, and (on your return) within 24 hours of your Eurostar departure from Brussels. This will take you all the way to Liege, you can easily buy an onward ticket from Liege to Maastricht online at www.thetrainline.com.
Note that at www.eurostar.com all you are reserving is your Eurostar seat, from Brussels to Liège a seat reservation is unnecessary you can just hop on any train you like. The Eurostar website won't give schedules for the onward trains, but you can use www.thetrainline.com to find train times between Brussels and Maastricht.
Alternatively, you can travel from London to Maastricht by comfortable overnight train+ferry if you like, using the special Stena Line Rail & Sail ticket from London to Hoek van Holland, see the London to Amsterdam by train & ferry page.
London to anywhere else in the Netherlands: Utrecht, Apeldoorn, Groningen, Arnhem, Eindhoven, etc.
Other destinations in the Netherlands can also be reached just as easily as Amsterdam, using either train+ferry or Eurostar. Decide which you want to use by reading the London-Amsterdam train & ferry and Eurostar information, then check connections to your chosen destination as follows:
By train+ferry via Harwich-Hoek van Holland...
The Stena Line Rail & Sail service gets you from central London or any Greater Anglia station (including Cambridge, Norwich, Ipswich, Ely, Chelmsford, Colchester...) to Hoek van Holland. There's a daytime service and an overnight 'sleeper' service with cosy private cabins with toilet, shower & satellite TV. You can then travel from Hoek van Holland to anywhere in the Netherlands. For full details, see the Stena Line Rail & Sail page.
To check train times from Hoek van Holland to anywhere else in the Netherlands, first check what time your chosen train+ferry service reaches Hoek van Holland using the London to Amsterdam train+ferry timetable here.
Then go to the Dutch Railways website www.ns.nl, enter Hoek van Holland Haven as origin and your Dutch destination as destination, enter your travel dates and time of departure from Hoek (allowing at least 20 minutes from the arrival of the ferry) and hit search.
You'll find some journeys involve taking the metro from Hoek to Schiedam Centrum and changing onto a mainline train (for example, to Den Haag) whilst others are better taking the metro from Hoek to Rotterdam Alexander and changing there for a mainline train (for example, to Utrecht or Groningen).
It will then sell you a ticket for the NS (Dutch Railways) part of the journey which you can print out or show in the NS app on your phone. You then need to buy a metro ticket at the station from the ticket machines for a few euros. Buy your Stena Line Rail & Sail ticket from London to Hoek van Holland at www.stenaline.co.uk/ferry-to-holland/rail-and-sail.
By Eurostar to any Dutch station from €60!
It's back!! The popular ticket from London to Any Dutch Station by Eurostar and connecting InterCity train (not valid on high-speed Thalys), one-way from €60, return from €119. But it has to be booked at the Dutch railways website www.nsinternational.nl, which can book these as a one-way or a round trip in either direction. You print your own tickets. In the search results you can compare prices with faster options via Thalys high-speed trains, and make a choice on speed versus price.
---
Paying for a guidebook in the age of the internet may seem unnecessary, but you will see a lot more, and know much more about what you're looking at, if you have a decent guidebook. I think the Lonely Planets & Rough Guides are the best ones out there for the independent traveller. You won't regret buying one!

My own book, an essential handbook for train or ferry travel to Europe based on this website called The Man in Seat 61, was published in 2010 so is a little long in the tooth now, but it's available from Amazon.co.uk with shipping worldwide.
Click the images to buy at Amazon.co.uk
---
European Rail Timetable & maps




The European Rail Timetable (formerly the Thomas Cook European Timetable) has train & ferry times for every country in Europe plus currency & climate information. It is essential for regular European train travellers and an inspiration for armchair travellers. Published since 1873, it had just celebrated 140 years of publication when Thomas Cook decided to pull the plug on their entire publishing department, but the dedicated ex-Thomas Cook team set up a private venture and resumed publication of the famous European Rail Timetable in March 2014. You can buy it online at www.amazon.co.uk (UK addresses) or www.europeanrailtimetable.eu (shipping worldwide). More information on what the European Rail Timetable contains.
Rail Map Europe is the map I recommend, covering all of Europe from Portugal in the west to Moscow & Istanbul in the east, Finland in the north to Sicily & Athens in the south. Scenic routes & high-speed lines are highlighted. See an extract from the map. Buy online at www.europeanrailtimetable.eu (shipping worldwide) or at www.amazon.co.uk (UK addresses).
---
Cheapies: There are many cheap hotels, including many near the station, but very few get outstanding reviews. For ones that do, try the floating boat hotel AmiciA (formerly Friesland), around €45 per night 15 minutes walk from the station or the Rembrandt Hotel from €80, 10 min walk from Dam Square though 20 minutes walk from the station.
Hotels in Rotterdam...
www.airbnb.com began in 2008 when two designers who had space to share hosted three travellers looking for a place to stay. AirBnB is a platform which connects hosts with guests, so you can now book a room in people's homes, or an apartment, flat or house which people want to rent out. It can be nicer than a hostel, cheaper than many hotels.
www.hostelworld.com: If you're on a tight budget, don't forget about backpacker hostels. Hostelworld offers online booking of cheap private rooms or dorm beds in backpacker hostels in Paris and most other European cities at rock-bottom prices.
---
Railbookers (www.railbookers.co.uk, 0207 864 4600) are a reliable and helpful company offering city breaks to Amsterdam by train, combining Eurostar travel & hotel. A 2-night break starts at around £225 per person. US & Canadian residents can call Railbookers toll free on 1-888-829-4775, Australian residents toll-free on 1300 971 526, New Zealand residents on 0800 002 034. They can also arrange tours of Europe to your own specification, with train travel and hotels arranged.

Byway offer breaks to Amsterdam, see byway.travel. They are a new UK-based eco-holiday firm, with a 5-star TrustPilot rating. If you're nervous about booking train travel yourself, they'll book a London-Netherlands journey for you as a package, including hotels, starting from any British station you like. Byway includes package protection, a 100% Covid refund guarantee, free disruption & re-planning and on-demand WhatsApp support while you're away.

Or put together your own break, using the overnight train+ferry option and booking a hotel separately.
---
Travel insurance & VPN
Always take out travel insurance...
You should take out travel insurance with at least £1m or preferably £5m medical cover from a reliable insurer. It should cover trip cancellation and loss of cash & belongings up to a reasonable limit. These days, check you're covered for covid-19-related issues, and use an insurer whose cover isn't invalidated by well-meant but excessive Foreign Office travel advice against non-essential travel. An annual policy is usually cheapest even for just 2 or 3 trips a year, I use an annual policy myself. Don't expect travel insurance to bail you out of every missed connection, see the advice on missed connections here. Here are some suggested insurers, I get a little commission if you buy through these links, feedback always welcome.

www.staysure.co.uk offers enhanced Covid-19 protection.

You can use www.confused.com to compare prices & policy features across major insurance companies.

If you live in the USA try Travel Guard USA.
Curve card saves foreign transaction fees...
Banks often give a poor exchange rate, then charge a currency conversion fee as well. A Curve MasterCard means no foreign transaction fees and gives you the mid-market exchange rate, at least up to a certain limit, £500 per month as I write this. The balance goes straight onto one of your existing debit or credit cards. And you can get a Curve card for free.
How it works: 1. Download the app for iPhone or Android. 2. Enter your details & they'll send you a Curve MasterCard - they send to most European addresses including the UK. 3. Link your existing credit & debit cards to the app. 4. Now use the Curve MasterCard to buy things online or in person or take cash from ATMs, just like a normal MasterCard. Curve does the currency conversion and puts the balance onto whichever of your debit or credit cards you choose. You can even change your mind about which card it goes onto, within 14 days of the transaction.
I use a Curve Blue card myself - I get a little commission if you sign up to Curve, but I'm recommending it here because I think it's great. See details, download the app and get a Curve card - they'll give you £5 cashback through that link, too.
| | |
| --- | --- |
| | |
When you're travelling you often use free WiFi in public places which may not be secure. A VPN means your connection to the internet is encrypted & always secure, even using unsecured WiFi. In countries such as China where access to Twitter & Facebook is restricted, a VPN gets around these restrictions. And lastly, you can select the geographic location of the IP address you browse with, to get around geographic restrictions which some websites apply - for example one booking site charges a booking fee to non-European visitors but none to European visitors, so if you're not located in Europe you can avoid this fee by browsing with a UK IP address using a VPN. VPNs & why you need one explained. ExpressVPN is a best buy and I use it myself - I've signed up as an ExpressVPN affiliate, and if you go with expressvpn.com using the links on this page, you should see a special deal, 3 months free with an annual subscription, and I get a small commission to help support this site.
| | |
| --- | --- |
| | |
Carry an Anker powerbank...
With tickets, reservations, vaccination records and Interrail or Eurail passes now often held digitally on your mobile phone, it's vital to keep it charged. I recommend carrying an Anker powerbank which can recharge your phone several times over if you can't get to a power outlet when you're on the move. I never travel without one.
---