Amsterdam's main station...
Amsterdam Centraal is the Dutch capital's main station, located right at the heart of Amsterdam easy walking distance from most of the city's sights and hotels. The impressive station building was completed in 1884, designed by Dutch architect Pierre Cuypers who also designed the Rijksmuseum - the similarity is not coincidence! You can read more about the history of Amsterdam Centraal Station and its construction at en.wikipedia.org/wiki/Amsterdam_Centraal_station.
Station location...
You walk through the main entrance into the main station hall. A passageway from the main hall takes you under the tracks with stairs and escalators up to each platform.

Ticket gates: A row of automatic ticket gates controls access from the main hall into the passageway under the tracks to the platforms, although at the time I write this you may find them locked in the open position in the daytime. When operational, Dutch domestic tickets operate the gates automatically and if your international ticket has a QR barcode this may also work to open the gates when held against the scanner (many work including Thalys and ICE, though some don't). If you have an InterRail or Eurail pass or your ticket barcode doesn't work the gates, simply ask a member of staff to let you through.

Platforms are numbered 1 to 15, with platform 1 on the city side of the station and platform 15 on the far side. All are 'through' platforms where trains can leave in either direction except for platform 1 which is a dead-end 'bay' platform. Two trains can use each platform at a time, so each platform has an 'a' end to the left (northwest) and a 'b' end to the right (southeast) so if your train leaves from (say) platform 14b it means the southeast half of platform 14. It is all clearly signed.

There's a station plan linked from www.ns.nl/en/stations/amsterdam-centraal.html.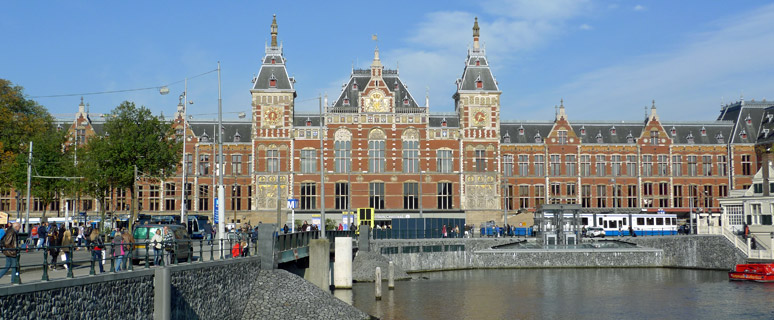 Amsterdam Centraal, seen as you walk towards the station from the city centre.

Inside the station, platforms are numbered from 1 to 15 with the northwest end of each platform being 'a' and the southeast end 'b' - this is a Dutch double-decker InterCity train at platform 14a. There are in fact only 11 platforms as tracks 3, 6, 9 &12 are 'centre roads' which aren't next to a platform.
There is domestic ticket office and plenty of ticket machines around the station. International tickets can be bought at the NS International ticket office located near the west entrance to the main hall, open morning till evening 7 days a week, you'll find precise opening hours at www.nsinternational.nl. Note that NS International charge a booking fee in excess of €7 per person for buying from a staffed counter on top of the cost of the ticket, so it's far better to book online if you can.
There are various ATMs around the station. Left luggage lockers are available if you need to leave your bags, see the luggage lockers page for prices & opening hours.
If you have a 1st class international ticket or a 1st class railpass you can use the NS International first class lounge on platform 1. Follow signs for NS International Lounge. Check www.nsinternational.nl for opening times. It offers complimentary unlimited tea & coffee and free WiFi. One complimentary soft drink or bottle of water. Beer and snacks to buy. You can pay to access the lounge if you don't have a first class ticket, prices can be found at www.nsinternational.nl although I'd suggest using the Grand Cafe 1st Klas as your VIP departure lounge instead, see the section below...
| | | |
| --- | --- | --- |
| | | |
| Entrance on platform 1. | | Inside the NS Lounge. Courtesy of Brian Read... |
There are plenty of places to eat & drink in and around Amsterdam Centraal including Burger King, Starbucks & Wagamama to name just three, and there are minimarkets where you can stock up for the journey. For somewhere classy, historic & quiet for a beer, coffee or meal before your train I suggest the beautifully retro Grand Cafe 1e Klas on platform 2b. Say hello to the cockatoo on the bar for me...
Walking... It's easy to walk from the station to the city sights. Centraal station to Dam Square takes 10 minutes, Centraal Station to Anne Frank's House takes 19 minutes.

Metro, bus & tram: For city transport in Amsterdam see https://en.gvb.nl.

Taxis: For a taxi fare calculator see www.taxifarefinder.com/main.php?city=Amsterdam-Netherlands. Taxis are usually plentiful outside the station.
---
Back to 'Rail travel to Europe' general page