Ride the train to the Balkans...
A train journey across Europe from the UK to Sarajevo is a real adventure, yet it's safe, comfortable and affordable. You can leave London in the morning on day 1 and arrive in Sarajevo in the early evening of day 2, travelling via Paris, Munich and Zagreb as shown on the route map below. This page will help you plan the journey and buy your tickets.
Train times, tickets & information...

London to Sarajevo & Mostar by train

Hotels in Sarajevo, Mostar & Bosnia

Useful country information

General information about train travel in Europe

Luggage Taking bikes Taking dogs
Route map...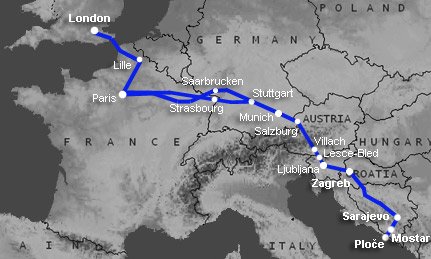 ---
Train operator:

ZBH (Zeljeznice Bosne i Hercegovine) www.zfbh.ba.

Railpasses:

Beginner's guide to European railpasses Buy a rail pass online

Time zone:

GMT+1 (GMT+2 last Sunday in March to last Saturday in October).

Dialling code:

+387

Currency:

£1 = 2.2 BAM, known locally as marks or KM. Euros widely accepted although only BAM is legal tender. Currency converter

Tourist information:

Accommodation:

Visas:

UK citizens do not need a visa to visit Bosnia.

Check travel advice at www.fco.gov.uk before going to Bosnia.

Page last updated:

3 March 2018. Train times valid from 10 Dec 2017 to 9 June 2018.
---
The Sarajevo-Zagreb train has just arrived in Zagreb, only 10 minutes late after it's long scenic journey from Bosnia...

The Zagreb-Sarajevo train has just 3 fairly basic carriages, one ZFBH (Muslim-Croat Federation of Bosnia), one ZRS (Republic of Srpska), and one HZ (Croatian). This is a compartment in the ZFBH car.

Passengers stand in the corridor to gaze at all that great scenery on the Zagreb to Sarajevo train... Photo courtesy of Simon Hodge

Inside Sarajevo station...

Photo courtesy of Krzysztof Sokol

A train from Mostar to Sarajevo arrived at Sarajevo. The blue coach appears to be a second-hand Swedish or Norwegian one!

Photo courtesy of Krzysztof Sokol

Superb scenery from the Sarajevo to Mostar train... Photo courtesy of Simon Russell

Mostar station...

Photo courtesy of Krzysztof Sokol

The famous bridge at Mostar...

Photo courtesy of Simon Russell
London ► Sarajevo & Mostar
Day 1, travel from London to Zagreb as shown in option 2 on the London to Croatia page. You leave London on a mid morning Eurostar to Paris, take an afternoon high-speed train from Paris to Munich then the Lisinski sleeper train from Munich to Zagreb, arriving in Zagreb at 08:35 on day 2.

Alternatively, you could take the all-daytime option from London to Zagreb and spend a night in a hotel in Zagreb. If you choose this option, the journey across the Austrian Alps and along the Sava river in Slovenia & Croatia is very scenic.

Day 2, travel from Zagreb to Sarajevo by train, leaving Zagreb at 08:59 every day and arriving in Sarajevo at 18:23. The train has2nd class seats, but no 1st class or buffet or restaurant car, so take your own supplies of food, water and wine or beer. It's a very scenic journey! This might seem a tight-ish connection with the 08:37 arrival from Munich, but it's an easy transfer and the Sarajevo train (I am reliably informed) will be held up to 20 minutes if the Lisinski arrives late. You can check times for this train at www.zfbh.ba although it takes some finding!

IMPORTANT UPDATE 2017 & 2018: ZAGREB-SARAJEVO TRAIN CANCELLED. The Zagreb to Sarajevo train was discontinued completely as from 11 December 2016, leaving Bosnia completely cut off from the rest of the European network. This is the result of an argument between Croatian & Bosnian Railways, agreement simply couldn't be reached to run the train. This is a huge shame as this was a really scenic route. New air-conditioned Talgo trains have languished in sidings since 2010, they entered service on the Sarajevo-Doboj route on 3 October 2016, and it was hoped they'd be introduced on the Zagreb-Sarajevo route. Further updates will be posted here when known.
Day 2 or 3, travel from Sarajevo to Mostar. The Sarajevo-Mostar railway line was closed for rebuilding from 5 October 2015 but resumed running again in June 2017 - great news as it's an amazingly scenic railway. An all-year-round daily train leaves Sarajevo for Mostar & Capljina at 16:26, there's also a morning train at 07:01 from early June to late September, you can check times for this train at www.zfbh.ba. Smart new Talgo trains now run on the Doboj-Sarajevo-Mostar-Capljina route.
Mostar & Sarajevo ► London
Day 1, travel from Mostar to Sarajevo. The Mostar-Sarajevo railway line was closed for rebuilding from 5 October 2015, but reopened as from 8 June 2017 - good news as it's an incredibly scenic train ride. When running, you can check times for this train at www.zfbh.ba. Update: Smart new Talgo trains started running on the Capljina-Mostar-Sarajevo-Doboj route.

Day 1, travel from Sarajevo to Zagreb by train, leaving Sarajevo every day at 10:21 and arriving Zagreb at 19:42. The train has 2nd class seats, but 1st class or buffet or restaurant car, so take your own supplies of food, water and wine or beer for this scenic ride... You can check times for this train at www.zfbh.ba.

UPDATE 2017 & 2018: SARAJEVO-ZAGREB TRAIN CANCELLED. The Sarajevo to Zagreb train was discontinued completely as from 11 December 2016, leaving Bosnia completely cut off from the rest of the European network. It's the result of an argument between Croatian & Bosnian Railways, they simply couldn't agree about running the service. This is a huge shame as this was a really scenic route. New air-conditioned Talgo trains have languished in sidings since 2010, a long saga - they entered service on the Sarajevo-Doboj route on 3 October 2016, and it was hoped they'd be introduced on the Zagreb-Sarajevo route in 2017. Now, who knows? Further updates will be posted here when known.

Day 1, travel from Zagreb to London as shown in option 2 on the London to Croatia page. You leave Zagreb at 21:20 on the sleeper train Lisinski to Munich arriving 06:10, then take onward trains to Paris and London arriving in the evening on day 2. Alternatively, spend the night in Zagreb and travel back to London next day using daytime trains. If you choose option 1, the journey along the Sava river in Slovenia & Croatia and through the Austrian Alps is very scenic.
Fares & how to buy tickets...
See the London to Croatia page for details of fares and how to buy tickets for the London to Zagreb part of the journey.

Zagreb to Sarajevo costs 226 Kn (€30) one-way or 328 Kn (€44) return in 2nd class, bought at the station in Zagreb. Sarajevo to Zagreb costs around 62 BAM (€30) one-way bought in Sarajevo.

Note that the Zagreb-Sarajevo trains may not show up in the online journey planner at bahn.de (but they do definitely run!), and you may not be able to buy a ticket for these trains outside Croatia. However, there's no need to pre-book, as the price is fixed so it's the same price whether bought in advance or on the day, and there's always places available. Indeed, for a 15Kn surcharge (about €2) you can buy your ticket on board the train, which may be a good option given the short connection in Zagreb.

Sarajevo to Mostar (when the train is running) costs around 11.60 BAM (€5).
Sarajevo station...
There is no bureau de change, ATM or left luggage facility at the station. However, there's a left luggage office inside the nearby bus station and an ATM outside the bus station. Left luggage costs 2 BAM per item for the first hour, 1 BAM per item for each following hour. To reach the bus station, walk out of the station and turn right, walk in front of the Post Office and turn right again, and there's the bus station in front of you. There is tram stop right outside the station, and tram number 1 runs in a loop to the centre of the old town and back, passing the Latin Bridge, site of the assassination of Archduke Franz Ferdinand in 1914. Tickets are available from kiosks at the tram stop, and must be stamped when you board the tram. With thanks to traveller Ivor Morgan...
Sarajevo - Mostar trains
Two trains a day link Sarajevo and Mostar:
Sarajevo depart 07:01 arriving Mostar 09:02 (possibly June-August only.

Sarajevo depart 16:26 arriving Mostar 18:27.

Mostar depart 06:27 arriving Sarajevo 08:32.

Mostar depart 20:00 arriving Sarajevo 21:59 (possibly June-August only)

Fare 9.90 BAM (€5) one-way, 15.90 BAM (€8) return.
Travellers' reports...
Traveller Simon Hodge travelled by train from Zagreb to Sarajevo in 2011: "The train was the morning InterCity service from Zagreb. When it rolled into the somewhat dated, Tito-era station at Banja Luka, the train consisted of two coaches from Republika Srpska railways and one from Croatian Railways. Having noticed that the "No Smoking" signs were being largely ignored in the Bosnian carriages, I made my way into the Croatian carriage, where I found a seat in a ubiquitous 6-seat compartment. Once we reached Doboj, the locomotive changed and the journey became faster (well it's all relative, we perhaps reached a speed of 50mph) and a steward plied up and down the carriages with a shopping trolley containing a range of soft drinks and some moderately chilled Sarajevsko Pivo, the top-selling beer in these parts. Given that it was after 6pm and I had been a good boy, I treated myself to a Sarajevsko for around 80 pence, then leant almost rebelliously out of the window and enjoyed the views as the scenery became more mountainous. The light of the evening sun played stunningly on the mountain villages, which are all focused on the minaret of the village mosque. We twisted and turned in time with the Bosna river, as does the main road and the new motorway running north out of the capital. Eventually we swept round to the left, bringing into focus the bullet hole-ridden tower blocks of western Sarajevo."
...and from Sarajevo to Mostar: "After 2 days of breathing in this most refreshingly diverse of European Capitals, I left on an early morning train to Mostar. Although there was a mixture between open coaches and compartments, all of which are designated as 2nd class non-smoking, I found myself in a "First Class" compartment. Alongside me on one side there were two symbols – one of which was "No Smoking" and the other was "No Dogs". To my amusement, across the aisle, an elderly Bosnian man sparked up a Camel Light and had a large Golden Labrador taking up all the aisle space! The train itself was a relic of 1950s Sweden. Signs in Swedish were still prominently displayed, much to the delight of a Swedish couple a few rows away! Although decrepit, the seats were comfortable and extremely spacious – I could just about touch the seat in front with my outstretched foot. As we settled in, a lady from the buffet car made her way through the carriage offering a dose of typically strong Bosnian coffee, the sort that makes sleep a challenge for the next two days, for a reasonable 1 KM (about 45p). The train quickly climbs through the mountainous hills once occupied by Bosnian Serb aggressors – that hostility is barely conceivable now, as the line cuts through valleys, alongside rivers and through long tunnels. Approaching the small town of Konjic, the scenery is so spectacular that even the locals are glued to the window admiring the beauty. Nobody worries that the train is going so slowly – this is one of the most scenic and memorable journeys I have made anywhere in the world, right up there alongside the train to Machu Picchu in Peru, the Rhine Valley in Germany or any of the scenic trains in Switzerland. Just when you think you've been through the best of it once you pass the town of Jablanica, the train snakes along the upper valley of the Neretva River, which is the same watercourse that is bridged so famously at Mostar."
Traveller Jasper Goldberg took the Zagreb-Sarajevo train in 2010: "I think that most of the people who took it the full distance were tourists like myself. However, it does get pretty crowded at times. The reason that the train takes 9 hours (instead of the pre-war 6) is that the train crosses Croatia and there are four passport and ticket checks, as well as two crew and locomotive changes. The Bosnian part of the trip is the nicest because of the scenery and friendly locals, and it was one of my favourite train journeys in Europe."
Traveller Neil Edwards took the train from the UK to Sarajevo in 2008: "The three of us who made the train journey from London to Sarajevo can confirm that it was certainly a great experience and worth the effort if you can spare the extra travelling time. The Zagreb-Sarajevo daytime train isn't the most decadent, modern or rapid of trains, though in a way this adds to the charm. There's no buffet car although a chap with a small pull-a-long trolley tried to sell us small bottles of fizzy drink on a number of occasions. It's a long journey and you will need supplies for the 9-10 hour journey. Don't expect to pick up anything decent for the trip at Sarajevo station, there are a couple of kiosks nearby but you can only get fluids and chocolate. Ah, and as for bathroom facilities, go early on as they quickly become flooded or soiled!
Traveller Phillip Mullen took the overnight train from Zagreb to Sarajevo in October 2008: "There was no problem in buying the ticket from the International travel desk at Zagreb Glavni Kolod (main station), where a return cost me the equivalent of £40 including a couchette for the outward journey [Note: There are no longer any couchettes on this train]. The train had only a few passengers on it, and being so empty I had the whole 6-person compartment to myself and was settled down and sleeping by 10pm. I was woken twice during the night by border guards, the first time around 11pm when they hammered on my door , which locked from the inside for security, as the guard had told me. I waited just a little too long to open up because I'd been warned about beggars! Oh well, they were a bit irate! The second time was around midnight and I'm not sure what that was for, but they seemed fairly content after glancing at my passport. As I recall the train arrived on time in Sarajevo, around 6:30am. It was not possible to book a couchette for my return journey at the ticket office in Sarajevo train station, and I was prepared to sleep in a seat on the way back to Zagreb. But I boarded the the train 20mins before it was due to leave, found the guard and asked for a couchette. He didn't speak much English, but he mentioned a fee of €10, which I thought was a bargain for a night's rest! Whether this was an official fee or a perk-of-the-job I don't know, as no receipt or alteration to my ticket was made, but it seemed a modest sum."
London to Sarajevo via Budapest or Belgrade...
Sadly, the Budapest to Sarajevo and Belgrade to Sarajevo trains are discontinued from 9 December 2012, due to massive cuts to services in Croatia.
---
European Rail Timetable & maps




The European Rail Timetable (formerly the Thomas Cook European Timetable) has train & ferry times for every country in Europe plus currency & climate information. It is essential for regular European train travellers and an inspiration for armchair travellers. Published since 1873, it had just celebrated 140 years of publication when Thomas Cook decided to pull the plug on their entire publishing department, but the dedicated ex-Thomas Cook team set up a private venture and resumed publication of the famous European Rail Timetable in March 2014. You can buy it online with worldwide shipping at either www.stanfords.co.uk or www.europeanrailtimetable.eu. More information on what the European Rail Timetable contains.
A Traveller's Railway Map of Europe covers the whole of Europe from Portugal in the west to Moscow & Istanbul in the east, Finland in the north to Sicily & Athens in the south. On the back are detailed maps of Switzerland, Benelux & Germany, plus city plans showing stations in major cities. Scenic & high-speed routes highlighted. Buy it online for £14.50 + postage worldwide (UK addresses £2.80) at www.stanfords.co.uk/Continents/Europe-A-Travellers-Railway-Map_9789077899090.htm or (in the Netherlands) for €13 + €5.50 postage from www.treinreiswinkel.nl.
---


You should take a good guidebook. I think that the Lonely Planets and the Rough Guides are easily the best for the independent traveller. Both guides have plenty of background historical and cultural information, plus lots of practical information. You won't regret buying one of these guides!
Click the images to buy at Amazon...
My own book, an essential handbook for train travel to Europe based on this website called The Man in Seat 61, was published in June 2008 with a new edition in April 2010, and is available from Amazon.co.uk with shipping worldwide.
---
Other hotel sites worth trying...
www.tripadvisor.com is the place to find independent travellers' reviews of all the main hotels.
---
Travel insurance & health card
Take out decent travel insurance, it's essential...
Never travel without proper travel insurance from a reliable insurer with at least £1m or preferably £5m medical cover. It should also cover loss of cash & belongings (up to a limit), and trip cancellation. An annual multi-trip policy is usually cheapest even for just 2 or 3 trips a year - I have an annual policy myself. However, don't expect travel insurance to bail you out of every missed connection, see the advice on missed connections here. Here are some suggested insurers, Seat61 gets a little commission if you buy through these links, and feedback from using insurance for rail & ferry travel is always welcome.

In the UK, use www.confused.com to compare prices & policy features across major insurance companies.

If you have a pre-existing medical condition or are over 65, see www.JustTravelCover.com - 10% discount with code seat61.



If you live in Australia, New Zealand, Ireland or the EU, try Columbus Direct's other websites.

If you live in the USA try Travel Guard USA.
Get an EU health card, it's free...
If you're a UK citizen travelling in Europe, you should apply for a free European Health Insurance Card, which entitles you to free or reduced rate health care if you become ill or get injured in many European countries, under a reciprocal arrangement with the NHS. This replaced the old E111 forms as from January 2006. The EHIC card is available from ww.nhs.uk. It doesn't remove the need for travel insurance, though.
Carry a spare credit card, designed for travel with no currency exchange loading & low/no ATM fees
Taking out an extra credit card costs nothing, but if you keep it in a different part of your luggage you won't be left stranded if your wallet gets stolen. In addition, some credit cards are better for overseas travel than others. Martin Lewis's www.moneysavingexpert.com/travel/cheap-travel-money explains which UK credit cards have the lowest currency exchange commission loadings when you buy something overseas, and the lowest cash withdrawal fees when you use an ATM abroad.
---
Back to 'Rail travel to Europe' general page