| | |
| --- | --- |
| | |
| | The Mukuba Express from Dar es Salaam to Kapiri Mposhi on the TAZARA Railway. This photo shows the all-new 2016 Mukuba, composed of newly-delivered Chinese-built carriages... Photo courtesy of Erick Nyaga |
Across Africa by train...
Taking the train is a safe, pretty comfortable and above all, fascinating way to get around Tanzania, and to travel between Tanzania and Zambia. This page explains routes, train times, fares and how to buy tickets. Click here for a route map.
Train times, fares & tickets...

Dar es Salaam-Mbeya-Kapiri Mposhi (TAZARA)

Kitwe-Kapiri Mposhi-Lusaka-Livingstone by train

Livingstone-Victoria Falls by local transport

Dar es Salaam-Kigoma/Mwanza by train

Dar es Salaam-Zanzibar by fast ferry.

Interactive map of Southern Africa train routes

Useful country information: visas, currency...

Hotels in Tanzania & Zambia
On other pages...

Dar es Salaam-Nairobi, Mombasa & Kenya by bus

Victoria Falls-Bulawayo by train

Bulawayo-Gaborone or Messina-Johannesburg

Johannesburg-Cape Town, Johannesburg-Durban by train.
---
---
The Tanzania & Zambia Railway Authority (TAZARA) runs trains between Kapiri Mposhi, Mbeya and Dar es Salaam, taking two nights. The trains have sleeping-cars and a restaurant car, and the journey is a great adventure, see the travellers' reports below. The line is 1,860km long and was only opened in 1976, built with Chinese funding and assistance.
The timetable below comes into force on 1 June 2017. The Zambian Mukuba now permanently operates the express service, the Tanzanian Kilimanjaro now always operates the ordinary train, before 2016 the two trainsets alternated on both services, so you never knew which set you'd get.
Important Covid-19 update: International service shown below is suspended from March 2020 until further notice. A train is running between Dar es Salaam & Mbeya within Tanzania, and between Nakonde and Kapiri Mposhi within Zambia, but trains are currently not running across the border.
Cross-border passenger trains between Dar and Kapiri Mposhi are expected to resume from late July 2022.
Dar es Salaam ► Mbeya ► Kapiri Mposhi

km

Classes:

Mukuba

Express train

1S, 2S, 2, 3, M or R

Kilimanjaro

Ordinary train

1S, 2S, 2, 3, R

0

Dar es Salaam

depart

15:50 Friday

13:50 Tuesday

849

Mbeya

arrive

depart

13:08 Saturday

13:23 Saturday

14:10 Wednesday

14:40 Wednesday

969

Tunduma (border)

arrive

depart

17:02 Saturday

17:17 Saturday

18:38 Wednesday

18:53 Wednesday

970

Nakondé

arrive

depart

16:22 Saturday

17:40 Saturday

17:58 Wednesday

18:13 Wednesday

1852

Kapiri Mposhi (New)

arrive

12:46 Sunday

13:37 Thursday
1S = 1st class 4-berth sleepers; 2S = 2nd class 6-berth sleepers; 2 = 2nd class seats; 3 = 3rd class seats; M = meal at seat service; R = Restaurant car.
Dar es Salaam = Tazara station, see location map.
The Mukuba Express (= copper in the Bemba language) is Zambian and now uses new Chinese-built cars delivered in 2016.
The Kilimanjaro is Tanzanian, and uses older cars.
Each train typically consists of 3 x 1st class sleepers, 3 x 2nd class sleepers, 3 x 3rd class seats cars, a 2nd class seats car, two restaurant cars, a 1st class lounge car and a couple of baggage vans.
Kapiri & Nakondé times are Central African Time. Dar, Mbeya & Tunduma times are East African Time.
You can check times at www.tazarasite.com, select Travel with us or try www.facebook.com/tazarasite/.../1539526742724621.
Kapiri Mposhi ► Mbeya ► Dar es Salaam

km

Classes:

Mukuba

Express service

1S, 2S, 2, 3, M or R

Kilimanjaro

Ordinary train

1S, 2S, 2, 3, R

0

Kapiri Mposhi (New)

depart

16:00 Tuesdays

14:00 Fridays

882

Nakondé

arrive

depart

08:41 Wednesdays

09:11 Wednesdays

09:15 Saturdays

09:25 Saturdays

883

Tunduma (border)

arrive

depart

10:16 Wednesdays

10:31 Wednesdays

10:30 Saturdays

10:45 Saturdays

1003

Mbeya

arrive

depart

14:13 Wednesdays

14:28 Wednesdays

14:32 Saturdays

15:00 Saturdays

1852

Dar es Salaam

arrive

12:10 Thursdays

15:46 Sundays
Kapiri Mposhi (New) station is 2km from Kapiri Mposhi (Zambia Railways) station.
Fares...

One way per person for the Express train. Ordinary train fares are around 20% less.

Dar es Salaam to Kapiri Mposhi:

104,000 Tanzanian shillings in 1st class sleeper.

84,600 Tanzanian shillings in 2nd class sleeper.

78,700 Tanzanian shillings in a 2nd class seat.

72,600 Tanzanian shillings in a 3rd class seat.

Dar es Salaam to Mbeya:

47,200 Tanzanian shillings in 1st class sleeper.

39,200 Tanzanian shillings in 2nd class sleeper.

36,300 Tanzanian shillings in a 2nd class seat.

33,300 Tanzanian shillings in a 3rd class seat.

Kapiri Mposhi to Dar es Salaam:

1st class sleeper, express = 473 Zambian kwacha

2nd class sleeper = 385 kwacha

2nd class seat = 358 kwacha

3rd class seat = 330 kwacha

Kapiri Mposhi to Mbeya:

1st class sleeper = 264 Zambian kwacha

2nd class sleeper = 209 kwacha

2nd class seat = 202 kwacha

3rd class seat = 186 kwacha
£1 = 16 Kwacha $1 = 12 Kwacha. £1 = 2,900 Tanzanian shillings. $1 = 2,300 Tanzanian shillings. Currency converter.
On Tazara, Children under 7 travel free, under 15 pay half fare. Bookings open 1 month in advance.
The sleepers are single sex, so men and women will be in separate compartments unless your party books the complete compartment.
You can check prices at www.tazarasite.com, select Travel with us.
How to buy tickets for journeys starting in Dar es Salaam...
You cannot buy tickets online, you should buy them at the station or by phone. Call Dar Es Salaam ticket office on +255 22 26 2191 for westbound journeys, or call the station master at Dar on +255 78 7099 064, reserve by phone and collect and pay for tickets when you get there. If these don't work, these numbers for the booking office have also been reported as working: +255 767099064 or +255 787099064.

An email from Tazara customer relations also suggests that bookings can be made on any of the following numbers: +255 715469239 (confirmed as working by one seat 61 correspondent), +255 784345492, +255 754260988 or +255 784454510. They will make your booking and you pay and collect tickets at the station later. Please let me know if one of these works for you.
How to buy tickets for journeys starting in Zambia...
You cannot buy tickets online, you should buy them at the station or by phone. Call the Kapiri (Zambia) booking office on one of these numbers: +260 978721782, +260 977409828, +260 969314099, +260 977269276. One report suggests the Kapiri ticket office answered the phone promptly and made a first class booking, with payment to be made at the station on the day. The same report suggests places in first class were available even booking at the station one day before travel. Feedback on ticket buying would be appreciated.
| | |
| --- | --- |
| | On board the Mukuba... This is a cosy first class sleeper. Each passengers gets 2 blankets, 2 sheets, mineral water & toilet roll. The new Chinese-built cars delivered in 2016 have a similar interior. Photo courtesy of Ivor Ines |
| | On board the all-new 2016 Mukuba... The corridor of one of the new Chinese-built sleepers delivered in 2016. Photo courtesy of Erick Nyaga. |
Travellers' reports...
Here are some real accounts of trips on the Tazara Railway. Feedback & photos are always very welcome!
Traveller Jamie Rowell reports (2017):
"I had a very pleasant sojourn on the train. Scenery was striking and varied (Tanzanian highlands were best), restaurant car food was basic but filling and affordable (about £1 per meal – rice/mash with fish/chicken), the bar never ran out of beer (£1 per bottle) and was a good place to meet locals and other travellers. One or two locals could get a bit boisterous when drunk but there's always one of the train's three army guards on hand there to stop rows. The accommodation was functional and clean, bunks fairly comfortable. We had a great international mix of travellers in our three 1st class carriages and in the end pretty much everyone was on friendly terms. One bugbear though was the carriage attendants' habit of continually locking the toilets for no apparent reason, I never figured that out. Travellers should make sure they have enough cash for the journey. Once across the border in Zambia your shillings are useless – the restaurant and bar will only take kwacha and vice versa if travelling the other direction. A money changer will embark as you approach the border of Tunduma/Nakonde – he'll take you for about 20% but, with both being closed currencies outside their country, you might as well grin and bear it. The main problem with the Mukuba is reliability. We were delayed by two derailments – one in the Tanzanian Highlands and one in the bush in Zambia that turned a two day journey into four days. The train and rolling stock appears in good repair but I doubt the Chinese-built track is maintained. We also got held up by a bush fire, not that Tazara can be blamed for that. Taking this journey if you're on a tight schedule for onward travel is not a good idea, but if like me you're just bumming around Africa in no hurry then £40 for a journey of over 1800km is incredible value by any measure, and the delays allow more opportunity to experience a situation most very rarely find themselves in."
Traveller Geoff Edwards reports from a trip on Tazara:
Buying the tickets: "Booking tickets was done easily through Sykes Travel Agents via email. The tickets can only be booked a month in advance but can be collected at the offices in Dar. Booking through the travel agent meant that the price was 87,500 Tanzanian Shillings per person in 1st class sleeper rooms. We booked four places between the two of us which allowed us to have the whole compartment to ourselves. If budget allows, I would recommend doing this. You may lose out a bit on the opportunity to meet new people but the extra freedom and comfort it allowed us was very worthwhile. You have more space to spread out your things and can lie down and watch the country go by as you please.
On board the train: Due to a local strike, we eventually left 8 hours late, so instead of leaving at 14h30 we left a little after midnight. As much as this was an inconvenient event, it did not take away from the great time we had on the rest of the trip. The 1st class sleeper cars are clean and comfortable. We had a sheet, pillow, bottle of water and roll of toilet paper for each bed (No blanket). The carriage was kept clean by a couple of friendly staff members and the bathrooms were adequate, although occasionally lacked running water. The lights in the compartment worked in the evenings, and we had a ceiling fan which worked for about half the trip.
Food & drink on board: There was a dining car and a bar carriage on the train. We never went to eat in the dining car but spent some time in the bar. Drinks started off cold but as the trip progressed the ice melted and the drinks got a bit warmer. We were served food in our carriage. An attendant comes around and asks if you will be having the meal, and then brings it to your compartment about 30 minutes later. Breakfast was an omelette and two slices of toast, with tea or coffee. At supper time there was a choice of two meals. We had chicken both nights (I think the other options were steak and fish) which was very tasty and came with either rice or chips and some vegetables. The meals were not too expensive (15 000 Zambian Kwacha on the Zambian side) but you might want to bring some snacks for lunches (as we did) to avoid unnecessary costs.
Crossing the border was very simple, but was made a bit awkward by the timing of the crossing. We crossed the border around midnight so at 11pm a Tanzanian official came around and stamped all passports, and the Zambian official waited until 7am to do his rounds and stamp the passports into the country. Being South African we didn't need to pay for visas. Money changers also jump aboard around the border, but offer very poor exchange rates. You need the currency of the country that you are currently in, but try exchange as little as possible, and rather wait until you are in a bigger centre to exchange money.
The scenery was really beautiful and changed as you moved through the countries. Tanzania started off dry and sparsely inhabited, and then moved into a mountainous region filled with tunnels and bridges, and then the Zambian countryside is lush bush with a lot more signs of population. It was a fabulous and relaxing way to see a lot of the country from the comfort of your bed! Bring plenty of books as it affords you time to catch up on those books you always meant to read.
We arrived in Kapiri Mposhi at around midnight again ( which meant that, apart from the initial 8 hour delay, the train kept good time and arrived almost on schedule). There were buses waiting outside the station ready to take people to Lusaka or wherever there next destination was. Overall, the trip was an adventure out of a different era. The train felt like quite a anachronism compared to the plane trip and the hustle and bustle of Dar es Salaam. We thoroughly enjoyed the trip and would recommend it to anyone with a desire to see Africa. Things I would recommend bringing on the train: Blanket or sleeping bag, bottled water, good books, torch or headlamp, and an interesting travelling partner."
Ivor Morgan reports from a trip on Tazara:
Buying the tickets: "I had originally planned to travel southbound on the Tazara, starting in Dar Es Salaam. I tried emailing the travel agents listed on Seat 61: Inihotours.co.tz did not respond at all, but Sykes responded very promptly, with helpful information and a price of 350,000 TSh for a 1st class 4-berth sleeper. However, as we eventually travelled northbound I didn't book with them as they couldn't help with northbound bookings. To book a departure from Kapiri, I called the number for Tazara in Kapiri Mposhi listed on Seat61 and got through immediately – the woman on the end told me the booking clerk was away on a 2 months training course, but she gave me a mobile number for someone else. I got through to him immediately, he confirmed the price as 237,200 kwacha per first class berth, and I booked a compartment. I asked about payment, and he said it was fine to pay at the station on the day.
...Arriving at the station in Kapiri Mposhi: We actually reached Kapiri Mposhi the day before departure. The same man I'd spoken to on the phone was working in the ticket office, and it was no problem to get our ticket issued. I'm not sure he had formally made a reservation for us in advance, but there was no problem getting space one day beforehand, and some other tourists also managed to get berths in first class even just a few hours before departure. We were told to be at the station 2 hours before departure. We had to get our ticket endorsed by the ticket office man, then have our passport details entered in the manifest at the adjacent reservations office. Some people had old-style cardboard tickets, but we only had a piece of paper like a receipt, so I was a bit concerned about the difference. It turned out that both are valid, though I couldn't work out why some people got issued one type, and others the other! As noted on Seat61, the Tazara station is a couple of km from the old RSZ station in the centre of town. There aren't many shops around the Tazara station, so if you need supplies for the journey, buy them in the town centre first. Also, the few 'hotels' in Kapiri Mposhi are along the main drag, there's nothing near the Tazara station.
...What was the Tazara train like? We travelled on the Zambian-operated Mukuba express. The train consisted of : 3 luggage vans (2 of these were left at the border); 6 economy seats cars; 1 restaurant between economy & 2nd class; 1 'super-seater' car (reclining seats with 2 overhead TVs); 3 2nd class sleepers (6 berth compartments); another (more upmarket) restaurant car; 3 1st class sleepers (4 berth); a lounge/bar car; and a staff car. There was an attendant for each 1st class sleeper or two, who was generally very helpful, and swept the corridors and compartments a couple of times each day. The main compartment and corridor lights worked during the night (but not the individual reading lights, nor power sockets). Our carriage had running water (most of the time) in the shower and in the washroom. There was no running water in the toilet, but a bucket full of water was provided for flushing. I am not sure if even the other 1st class carriages had functioning showers, but the staff seemed to be very good about keeping the water buckets in the toilets topped up, and the toilets themselves reasonably clean. There was no security chain on the compartment door, but the main lock did function (after a bit of fiddling around). We could lock it ourselves from inside when leaving, and then just needed to ask the attendant to open it with the staff key when we returned. The window and screen both worked, and locked in position, so the compartment was fairly secure. At the start of the journey, each berth was provided with 2 blankets, 1 sheet, 1 pillow, 1 pillowcase, and a bottle of water. There was also one toilet roll per compartment.
...Crossing the Zambian/Tanzanian border: Crossing the border at Nakonde (Zambian side) / Tunduma (Tanzanian side) was pretty straightforward. Moneychangers boarded at Nakonde, exchanging ZMK for TSH, and also selling Tanzanian SIM cards. (As other Seat61 correspondents have noted, the restaurant car only accepts currency from the country it is in, so you need to change money at the border). The Zambian authorities came down the train, and stamped us out before the train moved on. On the Tanzanian side, I was a bit worried that we pulled out of Tunduma before we had seen an immigration official. However, the staff said they had boarded the train, and would make their way along it while we were moving. Which, sure enough, was what happened. We didn't have visas for Tanzania, but it was no problem to get them on the train for $50 each, paid in USD. I was told by Sykes Travel in Dar that you can get Zambian visas on the train when going the other way. A bit later on, we passed the Kilimanjaro Express going the other way, and all the immigration officials jumped off our train, and on to the Kilimanjaro for a ride back to the border.
...What's the scenery like? The terrain is fairly flat on the Zambian side, so the train moves fairly fast. However, as it approaches the border, the terrain gets more hilly, and it slowly creeps and crawls over the Southern Highlands. Some of the track speed limit signs were as low as 20km/hour, but the route through the hills is very scenic. There were lots of damaged railway wagons alongside the track, presumably the result of previous derailments and crashes. However, we only saw wrecked freight wagons so hopefully passenger carriages have a better safety record! We seemed to be keeping to time for the travel between stations but we had a lot of long waits while we were at various stations. I estimated this as ~12 hours due to a derailment of a freight train ahead of us; ~6hrs due to 'miscellaneous'; and ~6 hrs because we had to keep waiting for a Rovos cruise train ahead of us, which was running to a slower timetable but was still given priority – which was very annoying. We eventually reached Dar Es-Salaam almost exactly 24 hours late... Unfortunately, the late running meant it was dark most of the time we were passing through the Selous Game Reserve, but we did see some wildlife including warthogs, baboons, guinea fowl and various deer on the outskirts of the reserve in the morning. As noted by other Seat61 correspondents, the restaurant car serves basic but good and reasonably cheap food; the lounge/bar car could be pleasant, but is ruined by the TV screens playing loud B-movies. There were 4 other western tourists travelling from Zambia through to Dar, and another 5 or so got on in Mbeya. The train itself was reasonably well-used but not full in 1st & 2nd. Economy seemed much more crowded, especially as a lot of people seemed to bringing farm produce with them which was stacked up in the vestibules and elsewhere.
...Summing up: Guidebooks and some websites including the UK Foreign Office seem to discourage train travel in Tanzania – but this seems misguided. The Tazara was very pleasant, and although I haven't been on a bus in Tanzania, I'm sure the train was more comfortable. Trains in Tanzania may be less safe than those in Europe, but air & bus travel in Africa is hardly risk-free either, a point the guidebooks and FCO often seem to miss. Despite the 24 hour delay, the Tazara was a very pleasant and relaxing way to travel."
Traveller Adam Young writes: "The service to Mbeya is fantastic. The train goes through the Selous game park and I've seen elephants, monkeys, gibbons, zebra, giraffes, bok things (it's difficult to get a good ID from a moving train!) and various bird life. A very cheap safari. Hard sleep (6 beds per cabin) is good and people are always very friendly and like most train trips it is a good chance to meet local people. I've been delayed for over 12 hours on this route, but hey, this is Tanzania and is all part of the fun."Andrew Kerr reports (August 2008): "We travelled from Dar es Salaam in Tanzania to Kapiri Mposhe in Zambia. The dining car contract has been renewed, so getting food was not a problem. Someone had their back pack stolen out of a compartment window while they were sleeping when we were in a station. This was entirely preventable, as there are closeable metal grilles that can keep out mosquitos and wandering hands. In addition, the doors are lockable when you leave your compartment, you just need to get your carriage attendant to open again when you return (which was easy). Our journey took 72 hours instead of 45, as a goods train had derailed further up the line so we waited for 15 hours, and then later we also ran out of fuel! But I'd do it again: amazing scenery and I met so many interesting people, both other backpackers and locals. I managed to buy a first class sleeper ticket on the day I travelled but I think I was lucky in getting this.
Traveller Chris Cummins reports: "We travelled on the Tazara train from Dar es Salaam to Kapiri Mposhi. Prospective travellers should be aware that currently there is no restaurant car on the train, the contract has run out and is still under negotiation. Not knowing this, we arrived with only a small amount of food. We also struggled for most of the journey to buy any food from vendors as they mainly sell large bags of potatoes, etc, there was not much other foods available. The ones who do sell the suspect looking roast chicken or fruit do not come down to the end of the train to the sleeping cars, they stay up the front and serve the seated passengers. There are little or no food vendors allowed on the platforms at each station. We were lucky to buy some rice mixed with boiled cabbage from a tin shed kitchen adjacent to a platform, which kept us going. Take all you need to eat and drink. We eventually made it to Kapiri Mposhi over 12 hours late due to numerous stops for repairs. We departed Dar an hour late and stopped in many places so workers could get out and hit the brakes with rocks picked up from the ballast. At one stage the engine was taken away for 4 hours while we sat in the middle of nowhere in the dark until it came back. We had a sleeper cabin and booked all 4 berths so we would not have to share, at each stop in the night we kept the door locked and many tried to look for a bunk with us only to be firmly told by the wonderful carriage hostess (one in each carriage) to go away. At no time though did we feel unsafe or have anything stolen either on the local trains or over 6 weeks travel in Africa. Arriving in Kapiri Mposhi was the usual chaos but we easily found a mini bus to Lusaka and arrived there safely 2 and 1/2 hours later along a good road. Although we did squeeze 26 people and all their luggage into a Toyota Coaster."
A train ride on Tazara from Dar es Salaam to Kapiri Mposhi... Watch the video
These photos show the new Mukuba Express, introduced in 2016. If you have any further photos of the train interior or scenery, please get in touch!

Dar es Salaam station. Photo courtesy of Tim Roberts
Dar es Salaam station...

Photo courtesy of Tim Roberts

Inside Dar es Salaam station...

Photo courtesy of Peter Day
| | | |
| --- | --- | --- |
| | | |
| First class passenger lounge at Dar es Salaam station. Courtesy of Tim Roberts | | The Mukuba boarding at Dar es Salaam station. Courtesy of Peter Day |

The Mukuba, ready to leave from Dar es Salaam station. Photo courtesy of Peter Day.
Corridor.

Peter Day

1st class 4-berth sleeper on the Mukuba. Courtesy of Peter Day.

2nd class 6-berth sleeper on the Mukuba. Courtesy kenyanbackpacker.com
Bar-restaurant car on the Mukuba. Courtesy of kenyanbackpacker.com

View from the train...

Courtesy of Peter Day
Scenery from the train.

Courtesy of Peter Day.

Bar-restaurant car on the Mukuba. Courtesy of kenyanbackpacker.com

The Mukuba at a wayside station. Courtesy of Nicola Tamanini
| | | |
| --- | --- | --- |
| | | |
| Sofas in the bar-restaurant car of the Mukuba. Courtesy of kenyanbackpacker.com. | | Upper berth in a 1st class 4-berth sleeper on the Mukuba. Courtesy of Nicola Tamanini. |

The Mukuba, en route from Dar es Salaam to Kapiri Mposhi. Courtesy of Nicola Tamanini
| | | |
| --- | --- | --- |
| | | |
| Afternoon light hits the train. Courtesy of Nicola Tamanini. | | The Mukuba arrives at kapairi Mposhi. Photo courtesy of Peter Day. |
---
Zambian Railways...
Zambia Railways Ltd (www.zrl.com.zm) run passenger trains between Livingstone, Lusaka, Kapiri Mposhi (change for TAZARA trains to Dar es Salaam in Tanzania) and Kitwe-Nkana. Originally Zambian Railways, the route was concessioned to a company called Zambian Rail Systems, but they were sacked a year or two ago and it's now back to Zambian Railways Ltd. If you have any feedback or further information about these services, or any photos that could be used on this page, please e-mail me. Please double-check all train times locally. You can check times and days of running at www.zrl.com.zm - click Rail then Travel.
Livingstone ► Lusaka ► Kitwe

Kitwe ► Lusaka ► Livingstone

Train name:

Zambezi

Kafue

Train name:

Zambezi

Kafue

Classes:

All classes

Eco, Sleeper

Classes:

All classes

Eco, Sleeper

0 km

Livingstone

depart

20:00 Mon

20:00 Fri

Kitwe-Nkana

depart

16:00 Fri

16:00 Mon

467

Lusaka

arrive

13:20 Tue

13:20 Sat

Ndola

arr / dep

18:55 Fri

18:55 Mon

depart

14:20 Tue

14:20 Sat

Kapiri Mposhi

arr / dep

23:57 Fri

23:57 Mon

652

Kapiri Mposhi

arr / dep

21:45 Tue

21:45 Sat

Lusaka

arrive

06:56 Sat

06:56 Tue

785

Ndola

arr/dep

03:30 Wed

03:30 Sun

depart

07:36 Sat

07:36 Tue

851

Kitwe-Nkana

arrive

06:00 Wed

06:00 Sun

Livingstone

arrive

02:00 Sun

02:00 Wed
You can try checking times & fares at the Zambian Railways website www.zrl.com.zm, but their info is incomplete.
Zambezi = Economy class seats, Standard class seats, Business class seats, restaurant car and Sleeper Class with 6 & 3 berth compartments with washbasin, see the photos below. This train was introduced in October 2014 as the Golden Jubilee Express with smartly refurbished ex-South African carriages some with air-conditioning. It originally ran weekly between Livingstone & Kitwe, was then revised in May 2015 to operate 3 days per week between Livingstone & Lusaka only, revised yet again to run Livingstone-Lusaka once a week, and now finally it's running once a week between Livingstone, Lusaka & Kitwe with its name changed from Golden Jubilee Express to Zambezi.
Kafue = ordinary train, economy class seats & now also has sleeper class (similar to that on the Zambezi) and buffet car.
In Kapiri Mposhi, trains use the 'old' station, not the 'new' (Tazara) station.
Fares

One way per person in Kwacha

Economy

Standard

Business

Sleeper

Livingstone - Lusaka

70

80

90

135

Livingstone - Kapiri Mposhi

85

95

105

190

Livingstone - Kitwe-Nkana

105

115

125

210

Lusaka - Kapiri Mposhi

?

?

?

?
£1 = 9.5 Kwacha, $1 = 6.3 Kwacha
Children under 6 travel free, children under 15 pay half fare. Just buy tickets at the station.
How to buy tickets...
It's easiest to by tickets when you get there, at the station. However, you could also try calling the departure station, using these numbers (feedback would be appreciated):
Lusaka +260 211 228023
Livingstone +260 213 321001
Kabwe +260 215 224027
Until 2006, there were four classes of accommodation, sleeper class with 2-berth & 4-berth compartments, 1st & 2nd class reclining seats, and economy class seats. All this disappeared in 2006, with the concessioning to Zambian Rail Systems, with their original ordinary train just offering economy class seats using ex-South African economy seats cars. However, with the concession terminated and Zambian Railways Ltd back in charge, there's a weekly express service called the Zambezi with economy, standard and business class seats plus sleeper class with 3 & 6 berth sleeper compartments with washbasin, also a second weekly service called the Kafue with only economy seats. The photos below show the Jubilee Express introduced in October 2014, courtesy of traveller Anna Zavyalova, these same cars now form the Zambezi and Kafue.
| | | |
| --- | --- | --- |
| | | |
| Jubilee Express logo... | | The Golden Jubilee Express, now the Zambezi... |
Sleeper class... Two views of a 6-berth sleeper on Zambian Railways' Zambezi. You may be allocated to a 3 or 6 berth compartment.

In Standard class, they've nailed the problem of what to do with gaps between windows - add a nice picture...

The restaurant car on the Zambezi... Courtesy of Michael Haxby.
| | | |
| --- | --- | --- |
| | | |
| Standard class seats on the Zambezi... | | Economy class seats on the Zambezi... |
Traveller's reports...
Traveller Inga Ollars travelled from Livingstone to Lusaka on the Kafue in 2017: "I'm happy to report that there is indeed a sleeper car attached, identical to that in the pictures from the Zambezi service. The fare for a single sleeper class ticket from Livingstone to Lusaka is currently 125 kwacha. The compartment's quite comfortable, with air-con, a power socket and a washbasin. Unfortunately there was no water in the tap (nor in the toilets, even for flushing) when I travelled, so I was very pleased to have brought an extra water bottle for personal hygiene. The bedding provided consists of a sheet and a blanket, no pillow. The buffet car stocks water, beer, soft drinks, and sweets, and cooks up a traditional Zambian meal on demand. The quality of the food is fine, but for those tired of nshima there are vendors selling all sorts of snacks on the platform whenever the train stops (and a few roaming the aisles of the economy class cars). The train was reasonably close to keeping the timetable; we left on time (8 pm) and arrived in Lusaka about an hour behind schedule (3.30 pm). All in all it was an enjoyable trip!"
Traveller Tom Bowker rode the Jubilee Express in 2016: "At 7:35, the ticket office opened. I paid KW80 for a 'standard class' ticket – as opposed to economy, or sleeper. The lady in the ticket office said the train would leave at 0930 – but I should be back there by 9. I went off to a nearby 'lodge' for a cup of tea. I returned at 9, and the train duly arrived at around 9:30. I found the standard class carriage, with clean and comfortable seats; there were two four-seater tables in the middle of the carriage and I had one of them to myself. There were perhaps four other passengers in the carriage, and three train staff. A South African comedy was playing on the TV.
We finally set off at 10:00, and the staff decided to turn the TV volume up to a deafening level. After 10 minutes I asked them to turn it down, which they did. I was all set. Until Suzanne, the train steward, came and asked: wouldn't I like to upgrade to a sleeper coupe? I was sceptical as it was a daytime journey, but she told me we would only arrive at Livingstone at 2 or 3am. So I said I'd take a look. The sleeper carriage was a revelation – one of the best carriages I have ever travelled in. I had a six-seater coupe to myself, with the back of the seats flipping up to provide a third bunk between the bottom and the top. There's a small table with a sink underneath. There are even working power sockets – one for UK-style plugs, one for South African. I had to pay Kw45 for the upgrade, making the ticket Kw125 – about $11. Extraordinary value! The only drawbacks are that the train sways quite severely, and it is noisy – both from the sound of the train itself, and from the music which is all but drowned out by the train, but seems deafeningly loud when the train is stopped. Other than that, all good.
I also had chicken and chips in the restaurant car, and a beer or two. A meal was about Kw20, I think. The restaurant was also a decent place to work on my laptop, except for the swaying of the train. There is one major fly in the ointment, though: the arrival time scheduled for 2am. Given that, and that I'd got up at 5am on Saturday, I turned in as soon as I started to feel sleepy. The bottom bunk, once I'd put the middle one up, was just about wide enough, long enough for my 6'1", and very comfortable. It was a cold night but plenty warm enough under my two blankets. My hopes that we might be delayed by a few hours, or that I'd be allowed to keep sleeping on the train once we'd arrived (as the Shosholoza Meyl had once allowed in Cape Town), came to nothing and I was ejected into Livingstone at 02:20. Not ideal. My taxi driver tried to find me a 24-hour café; it was open, technically, but nobody was serving and it would have been a cold and dreary place to sit for 3 hours. We tried JollyBoys, a backpackers in town, and – to cut a long story short – at 4am eventually persuaded them, with the help of Kw50, to let me wait out the rest of the night on an outdoor sofa. It was chilly but I got a bit more snoozing in, not that I really needed it. In retrospect I should've sucked up the $15 charge for a bed in a dorm, as soon as I'd arrived. If you don't arrive in mid-winter, though, your calculation might be different."
---
| | |
| --- | --- |
| | |
Victoria Falls to Livingstone by foot & taxi...
Victoria Falls (Zimbabwe) and Livingstone (Zambia) are about 13km apart either side of the Zim/Zam border across the Zambezi river. Although linked by a railway line there are currently no passenger trains between the two places other than irregular steam specials (for those, see www.bushtracksafrica.com and look under signature products). However, you can easily walk from central Victoria Falls to the Zimbabwe border post, pass through Zimbabwe customs, walk across the famous road and rail bridge spanning the Zambezi river gorge (resisting the urge to bungy-jump) to the Zambian border post. There are then taxis from the Zambian frontier the few miles into Livingstone.
Pictured right: The famous bridge across the Zambezi in no man's land, linking Zambia and Zimbabwe. Sadly, these days you're more likely to bungy-jump off it than cross it by train!
---
Dar es Salaam - Kigoma, Mwanza, Moshi, Arusha
Here's what should currently be running to northern Tanzania. You can in theory check times at the Tanzania Railways Corporation website www.trc.co.tz, but check all times and days carefully at the station when you get to Tanzania as feedback from actual travellers suggests the times on their site may not be correct. Below is the best estimate of the current train service. See map of TRC rail network. Feedback & updates would be appreciated.
Dar es Salaam ► Kigoma / Mwanza

Km

Train type:

Express*

Ordinary

Ordinary

Ordinary

Deluxe**

Classes:

2nd & 3rd

1st, 2nd & 3rd class

3rd class

2nd & 3rd class

2nd & 3rd

0

Dar es Salaam Central depart

08:00 Thurs

21:00 Tue, Fri, Sun

-

-

16:00 Mon, Wed, Fri

?

Tanga

|

|

-

-

??:?? Mon, Wed, Fri

?

Moshi arrive

|

|

-

-

05:57 Tues, Thurs, Sat

465

Dodoma

20:00 Thurs

05:50 Wed, Sat, Mon

-

-

-

840

Tabora arrive

05:30 Fri

16:25 Wed, Sat, Mon

-

-

-

840

Tabora depart

06:30 Fri

18:30 Wed, Sat, Mon

17:00 Wed, Sat, Mon

21:00 Wed, Sat

-

1051

Mpanda arrive

|

|

|

10:30 Thurs, Sun

-

1220

Mwanza arrive

|

|

05:30 Thur, Sun, Tues

-

-

1256

Kigoma arrive

17:00 Fri

06:20 Thur, Sun, Tues

-

-

-
Dar es Salaam Central station is about 8 km (5 miles) from the Dar es Salaam Tazara station, see location map.
* New train introduced 2016 with comfortable cars, see photos below. 2nd class sleepers, restaurant, 2nd class seats, 3rd class seats. Branded 'deluxe' by Tanzanian Railways. Feedback appreciated.
** Deluxe train introduced between Dar & Moshi in December 2019, restoring train service after a break of many years. 2nd class sleepers, restaurant, 2nd class seats, 3rd class seats, probably similar to the express cars shown below on the Kigoma route. Timetable taken from the TRC website, but doesn't look right, so check locally. It may well leave at 10:30 and arrive 14:30! Feedback appreciated.
1st class consists of 2-berth sleepers; 2nd class has comfortable seats cars and sleeper cars with 6-berth compartments; 3rd class is basic seating.
Kigoma / Mwanza ► Dar es Salaam

Train type:

Express *

Ordinary

Ordinary

Ordinary

Deluxe**

Classes:

2nd & 3rd

1st, 2nd & 3rd class

3rd class

1st, 2nd & 3rd class

2nd & 3rd

Kigoma departs

08:00 Saturday

-

-

16:00 Tues, Thurs, Sun

-

Mwanza depart

|

15:00 Tues, Thurs, Sun

-

|

-

Mpanda depart

|

|

13:00 Thurs, Sun

|

-

Tabora arrive

18:20 Saturday

21:00 Tues, Thurs, Sun

02:45 Fri, Mon

04:00 Wed, Fri, Mon

-

Tabora depart

19:20 Saturday

-

-

06:40 Wed, Fri, Mon

-

Dodoma

05:35 Sunday

-

-

18:10 Wed, Fri, Mon

-

Moshi depart

|

-

-

|

05:57 Tues, Thurs, Sat

Tanga

|

-

-

|

??:??

Dar es Salaam Central arrive

17:30 Sunday

-

-

07:45 Thurs, Sat, Tues

05:57 Wed, Fri, Sun
Fares...

One way per person...

Dar es Salaam to Kigoma

80,000 Shillings (£28 or $45) 2nd class sleeper on new train

47,000 Shillings 2nd class seat on the new train

35,000 Shillings 3rd class seat on the new train

60,000 Shillings (£28 or $45) 1st class sleeper on older trains

40,000 Shillings (£20 or $35) 2nd class sleeper, older trains

19,900 Shillings 3rd class seat, older trains.

Dar es Salaam to Mwanza

74,800 Shillings (£29 or $47) 1st class sleeper

? Shillings (£20 or $35) 2nd class sleeper

? Shillings 3rd class seat.

Dar es Salaam to Moshi

39,100 Shillings 2nd class sleeper

23,500 Shillings 2nd class seat.

16,500 Shillings 3rd class seat.
Children under 6 free, but don't get their own seat or berth. Children under 14 half fare, with own seat or berth.
How to buy tickets...
You can (in theory) book online at booking.trc.co.tz. I have not yet had any feedback on whether this works and accepts overseas credit cards, but give it a go. Remember that booking will open probably be days or weeks ahead, not months. Alternatively, buy at the station or find a local travel agency. Feedback would be appreciated.
On board the train from Dar to Mwanza...
| | | |
| --- | --- | --- |
| | | |
| The Dar to Mwanza train... Photo courtesy of Roger Crawford | | Mwanza railway station... Photo courtesy of Roger Crawford |
| | | | | |
| --- | --- | --- | --- | --- |
| | | | | |
| 1st class sleeper... Photo courtesy of Roger Crawford | | 3rd class... Photo courtesy of Roger Crawford | | Restaurant car... Photo courtesy of Roger Crawford |
The new express train...
This new express train was introduced in 2016 between Dar & Kigoma, branded 'deluxe' by Tanzania Railways. It has 2nd class sleeper berths in 6-berth compartments, 2nd class seats, a restaurant car & 3rd class seats. In the sleepers, the middle sleeper berth is hinged and folds downwards to make a seat back for daytime use. Bedding is supplied. 2nd class seats have individual seats 2+2 across the car width. 3rd class has padded plastic bench seats 2+3 across the car width.
| | | |
| --- | --- | --- |
| | | |
| The new deluxe train. Photos courtesy of Lukas Felsberger | | 2nd class sleeper |

The new Dar to Kigoma train. Photo courtesy of Tim Fish.
Travellers' reports...
The Tanzanian Railways train to Mwanza.

Photo courtesy of Andy Allsebrook
Traveller Dimitri Vassilakis reports (2021): went twice to the recommended travel agency Sykes in Dar es Salaam but their downtown office was closed (temporarily or definitely I cannot tell since I did not try to call them), so I went to the Tazara station the day before my departure and easily got a first class ticket for the next day. It only took me one minute to complete my purchase since I was the only customer at that moment! The train left 40 minutes late and arrived more or less with the same delay, though I had decided to forget about time and just enjoy the trip. Nice overall experience, wonderful scenery, basic but very cheap meals on board... an authentic Tanzanian experience I definitely recommend!
Traveller Roger Crawford reports: "Services from Mwanza to Tabora to Dar es Salam resumed around 3 weeks ago. Services depart Mwanza each Thursday and Sunday at 1800 hrs. On most occasions it will leave on time but I have observed over the last 3 weeks that the departure time can be hit and miss, either late or the next day depending upon how late it is running from Dar. There is first, second and third class. First sleeper is just one carriage and bare essentials. Need to bring all your own linen. Most bedding is torn and fairly ordinary. Mwanza station has also received a coat of paint to celebrate the reopening of the rail service to Tabora/Dar."
Travellers Andy Allsebrook, Tim Lonsdale & Steven 'Bungle' Hoyland travelled from Dodoma to Mwanza: "The train ride was one of the most wonderfully Africa experiences of the whole trip. From the disorganised beginnings to the chaotic, scrambling end we never felt more like we were off the beaten track and truly amongst everyday African life. We departed around 8am (I forget the day we left – they all had begun to blend into one by then) and trundled slowly across the sparse Africa landscape. Occasional stops were made in what seemed like the middle of nowhere but out of the baking scrubland impromptu markets erupted at the arrival of the train. The standard meal off the train was greasy goat and soggy, undercooked chips served in a plastic bag with far too much salt. Meals on the train were brought to our couchette (which we shard we 3 other passengers). It was usually of a rather high standard (fish and rice or chicken and rice) and was incredibly cheap. The train had a bar which was jam packed with drunken Africans who would want to engage in banter (always friendly) every time we headed up there for a beer. We would have loved to have sat and drank with them but there was simply no room.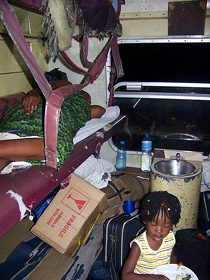 Moving between carriages to get to the bar was a mission in itself – the gaps between them were unguarded and each carriage change required a leap of faith which left ones heart pounding. Unfortunately, after about 10 hours the bar had been drunk dry and I had to resort to reading my Jilly Cooper novel (having travelled from Rwanda English language novels were hard to find so forgive me). Around 10 hours into the journey we stopped in a large town (I forget its name) [probably Tabora] to await the arrival of a train from the lake. Having been given no indication as to how long this would be we were reluctant to leave the train for too long. One of our party of 3 would leave the train to get cold drinks/goat when needed but no one wanted to stray too far for fear of being trapped in the town with no name. We needn't have worried. The train remained at this station, unmoving, from around 6pm to 11am the next morning with absolutely no explanation. Africa is as Africa does however and the stoical, unblinking acceptance shown by the families around us made the journey bearable. We struck up conversations, wandered to station and drank warm cokes (the fridge in the shop had by now broken down). The night was spent sweating on a red leather couchette bed while we conversed in the pitch dark with the young African doctors who were taking the train home. They laughed at us when we said we did not believe in God. But it was a friendly laugh, almost one of pity. In the night a rat appeared in our compartment, scuttling from under the bed to under the sink and back again. Then into the space between to carriage walls. Sleep was difficult with a rat inches from your head. We spent the next full day and half of the next night until we arrived in Dodoma, hot, filthy, starving, thirsty, tired, angry and approximately 20 hours late. But after a shower and a beer we looked back on it as the best journey so far in Africa and it turned out to be one of the best of the trip."
Pictured, above right: The train from Dar to Kigoma, showing 2nd class 6-berth sleeper. Photos courtesy of Graham Sowa, read his blog at grahamrussellsowa.wordpress.com/2009/01/25/train-across-tanzania/#more-180.
---
| | |
| --- | --- |
| | |
| | Dar es Salaam waterfront, with St Joseph's cathedral and one of the fast ferries to Zanzibar. Courtesy of Ivor Ines |
Dar es Salaam to Zanzibar by ferry...
There's a fast ferry between Dar es Salaam and the island of Zanzibar several times a day, journey time 2 hours, fare $35 economy class seat or $50 with a seat in VIP class with access to an open-air deck. See www.zanzibarquest.com/ferries-flights/ferry-dar-es-salaam-zanzibar.html.
Traveller Ivor Morgan reports: "There seem to be several companies operating on this route, so there are quite a number of sailings each day, not just 2. Most ferries are fast catamarans taking 1.5 – 2hrs. However, there is at least one much slower boat, the MV Flying Horse, so check which one you're booking on before you pay for a ticket. The ferries leave from what I assume is the old port area, on Sokoine Drive, just across the road from St Joseph's Cathedral. I think the Central Line station is within walking distant of the port (although I didn't have time to check). The Tazara station is about 5km away, requiring a taxi ride. Unfortunately, the ferry area is plagued with touts, and you should only buy tickets directly from the ferry companies, who all have office booths in a long, low building opposite the cathedral. Other than the all-inclusive ticket price, there are no more fees to pay, although the various touts may try to charge you for "departure tax", Yellow Fever cards, etc, etc.! We paid only $35 per person one-way in economy ("VIP class" is hardly worth the extra $15), but I think the prices might have been reduced as it was Ramadan. On arrival in Zanzibar, foreigners (but not locals) need to show their passports and complete Immigration cards again, even though you've already entered Tanzania on the mainland. However, there are no fees to pay, and no need for a new visa."
---
Guidebooks

To get the most from a trip to Southern Africa, you'll need a good guidebook - and I think the Lonely Planet guides are about the best ones out there.
---
Hotels in Tanzania & Zambia
Other hotel sites worth trying...
www.tripadvisor.com is the place to find independent travellers' reviews of all the main hotels.
Backpacker hostels...
www.hostelworld.com: If you're on a tight budget, don't forget about backpacker hostels. Hostelworld offers online booking of cheap private rooms or dorm beds in backpacker hostels in most cities at rock-bottom prices.
---
Overland travel by train & bus around Africa is an essential part of the experience, so once there, don't cheat and fly, stay on the ground! But a long-haul flight might be unavoidable to reach Dar es Salaam in the first place. For flights to Tanzania, compare airlines at Skyscanner.net.

---
Travel insurance
Always take out travel insurance...
Never travel overseas without travel insurance from a reliable insurer, with at least £1m or preferably £5m medical cover. It should also cover cancellation and loss of cash and belongings, up to a sensible limit. An annual multi-trip policy is usually cheaper than several single-trip policies even for just 2 or 3 trips a year, I have an annual policy myself. Here are some suggested insurers. Seat61 gets a small commission if you buy through these links.

In the UK, reliable insurers include Columbus Direct.

If you have a pre-existing medical condition or are over 65, see www.JustTravelCover.com - 10% discount with code seat61.

You can use Confused.com to compare prices & policies from many different insurers.

If you live in the USA try Travel Guard USA.
A Curve card saves on foreign transaction fees...
Most banks give you a poor exchange rate, then charge you a currency conversion fee. A Curve MasterCard means no foreign transaction fees and gives you the mid-market exchange rate, at least up to a certain limit, £500 per month at time of writing. The balance goes straight onto one of your existing debit or credit cards.
How it works: 1. Download the app for iPhone or Android. 2. Enter your details & they'll send you a Curve MasterCard - they send to most European addresses including the UK. 3. Link your existing credit & debit cards to the app. 4. Now use the Curve MasterCard to buy things online or in person or take cash from ATMs, just like a normal MasterCard. Curve does the currency conversion and puts the balance onto whichever of your debit or credit cards you choose. You can even change your mind about which card it goes onto, within 14 days of the transaction.
I have a Curve Blue card myself - I get some commission if you sign up to Curve, but I'm recommending it here because it's great. See details, download the app and get a Curve card - they'll give you £5 cashback through that link, too.
| | |
| --- | --- |
| | |
When you're travelling you often use free WiFi in public places which may not be secure. A VPN means your connection to the internet is encrypted & always secure, even using unsecured WiFi. In countries such as China where access to Twitter & Facebook is restricted, a VPN gets around these restrictions. And lastly, you can select the geographic location of the IP address you browse with, to get around geographic restrictions which some websites apply - for example one booking site charges a booking fee to non-European visitors but none to European visitors, so if you're not located in Europe you can avoid this fee by browsing with a UK IP address using a VPN. VPNs & why you need one explained. ExpressVPN is a best buy and I use it myself - I've signed up as an ExpressVPN affiliate, and if you go with expressvpn.com using the links on this page, you should see a special deal, 3 months free with an annual subscription, and I get a small commission to help support this site.
---