London to Bulgaria by train, a 48 hour Balkan adventure...
It's not difficult to travel to Bulgaria by train, in fact it's a safe, comfortable and interesting journey. The train ride from London to Bulgaria takes as little as 2 nights, with a variety of possible routes and options. The train times, fares, and how best to buy tickets are all explained on this page.
COVID-19 update: See COVID-19 travel information
Train times, fares & tickets...

London to Sofia by train

London to Veliko Tarnovo

Video guide: London to Bulgaria by train...

Trains to Sofia from other European cities

Trains from Sofia to other European cities

Sofia Central Station location & facilities

General information about train travel in Europe

Luggage Taking bikes Taking dogs

Hotels in Sofia & Bulgaria
Route map:
London to Sofia by train...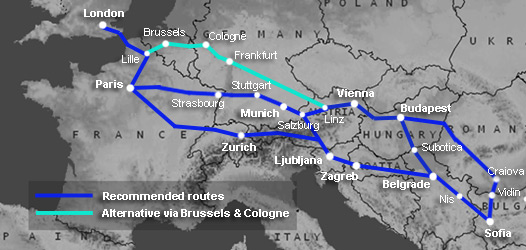 ---
---
This is the fastest option, London to Bulgaria overland by train, taking 3 days, 2 nights! It involves comfortable good-quality air-conditioned trains as far as Belgrade, but a more basic train (or, in winter, series of trains) between Belgrade and Sofia.
Incidentally, the line between Budapest & Belgrade is currently affected by work to upgrade the line, and that route will be out of action throughout 2020. This means that the route via Zagreb shown below is the one to use, until further notice.
London ► Sofia
Sofia ► London
Day 1: Travel from Sofia to Belgrade on the Balkan Express, see the Sofia to Belgrade page for more photos, tips & information.

From 12 June to 20 September 2020, you leave Sofia central station at 09:15 arriving Belgrade Topcider station at 18:29. This direct train has 2nd class seating only, and there's no catering so bring your own picnic and beer.

In the off-season until June and from September, you travel from Sofia to Belgrade like this: Take the 09:15 from Sofia, change at Dimitrovgrad (arrive 10:25, depart 11:25) & Nis (arrive 14:44, depart 15:53) and arrive Belgrade Centar station 21:02.

Stay overnight in Belgrade. I recommend the famous Hotel Moskva at the end of Belgrade's main pedestrianised shopping street- see map of Belgrade showing station.

Day 2, travel from Belgrade to Zagreb on the daily train. Until 3 October 2020 it leaves Belgrade Centar station at 10:02 & Novi Beograd at 10:09 arriving Zagreb at 18:12. From 4 October 2020 onwards it leaves Belgrade Centar station at 07:00 & Novi Beograd at 07:14 arriving Zagreb at 15:13.

This train has air-conditioned Serbian carriages with comfortable 1st & 2nd class seats. There's no catering car, so bring along a picnic and maybe some beer or wine. You've now time for dinner in Zagreb.
How much does it cost?
Each train is ticketed separately, so add up the price for each leg of the journey.
1. London to Paris

by Eurostar...

From £52 one-way, £78 return 2nd class.

From £115 one-way, £199 return 1st class. Child fares

2. Paris to Munich

by TGV Duplex...

From €39 each way in 2nd class

From €59 each way in 1st class.

Fares work like air fares, cheap in advance, expensive on the day.

3. Munich to Zagreb

on the Lisinski...

In a

seat:

In a couchette

In the sleeping-car

6-berth

4-berth

3-berth

2-berth

single

Saver fare one-way, from:

€29

€49

€59

€69

€79

€139

Saver fare return, from:

€58

€98

€118

€138

€158

€278

Saver fare = Advance-purchase fare, price varies, no refunds, no changes to travel plans.

Berths are sold individually, so one ticket means one bed. The other beds in your compartment will be sold to other passengers. For sole occupancy, simply book 1 ticket in a 1-berth sleeper or 2 tickets in a 2-berth sleeper or 4 tickets in a 4-berth couchette & so on.

3. Zagreb to Belgrade

by day train...

Around €30 each way in 2nd class, bought at the station.

Around £43 each way in 2nd class, bought by phone in the UK.

4. Belgrade to Sofia

by day train...

Around €21 bought at the station in Belgrade (recommended).

Around 45 lev (€22) in other direction, bought at Sofia station.

Around £44 each way bought by phone in the UK.
How to buy tickets...
Step 1, book from London to Munich at raileurope.com and print your own tickets. Tip: If you'd like a longer connection in Paris, simply click More options, enter Paris (any station) and a suitable stopover duration. A small booking fee applies.

Alternatively, if you prefer you can book London to Paris at www.eurostar.com then book Paris to Munich at the German Railways site www.bahn.de but it should make little or no difference to the price, but there are no booking fees.

Step 2, book the sleeper from Munich to Zagreb at www.thetrainline.com. Use the journey planner to bring up the direct Munich-Zagreb sleeper train marked EN with 0 changes. You print your own ticket. You can also book this at the Austrian Railways website www.oebb.at.

Step 3, Zagreb to Belgrade cannot be booked online, just buy at the station in Zagreb, this won't be a problem.
Step 4, the Belgrade-Sofia train cannot be booked online, so either buy it at the station in Belgrade when you get there (there will always be places available) or buy it by phone as above, or perhaps arrange it via Belgrade's ex-Wasteels Mr Popovic.
How to buy tickets by phone: In the UK call 0844 248 248 3...
If you'd prefer to book all your tickets together by phone, just call International Rail on 0844 248 248 3, lines open 09:00-17:00 Monday-Friday.

Alternatively, you can call Deutsche Bahn's UK telesales line on 08718 80 80 66 (lines open 09:00-20:00 Monday-Friday, 09:00-13:00 Saturday & Sunday, no booking fee, 2% credit card charge, no charge for debit cards).
Have your trip professionally arranged...
If you want a custom-made trip with train travel, hotels & transfers all arranged for you, contact Railbookers. Tell them what you want and they'll advise you on the best trains, routes & hotels and sort it all out. They get positive reviews and look after their customers very well.

UK call 0207 864 4600, www.railbookers.co.uk.

US call free 1-888-829-4775, see website.

Canada call free 1-855-882-2910, see website.

Australia call toll-free 1300 971 526, see website.

New Zealand call toll-free 0800 000 554 or see website.
What are the trains & scenery like?
| | | |
| --- | --- | --- |
| | | |
| A Eurostar e320 about to leave London St Pancras... | | 1st class: Standard Premier or Business Premier. |
Sit back with a glass of red and enjoy the ride - book an upper deck seat for the best views. The train is equipped with power sockets for laptops & mobiles at all seats in both classes, and a cafe-bar serves drinks, snacks & microwaved hot dishes. First class passengers on this route are given a simple but tasty meal box with a small bottle of beer or wine served at their seat, included in the fare. The train soon leaves the Paris suburbs behind and speeds across a vast wide open plateau of woods & farmland at up to 200mph, past picturesque French villages of the Champagne region. An hour or two later, the train leaves the high-speed line and slowly meanders through pretty wooded hills, the countryside eventually flattening out towards Strasbourg. On leaving Strasbourg, look out for Strasbourg cathedral on the left with its famously missing second tower. Minutes afterwards you rumble across the river Rhine into Germany, before heading on to Stuttgart & Munich.
| | | |
| --- | --- | --- |
| | | |
| TGV Duplex at Paris Est. These impressive 200 mph double-deck trains link Paris with Nice, Marseille, Munich, Barcelona & Switzerland... | | 2nd class table for 4 on TGV Duplex upper deck... |
| | | |
| --- | --- | --- |
| | | |
| 1st class seats on the upper deck, with a club duo on the left, a club quatre on the right. | | A TGV Duplex. The red near the door indicates 1st class, pale green indicates 2nd class. |
This modern sleeper train is a pleasure to travel on, whether in the privacy of your own sleeper or in economical couchettes. There's time for dinner in Munich before boarding.
The sleeping-car on the Lisinski: The modern air-conditioned Croatian sleeping-car of the Lisinski from Munich to Zagreb has 10 compartments with washbasin, each of which can be used as a 1, 2 or 3 berth room, with toilets at the end of the corridor. Above left, the sleeper arrived at Zagreb.
The couchette car on the Lisinski has modern air-conditioned 6-berth and 4-berth compartments. Above right, the westbound train is seen boarding at Zagreb. See panorama photo.

Wake up to scenery like this between Ljubljana & Zagreb, along the river Sava...
Zagreb to Belgrade byxhuew train...
This is a spacious and comfortable air-conditioned Serbian train, with modern 2nd class seats - there's no 1st class. There's no restaurant car, so take a picnic and some beer or wine with you. On arrival in Belgrade, you have time to wander into town, perhaps visit the fortress overlooking the confluence of Danube and Sava, have a coffee at the Hotel Moskva (free WiFi!) and perhaps dinner at the basic but remarkably cheap Zelturist restaurant in the corner inside Belgrade station.
This train has only two carriages, it's old and graffitied but comfortable enough. Power sockets, WiFi, even catering? Forget those! Bring your own picnic and bottles of beer, and buckle up for an old-school ride through the Balkans on the route of the Orient Express. If you get any more photos of this particular train or especially the scenery please let me know! In summer this train runs direct, in winter it's a series of connecting trains, one even has air-con(!).

The Belgrade-Sofia train, currently summer-only, at Topcider station in Belgrade. Just two coaches, one Bulgarian, one Serbian, but comfy enough in spite of the graffiti. Bring your own food & drink and enjoy a scenic run across the Balkans. Photo courtesy of Matthew Woodward - see more photos & an account of this journey on his blog.
| | | |
| --- | --- | --- |
| | | |
| 2nd class seats in the Serbian car. Photos courtesy of Remco van der Kort. | | The train snakes through a gorge east of Nis. Courtesy of Matthew Woodward. |
---
Watch the video:
London to Bulgaria by train...
The video shows what a train ride from London to Bulgaria is like. There's a slight variation from the journey shown above, the video shows a journey by TGV from the Gare de Lyon to Zurich, then Croatian sleeping-car to Zagreb, instead of a TGV from the Gare de l'Est to Munich, then Croatian sleeping-car to Zagreb, but the sleeping-car is the same type and you see the same wonderful scenery between Ljubljana & Zagreb. The couchette train between Belgrade & Sofia has been discontinued, you now use the day train.
Option 2, via the Harwich to Hoek van Holland ferry...
This is a variation on option 1, taking an extra night. But if you live in East Anglia or prefer a ferry to Eurostar and the Channel Tunnel for some reason, this can be a useful alternative. It's often cheaper than Eurostar at short notice. Like option 1, this runs every day except Christmas Day and Boxing Day.
London ► Sofia
Day 1, travel from London to Utrecht overnight using the Stena Line Rail & Sail service explained in detail here. You leave London Liverpool Street at 19:32, sleep in a cosy private cabin with shower, toilet & satellite TV on board Stena Line's Harwich-Hoek superferry 21:00-08:00, and reach Utrecht at or before 10:28 next morning. Fares from £55 + cabin cost. Book this as shown on the Stena Line Rail & Sail page.

Day 2, travel from Utrecht to Munich on any suitable trains, usually with one simple change en route. Check times and buy tickets for this journey at www.bahn.de. Fares from €39.90, you print your own ticket. For example, a train leaves Utrecht at 11:07, change at Dusseldorf, arriving Munich Hbf at 18:07. You've time for dinner in Munich, try www.augustinerkeller.de at Arnulfstrasse 52, to the north side of Munich Hbf.

Day 2 evening: Now continue from Munich to Sofia as shown in option 1 above, just remember that as option 2 takes an extra night, where option 1 says 'day 1', this is now day 2, and so on. Travel from Munich to Zagreb by sleeper, onwards by day train to Belgrade. Stray overnight in Belgrade, day train to Sofia arriving in the evening of day 4. Book this part of the journey as shown in option 1 above.
Sofia ► London
Days 1-3, travel from Sofia to Munich exactly as shown in option 1 above: Day train Sofia-Belgrade, overnight stop in Belgrade, day train Belgrade-Zagreb and overnight sleeper Zagreb-Munich, arriving in the morning of day 3. Buy tickets as shown in option 1.

Day 3, travel from Munich to Amsterdam, there's one leaving Munich Hbf at 07:52, change at Dusseldorf, arriving Amsterdam Centraal at 15:28. Check times and buy this ticket at www.bahn.de. Fares from €39.90, you print your own ticket.

Day 3, travel from Amsterdam to London overnight using the Stena Line Rail & Sail service explained in detail here. You leave Amsterdam Centraal around 18:34, sleep in a cosy private cabin with shower, toilet & satellite TV on board Stena Line's Hoek van Holland to Harwich superferry 21:00-06:30, and arrive London Liverpool Street station around 08:54 next morning (day 4). Fares from £55 + cabin cost. Book this as shown on the Stena Line Rail & Sail page.
Option 3, via Vienna & Bucharest...
This takes 3 nights, so is longer than options 1 or 2. But it can be a useful alternative. By all means go out one way and back another.
London ► Sofia
Sofia ► London
Step 1, travel from Sofia to Bucharest, leaving Sofia Central at 09:00 and arriving Bucuresti Gara de Nord at 18:55. In summer from 5 June to 5 October 2020 this is a direct train, in winter one simple change of train is necessary at Ruse in Bulgaria, just south of the border with Romania. There's great scenery as the train negotiates the lush valleys of Bulgaria. There's no catering, so take your own food and drink. The fare is around €33.

If this is part of a round trip from Bucharest, you can buy online at bileteinternationale.cfrcalatori.ro and collect both outward and return tickets from the ticket office at Bucuresti Gara de Nord. If you're only going one way, tickets must be bought in person at the ticket office in Sofia, they cannot be bought online.

Stay overnight in Bucharest - a same-day connection is too tight for comfort.
---
Bulgaria's ancient capital, Veliko Tarnovo is well worth a visit. Below left, the main gate to the Royal hill and old cathedral. Below right, the old town. The station is at the foot of the hills on which the city is built, it's a longish walk up to the town, you may want to take a taxi.
To reach Veliko Tarnovo from London or Paris, you have two main options:
---
European Rail Timetable & maps




The European Rail Timetable (formerly the Thomas Cook European Timetable) has train & ferry times for every country in Europe plus currency & climate information. It is essential for regular European train travellers and an inspiration for armchair travellers. Published since 1873, it had just celebrated 140 years of publication when Thomas Cook decided to pull the plug on their entire publishing department, but the dedicated ex-Thomas Cook team set up a private venture and resumed publication of the famous European Rail Timetable in March 2014. You can buy it online with worldwide shipping at either www.stanfords.co.uk or www.europeanrailtimetable.eu. More information on what the European Rail Timetable contains.
A Traveller's Railway Map of Europe covers the whole of Europe from Portugal in the west to Moscow & Istanbul in the east, Finland in the north to Sicily & Athens in the south. On the back are detailed maps of Switzerland, Benelux & Germany, plus city plans showing stations in major cities. Scenic & high-speed routes highlighted. Buy it online for £14.50 + postage worldwide (UK addresses £2.80) at www.stanfords.co.uk/Continents/Europe-A-Travellers-Railway-Map_9789077899090.htm or (in the Netherlands) for €13 + €5.50 postage from www.treinreiswinkel.nl.
---


To get the most from your visit, you should take a good guidebook. For the independent traveller, I think this means one of two guidebooks, either the Lonely Planet or the Rough Guide. Both series are excellent. You can buy an in-depth guide for Bulgaria or a guide covering all the countries in Eastern Europe. Lonely Planet Eastern Europe - Rough Guide Bulgaria.

Click the images to buy online...
---
For an inexpensive hotel with great reviews just 10 minutes walk from Sofia station with great reviews, I recommend the excellent Hotel Favorit.
---
Travel insurance & VPN
Always take out travel insurance...
Never travel without travel insurance with at least £1m or preferably £5m medical cover from a reliable insurer. It should also cover trip cancellation and loss of cash & belongings up to a reasonable limit. An annual multi-trip policy is usually cheapest even for just 2 or 3 trips a year, I have an annual policy myself. However, don't expect travel insurance to bail you out of every missed connection, see the advice on missed connections here. Here are some suggested insurers, Seat61 gets a little commission if you buy through these links, feedback is always welcome.

In the UK, reliable insurers include Columbus Direct.

If you have a pre-existing medical condition or are over 65, see www.JustTravelCover.com - 10% discount with code seat61.

You can use www.confused.com to compare prices & policy features across major insurance companies.




If you live in Australia, New Zealand, Ireland or the EU, try Columbus Direct's other websites.

If you live in the USA try Travel Guard USA.
Get a Curve card to save on foreign transaction fees...
Banks often give a poor exchange rate, then charge a currency conversion fee as well. A Curve MasterCard means no foreign transaction fees and gives you the mid-market exchange rate, at least up to a certain limit, £500 per month as I write this. The balance goes straight onto one of your existing debit or credit cards. And you can get a Curve card for free.
How it works: 1. Download the app for iPhone or Android. 2. Enter your details & they'll send you a Curve MasterCard - they send to most European addresses including the UK. 3. Link your existing credit & debit cards to the app. 4. Now use the Curve MasterCard to buy things online or in person or take cash from ATMs, just like a normal MasterCard. Curve does the currency conversion and puts the balance onto whichever of your debit or credit cards you choose. You can even change your mind about which card it goes onto, within 14 days of the transaction.
I use a Curve Blue card myself - I get a little commission if you sign up to Curve, but I'm recommending it here because I think it's great. See details, download the app and get a Curve card. Use code MAN61 to get £5 cashback after signing up and using your Curve card the first time.
| | |
| --- | --- |
| | |
When you're travelling you often use free WiFi in public places which may not be secure. A VPN means your connection to the internet is encrypted & always secure, even using unsecured WiFi. In countries such as China where access to Twitter & Facebook is restricted, a VPN gets around these restrictions. And lastly, you can select the geographic location of the IP address you browse with, to get around geographic restrictions which some websites apply - for example one booking site charges a booking fee to non-European visitors but none to European visitors, so if you're not located in Europe you can avoid this fee by browsing with a UK IP address using a VPN. VPNs & why you need one explained. ExpressVPN is a best buy and I use them myself.
---