| | |
| --- | --- |
| | The old city walls, Tallinn... |
UK to Estonia without flying...
There's no need to fly to reach Estonia. You can travel to Estonia by train+ferry via Copenhagen & Stockholm, or by Eurostar and connecting trains to Rostock in Germany then cruise ferry to Helsinki and on to Tallinn, or overland all the way by train+bus via Brussels, Berlin, Warsaw, Vilnius & Riga. The journey from London to Tallinn takes 3 nights, and is a great adventure with lots to see on the way.
Train times, fares & tickets...

London to Tallinn - a summary of the options

London to Tallinn via Copenhagen & Stockholm

London to Tallinn via Rostock & Helsinki

London to Tallinn overland by train & bus via Warsaw

Train service within Estonia

Tallinn to Riga by train or bus

Tallinn to Moscow by train

Tallinn to St Petersburg by train

Tallinn to Helsinki by ferry

Useful country information
Route map: UK to Scandinavia & Baltics by train & ferry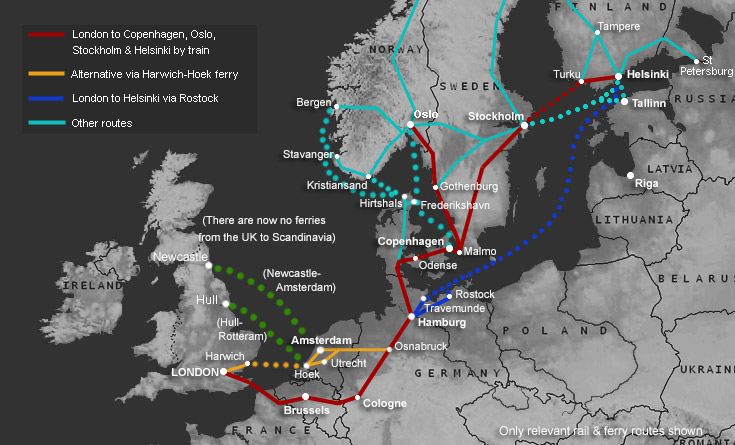 Sponsored links...
---
---
There are several options for travel between the UK and Estonia:
The journey takes 3 nights, with a night and day to explore in Stockholm. Departures are daily. On the route map above it's the red line from London to Stockholm, then the pale blue dotted line to Tallinn.
London ► Tallinn
Tallinn ► London
How much does it cost?
How to buy tickets...
Cologne to Hamburg by InterCity train.
| | | | | |
| --- | --- | --- | --- | --- |
| | | | | |
| Most Cologne-Hamburg trains are InterCity trains, a few are high-speed ICEs. Virtual tour of InterCity train... | | InterCity 2nd class. You'll also find a few compartment coaches on InterCity trains, and a bistro or restaurant car... | | InterCity 1st class, often available in both open-plan saloons like this and in compartments. |
Hamburg to Copenhagen by ICE.
| | | | | |
| --- | --- | --- | --- | --- |
| | | | | |
| ICE 2nd class. All seats in both classes have power sockets for laptops & mobiles... | | ICE 1st class, with real leather seats. Staff provide at-seat service of drinks & food. | | The Hamburg-Copenhagen ICE on board the Puttgarden-Rødby ferry. More info on ICE. |
Copenhagen to Stockholm by X2000.
| | | | | |
| --- | --- | --- | --- | --- |
| | | | | |
| An X2000 train from Copenhagen to Stockholm, at Copenhagen station.... | | 2nd class seating on the X2000. All seats have power sockets for laptops & mobiles... | | Self-service buffet car on the X2000. More information about X2000 trains |
Then cruise overnight from Stockholm to Tallinn by Tallink ferry.
| | | |
| --- | --- | --- |
| | | |
| The ferry Baltic Queen sails from Stockholm to Tallinn. Photo courtesy of Tallink. | | A cabin on the Baltic Queen. Photo courtesy of Tallink. |
---
---
Option 3: London to Tallinn overland via Brussels - Berlin - Warsaw - Vilnius - Riga:
The overland option from London to Tallinn via Brussels, Berlin, Warsaw, Vilnius and Riga takes about 4½ days. It can only be booked from the UK as far as Warsaw, where you will need to buy a ticket for Vilnius, then you will need to re-book again in Vilnius for the bus or train to Riga and in Riga for the bus to Tallinn. See the London to Latvia page for information on the journey from London as far as Riga. Riga and Tallinn are linked by regular buses, taking 4½ hours and costing between €16 & €27, see www.luxexpress.eu for times & fares. You can also use local trains between Riga & Tallinn, with one change at the border, see details here.
---
---
---
The former operator GoRail discontinued its Tallinn-Moscow sleeper train from 19 May 2015, and also it's up-and-down attempts over the years to run Tallinn-St Petersburg train, citing a significant drop in passengers between Estonia and Russia due to the economic situation. I'm pleased to say the RZD Russian Railways stepped into the breach and restarted a smart modern Tallinn-St Petersburg-Moscow sleeper train in July 2015, which they have named the Baltiski Express. The times are shown below - note that unusually, it serves different stations in St Petersburg depending on the direction. If you get any photos of this train inside or out, please let me know!
Tallinn ► St Petersburg, Moscow

Moscow, St Petersburg ► Tallinn

Baltic Express

Daily

Baltic Express

Daily

Tallinn

depart

16:05 day 1

Moscow Leningradski

depart

22:15 day 1

St Petersburg Ladozhki

arrive

23:54 day 1

St Petersburg Moskovski

depart

06:25 day 2

Moscow Leningradski

arrive

09:40 day 2

Tallinn

arrive

12:35 day 2
On board: 1st class Spalny Vagon 2-berth sleepers, 2nd class kupé 4-berth sleepers, 3rd class platskartny open-plan sleeping-cars & ordinary seats.
Fare between Moscow & Tallinn: Moscow-Tallinn with a bed in a 2-berth spalny vagon costs around 10,250 rubles (about €148). In a 4-berth kupé compartment costs around 4,990 rubles (about €72). A cheap bunk in a 3rd class platskartny car costs around 4,200 rubles.
Fare between St Petersburg & Tallinn: Around 1,293 rubles (€19) in a seat.
St Petersburg Moskovski is shown as St Petersburg Glowny (Gl.) on rzd.ru. Moscow Leningradski is also known as the October station (Okt.).
How to buy tickets: You can buy tickets in either direction at the Russian Railways website www.rzd.ru - see my advice on it here - a bit quirky, but it works. Or you can easily book online using the Real Russia online booking form here, in plain English but with a small mark-up. This train is now e-ticketed, so you simply print your own ticket. You can also buy tickets at the station, of course, but pre-booking is better.
| | | | | |
| --- | --- | --- | --- | --- |
| | | | | |
| The train to Moscow at Tallinn... | | 2nd class 4-berth kupé sleeper... | | Courtesy of Matthias Timm |
| | | |
| --- | --- | --- |
| | | |
| Sitting car. Courtesy of Ben Fairclough. | | Arrived at Tallinn. Courtesy of Ben Fairclough |
Traveller Ben Fairclough reports, from a journey from St Petersburg to Tallinn in 2016: "The train seemed to arrive in St Petersburg as number 34, split in the station then depart as number 33. Platform 5. We were in a seating carriage with high proportion of western travellers. Half the seats in the carriage were rear facing -Americans beware! However, it was a smooth journey. The carriage was relatively new but not the newest. The seats recline quite far, but unfortunately no tables at seats or electricity outlets. Hot and cold water was available as per normal in Russia. The sleeper carriages all seemed to be of the newest we'd seen in Russia. 60:40 split of sleeper carriages to seats cars. The train stopped at 9:40 for Russian passport control and moved on for a minute or so to the Estonian border, finishing at about 11:05. Apart from being woken rather abruptly the passport staff were generally as pleasant as one comes to expect. Although I didn't see it I'm pretty sure the engine changes at the border. The train left and arrived on time."
---
Tallinn ► Helsinki by ferry...
---
European Rail Timetable & maps




The European Rail Timetable (formerly the Thomas Cook European Timetable) has train & ferry times for every country in Europe plus currency & climate information. It is essential for regular European train travellers and an inspiration for armchair travellers. Published since 1873, it had just celebrated 140 years of publication when Thomas Cook decided to pull the plug on their entire publishing department, but the dedicated ex-Thomas Cook team have set up a private venture and published the first edition of a reborn European Rail Timetable in March 2014. You can buy it online with worldwide shipping at either www.stanfords.co.uk or www.europeanrailtimetable.eu. More information on what the European Rail Timetable contains.
A Traveller's Railway Map of Europe covers the whole of Europe from Portugal in the west to Moscow & Istanbul in the east, Finland in the north to Sicily & Athens in the south. On the back are detailed maps of Switzerland, Benelux & Germany, plus city plans showing stations in major cities. Scenic & high-speed routes highlighted. Buy it online for £14.50 + postage worldwide (UK addresses £2.80) at www.stanfords.co.uk/Continents/Europe-A-Travellers-Railway-Map_9789077899090.htm or (in the Netherlands) for €13 + €5.50 postage from www.treinreiswinkel.nl.
---


make sure you invest in a good guidebook. For the serious independent traveller this means either the Lonely Planet or the Rough Guide. Both books provide a similarly excellent level of practical detail and cultural and historical background. You won't regret buying one..!
Click the images to buy online at Amazon.co.uk...
My own book, an essential handbook for train travel to Europe based on this website called "The Man in Seat 61", was published in June 2008, and is available from Amazon with shipping worldwide.
---
Find hotels in Tallinn & the Baltics
Backpacker hostels...
---
Travel insurance & health card
Take out decent travel insurance, it's essential...
Never travel without proper travel insurance from a reliable insurer with at least £1m or preferably £5m medical cover. It should also cover loss of cash & belongings (up to a limit), and trip cancellation. An annual multi-trip policy is usually cheapest even for just 2 or 3 trips a year - I have an annual policy myself. However, don't expect travel insurance to bail you out of every missed connection, see the advice on missed connections here. Here are some suggested insurers, Seat61 gets a little commission if you buy through these links, and feedback from using insurance for rail & ferry travel is always welcome.

In the UK, use www.confused.com to compare prices & policy features across major insurance companies.

If you have a pre-existing medical condition or are over 65, see www.JustTravelCover.com - 10% discount with code seat61.



If you live in Australia, New Zealand, Ireland or the EU, try Columbus Direct's other websites.

If you live in the USA try Travel Guard USA.
Get an EU health card, it's free...
If you're a UK citizen travelling in Europe, you should apply for a free European Health Insurance Card, which entitles you to free or reduced rate health care if you become ill or get injured in many European countries, under a reciprocal arrangement with the NHS. This replaced the old E111 forms as from January 2006. The EHIC card is available from ww.nhs.uk. It doesn't remove the need for travel insurance, though.
Carry a spare credit card, designed for travel with no currency exchange loading & low/no ATM fees
Taking out an extra credit card costs nothing, but if you keep it in a different part of your luggage you won't be left stranded if your wallet gets stolen. In addition, some credit cards are better for overseas travel than others. Martin Lewis's www.moneysavingexpert.com/travel/cheap-travel-money explains which UK credit cards have the lowest currency exchange commission loadings when you buy something overseas, and the lowest cash withdrawal fees when you use an ATM abroad.
---
Back to 'Rail travel to Europe' general page