Berlin Hauptbahnhof (Berlin Hbf) is the German capital's main station, located in the heart of Berlin just 10 minutes walk from the Reichstag and 15 minutes walk from the Brandenburg Gate. The impressive glass-and-steel station was formally opened in 2006, finally giving Berlin a single main railway terminal, You can read more about Berlin Hbf and its construction at en.wikipedia.org/wiki/Berlin_Hauptbahnhof.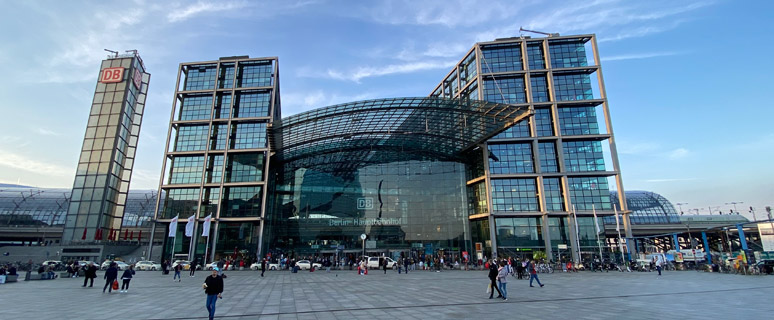 Berlin Hbf, seen from the south as you walk towards it from central Berlin. This is level 0.
Berlin Hbf, seen from the south as you walk towards it from central Berlin. This is level 0.

You walk through the main entrance at ground level and immediately face a choice of going up or down the escalators or lifts...

Up to level +1 with shops, ticket office, first class lounge & left luggage office, then further up to platforms 11-16 on level +2.

Down to level -1 with shops then further down to level -2 where you'll find platforms 1-8.
Platforms 1-8 are deep below ground level in a vast open basement. These are the north-south platforms handling trains to and from Hamburg to the north and Leipzig, Dresden, Prague & Budapest to the south. Platforms 1-8 are known as Berlin Hbf (tief), as tief is German for deep.

Platforms 11-16 are above ground on a viaduct running east-west across Berlin. These are the east-west platforms handing trains to Amsterdam to the west and to Warsaw in the east. The daytime ICE trains to Switzerland also leave from here.

Platforms 11 & 12 handle eastbound trains (for example, to Warsaw), platforms 13 & 14 handle westbound trains (for example to Amsterdam or Switzerland), platforms 15 & 16 are only used by S-Bahn (suburban) trains which are useful for transferring to Berlin Zoolgarten, Berlin Friedrichstrasse, Berlin Ostbahnhof or Lichtenberg.
Domestic ICE trains to Frankfurt or Cologne can leave from either platforms 1-8 (tief) or platforms 11-16, you can check which platform you need either by using the station departure screens or online using the journey planner at www.bahn.de and clicking for details against your train, then clicking the train number.

Tip: There's a train composition poster (Wagenstandsanzeiger) on each platform which tells you where to stand so you're in the right place for your car when the train comes in. This saves you running up & down the platform like a headless chicken.

For an excellent 3D plan of the station go to www.bahnhof.de and search for Berlin Hbf.
Main entrance...
Just inside the main entrance, level 0. You can see the steps & escalator up to level +1 and up again to platforms 11-16 on level +2. And the escalators down to level -1 and onwards to platforms 1-8 on level -2 = Berlin Hbf (tief).
The photo above left shows all the levels, with upper platforms (11-16) visible at upper right on level +2, the people are standing on level +1, the McDonalds 'm' is on level 0 (street level), level -1 is visible below that and you can just see level -2 with one of the lower platforms (1-8) in the lower part of the photo.
The photo above right is taken from level +1, it shows what you see when you arrive and look out through the glass facade. The Reichstag (indicated by the arrow) is only a few minutes walk away.
| | | |
| --- | --- | --- |
| | | |
| Lifts & escalators down to platforms 1-8. | | The S-bahn goes from platforms 15 & 16... |
Platforms 1-8 below ground...
Platforms 11-16 above ground...
There is a large ticket office selling national & international tickets, located on level +1, one floor up from ground level beneath platforms 11-16.
There are various ATMs around the station. Left luggage lockers and a staffed left luggage office (Gepäck center) are available if you need to leave your bags, see the luggage lockers page for prices & opening hours. The Gepäck center is on level +1, one floor up from ground level beneath platforms 11-16.
The station has WiFi, but only the first 30 minutes are free. The network to select is Telekom.
If you have a 1st class long-distance Flexpreis ticket for an IC, ICE or EC train (but not a cheap Sparpreis or Supersparpreis fare or tickets for regional trains, Nightjet, or a 1st class Interrail or Eurail pass) you can use the DB first class lounge with complimentary tea, coffee, beer and snacks plus free WiFi. Highly recommended! It's located on the southwest corner of level +1, go one floor up from the main station entrance and turn left, it's below platform 11. Follow the signs to DB Lounge. It's usually open 06:00-22:00 daily, you can check www.bahn.de for opening times. From 15 December 2019, only the most expensive full-price Flexpreis tickets get you into the DB Lounges. Sparpreis & Supersparpreis no longer give you access.
There are plenty of places to eat & drink in Berlin Hbf including all the usual suspects: Burger King, McDonalds, Pizza Hut, Dunkin Donuts. There is a fairly large REWE supermarket on level -1 where you can stock up for the journey. It's one level down from ground level and to the left (if you stand facing the way you walked in), or if you find it easier to visualise, it's on the southwest corner of level -1.
Hotels near the station...

This is the huge pedestrianised square in front of Berlin Hbf, the camera is panned just to the left of the main station entrance. The left-hand building is the Steigenberger Hotel, the pale middle building is the Menninger Hotel. The InterCity Hotel is behind the Steigenberger. All very convenient for the station!
More information...
You can find more station information & a 3D plan of the station at www.bahnhof.de.
Well worth a short walk even when just passing through...
---