| | |
| --- | --- |
| | The Devil's nose, Ecuador. Courtesy Colin Hodgkinson |
Train travel in Mexico, Central & South America
Unlike in Europe, or parts of Asia or Africa, there's no real coherent international rail network, and most journeys must generally be made by long-distance bus or plane.. Indeed, most countries have no coherent national rail network. But here and there you'll find odd rail lines that make an interesting way to travel and are worth knowing about.

Argentina

Bolivia

Brazil

Chile

Colombia

Ecuador

Mexico

Panama

Paraguay

Uruguay
On other pages...
About this page...
This page is still being developed. If you have any information, photos, web links, that would be relevant to travellers (not railway enthusiasts, but regular travellers) in South America, please e-mail me.
---
Europe to South America by sea...
There are no regular passenger ships from the UK or Europe to Central or South America. If you have the time and money, it's possible to cross the Atlantic from Southampton to New York with Cunard, catch an Amtrak train from New York to New Orleans then somewhere like El Paso, followed by buses down through Mexico. See the United States page for more information. Alternatively, some freight ships have a limited number of passenger places, and there may be the occasional cruise especially in spring & autumn when cruise ships relocate across the Atlantic.
For Europe-South America cruises, try www.cruise.co.uk on 0800 408 6200 or www.cruisedirect.co.uk on 0800 093 0622.
For travel by freighter, the best place to start your research is www.freightercruises.com. UK agencies booking travel on cargo ships include www.strandtravelltd.co.uk & www.cruisepeople.co.uk.
---
There are InterCity services on quite a number of routes. Trains in Argentina are experiencing something of a revival, since the government intends to re-establish long-distance passenger trains between all major cities. The network or British & French-owned lines was nationalised in 1948, re-privatised in the 1990s and renationalised again in 2015.
El Tren a las Nubes...
Buenos Aires - Mar Del Plata...
Buenos Aires - Rosario...
Daily service. For times, fares & info see www.sateliteferroviario.com.ar/horarios. Trains leave from Buenos Aires Retiro station, usually shown as just Retiro.

For online booking go to webventas.sofse.gob.ar, in Spanish only.

Tips: For Buenos Aires select Retiro. Camarote = sleeper compartment. Pullman = recliningg seat. Primera = seat. The site may not accept all overseas cards, but reports suggest it may accept some. It may reject passport numbers with letters, if so, leave out the letters.
Buenos Aires - Rosario - Cordoba...
Twice a week, with seats, diner and sleeping-car. For times, fares & info see www.sateliteferroviario.com.ar/horarios. Trains leave from Buenos Aires Retiro station, usually shown as just Retiro.

For online booking go to webventas.sofse.gob.ar, in Spanish only.

Tips: For Buenos Aires select Retiro. Camarote = sleeper compartment. Pullman = recliningg seat. Primera = seat. The site may not accept all overseas cards, but reports suggest it may accept some. It may reject passport numbers with letters, if so, leave out the letters.

Traveller P. Gale reports: "Cordoba railway station is a gem and gives so many memories of northern UK stations. The twice weekly train was full. My berth in the sleeping car was more than adequate as the track is broad gauge and clean with washing facilities, good bed-linen and plenty of baggage space. No English spoken. The track is abysmal and for the seven hundred odd kilometres to BA, the journey took 17.5 hours. The dining car offered excellent meals but curiosity like the only drink on offer was either Coke or Red wine. Prices are still ridiculously cheap. Retiro station is still a gem and looks no different since the 20 odd years, I was last there. Argentineans think people mad to still go by train but one journey is still an experience."

Traveller Ian Hunter reports: "I returned from Cordoba to B.A. by train on a route over which passenger service has recently been restored. The usual awful Argentine track, but another nice train with good service, sleeping and dining cars, quite acceptable seating cars and friendly crew and passengers."
Buenos Aires - Rosario - Tucuman...
Twice a week, with seats, diner and sleeping-car. For times, fares & info (in Spanish only) see www.sateliteferroviario.com.ar/horarios. Trains leave from Buenos Aires Retiro station, usually shown as just Retiro.

For online booking go to webventas.sofse.gob.ar, in Spanish only.

Tips: For Buenos Aires select Retiro. Camarote = sleeper compartment. Pullman = recliningg seat. Primera = seat. The site may not accept all overseas cards, but reports suggest it may accept some. It may reject passport numbers with letters, if so, leave out the letters.
Traveller Nils reports (2019): "Our cabin was $40 USD or so and quite nice. Very basic, but linens, drinking water and plenty of space included. The non-cabin seats looked nice too, although it was nice to have a place to sleep even if the beds were a little hard for our taste. The service was friendly and professional even if a little hands-off. The train itself was comfortable, clean, and safe. The hardest part of the trip was booking online; the cabins book up very quickly and you have to be on your toes to nab one. It's fine if you're in a city with a ticket office, but online in another country was a bit of a struggle; we had 2 credit cards rejected before the third went through. The official response from Trenes de Argentina is that they don't accept foreign cards, but that's not true because the card that did go through was a foreign bank. Side note: Passport numbers with letters in them (some of Europe) will be rejected. No one checked the passport number related to our payment though, so my advice to future travellers would be to enter it accurately on your ticket and just make something up or leave off any letters for the payment."
| | | |
| --- | --- | --- |
| | | |
| Sleeper on the train from Buenos Aires to Tucuman... | | Catering car on the BA to Tucuman train. Photos courtesy of Nils |
Buenos Aires - Bahia Blanca - Carmen de Patagones...
For times & fares see www.sateliteferroviario.com.ar/horarios.

The train leaves B.A. at quite respectable speeds but becomes progressively slower as the track deteriorates! Most of Argentina is very sparsely populated and there is an amazing sense of space and distance, of travelling to places uncontaminated by mass tourism. The different classes of car have similar seats of acceptable quality though often a bit shabby. Plenty of legroom and better than buses, but if you ride in the non air-conditioned cars the main problem is dust. South of Bahia Blanca the track is very rough. There is a reliable supply of coffee, beer and sandwiches for most of the journey.

Important update: As from 17 March 2010, all train service between Bahia Blanca & Carmen de Patagones is cancelled, due to frequent sandstorms damaging the track - Trains may resume at some point, who knows. If you have any more info please email me.
Carmen de Patagones - Viedma - S.C. de Bariloche...
Weekly overnight service, on Fridays from Viedma, Sundays from Bariloche. For times & fares see www.sateliteferroviario.com.ar/horarios

Viedma is across the river by small ferry from Carmen de Patagones, but no same day connection is possible so you need a night in a hotel. The Tren Patagonico from Viedma to C. de Bariloche is tremendous fun and thoroughly recommended! Comfy secure sleeping cars (solo travellers are given a compartment to themselves and a key to lock it), excellent dining car serves steaks and wine, good company and wonderful Patagonian scenery in the morning. Excellent value, and you can buy the tickets in advance in Buenos Aires at Gallerias Rio Negro on Reconquista.

The Tren Patagonico can be booked online at www.plataforma10.com. Select English top right. Book from Terminal de Viedma to San Carlos de Bariloche on a day it runs (Fridays - on other days all you'll see is buses). Select Camarote for a private 1 or 2 berth sleeper compartment.

Onwards into Chile: It is easy to travel by day from Bariloche by bus to Osorno or Puerto Montt in Southern Chile. Passenger trains only operate south of Santiago but the quality, frequency, and speed of Chilean passenger trains is very good. Comparable with Western Europe, in fact most of the rolling stock is imported from Spain, clean, modern, well maintained......and probably the only really good track in South America!

Traveller Ian Hunter says "As in North America, people travel on the long distance trains in Argentina because they like travelling by train and dislike buses or flying. This creates a very convivial atmosphere in which the journey becomes a worthwhile experience for its own sake. It means the trains are busy so buy your ticket a day or two in advance if possible, especially if you want a sleeping car berth. The trains are cheaper than buses, so popular with students and young people. After years of decline, decay and neglect there is a political initiative to restore long distance trains, but progress is slow in rehabilitating track and rolling stock. There are reports that the 'Trans-Andino' line between Mendoza and Santiago de Chile will be operating again by 2010. I f this happens I would love to return to travel on it. The experience of train travel is unique in each country, and somehow manages to capture so much of a nation's character, but buses and planes are the same everywhere!"
Traveller Stephen Hugget reports from 2008: I travelled on the Viedma to Bariloche train 'tren patagonico' in January on a ticket I bought locally, which involved a great deal of pot luck... There is no mechanism for online ticket purchase and any emails to the website result in asking for payment for reservations by Western Union. I resisted the temptation to part with £25 plus an additional £12 for the pleasure of transferring the money and was rewarded by an outstanding 18 hours in economy for £4. The experience was no worse that getting a train into Cannon Street in the rush hour, it just lasted longer! However, your webpage suggests that the above Camen de Patagones to Bahia Blanca line is closed. The tourist office in Viedma where I managed to get my ticket in January 2008 insists you can still get from Buenos Aires to Carmen by train along the line via Bahia Blanca.... although I didn't ultimately use the line the lady in the shop was adamant that it is open.
The Tren Patagonico...

Photos courtesy Malcolm Green

Sleeper...

Restaurant car...
---
Train travel in Bolivia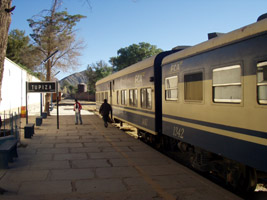 The WaraWara slow train from Tupiza to Oruro. Photo courtesy of 's'
There are a few train services in Bolivia, operated by two train companies, eastern and western.
For the western network see www.fca.com.bo. It's more tourist-orientated, with trains from Oruro to Tupiza. There are two types of train, the expresso and WaraWara (the slower train makes more stops). There are 3 or 4 classes, 'ejecutivo' being the best. It can get very cold in the train, with trips in both directions mainly made at night. The main line from Oruro to Tupiza runs almost daily. See map of Bolivia.

For the eastern network see www.fo.com.bo. The rail hub is Santa Cruz, and trains go east to the Brazilian border and South to the Argentine border. There is a train every day from Santa Cruz east to Puerto Suarez. However, there are a mix of services. There is a normal train that locals take and takes the longest. There is an express train. And there is a fast but expensive ferrobus which is a modern railcar, fare about 150 bolivianos per person. Different services go on different days but there is some sort of service every day. Tickets can only be bought the day of departure at the ticket counter (train & bus stations are located together) which opens at 08:00 but the queue starts to form earlier. The service south to Villamontes has similar service and a complicated schedule and goes almost every day. The train is comfortable and for the eastbound journey pretty much the only way to go overland.

You can find train times to & from Santa Cruz at www.fo.com.bo/SERVICIOS/ Pasajeros/SitePages/TarifasItinerarios.

There is also a ferrocarril - a Mercedes bus on steel wheels - from Sucre to Potosi going three times a week, "whose existence is denied by almost everyone in Sucre" so ask at the station.
---
Train travel in Brazil
Vitoria - Belo Horizonte: Intercity train services operate on one route, from Vitoria to Belo Horizonte (see map). This train is cheaper and more comfortable than a bus. It leaves daily at 07:00 from Vitoria and 07:30 from belo Horizonte, arriving at its destination around 19:30-20:00. The train has two classes, Executivo is the best with AC and aircraft-style seating with a decent amount of legroom, fare R$70 (£25) or Econômica which costs R$46 (£16). There's a restaurant car, although the food does not get good reports. Operated by the most prosperous freight railway in Brazil, the journey is very scenic and it's a pleasant way to spend a day. The most scenic section is towards the Belo Horizonte end of the trip, so you'll see more of this in daylight if you start at the Belo end, travelling in the Belo to Vitoria direction. The train information part of their website is www.vale.com/brasil/pt/business/logistics/railways/trem-passageiros/paginas/default.aspx (the English version appears to omit the train info, so stick with Portuguese and remember that 'preços' is prices and 'horarios' means 'timetables').
| | | |
| --- | --- | --- |
| | | |
| Cafe car on the Vitoria-Belo Horizonte (Minas) train. Photos courtesy of Jorge Degrazia Sarturi | | View from the train... Photo courtesy of Pietro Ferreira. |
Executivo class...

Photo courtesy of Pietro Ferreira.

Economica class...

Photo courtesy of Pietro Ferreira.
Traveller Pietro Ferreira reports: "The Vitoria-Belo Horizonte journey is indeed a wonderful way to spend the day. If you are travelling on weekends, it is highly advisable to buy your ticket two or three days in advance, as they may sell out quickly. Executive-class cars are comfortable and silent, although somewhat cold. Meals are charged separately and can be served at your seat. Drinks trolleys are frequent and are available on both classes. A great way to spend your time is to stand in the smokers area, where large windows are kept open throughout the journey. It is also a nice place to engage in conversation with other travellers."
The other operating train is a steam tourist oriented train but it offers transport in between two important Brazilian tourist towns, Sao Jao del Rei and Tiradentes. The steam train makes a nice alternative to the bus. The trip takes an hour and is about 20km. It runs daily leaving Sao Jao del Rei at 10:00 and returning in the afternoon. The train ticket gives free entry to the train museum at the station in Sao Jao del Rei. Internet info: www.antt.gov.br/destaques/anexos/TremDelreiTiradentes.htm.
There is now no train service at all between Rio de Janeiro and Sao Paulo. There's a list of all Brazilian train services (regular and tourist-orientated) at www.antt.gov.br/destaques/TrensDePassageiros.asp.
---
Train travel in Chile
The Chilean state railways official website is www.efe.cl, although for passengers trains use www.trencentral.cl.
Several Terrasur trains per day link Santiago's Alamada station with Curico, Talca, Linares and Chillan on the electrified main line. The trains are air-conditioned, standard class & preferente class with a refreshment car. Three of these trains have a bus connection from Chillan to Concepcion.

Sadly, the rest of Chile's main line south from Chillan towards Temuco and Puerto Montt is currently not working, though there are plans afoot to restore service in the future. There are odd trains on a few other routes, such as Valparaiso to Limache (which crazily no longer goes on to Santiago). See map of Chile. If you have any feedback, please email me.
Traveller Douglas Clark reports (2014): "I took the Terrasur train from Santiago (confusingly, listed as Alameda on the online booking system). This is an excellent service with two classes - standard and Preferente. The train consists of a three-car electric unit with one carriage of Preferente stock in a 2+1 seating format. There is then a standard carriage that features a cafeteria and then another open standard 2+2 carriage. There are two services a day to Chillan, one leaving at 0840hrs and the other at 1830hrs. The Preferente seating is extremely comfortable with wide, well-upholstered seats that recline fully. There is an at-seat service of refreshments in Preferente (for which you pay the normal cafeteria prices).
I tried to book my tickets to Talca and return online but the site rejected my credit card. In the event, I was glad I had to go to the booking office at Alameda station on the morning I was intending to travel. The cost of a return ticket online was 44,000 CLP (about£46) whereas at the station I was able to buy Promo fares that reduced the return ticket price to 19,000 CLP.
I stayed overnight in Talca so that I could catch the 0730hrs train the next morning to Constitucion. I got to the station a little before 0700hrs and just as well that I did as there were few tickets still available to non-residents at that time. Residents get priority on the train and you can only buy tickets in the couple of hours before the train departs. The train was full to capacity when it left Talca and we picked up lots of passengers en route. I travelled on a Sunday morning and after leaving the station at Gonzalez Bastia we picked up people at lineside halts most of the way to Constitucion - local farmers who were bringing produce to the Sunday market in Constitucion. Long before we arrived at our destination the train was overflowing with people standing in every available space and with baskets full of tomatoes and other vegetables.
I had intended to take the train back to Talca. I turned up at the station in Constitucion at about 1430hrs, two hours before the train was due to leave, only to find a notice on the door of the closed station to say that were no spaces available to Talca on the train that afternoon. Fortunately, the bus station is right by the railway station and there are several bus companies offering services to Talca. I was able to get a space on the 1515hrs PullmanSur bus to Talca for about the same price as the train and was transported by air-conditioned bus (in contrast to the rickety Buscarril) in a little under two hours (the train takes 3.5hrs). However, the Buscarril is an experience as the last branch line in Chile. The train trundles through a part of Chile that you would not otherwise see - along the Maule River valley - where there are no proper roads. For the sparsely-scattered communities along much of the line, the train is the only transport link that they have.
I am so glad I managed to travel by train in Chile. It is such a pity that the rail network has been allowed to decay as it has: the coaches that ply frequently between the towns and cities provide an excellent service but there is no comparison with the Preferente class on the train. Unfortunately, the train is much slower than the coaches as the Chileans have invested heavily in the road system, whereas the rail network has been allowed to decline. There are signs of a revival, at least in the suburbs south of Santiago, where new track is being laid and new stations built for what I assume is to be a new fast suburban rail service by MetroTren. I think this should also allow the acceleration of the Terrasur service to Chillan, as many level crossings are being closed with overbridges and underpasses replacing them. Who knows how much longer the Buscarril service will operate? There were rumours when I was in Chile that the government is considering withdrawing the subsidy that allows the Buscarill to operate. That would be a pity - the line is not really marketed as a tourist attraction but it could become a well-used one. I would estimate that about 75% of the passengers from Talca were tourists, almost exclusively Chileans."
---
There are few working railways in Colombia, after the State rail operator went bankrupt a few years ago. However, a useful tourist train links Bogota with Zipaquira, where the salt cathedral is not to be missed. The train makes a daily round trip at 08:30 from La Sabana station in Bogota, with time in Zipaquira and Cajica. For times, fares & online booking see www.turistren.com.co.
Traveller Sebastien Ferenczi reports: "It's a touristic train, but aimed at tourists, not railway buffs, as it's the best way to visit the tourist attractions of Zipaquira, famous for its salt cathedral listed as "not to be missed" by Lonely Planet, which is how I found the existence of the train. All information is on their website www.turistren.com.co. I used the train in June 2013. With only a short week-end in Bogota, I tried the online booking but they refused my credit card. So on saturday afternoon I rushed to La Sabana station where I grabbed one of the last seats, not on the steam train which was already full, but on the Autoferro they put as a relief train (technically, a two-car dmu pulling two more cars, quite comfortable). Touristically, this was even better as it left Bogota later (9.15) and left more time in Zipaquira. The train was full of local families, the trip was pleasant and Zipaquira is a very nice place, otherwise reachable only by crowded local buses or expensive taxis.
In Bogota, La Sabana station is close to the district of La Candelaria where all tourists stay, and served by the Transmillenio express bus network; a stop is also made at Usaquen to serve the "beaux quartiers" of Bogota."
---
The famous 446 km Guayaquil to Quito railway was completed in 1908, and was described even then as 'The most difficult railway in the world' in terms of the Andean landscape through which it passes. The line rises from around sea level at Duran (across the river from Guayaquil) to over 2,500 metres above sea level at Quito, with parts of the line above 3,000 metres. Landslides blocked the line in the 1990s, and at present the line is no longer operational from end to end. However, parts of this route are open with occasional train services designed for tourists. In summer 2013 it's reported that the whole line has finally been reopened and a 4-day 3-night cruise train has started operation end-to-end, see below. If you have any feedback, please email me.
Update: Ferrocarril Ecuador went bust in October 2020. Money is being raised to resume operations in 2023.
Train times, routes, prices: See www.ferrocarrilesdelecuador.gob.ec .
The route: The main line runs Quito (0km) - Machachi (45km) - El Boliche - Latacunga (110km) - Ambato (149 km) - Riobamba (223 km) - Palmira (298 km) - Alausi (321 km) - (Devil's Nose) - Sibambe (334 km) - Yaguachi - Duran (446 km, just across the Guayas River from Guayaquil).
The trains: Until the whole line reopens, operational sections in 2013 include:
The Machachi Festivo from Quito to Machachi & Latacunga (110 km), leaving Quito at 08:15 on Thursdays, Fridays, Saturdays, Sundays with same-day return; Fare US$11 return.

The Camino Al Boliche from Quito to Boliche, also leaving Quito at 08:15 on Thursdays, Fridays, Saturdays, Sundays & holidays, changing at Machachi for Boliche. Fare US$15 return.

The Surcos Andinos from Riobamba to Palmira at 06:30 every day (the next section of line on to Alausi is under reconstruction and may open in 2011 or 2012)

The Sendero de Arrozales from Duran (= Guayaquil) to Yaguachi at 09:00 & 13:15 on Thursdays, Fridays, Saturdays, Sundays & holidays.

The Tren de la Libertad from Ibarra to Salinas at 08:30 on Fridays, Saturdays & Sundays (this is a separate line, not part of the Quito-Guayaquil route);

There are also now 3 daily tourist trains from Alausi over the famous Devil's Nose switchbacks and back to Alausi. Trains over the Devil's Nose leave Alausi at 08:00, 11:00 and 15:00 every day. They take an hour to travel over the Devil's Nose (including 15 minute photo stop), there's a 1 hour stop for a picnic, then 45 minutes back to Alausi. Fare US$20. See the photos below. Until the Palmira-Alausi section of line is restored, you'll need to reach Alausi by bus (2 hours from Riobamba).
New Guayaquil to Quito cruise train: In June 2013, Ecuador Tren starting a cruise train operation, see http://trenecuador.com (click EN for English and select Tren Curcero). Quito to Guayaquil or vice versa takes 4 days, 3 nights and costs around $1,270 per person.
For background information on the amazing Quito-Guayaquil railways, see http://en.wikipedia.org/wiki/Empresa de Ferrocarriles Ecuatorianos. For a route map, see http://railroadinthesky.com.
The 08:00 and 11:00 tourist trains from Alausi over the famous 'Devil's Nose' consist of wooden carriages hauled by a locomotive (pictured above left). The 15:00 train may also be like this, but if there aren't enough passengers it may be an 'autoferra', pictured above right. Photos courtesy of Colin Hodgkinson.
Going over the Devil's Nose on the tourist train in Ecuador. Photos courtesy of Colin Hodgkinson.
Above left, the train stops at a Devil's Nose viewpoint. Above right, Sibambe station. Photos courtesy of Matthew Perret.
---
Train travel in Mexico
Mexico used to have a good train service linking all major cities, using restaurant cars, sleeping-cars and observation cars, many inherited from the USA. Sadly, the Mexican government pulled the plug on almost all long-distance passenger train service some years ago, and buses and planes are now the only way to get around Mexico. A couple of very minor service exist in certain areas, including the famous scenic 'Copper Canyon' service. For a summary of remaining Mexican train services see www.mexlist.com/pass.htm.
Mexico's Copper Canyon Train from Chihuahua to Los Mochis
The famous Copper Canyon train from Los Mochis to Chihuahua deserves a special mention. In fact, there are two trains, the tourist-orientated Chepe Express 3 times a week between Creel & Los Mochis with Executive & Tourist class, and the Chepe Regional all the way between Chihuahua, Creel & Los Mochis 3 times per week with Regional Tourist & Economy class. For times and prices see chepe.mx. There's no online booking, but their website gives phone numbers and email addresses. You should book several months ahead in high season (July-August, Christmas, Easter).
Above: An armed guard on the Copper Canyon train... Photo courtesy of Graham Norman

Copper Canyon: Superb scenery on Mexico's Copper Canyon train.

Photos courtesy of Graham Norman.
Traveller Martina Donkers reports: "I travelled the Copper Canyon Train (called El Chepe locally) in June 2016. It was a fabulous experience. The train station in Los Mochis is easy to reach by taxi, and was fairly uncrowded at 5am. I bought my ticket at the window. It's only possible to buy tickets in Los Mochis, Creel or Chihuahua, but you can stop at any of the villages in between, and if you book your stops in when you purchase the ticket it doesn't cost extra. I booked myself to Bahuachivo with an onward journey to Creel 3 days later for 1600 MX. The train left on time, and the seats were quite comfortable - thy use old first class carriages on the economy trains. The scenery was excellent, as promised. The windows don't open but you can stand between the cars where things are open and get closer to the view. I alternated this with being back in my air-conditioned seat every so often - it was hot! Seeing the train zig-zag and loop back on itself to gain altitude was really, really cool. The dining carriage served ok food. At Bahuachivo station, you're met by a group of hotel operators. There's a bus that goes from Bahuachivo to Urique at the bottom of the canyon - it's well worth it, but you have to wait for the last train of the day to arrive, which might be delayed as it was the day I did the journey. I grabbed a lift to Cerocahui with one of the hotel operators and had a look around the village while I waited. The bus to Urique is a hectic 39km 3 hour ride on an old yellow school bus straight down the sheer side of the canyon!! It's incredible, though not exactly comfortable. Getting back on the train 3 days later was simple - I had my ticket already, and just jumped on. The train stops for 20 minutes at Divisadero - use the time wisely! It's the best view on the whole trip, and the vendors there sell the best gorditas in all of Mexico! You'll want to divide time between the view and the food, and maybe the handicraft stalls too. Be careful not to miss the train - a blast of the horn is your cue to get straight back on. Twenty minutes goes fast!! Technically hot food isn't allowed, but they waved me on with my gordita in hand. At Creel station you get bombarded by touts and it's a bit intense. The station is right in the middle of town just off the plaza, so it's not too hard to get your bearings once you've made it through the crowd. After Creel, the road follows the train line, and arrives into Chihuahua after dark, and unfortunately it's one of those cities where you really don't want to be in the streets once the sun is down - it's amazing how quickly the streets empty!"
Traveller Graham Norman reports: "We took Amtrak's Sunset Limited from Houston to Tucson and then a bus down to Los Mochis. Although the Copper Canyon train starts there, we took a taxi to the next stop at El Fuerte and stayed the night. We joined the Primera Express at El Fuerte at about 9am and travelled to Bahuichivo, where we spent a night at a lodge on the Canyon's rim. We picked up the train the following day at 1pm and travelled to Creel where we spent two nights (there's plenty to see). We took the last stage of the train from Creel, at 4pm, arriving in Chihuahua around 9pm. Many people use the bus from Creel as it's quicker and the scenery from the train not so spectacular. We took a bus back to the US border at El Paso and travelled on the Amtrak train back to Houston. I used a local agency called 3 Amigos (www.amigos3.com) to book the train for us (although there are other agencies), but we paid for the tickets on board. They also booked the Copper Canyon hotels for us and the taxi from Los Mochis to El Fuerte. I booked the Amtrak (www.amtrak.com), hotels in the US and Chihuahua on the internet. The Copper Canyon train was a very memorable experience and the scenery was spectacular. Although most passengers on the Primera Express train were tourists, it doesn't feel like a tourist train and I assume the other daily train, the Clase Economica, is more for local people. There were armed guards on the train and in Creel but we never felt threatened at any stage.
Further feedback would be very welcome!
---
Train travel in Panama
The Panama Canal Railway provides one daily train between Ciudad Panama and Colon on Mondays-Fridays. It leaves Ciudad de Panama at 07:15 on Mondays-Fridays only, arriving Colon at 08:15. It leaves Colon Mondays-Fridays only at 17:15 arriving back in Panama City at 18:15. It has air-conditioned Executive class coaches with refreshments available. The new station for Panama City is in the northern suburb of Allbrook, not far from the domestic airport - the old station in Panama City is now a MacDonald's! The distance is 77 km (48 miles). See www.panarail.com for info.
---
There are no passenger trains in Paraguay, other than a tourist steam train on Sundays from Asunción botanical gardens station.
---
Train travel in Peru
---
Train travel in Uruguay
Train service was restored on the line between Tacuarembó and the Brazilian border at Rivera in 2019. The train is operated once a day by AFE, for times and fares see www.afe.com.uy. It's roughly 110 km, journey time around 2h10.

There is also a limited suburban service in Montevideo.
---
---
Recommended guidebooks


To get the most out of your trip to South America, you'll need a decent guidebook. For the serious independent traveller this means either the Lonely Planet or the Rough Guide. Both guides have everything you need - plenty of background historical and cultural information, plus practical information.
Buy Rough Guide to South America online at Amazon.co.uk
---
Other hotel sites worth trying...
www.tripadvisor.com is the place to find independent travellers' reviews of all the main hotels.

www.booking.com is my own preferred hotel booking system (Hotels Combined being a search/comparison system). It has a simple interface, a good selection in most countries worldwide, useful online customer reviews of each hotel, and decent prices, usually shown inclusive of unavoidable extras such as taxes (a pet hate of mine is systems that show one price, then charge you another!).
Backpacker hostels...
www.hostelworld.com: If you're on a tight budget, don't forget about backpacker hostels. Hostelworld offers online booking of cheap private rooms or dorm beds in backpacker hostels in most cities at rock-bottom prices.
---
Flights to South America
Overland travel by train & bus around South America is an essential part of the experience, so once there, don't cheat and fly, stay on the ground! But a long-haul flight might be unavoidable to reach SA in the first place. For flights to South America, start with Skyscanner.

---
Travel insurance
Always take out travel insurance...
Never travel overseas without travel insurance from a reliable insurer, with at least £1m or preferably £5m medical cover. It should also cover cancellation and loss of cash and belongings, up to a sensible limit. An annual multi-trip policy is usually cheaper than several single-trip policies even for just 2 or 3 trips a year, I have an annual policy myself. Here are some suggested insurers. Seat61 gets a small commission if you buy through these links.

In the UK, reliable insurers include Columbus Direct.

If you have a pre-existing medical condition or are over 65, see www.JustTravelCover.com - 10% discount with code seat61.

You can use Confused.com to compare prices & policies from many different insurers.

If you live in the USA try Travel Guard USA.
A Curve card saves on foreign transaction fees...
Most banks give you a poor exchange rate, then charge you a currency conversion fee. A Curve MasterCard means no foreign transaction fees and gives you the mid-market exchange rate, at least up to a certain limit, £500 per month at time of writing. The balance goes straight onto one of your existing debit or credit cards.
How it works: 1. Download the app for iPhone or Android. 2. Enter your details & they'll send you a Curve MasterCard - they send to most European addresses including the UK. 3. Link your existing credit & debit cards to the app. 4. Now use the Curve MasterCard to buy things online or in person or take cash from ATMs, just like a normal MasterCard. Curve does the currency conversion and puts the balance onto whichever of your debit or credit cards you choose. You can even change your mind about which card it goes onto, within 14 days of the transaction.
I have a Curve Blue card myself - I get some commission if you sign up to Curve, but I'm recommending it here because it's great. See details, download the app and get a Curve card - they'll give you £5 cashback through that link, too.
| | |
| --- | --- |
| | |
When you're travelling you often use free WiFi in public places which may not be secure. A VPN means your connection to the internet is encrypted & always secure, even using unsecured WiFi. In countries such as China where access to Twitter & Facebook is restricted, a VPN gets around these restrictions. And lastly, you can select the geographic location of the IP address you browse with, to get around geographic restrictions which some websites apply - for example one booking site charges a booking fee to non-European visitors but none to European visitors, so if you're not located in Europe you can avoid this fee by browsing with a UK IP address using a VPN. VPNs & why you need one explained. ExpressVPN is a best buy and I use it myself - I've signed up as an ExpressVPN affiliate, and if you go with expressvpn.com using the links on this page, you should see a special deal, 3 months free with an annual subscription, and I get a small commission to help support this site.
---