| | |
| --- | --- |
| | |
| | The Bratislava skyline, with castle and cathedral... |
UK to Slovakia in comfort by train...
How else? It's no problem to reach Bratislava by train from the UK. Take Eurostar & a connecting Thalys train to Cologne, then the overnight sleeper to Vienna and an onward train to Bratislava. This page explains how to plan, book & make such a trip.
Train times, fares & information
...

London to Bratislava via Cologne-Vienna sleeper - most time-effective

London to Bratislava via Brussels & Prague - cheapest option

London to Bratislava by train, other options

Vienna to Bratislava by Danube river boat

Trains to Bratislava from other European cities

Trains from Bratislava to other European cities

Useful country information - currency, dial code, etc

Recommended guidebooks

Hotels & accommodation in Slovakia

General European train travel information

Luggage Taking bikes Taking dogs
Route map: London to Bratislava by train...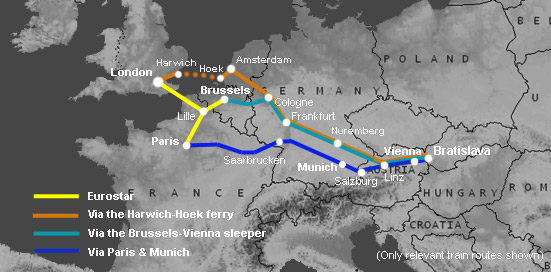 ---
---
Option 1, London to Bratislava via the Cologne-Vienna sleeper...
This option runs daily all year round, and it's arguably the most time-effective option. If you'd prefer daytime trains with an overnight hotel stop, see the Other options section below.
London ► Bratislava
Travel from London to Brussels by Eurostar, leaving London St Pancras at 12:58 and arriving in Brussels Midi at 16:08.

Travel from Brussels to Cologne by high-speed Thalys train, leaving Brussels Midi at 17:25 and arriving in Cologne Hbf at 19:15.

Travel from Cologne to Vienna by daily Nightjet sleeper train, leaving Cologne Hbf at 21:21 and arriving in Vienna Hbf at 08:27.

The Austrian Railways Nightjet train has sleeping-cars (1, 2 & 3 berth compartments, plus three 1, 2 or 3 berth deluxe sleepers with shower & toilet), 4 & 6-berth couchettes and seats. The sleeper & couchette fares include a light breakfast with tea or coffee in the morning. The train travels along the famous Rhine Valley between Koblenz and Frankfurt, so if you're in a compartment on the left-hand side of the train, switch off the lights and watch the Rhine pass by, mountains and castles lit by moonlight, while sipping a glass of Riesling. Wonderful! More pictures & information about Nightjet trains.
Hourly regional trains then link Vienna Hbf with Bratislava Hlavna (main station), taking 1 hour 6 minutes There's one leaving Vienna Hbf at 09:16 arriving in Bratislava Hlavna at 10:22. You'll also find hourly trains on the hour to Bratislava Petrzalka, but this is not as convenient for the city centre as Bratislava Hlavna. No reservation is necessary or possible on these trains, just turn up, buy a ticket and hop on. There are almost always plenty of seats and they cannot sell out.

Alternatively, you can also travel from Vienna to Bratislava by fast boat along the scenic Danube, once a day in winter, up to 5 times a day in summer, see below for more details.
Bratislava ► London
Cologne to Vienna by Austrian Railways Nightjet sleeper train...
The sleeping-car has compact 1, 2 & 3 bed compartments with washbasin, it also has three deluxe compartments with 1, 2 or 3 beds and private shower & toilet. The sleeper berths come fully made up with sheets and duvets, and all sleeper passengers get mineral water in the evening and a light breakfast served in their compartment next morning. Towels & toiletries are provided, including shampoo and shower gel in the deluxe sleepers. There's a shower for regular sleeper passengers at the end of the corridor. In the more economical couchettes, you can book a couchette in a cheaper 6-berth compartment or a less-crowded 4-berth compartment. Each couchette is provided with sheet, blanket and pillow, and couchette passengers get a small bottle of mineral water and a light breakfast in the morning with tea or coffee. When waiting for the northbound sleeper train at Vienna Hauptbahnhof, if you have a sleeper ticket (as opposed to couchette or seat ticket), you can use the first class ΦBB Club Lounge, with complimentary drinks. More pictures & information about Nightjet trains.
| | | | | |
| --- | --- | --- | --- | --- |
| | | | | |
| 2-berth regular sleeper with washstand... | | The toilet & shower in a deluxe sleeper... | | A Comfortline sleeping-car, as now used on the Austrian Nightjet train from Vienna to Cologne. More information about Nightjets. |
| | | | | |
| --- | --- | --- | --- | --- |
| | | | | |
| Austrian couchette car or liegewagen... | | 6-berth couchettes... | | 4-berth couchettes... |
From Vienna to Bratislava by Regional Express train...

The hourly regional express train from Vienna to Bratislava Hlavna, seen about to leave from Vienna's new Hauptbahnhof. Behind the locomotive is a smart Slovakian air-conditioned intercity coach, whilst the rest of the train consists of more basic non-air-con Austrian City Shuttle carriages, with interiors as shown in the photo above right. Find a seat in the more comfortable Slovakian car if you can!
How much does it cost?
1. London to Cologne

by Eurostar + Thalys

Fares for Eurostar+ICE start at €59.90 each way.

Fares for Eurostar+Thalys start at £56 one-way or £103 return

Fares vary like air fares, so book in advance to get the cheapest prices.

2. Cologne to Vienna

by Nightjet sleeper train

one-way per person per bed...

In a seat

In a couchette

In the sleeping-car

6-berth

4-berth

2-berth

1-berth

3-berth

+ shower

2-berth

+ shower

1-berth

+ shower

Fares start at...

€39

€59

€69

€99

€139

€89

€129

€169

3. Vienna to Bratislava

by regional train...

€10.50 each way in 2nd class.
On the sleeper train, berths are sold individually, so one ticket means one bed, the other beds in your compartment will be sold to other passengers. For sole occupancy, simply book 1 ticket in a 1-berth sleeper, 2 tickets in a 2-berth sleeper, 4 tickets in a 4-berth couchette & so on.
How to buy tickets online...
Anyone from any country can book a London-Bratislava journey in either direction using the Belgian Railways website www.b-europe.com plus either the German Railways site www.bahn.de or www.trainline.eu. Bookings open 92 days before departure, you can't book before reservations open. As this method involves two websites, do a dry run on both sites to check prices and availability before booking for real. Before starting to book, I recommend noting down each specific train you want to book using the train times recommended above, and the date of departure.
Step 1, book your London-Cologne ticket: Go to the Belgian Railways international website www.b-europe.com and book a ticket from London to Cologne and back using the train times on this page as a guide. You print off your own tickets. www.b-europe.com can book both Eurostar+Thalys and Eurostar+ICE, and their booking system handles this two-leg journey well, usually seeming to find the cheapest prices. Make sure you allow plenty of time for the connection in Cologne, preferably at least an hour when connecting with a sleeper train. It's obvious, but remember that your return departure date from Cologne will be the day after your departure date from Vienna! By all means take an earlier train from London to Cologne, or a later train returning from Cologne to London, if this has cheaper fares available or if you'd like to spend some time in Cologne.

Tip: If you don't mind leaving London earlier and spending some time in Cologne, you can sometimes find cheaper tickets London to Cologne at the German Railways website. They offer Sparpreis London fares from London to Cologne from just €59 each way. However, you'll only find these fares on journeys which involve the two or three German ICE trains between Brussels & Cologne, not on those involving Thalys. In the outward direction that means leaving London much earlier (08:58 or 10:58) and spending some time in Cologne. Try for cheap tickets using these links (I recommend booking a round trip as two one-ways, it's easier): Departing London at 08:58 Sundays or departing London at 10:58 Mondays-Saturdays.
Step 2, book your Cologne-Vienna ticket: Go to the German Railways website, www.bahn.de, and use the journey planner to book from Cologne to Vienna, looking for the direct N J (Nightjet) train with 0 changes. You print out your own ticket. I recommend registering on bahn.de when prompted, so you can log in later and re-print any tickets at any time from any PC. I recommend also checking prices at www.trainline.eu as this links to the Austrian Railways system and is sometimes cheaper for the same train.

Step 3, you can buy a Vienna-Bratislava ticket at the station in Vienna, it cannot sell out and no reservation is necessary. Or you can buy it online at www.trainline.eu if you like. You print your own ticket, a Vienna-Bratislava ticket is good for any train that day.
How to buy tickets by phone...
You can book the Eurostar, Thalys and Nightjet train by phone with a number of UK agencies, including Deutsche Bahn's UK office on 08718 80 80 66 (lines open 09:00-20:00 Mon-Fri, 09:00-13:00 Sat & Sun, no booking fee, 2% credit card charge). Click here for a list of agencies and more information on how to book.
Have your trip professionally arranged...
Custom-made travel arrangements: A hassle-free option is to get a train tour specialist such as Railbookers to arrange your whole trip, with train tickets, hotels and transfers all sorted with one phone call. As you're then in effect booking a package, they'll take care of you if there's a strike or major delay, for example. Just tell them when and where you want to go, and they'll create the best rail-based tour or holiday for you.

US call free 1-888-829-4775, see website.

Canada call free 1-855-882-2910, see website.

Australia call toll-free 1300 971 526, see website.

New Zealand call toll-free 0800 000 554 or see website.

Escorted tours: If you'd like to travel with a convivial group of travellers escorted by a professional tour guide, the operators to check are Great Rail Journeys (www.greatrail.com, in the UK call 01904 527 120) and Rail Discoveries, www.raildiscoveries.com, 01904 730 727. Both have various escorted tours from the UK to Bratislava by train, with departures on a variety of dates.
---
OK, so this isn't the fastest route or the simplest route with fewest changes. But it's the cheapest, thanks to an unbelievably cheap €21 Brussels-Prague fare offered by Czech Railways, added to a cheap €15 fare from Prague to Bratislava also bought from Czech Railways. There is nothing second-rate about the quality of the trains, see the photos below.
London ► Bratislava
Bratislava ► London
Day 1, travel from Bratislava to Prague on any EuroCity train you like, see the timetable here. Book this train from €15 at Czech Railways www.cd.cz and print your own ticket.

Stay overnight in Prague. Hotels with good reviews next to the station include the Esplanade Hotel (good choice, I've stayed there myself), Falkensteiner Hotel Maria, Chopin Hotel.

In fact, if you took the 06:10 from Bratislava Hlavna arriivng Prague Hlavni at 10:07, it's possible to make a same-day connection with the 10:45 to Brussels, so you can do the whole trip to Brussels in a day without an overnight stay in Prague. But there's no much room for delay, so only do this if you're prepared to take a chance. You'd make that connection perhaps 98% of the time.
Day 2, travel from Prague to Brussels by train from just €21. Choose one of these departures...

Prague Hlavni depart 06:45, change Cheb, Nuremberg & Frankfurt arriving Brussels Midi at 17:35.

Prague Hlavni depart 10:45, change Cheb, Nuremberg & Frankfurt arriving Brussels Midi at 21:35.

There's nothing cut-rate about the trains: You travel on a swish air-conditioned regional express train from Prague to Cheb and from Cheb to Nuremberg, then by top-quality high-speed ICE train from Nuremberg to Frankfurt and Frankfurt to Brussels, complete with bistro-restaurant cars and beer on tap.
How much does it cost?
London to Brussels by Eurostar starts at £44 one-way or £58 return in 2nd class, £112 one-way or £168 return in 1st class. Book well in advance for the cheapest prices.

Brussels to Prague starts at just €21 each way if you book as shown below at the Czech Railways site. You can often find this price even a week ahead. Or go 1st class from around €40.

Prague to Bratislava starts at €15 each way in 2nd class or €25 in 1st class.
How to buy tickets...
Step 1, buy a Eurostar ticket from London to Brussels at www.eurostar.com. You print your own ticket.

Step 2, now use the Czech Railways website www.cd.cz to book from Brussel to Prague, but (and this is the important bit) you must click More options then click Travel via and put Cheb in the via box. Look for journeys with 3 changes with a cheap price of around 560 CZK. You print your own ticket. See my tips for using cd.cz.

Step 3, now use the Czech Railways website www.cd.cz again to book from Prague to Bratislava.

Incredible, Brussels to Prague for only 546 Czech Koruna (€21) even booking as little as a week or so ahead. Remember you must enter Cheb in the via box!
| | | |
| --- | --- | --- |
| | | |
| A Eurostar e300 about to leave St Pancras... | | 1st class (Standard Premier or Business Premier) |
| | | |
| --- | --- | --- |
| | | |
| ICE3 from Brussels to Frankfurt, seen at Frankfurt... | | ICE3 2nd class seats... |
| | | |
| --- | --- | --- |
| | | |
| ICE3 1st class, with leather seats & power sockets... | | Lunch in an ICE3 bistro car... |

The easy & relaxed interchange at Cheb station... The red train on the left is the German regional train just arrived from Nuremberg. You cross to the blue Czech train on the right about to leave for Prague. Photo courtesy of Lennart Verbraeken.
| | | |
| --- | --- | --- |
| | | |
| Scenery between Nuremberg & Cheb. Courtesy of Arnaud Loneux. | | Hills & forest between Cheb & Prague. Courtesy of Arnaud Loneux. |
---
London to Bratislava via Berlin...
London to Bratislava via Vienna...
It's possible to travel from London to Bratislava in a single day by high-speed train, at least on Mondays-Saturdays in the outward direction. It's an early start as you'll need to leave London on the 06:47 Eurostar on Mondays-Fridays or the 06:57 on Saturdays.

Step 1, travel from London to Vienna as shown on the London to Austria page. Buy tickets as as shown on the London to Austria page.

Step 2, travel from Vienna Hbf to Bratislava Hlavna on the 22:16 regional train arriving 23:22, the last one of the day. Buy a ticket for this at the station or online at either www.trainline.eu, no reservation necessary or possible.

In the inward direction, although you can go Vienna to London in a single day, it requires an early start so you'd have to stay overnight in Vienna, there's no connection from Bratislava to Vienna early enough.
---
Along the Danube by boat...
As well as the hourly Vienna-Bratislava train service for around €14.40, you can also travel between Vienna and Bratislava by fast Twin City Liner river boat, from city centre to city centre along the scenic Danube.
Operates all year, once a day each way per day in winter, multiple departures from March to October with up to 5 sailings a day in peak season.

Journey time 70-80 minutes, travelling at up to 32 knots (60 km/h).

Fare around €29

Only hand luggage is carried - no larger bags, backpacks or suitcases.

For times, fares and online booking, see www.twincityliner.com.

Another company also offers Vienna-Bratislava trips by hydrofoil, from €18, see www.lod.sk.
Traveller Andrew Clayton reports: "We chose the Danube fast ferry option rather than the train and paid €30 each one-way for unreserved seats on a weekday midday Vienna-Bratislava sailing with TwinCity Liner. We bought the tickets in person the day before travelling at the booking office at the quayside at Schwedenplatz. It's a leisurely 10 minute walk with wheelie bag from Stephansplatz. Only the front five rows in the main cabin can be reserved. Seats upstairs outside are only bookable on the day and if the weather is fine. It's worth remembering that the boat travels at up to 70km/h so it can get a bit breezy on the upper deck! There is generous space to stow luggage at the rear of the main cabin on the starboard side. On the first part of the trip on the Danube canal, you must remain seated. Once on the Danube itself, you can walk about freely, either to the bar or to the stern deck and upper stern deck. On our trip, almost all seats were taken at the start but for most of the voyage, the main cabin was nearly empty. The scenery along the way is pleasant rather than spectacular. At Bratislava, the boat docks about five minutes walk from the southern edge of the old town; nearer to many of the amenities than the railway station which is some way to the north."
The Twin City Liner fast boat speeds between Vienna and Bratislava along the scenic Danube river. Photo courtesy of Andy Brabin of www.discoverbyrail.com.
---



You should take a good guidebook. I think that the Lonely Planets and the Rough Guides are about the best out there for the independent traveller. Both guides have everything you need - plenty of background historical and cultural information, and lots of practical information. You won't regret buying one of these guides..!
Click the images to buy at Amazon...
---
European Rail Timetable & maps




The European Rail Timetable (formerly the Thomas Cook European Timetable) has train & ferry times for every country in Europe plus currency & climate information. It is essential for regular European train travellers and an inspiration for armchair travellers. Published since 1873, it had just celebrated 140 years of publication when Thomas Cook decided to pull the plug on their entire publishing department, but the dedicated ex-Thomas Cook team set up a private venture and resumed publication of the famous European Rail Timetable in March 2014. You can buy it online with worldwide shipping at either www.stanfords.co.uk or www.europeanrailtimetable.eu. More information on what the European Rail Timetable contains.
A Traveller's Railway Map of Europe covers the whole of Europe from Portugal in the west to Moscow & Istanbul in the east, Finland in the north to Sicily & Athens in the south. On the back are detailed maps of Switzerland, Benelux & Germany, plus city plans showing stations in major cities. Scenic & high-speed routes highlighted. Buy it online for £14.50 + postage worldwide (UK addresses £2.80) at www.stanfords.co.uk/Continents/Europe-A-Travellers-Railway-Map_9789077899090.htm or (in the Netherlands) for €13 + €5.50 postage from www.treinreiswinkel.nl.
---
Other hotel sites worth trying...
www.tripadvisor.com is the place to find independent travellers' reviews of all the main hotels.

www.booking.com is my own preferred hotel booking system (Hotels Combined being a search/comparison system). It has a simple interface, a good selection in most countries worldwide, useful online customer reviews of each hotel, and decent prices, usually shown inclusive of unavoidable extras such as taxes (a pet hate of mine is systems that show one price, then charge you another!).
Backpacker hostels...
www.hostelworld.com: If you're on a tight budget, don't forget about backpacker hostels. Hostelworld offers online booking of cheap private rooms or dorm beds in backpacker hostels in most cities at rock-bottom prices.
---
Travel insurance & health card
Take out decent travel insurance, it's essential...
Never travel without proper travel insurance from a reliable insurer with at least £1m or preferably £5m medical cover. It should also cover loss of cash & belongings (up to a limit), and trip cancellation. An annual multi-trip policy is usually cheapest even for just 2 or 3 trips a year - I have an annual policy myself. However, don't expect travel insurance to bail you out of every missed connection, see the advice on missed connections here. Here are some suggested insurers, Seat61 gets a little commission if you buy through these links, and feedback from using insurance for rail & ferry travel is always welcome.

In the UK, use www.confused.com to compare prices & policy features across major insurance companies.

If you have a pre-existing medical condition or are over 65, see www.JustTravelCover.com - 10% discount with code seat61.



If you live in Australia, New Zealand, Ireland or the EU, try Columbus Direct's other websites.

If you live in the USA try Travel Guard USA.
Get an EU health card, it's free...
If you're a UK citizen travelling in Europe, you should apply for a free European Health Insurance Card, which entitles you to free or reduced rate health care if you become ill or get injured in many European countries, under a reciprocal arrangement with the NHS. This replaced the old E111 forms as from January 2006. The EHIC card is available from ww.nhs.uk. It doesn't remove the need for travel insurance, though.
Carry a spare credit card, designed for travel with no currency exchange loading & low/no ATM fees
Taking out an extra credit card costs nothing, but if you keep it in a different part of your luggage you won't be left stranded if your wallet gets stolen. In addition, some credit cards are better for overseas travel than others. Martin Lewis's www.moneysavingexpert.com/travel/cheap-travel-money explains which UK credit cards have the lowest currency exchange commission loadings when you buy something overseas, and the lowest cash withdrawal fees when you use an ATM abroad.
---
Back to 'Rail travel to Europe' general page