Vienna Hauptbahnhof: This is Vienna's swish new central hub station, opened fully in December 2015. All international trains and all ÖBB domestic mainline trains now use Vienna Hauptbahnhof, and it's the station you would normally want to use. Hauptbahnhof is often abbreviated to Hbf, and it simply means main station in German. And Vienna is of course Wien in German.

Vienna Meidling: Some trains also call at Vienna Meidling on their way to or from Vienna Hbf, for example trains on the main east-west artery Munich/Zurich - Salzburg - Vienna - Budapest call at both Meidling and Hauptbahnhof. By all means use Meidling if your train calls there and it's closer to your hotel, but normally it's better to use Vienna Hbf.

Vienna Westbahnhof: Vienna Westbahnhof is now only used by regional & suburban trains and by private operator Westbahn who run trains between Vienna Westbahnhof, Linz & Salzburg (Westbahn now also run from Vienna Hauptbahnhof). All international trains and ÖBB domestic mainline trains ceased using Vienna Westbahnhof from the timetable change on 13 December 2015.

Vienna Franz-Josefs-Bahnhof: A small station in the north of the city for trains to Ceske Velenice for Ceske Budejovice & Cesky Krumlov.
Vienna Hbf is Vienna's swanky new central station, a modern station truly fit for a capital city which opened fully on 13 December 2015. The idea was simple: To replace three separate termini (the Westbahnhof, Ostbahnhof & Sudbahnhof) with one big central through station at which all trains could call when passing through Vienna, both east-west & north-south. East-west trains no longer have to go into the Westbahnhof (a dead-end terminus) and waste 15 minutes having the locomotive detached and another attached at the other end to haul it out. Passengers no longer have to trek between stations by taxi, tram or bus to make connections between east-west trains using the Westbahnhof and northbound or southbound trains using the Ostbahnhof or Sudbahnhof. All trains now use one main central hub, Vienna Hbf. It has transformed travel to, from and across Vienna.
Platforms 1 & 2 are sub-surface, used by S-Bahn suburban trains and Westbahn's hourly trains to Linz & Salzburg.

Platforms 3 to 12 are above ground level, served by all ÖBB mainline domestic & international trains. They're numbered from north to south.

Vienna Hbf, main entrance. The main concourse is on the northern side of the tracks, nearest the city centre as you'd expect. This is the main entrance on the western side, there's smaller entrance to the concourse on the eastern side. The station also has a secondary entrance on the southern side of the tracks.
The main concourse, seen from just inside the main entrance. The ticket office (reisezentrum) is on the right, beneath the red ÖBB sign. The stairs just left of centre lead down to platforms 1 & 2 used by S-Bahn trains and the Westbahn trains to Salzburg, and to toilets and the U-Bahn. Beyond the ticket office on the right is the broad passageway leading under tracks with escalators or lifts up to each of the platforms 3-12. The entrance to the ÖBB Lounge is in the far distance on the left, the lounge itself is on the first floor. See panorama tour of station.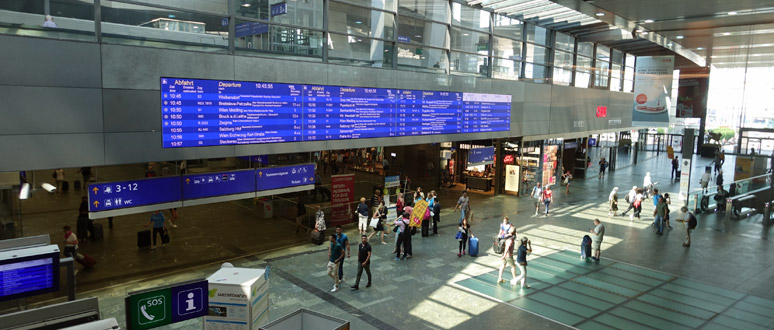 Vienna Hbf main concourse again, seen through the window of the ÖBB Lounge on the first floor. This shows the main departures board. Underneath it is the broad passageway under the tracks, from which stairs, escalators and/or lifts lead up to each of platforms 3-12. To the right of the indicator board is the ticket office. The stairs just visible on the far right lead down to platforms 1 & 2 for the Westbahn trains to Salzburg, and to toilets & the U-Bahn.
Platforms 3-12 are one level up from ground/concourse level. Each pair of platforms is reached by stairs, escalators or lifts from the passageway below.
| | | |
| --- | --- | --- |
| | | |
| The stairs from concourse down to platforms 1 & 2, toilets and the U-bahn. There are also lifts. | | Sub-surface platforms 1 & 2, used by S-Bahn trains and the Westbahn trains to/from Salzburg. |
| | | |
| --- | --- | --- |
| | | |
| A regional train to Bratislava... | | The southern entrance on the other side of the tracks. |
If you have a first class ticket or any sort of sleeping-car ticket, or a first class InterRail or Eurail pass, you can use the first class lounge for up to 90 minutes before or after your journey. The lounge at Vienna Hauptbahnhof is open 06:00-23:30 every day of the week. It offers free WiFi, tea, coffee and snacks, also (after 18:00) red & white wine, beer. You'll find similar lounges at Vienna Meidling, Vienna Westbahnhof, Linz, Salzburg, Innsbruck, Graz & Klagenfurt, full details of opening hours and entry requirements can be found on www.oebb.at.
| | | |
| --- | --- | --- |
| | | |
| ÖBB Lounge entrance on the main concourse. | | The ÖBB Lounge is on the first floor, accessed by stairs or lift. |
Left luggage...
There are left luggage lockers available if you need to leave your bags, see the luggage lockers page for details.
Walking... There's no reason why you can't walk from the station to the city sights, but it's a fair way. Vienna Hbf to St Stephan's cathedral is 3km and takes 38 minutes, for example, see Google map of Vienna showing stations. You may prefer to take the metro or a taxi.

U-Bahn: Vienna Hbf is on line U1 of the Vienna U-bahn (= underground or metro). This will take you direct to Stephansplatz in the city centre, change there for line U3 to Vienna Westbahnhof. Vienna Meidling is on line U6. U-bahn stations are marked with a distinctive U sign. For metro information see www.wienerlinien.at.

Taxis: For a taxi fare calculator see www.taxifarefinder.com/main.php?city=Vienna-Austria&lang=en. Taxis are usually plentiful outside the station.
You'll find plenty of shops, cafes, restaurants & ATMs inside the Westbahnhof. Left luggage lockers are available, see here for prices. However, from 13 December 2015 virtually all international trains will use Vienna Hbf and will no longer serve Vienna Westbahnhof. Only regional trains and the Westbahn trains to/from Salzburg will use the Westbahnhof.
| | | |
| --- | --- | --- |
| | | |
| Vienna Westbahnhof on a rainy day... | | Inside the Westbahnhof... |
---
Back to 'Rail travel to Europe' general page