UK to Malta by train & ferry, no airports, no flights...
It's easy to reach Malta from London by train & ferry, and you get to see Italy on the way. This page explains how to plan and book the journey. Just take a mid-morning Eurostar to Paris and afternoon high-speed TGV to Milan on day 1, and stay overnight. On day 2, take a morning high-speed train to Rome in just 2 hours 59 minutes. Spend the afternoon exploring the Eternal City before boarding the overnight sleeper to Siracuse in Sicily. The Rome to Sicily sleeper train really does go direct to Siracuse, it is shunted onto a ferry to cross the Straits of Messina, one of the few places in Europe (or indeed the world) where train ferries still operate, an interesting experience in itself. Day 3, spend the morning at leisure in Siracuse then transfer to the little town of Pozzallo in southern Sicily for the 90-minute evening ferry crossing to Valletta on Malta with Virtu Ferries, www.virtuferries.com. Virtu Ferries operate fast catamarans from Sicily to Malta up to 6 days a week with up to 3 sailings per day, although dates and times vary. Malta is one of the friendliest islands in the Mediterranean or anywhere else for that matter, and it's a great place for a week or two's holiday, with plenty to see and do.
Train times, fares & information...

London & Paris to Malta

Bus travel on Malta & Gozo

Useful country information

Hotels & accommodation on Malta

General information on train travel in Europe

Luggage Taking your bike Taking your dog
Route map...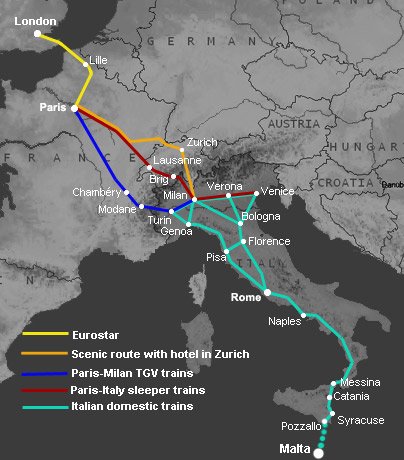 Sponsored links...
---
---
| | |
| --- | --- |
| | |
| | Write your own Malta Story... As the Virtu Ferries fast ferry enters Valetta Harbour, you get a real sense of arrival... Photo courtesy of David Smith |
London ► Malta
There are almost endless possible routes and trains between London and Sicily for the ferry to Malta, especially if you want to stop off in Paris, Switzerland, Florence, Rome or Naples on the way. But here is the cheapest, quickest and most direct rain and ferry journey from the UK to Malta. Feel free to take an extra day or two and stop off on the way, it makes no difference to the cost as each train is ticketed separately in any case. You can browse more possible routes and trains from the UK to Italy on the London to Italy page. For northbound journeys from Malta to London, click here.
Option 1: Works most days, with an evening ferry from Pozzallo...
This option works on most dates all year round, typically 5 days a week in winter and 6 days a week in summer, when there's an evening ferry at around 19:30 or 21:00 from Pozzallo on Sicily to Valletta on Malta. The journey takes 2 nights, 3 days which includes an afternoon in Rome and a day in Siracuse.
Option 2: For days when there's a morning ferry from Pozzallo...
This option is almost a day faster than option 1, taking 2 nights and 2 days, but only works on certain dates when there's a morning ferry from Pozzallo around 09:15, and you don't get the leisure time in Rome or Siracuse. So first check ferry times for the date you want to arrive in Malta at www.virtuferries.com.
What's the journey like?
| | | |
| --- | --- | --- |
| | | |
| A Eurostar e320 about to leave London St Pancras... | | 1st class: Standard Premier or Business Premier. |
Departure from Paris Gare de Lyon... The train to Italy leaves from the historic Gare de Lyon in central Paris. Why not have lunch or at least a drink in the bar at the fabulous Train Bleu Restaurant inside the Gare de Lyon (pictured above right) before catching the train to Turin or Milan?
| | | |
| --- | --- | --- |
| | | |
| The cafe-bar, serving tea, coffee, beer, wine, hot & cold snacks & microwaved hot dishes.... | | The 14:41 TGV to Milan at the Gare de Lyon. There's no check-in, just be on board at departure time... |
Designer interiors... The Paris-Turin-Milan TGV trains now feature chic interiors by designer Christian Lacroix. All seats have power sockets for laptops & mobiles. In first class, you'll be offered a 3-course tray meal with wine served at your seat, although this is extra, not included in the fare. The bar car sells Paris metro tickets, which can save time on your return.
| | | |
| --- | --- | --- |
| | | |
| 2nd class with a mix or unidirectional seats & tables for 4. Seats are 2+2 across car width. Panorama photo. | | 1st class with a mix of unidirectional seats, solo seats, tables for 2 & for 4. Seats 2+1 across car width. Panorama photo. |
The TGV leaves the Paris suburbs behind and speeds across rural France at up to 186 mph, past fields, woods, pretty villages...

...it calls at Lyon St Exupery then slows right down through the Alpine foothills.
The TGV crosses the Alps via Chambéry and Modane, passing through the 13.6 km (8.5 mile) long Fréjus Rail Tunnel, also known less accurately as the Mont Cénis tunnel. The tunnel transit takes just 7 minutes, during which the train enters Italy. Opened in 1871, this the oldest of the large tunnels through the Alps, and was the longest tunnel in the world from 1871 until 1882 when the Gotthard tunnel opened on the Zurich-Milan route.
| | | |
| --- | --- | --- |
| | | |
| More mountains... | | Now we're in Italy, leaving the Alps behind... |
Arrival on time at Milan's modern Porta Garibaldi station. Porta Garibaldi is a 10-minute €6 taxi ride or 25 minute walk from Milan's main Centrale station.
| | | |
| --- | --- | --- |
| | | |
| A Frecciarossa ETR500 train capable of 300 km/h (186 mph) on the new Italian high-speed network. The name means Red Arrow. | | Business class, all seats with power sockets, complimentary coffee, juice or prosecco included. |
| | | |
| --- | --- | --- |
| | | |
| Premium class (= premium 2nd class) on a AV ETR500 Frecciarossa train. All seats have power sockets for laptops & mobiles. | | On the Milan-Florence-Rome-Naples route a 3-course lunch in the restaurant costs €32, ½ bottle of wine €9, credit cards accepted. |
| | | |
| --- | --- | --- |
| | | |
| A Comfort couchette car. A good, economical choice. | | A 4-berth Comfort couchette compartment in daytime mode. |
| | | | | |
| --- | --- | --- | --- | --- |
| Italian sleeping-car with 12 compartments, each useable as Single, Double or 3-berth. | | Sleeper in evening/ morning mode. | | Sleeper in night mode, set up as 2-berth. |
...and Pozzallo to Malta by ferry...
| | | |
| --- | --- | --- |
| | | |
| The ferry boarding at Pozzallo. Courtesy Andrew Tweed. | | Standard seating. Courtesy Andrew Tweed. |
Virtu Ferries fast catamaran entering Valetta Harbour from Sicily. Courtesy of David Smith.
Option 1: On days when there's an early morning ferry from Malta...
You'll find an early morning ferry from Valletta to Pozzallo on most dates, typically at 05:00 or 06:45 or 07:00 up to 5 days a week in winter, 6 days a week in summer. Check ferry times for your travel date at www.virtuferries.com. The following itinerary works with this morning ferry, and gives you a day at leisure in Siracuse and a day at leisure in Rome.
Option 2: On days when there's an afternoon ferry from Malta...
On some dates, especially in summer, you'll find an afternoon ferry from Malta to Pozzallo, usually sailing from Valletta at around 16:30. The following itinerary works with this ferry, and is the fastest option, although you don't get any time in Siracuse or Rome unless you take an extra day or two.
How much does it cost?
Each train is ticketed separately, so you just need to add up the fare for each leg of the journey.
How to buy tickets online...
How to buy tickets by phone...
Booking online is quicker and cheaper, but you can book by phone with two phone calls.
It's probably best to start with the ferry journey. First, visit the www.virtuferries.com to check on sailing times, days of the week, and dates. Then call Viamare Travel on 020 8343 5810 to book.

Then book the rail journey from London to Sicily. You can book through a number of UK agencies, such as International Rail on 0844 248 248 3 (lines open 09:00-17:00 Monday-Friday) or Ffestiniog Travel on 01766 772050. Click here for a list of agencies.
Custom-made arrangements to Malta with trains, ferries & hotels all booked for you...
If you want someone to sort out your whole overland trip to Malta with all your rail & ferry travel expertly booked for you and good quality hotels arranged, call Railbookers. Tell them what you want, and they'll sort it all out for you, hassle-free. They get very positive reviews and take good care of their guests. You'll find a sample trip to Malta listed on their site under 'holidays'.

US call free 1-888-829-4775, see website.

Canada call free 1-855-882-2910, see website.

Australia call toll-free 1300 971 526, see website.

New Zealand call toll-free 0800 000 554 or see website.
Other ferries to Malta...
Although the suggested route above uses Virtu Ferries from Sicily, Grimaldi Ferries (www.grimaldi-lines.com) used to offer a good weekly ferry from Salerno to Valletta in Malta, although they may no longer offer this route in 2016. You can find information on train travel from the UK to Naples & Salerno to connect with this ship on the Italy page. If you have any feedback on this or other ferries to Malta, please email me.
| | | |
| --- | --- | --- |
| | | |
| Palace Square, Valletta. Brits will find many features familiar! | | Victoria Gate, Valetta... |
| | | |
| --- | --- | --- |
| | | |
| Malta's famous George Cross in Valletta's town museum, awarded to the whole island an its people during world war 2. | | Valletta street scene. Afficionados of the film Malta Story may well recognise this corner from one of the scenes, it hasn't changed much! |
---
Buses link Valletta with towns and villages all over Malta. The Valletta bus station is immediately outside the city's main gate, and it has both ticket machines and a ticket office. International bus operator Arriva took over bus lines in Malta from July 2011, when the traditional routes numbers all changed, although things changed again when the Government took back the bus operations from Arriva in January 2014. Malta's traditional orange buses (many of them very old!) are sadly now replaced by Arriva's modern buses in its own blue-and-cream colours, which of course will now change again with Arriva's departure. The website for Malta bus information is www.publictransport.com.mt. Fares are cheap, usually €1.30 for a ticket valid for 2 hours on any bus or series of buses, and buses run at least every half hour throughout the day on most routes. You can buy tickets giving you unlimited bus travel all over Malta for 1 day (€1.50), or 7 days (€6.50). There's a bus map at www.maltabusroutes.com.
As the buses used to be, only a few years ago... Brightly-painted Maltese buses at Valletta bus station, just outside the city's main gate. These wonderful old Maltese buses have now all been replaced by characterless modern buses in the standard Arriva blue.
Valletta to Gozo by bus & ferry...
Take Arriva bus number 41 or 42 from Valletta bus station to Cirkewwa ferry terminal, for the ferry to Gozo. Bus 41/42 runs every 15 minutes throughout the day, journey time 1 hour 25 minutes, fare €1.30, see www.publictransport.com.mt. The Gozo Channel ferry (www.gozochannel.com) links Cirkewwa on Malta with Mgarr on Gozo every 45 minutes throughout the day, crossing time 25 minutes. There's no charge to cross from Malta to Gozo, you only pay to come back from Gozo to Malta, the fare is €4.65, children aged from 3 to 12, €1.15. Buses link Mgarr with all main points on Gozo.
---
European Rail Timetable & maps




The European Rail Timetable (formerly the Thomas Cook European Timetable) has train & ferry times for every country in Europe plus currency & climate information. It is essential for regular European train travellers and an inspiration for armchair travellers. Published since 1873, it had just celebrated 140 years of publication when Thomas Cook decided to pull the plug on their entire publishing department, but the dedicated ex-Thomas Cook team set up a private venture and resumed publication of the famous European Rail Timetable in March 2014. You can buy it online with worldwide shipping at either www.stanfords.co.uk or www.europeanrailtimetable.eu. More information on what the European Rail Timetable contains.
A Traveller's Railway Map of Europe covers the whole of Europe from Portugal in the west to Moscow & Istanbul in the east, Finland in the north to Sicily & Athens in the south. On the back are detailed maps of Switzerland, Benelux & Germany, plus city plans showing stations in major cities. Scenic & high-speed routes highlighted. Buy it online for £14.50 + postage worldwide (UK addresses £2.80) at www.stanfords.co.uk/Continents/Europe-A-Travellers-Railway-Map_9789077899090.htm or (in the Netherlands) for €13 + €5.50 postage from www.treinreiswinkel.nl.
---
---
Other hotel sites worth trying...
www.tripadvisor.com is the place to find independent travellers' reviews of all the main hotels.

www.booking.com is my own preferred hotel booking system (Hotels Combined being a search/comparison system). It has a simple interface, a good selection in most countries worldwide, useful online customer reviews of each hotel, and decent prices, usually shown inclusive of unavoidable extras such as taxes (a pet hate of mine is systems that show one price, then charge you another!).
Backpacker hostels...
www.hostelworld.com: If you're on a tight budget, don't forget about backpacker hostels. Hostelworld offers online booking of cheap private rooms or dorm beds in backpacker hostels in most cities at rock-bottom prices.
---
Travel insurance & health card
Take out decent travel insurance, it's essential...
Never travel without proper travel insurance from a reliable insurer with at least £1m or preferably £5m medical cover. It should also cover loss of cash & belongings (up to a limit), and trip cancellation. An annual multi-trip policy is usually cheapest even for just 2 or 3 trips a year - I have an annual policy myself. However, don't expect travel insurance to bail you out of every missed connection, see the advice on missed connections here. Here are some suggested insurers, Seat61 gets a little commission if you buy through these links, and feedback from using insurance for rail & ferry travel is always welcome.

In the UK, use www.confused.com to compare prices & policy features across major insurance companies.

If you have a pre-existing medical condition or are over 65, see www.JustTravelCover.com - 10% discount with code seat61.



If you live in Australia, New Zealand, Ireland or the EU, try Columbus Direct's other websites.

If you live in the USA try Travel Guard USA.
Get an EU health card, it's free...
If you're a UK citizen travelling in Europe, you should apply for a free European Health Insurance Card, which entitles you to free or reduced rate health care if you become ill or get injured in many European countries, under a reciprocal arrangement with the NHS. This replaced the old E111 forms as from January 2006. The EHIC card is available from ww.nhs.uk. It doesn't remove the need for travel insurance, though.
Carry a spare credit card, designed for travel with no currency exchange loading & low/no ATM fees
Taking out an extra credit card costs nothing, but if you keep it in a different part of your luggage you won't be left stranded if your wallet gets stolen. In addition, some credit cards are better for overseas travel than others. Martin Lewis's www.moneysavingexpert.com/travel/cheap-travel-money explains which UK credit cards have the lowest currency exchange commission loadings when you buy something overseas, and the lowest cash withdrawal fees when you use an ATM abroad.
---
Back to 'Rail travel to Europe' general page