One of Europe's most magnificent stations...
Opened in July 1931, Milan's magnificent Centrale station is an attraction in its own right with vast steel & glass trainsheds and awe-inspiring station building which Benito Mussolini intended to convey the power of the fascist regime. Even if you're only changing trains here, take a moment to look around, it's an experience in itself. For more about the station's history see en.wikipedia.org/wiki/Milan_Central_railway_station.
Milan Centrale is a terminus with 24 platforms. The platforms & concourse are above ground level, but there is level access between all platforms and concourse, with lifts & escalators down to ground level if you don't want to use the grand staircases down to the station's main entrance on the Piazza Duca d'Aosta. So it's no problem to negotiate the station with luggage or if you have mobility issues.
There's a plan of the station at www.milanocentrale.it - click ENG for English then click Maps.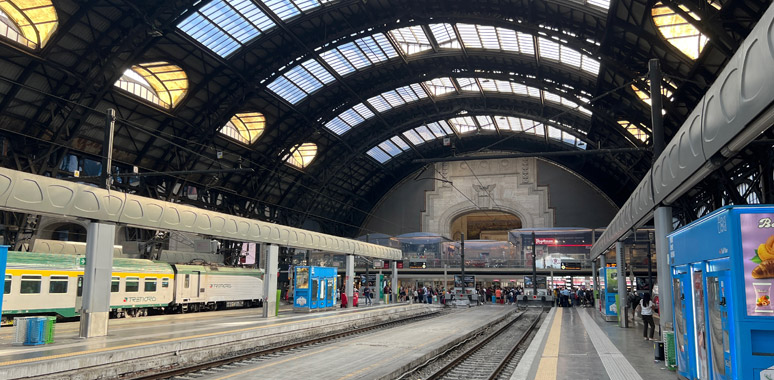 Trains arrive in one of these vast arched trainsheds, one level up from ground level. There is easy level access between all platforms, you can walk between platforms behind the buffer stops. There is a basic ticket check when entering this platform area from the galleria commercial.
Finding your train...

The station has 24 platforms, numbered left to right as you look towards the trains. The station departure boards shows which platform each train leaves from and there are train departure indicators on every platform. You can easily walk between any two platforms in just 3 minutes (maybe 4 minutes from platforms 1-3 to platforms 23-24), with level access between all platforms, luggage can be pulled on its wheels.
Platforms 1 to 3 are slightly set back, accessed by a short walk down platform 4.

Platforms 4 to 21 are lined up one next to the other in the main trainshed. High-speed trains to Florence, Rome & Naples typically use platforms 14-17, in the centre.

Platform 22, 23, 24 are also set back a bit, a short walk along platform 21.

See the plan of the station & platforms at www.milanocentrale.it - click ENG for English then click Maps.

Tip: If you go to www.viaggiatreno.it/viaggiatrenonew on your smartphone and select Milan Centrale you'll see the planned platform number for your train (except for Italo trains) even before it is announced on the station departure boards. A good way to stay one step ahead!
Changing trains...
Changing trains at Milan Centrale is very straightforward. There is easy level access between all platforms, you can walk between platforms around the back of the buffer stops without passing through any ticket check. It only takes a few minutes to change trains, even if you were changing from platform 1 to platform 24. Just make sure you allow for any delay to your first train - if a booking website suggests a connection, it will be a reasonable one.
You can get free internet access for 15 minutes by connecting to FREE WIFI MILANOCENTRALE. To surf for as long as you like for free you must download the official Grandi Stazioni Around Station app from the app store. Search the app store for Around Station. Feedback appreciated.
Left luggage, ATMs, safety & security...
Milan Centrale has a left luggage office (deposito bagagli) if you need to leave your bags, for prices & opening times see the left luggage page. It's located underneath the galleria commerciale on the same level as the Trenitalia ticket office (biglietteria) at the platform 21 end. Follow for the signs to the deposito bagagli.

There are ATMs in various locations around the station.
I've been to Milan Centrale many times over the years and not only do I feel perfectly safe there even late at night, it's one of my favourite European stations. It has so many good shops, bars & cafes it is a destination in its own right and I like spending time there - how do you think I got all the photos? But just to dot my 'i's and cross my 't's It should go without saying that you should be aware of pickpockets in any busy public place - although I've never had or even seen any problem at Milan Centrale myself. Politely but firmly decline if anyone offers to 'help' you use a self-service ticket machine. Just use normal common sense, and even if you're only changing trains you'll experience one of Milan's most celebrated landmarks and one of Europe's most impressive stations.
Ticket office & self-service ticket machines...
The main Trenitalia ticket office is below the galleria commercial (main concourse) at ground level, open early until late. You'll also find the Casa Italo (for Italo tickets) at this level. However, it's often quicker to use the Trenitalia self-service ticket machines dotted around the station which can sell high-speed & mainline tickets with reservations, regional tickets, and passholder reservations for those with Eurail or InterRail passes.
Supermarket...
Supermarkets: If you need to stock up for your journey, there is a Sapori & Dintorni supermarket inside the station. It's below ground level, accessed down escalators from the entrance hall just inside the station's main entrance.
Local transport: Walking, taxis & transfers to Porta Garibaldi...
More information...
---