Milan's second busiest station...
Most mainline trains use the magnificent Milan Centrale, but the French TGVs to/from Paris, the Nightjet sleeper to/from Vienna, Salzburg & Munich, some Italian high-speed trains and many many Italian suburban trains use Milan Porta Garibaldi station.
Built in 1961, Milan Porta Garibaldi is Milan's second busiest station after Centrale, handling most of Milan's suburban traffic as well as some mainline trains. The station has 12 terminus platforms and a further 10 through platforms located in tunnels underground. A request - if you get any good wide-angle photos of the concourse or platform area which I could use on this page, or have any feedback about Porta Garibaldi, please email me.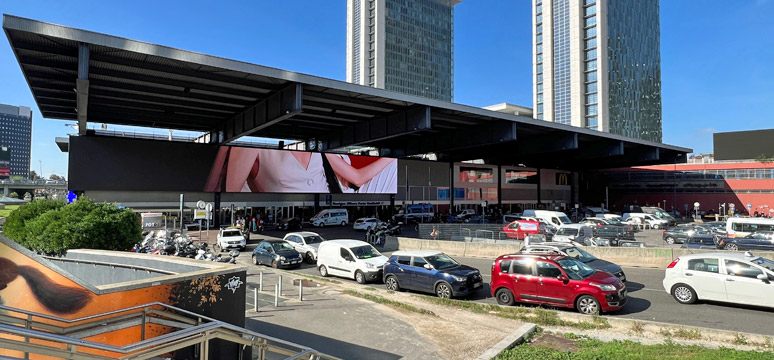 Milan Porta Garibaldi, exterior...

Milan Porta Garibaldi, main entrance...
Finding your train...

The station has 22 platforms. 12 of these are terminus platforms at ground level, numbered left to right as you look towards the trains. These surface terminus platforms are the ones used by the TGVs to/from Lyon & Paris, and by the Nightjet to/from Vienna, Salzburg and Munich. A further 10 platforms are through platforms located in tunnels underground.

The station departure boards shows which platform each train leaves from and there are train departure indicators on every platform. You can easily walk between any two platforms in just a few minutes, with level access between all platforms, luggage can be pulled on its wheels.

There is a simple ticket check when entering the platform area, mainly intended to control access for non-travelling undesirables. I generally find that anything vaguely ticket-like waved in their general direction gets you through.
Tip: If you go to www.viaggiatreno.it/viaggiatrenonew on your smartphone and select Milan Porta Garibaldi you'll see the planned platform number for your train even before it is announced on the station departure boards. A good way to stay one step ahead!
Changing trains at Porta Garibaldi is very straightforward. There is easy level access between all platforms, you can walk between platforms around the back of the buffer stops without having to pass through any ticket check. It only takes a few minutes to change trains, even if you were changing from platform 1 to platform 22. Just make sure you allow for any delay to your first train - if a booking website suggests a connection, it will be a reasonable one.

When connecting between two Trenitalia trains, as long as the scheduled connection is over 15 minutes, you are entitled to later onward travel at no charge if a delay means a missed connection. Online systems will only suggest valid connections. See Trenitalia staff if you need reserved seats on a later train.
Milan Porta Garibaldi has free WiFi. Select the WiFiStation, network and on https://portale.wifistation.it either sign in with a Facebook or Twitter account or enter your mobile number to have a verification text sent to you (this works with international numbers including UK +44 mobiles).
Left luggage, ATMs, safety & security...
There is no left luggage facility at Porta Garibaldi. Use the one at Milan Centrale instead, for prices & opening times see the left luggage page.

There are ATMs in various locations around the station.

There is nothing particularly unsafe about any Italian station, but as in any busy place, be aware of the possibility of pickpockets.
Food & drink...
It's a busy station with various retail & food outlets, but I have no particular recommendation. Let me know if you find somewhere good for a coffee, beer or stocking up for a journey.
A taxi between Porta Garibaldi & Milan Centrale will take 8 minutes and cost around €6. See taxi fare calculator.

Metro line M2 (coloured green on metro maps) links Milan Porta Garibaldi (shown as Garibaldi FS on metro maps) & Milan Centrale (shown as Centrale FS). It's just 2 stops, trains run every 2-4 minutes, fare around €2. For metro map & info see www.atm.it.

Trenitalia local trains link Porta Garibaldi & Milan Centrale every 30 minutes, reducing to hourly late at night. They take 9 minutes from Centrale to Porta Garibaldi, or 11 minutes from Porta Garibaldi to Centrale. Fare €2 at the urban tariff. You may prefer option this to going underground with the metro.

At Milan Centrale, look for a train to Malpensa-Aeroporto, these typically leave from platform 1 and the first stop is Milan Porta Garibaldi.

At Milan Porta Garibaldi, look for trains going to Milan Centrale, these typically go from platform 20.
It's a 1.8 km 23-minute walk between Milan Porta Garibaldi & Milan Centrale, although (having done it) not a particularly attractive one.
---