| | |
| --- | --- |
| | |
| | Overhead racks on European trains take small & medium holdalls & suitcases up to & including backpack-size... |
| | Racks near the entrance doors will take larger items. This is Eurostar. |
| | On some trains you can fit a medium suitcase, backpack or holdall between the seat backs. This is an Italian Frecciarossa 1000... |
| | Many trains now have luggage stacks inside the seating area so you can stay close to your bags. |
Luggage on trains is simple...
Taking luggage on trains is simple, don't over-think it. You take your bags into the train with you and put them on the rack above your seat, or in the space between the seat backs, or on floor-standing racks at the car ends or in the seating area. On local & regional trains you usually just stick bags on the floor. There's usually no separate baggage car on European trains.
For most practical purposes there are no luggage limits as long as you can carry it yourself. Unlike travelling by air, you do not check your bags in, nobody weighs them, measures them or argues about their size or weight - unless you try to move house by train! You have access to your bags throughout the journey and they don't end up at an airport a thousand miles away from you. It really is that simple...
Luggage limits on trains
Unlike airlines, for practical purposes there are usually no size or weight limits for luggage on European trains - or in a handful cases where there theoretically is, it's in the small print and pretty generous and in practice nobody cares or weighs or measures your bags unless it causes a problem.
Just remember that whatever you bring, you handle it yourself. Porters are generally a thing of the past and luggage fairies don't exist, so most people now use wheeled luggage they pull along behind them. However, most major stations have self-help luggage trolleys, sometimes these require a coin to release them, which is returned when you return the trolley.
In theory, Eurostar limits luggage to two large items per passenger with a maximum 85cm in any one dimension, plus a small item of hand luggage, but fortunately they're not fussy about it in practice and won't measure your bags if they're a bit over, nor worry about an extra carrier bag or rolled-up poster or whatever - it seems to be there just to stop people taking the P. Indeed why they ever came up with that nonsense 85cm is a mystery... See Eurostar website baggage information page.
A handful of trains do now have luggage limits & fees, these are the 'lo-cost' trains pretending to be budget airlines, for example Ouigo trains in France, Ouigo & Avlo trains in Spain. But they're the exception, not the rule.
Labelling your bags
It is now compulsory to label all your bags when travelling on Eurostar or on any French train, with at least your first name and surname - although no-one has ever noticed or pulled me up when I've forgotten. On Eurostar, if you need paper luggage labels just ask at the information desk inside the Eurostar departure lounge, but it's better to buy proper ones and keep them attached to your travelling bags.
Luggage safety
Travellers often worry about the security of their bags, especially overseas visitors unfamiliar with train travel. Those of us who use trains all the time know there's no real need to worry and padlocking your bags to the racks is a bit extreme. Luggage theft on trains is as rare as theft of airline baggage, just use common sense.
Put your bags where you can see them from your seat, ideally on the racks directly above your head or on floor-standing racks inside the seating area close to your seat. Overhead racks usually take bags up to the size of backpacks or medium suitcases. Floor-standing racks within the seating area are increasingly common.
It should be obvious, but laptops, passports, iPhones, cameras, wallets and tickets should kept with you in your daypack at your seat, not left in your larger bags on a luggage rack. You then take your day-pack with you to the toilet or bar car, unless you're travelling with someone who can keep an eye on it for you while you go.
Prohibited items on Eurostar
As you'd expect, firearms & explosives are prohibited on Eurostar (there are special arrangements for sending licensed sporting guns by registered luggage), but several 'normal' street-legal items are prohibited which can catch people out. These include gas canisters (a potential fire hazard in the Channel Tunnel) and knives with a blade longer than 3", which catches out people who buy a nice set of Sabbatier kitchen knives in Paris. Knives with a blade shorter than 3" are fine, for example small penknives. E-scooters & hoverboards are also not carried.
You're allowed to take your own wine or beer on board, but Eurostar may confiscate any 'excessive' alcohol, for example if you look as if you're going to cause trouble. Transporting an unopened bottle or two of vintage wine or single-malt in your luggage should not be a problem.
Mountaineering ice axes have theoretically not been permitted on Eurostar, but in practice have not been a problem, see the traveller's report here, and I'm glad to say that a policy change in late 2013 now means that ice axes properly packed away in your luggage are now officially (as well as in practice) fine on Eurostar.
Registered baggage on Eurostar
Eurostar passengers may send up to three items from London to either Paris or Brussels as registered baggage, at an extra charge (approximately £12-£20 per item). See the Eurostar website baggage information page for details. However, this service only operates between London, Paris and Brussels, not to other destinations beyond Paris or Brussels. To send luggage in advance from your home address to other EU countries, see the paragraph below about sending your luggage in advance...
Luggage storage at stations: More info
At most major European stations, you can leave your bags in left luggage lockers or a staffed left luggage office, leaving you unencumbered to explore the city between trains. You'll find details of which stations have (and don't have) left luggage facilities, prices & opening hours, on the left luggage at stations page.
---
What luggage do I recommend?
Everyone's needs and preferences are different, but for what it's worth I can tell you what suits my wife and me. We each have an excellent Eagle Creek Switchback. This is a roll-along bag with wheels and extending handle which converts to a proper backpack with proper back strap system for when the going gets tough. It has a detachable daypack which we use for cameras. documents, reading book and so on. Being back-pack-sized they hold a lot, but are just small enough to fit on most trains' overhead racks above your seat, no need to use the racks at the end of the car. They aren't cheap, but they're top quality and tough, we've used and abused them for several years now and not a stitch out of place - though I don't think they are sold any more. If we travel with kids, each kid gets a small holdall which can be slung on a shoulder strap or sat on top of the Eagle Creek bag against the handle.
Pictured right: An Eagle Creek Switchback, handle extended, daypack removed.
---
Luggage on trains, in pictures...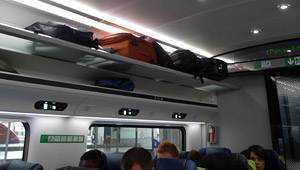 Racks above your head on most European trains will take small & medium bags, holdalls & suitcases up to & including backpack-sized. This is a London to Paris Eurostar...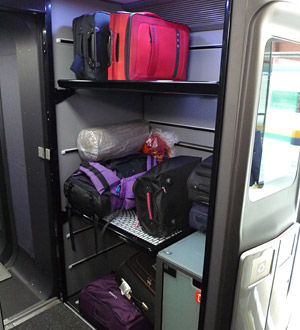 Racks near the entrance doors will take larger items. This is Eurostar.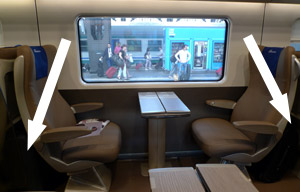 As well as car-end & overhead racks, on many trains you can fit a medium suitcase, backpack or holdall between the seat backs... This is an Italian high-speed Frecciarossa...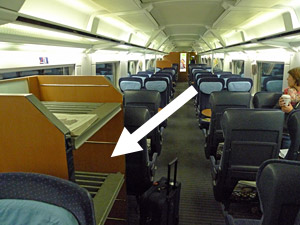 Many trains now have luggage stacks inside the seating area so you can stay close to your bags. This is a German ICE train...