Most, but not all, international trains arrive and depart from Budapest's historic Keleti Pályaudvar, built between 1881 & 1884, one of Europe's classic railway stations. Keleti Pályaudvar simply means east station. It's a fascinating place to people watch and safe at all times of day or evening, using the same common sense you'd use in any busy place.
The Man in Seat 61 says, "...I have a real soft spot for Budapest's bustling Keleti station with its graceful architecture and trains arriving & departing from places like Berlin, Bucharest, Zurich & Belgrade. The first class lounge on platform 9 is a haven of peace, the Baross restaurant in the corner by platform 6 the place for a quick beer or meal before your train with a great atmosphere. The station has a British connection too, the facade sports statues of James Watt and George Stephenson. For a short history of the station see en.wikipedia.org/wiki/Budapest_Keleti_railway_station. Arriving or departing at Keleti station is an experience in itself..."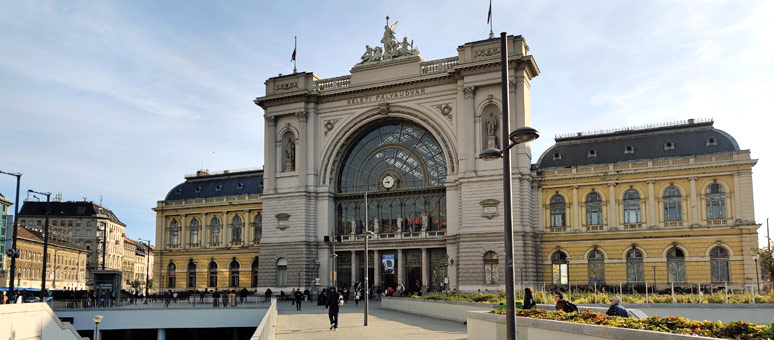 Budapest Keleti station. The facade includes statues of statues of James Watt and George Stephenson! Courtesy of Chris Deuchars.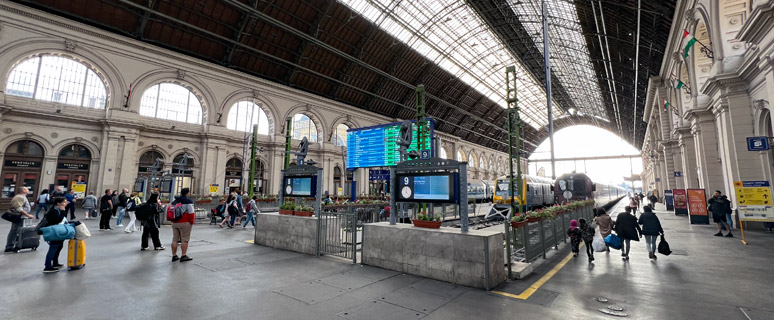 Platforms 6, 7, 8 & 9 at Budapest Keleti taken from behind the buffer stops, just inside the facade. Platforms 1-5 are a short walk down platform 6 (on the left), platforms 10, 11 & up are a walk along platform 9 (on the right of the photo).
The Baross restaurant is in the corner behind the camera. Also behind the camera are steps down to a small lower level where you'll find the domestic ticket windows and access to the metro.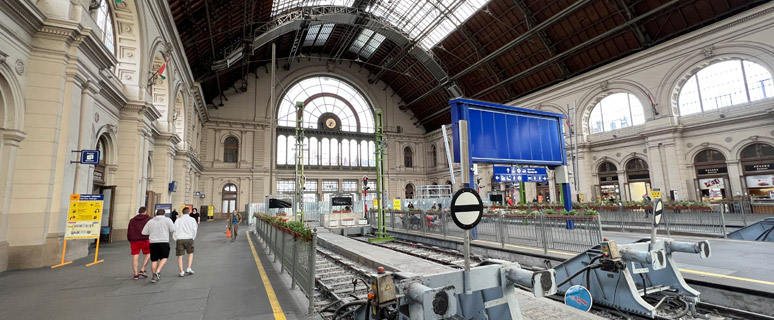 Platforms 7 & 8, this time looking back towards the buffer stops. Courtesy of Dave Hickson...
The station is a terminus with easy level access to all 18 platforms, numbered 1 to 18 from left to right as you look towards the trains. There are no ticket gates or barriers, so there's free & easy access from the street to all platforms & trains.
- Platforms 1-5 are set back from the main station facade on the north side and are accessed by walking 100m or so down platform 6.
- Platforms 6, 7, 8 & 9 are the most important and longest platforms, in the centre of the station inside the main building, see the photos above.
- Platforms 10-18 are also set back, this time on the south side, accessed by walking 100m or so down platform 9.
The railjet trains to & from Vienna, Munich, Salzburg, Innsbruck & Zurich usually use platform 9. The EuroNight sleeper train to Zurich & Munich usually leaves from platform 6 or 7. But always check the departure screens!
The departure screens will tell you which platform your train goes from, but you can check in advance which platform your train is due to leave from using the Hungarian Railways website www.mavcsoport.hu. Run an enquiry and when the list of trains appears, click on the orange arrow against your train. The platform is often given, but not always. Remember that the actual platform may change on the day, so always check the departure screens.
The international ticket office is in a passageway a little way along platform 6, just follow the signs. It's open every day from before 4am until well after midnight. A numbered queuing system operates, so take a numbered ticket from the machine in the corner and await your turn. You'll usually find staff who speak good English, and credit cards and euros are accepted. Off-season it doesn't usually take long to get served, perhaps a couple of minutes, but in busy July & August there can be quite a wait, perhaps even 30-40 minutes, so it can save time to book online and collect your tickets from the self-service machines!
The domestic ticket office is downstairs off the end of platforms 6-9, although there's also a small office upstairs on platform 9.
Seniors over 65: Anyone who is an EU citizen over 65 years old can travel FREE within Hungary, anywhere on the Hungarian Railways domestic network. You still need to go to the ticket office and get a free ticket to your chosen destination, and you must still pay any fast train supplement. Or you can book online at www.mavcsoport.hu looking for the 'Reduction' drop-down menu and selecting 'Person over 65' under 'Free'. If you want 1st class you must pay the difference between 1st and 2nd class fares before boarding. Trams and buses are also free if you're over 65. Only applies to EU citizens.
| | | | | |
| --- | --- | --- | --- | --- |
| | | | | |
| Entrance to the international ticket office... | | A blue machine... | | A yellow ticket machine... |
Lockers are now located downstairs directly underneath platform 7. There are large and small lockers, most accepting Forint coins, a few accepting euro coins, see the left luggage page for current prices. There are a couple of ATM cash points inside the station, notably one inside the station facade and another in the hall off platform 9, as shown on the station plan.
Anyone with a 1st class international ticket to or from Budapest can use the Hungarian Railways business lounge before or after their train, so can anyone with a ticket for a single or 2-berth sleeper. Open 06:00-21:15 every day, it's located along platform 9, the last set of double doors on the right before you reach the exit hall, marked Business lounge above the doors. The lounge offers complimentary tea, coffee, soft drinks & snacks. You can order beer, red & white wine & Hungarian sparkling wine at extra charge. 1st class Eurail or Interrail holders with a reservation may also use the lounge, see www.mavcsoport.hu for details. It's particularly convenient for the railjet trains to Vienna, Salzburg, Munich or Zurich as these usually leave from platform 9, right outside the lounge. It was refurbished in 2021.
| | | |
| --- | --- | --- |
| | | |
| The entrance to the lounge on platform 9. | | The lounge is open daily 06:00-21:15. Courtesy Tomasz Banasiak |
A good place to wait for your train over an inexpensive meal, coffee or beer in grand surroundings inside the station itself is the Baross restaurant in the corner near the buffer stops on platform 6, usually open 8am to 8pm, credit cards accepted. See www.facebook.com/pg/barossetterem for a menu, and its Tripadvisor entry.
For something upmarket near the station, try the Rosenstein Restaurant, www.rosenstein.hu.
Another good choice is the Huszar, a Hungarian restaurant just a few minutes walk from the station, huszar-etterem.hu.
At the opposite end of the scale, there's a MacDonald's, Burger King and KFC outside across the road on the platform 6 side of the station. There are of course plenty of stalls and kiosks inside the station, where you can stock up on snacks, soft drinks and beer.
Or walk to the famous New York Cafe... If you don't mind a 14-minute walk from the station, Budapest's historic New York Cafe serves drinks and meals in dramatic Italian renaissance surroundings. Modestly billed as "The Most Beautiful Coffee House in the World" it was built in 1894. See www.newyorkcafe.hu. I've marked it on this map of Budapest.
Walking... There's no reason why you can't walk from the station to the inner city and the river, but it will take you 40 minutes, see Google map of Budapest. You may prefer to take the metro or a taxi.
Metro: Budapest Keleti has a metro station underneath it on Metro lines 2 & 4. If you don't fancy the walk to the river, the metro will get you there, or to Budapest Deli, Budapest Nyugati or Kelenfold stations if you need to reach them. For Budapest metro information see bkk.hu, click English top right for English, then click maps for a metro map. Metro stations are marked 'M' on this Google map of Budapest, so you can easily find the metro station closest to where you want to go.
Taxis: The taxi rank is on the north side of the station, walk from platform 6 through the impressive Lotz Hall (marked Lotz terem on the station plan) and out of the exit and you'll see it. For a taxi fare calculator see www.taxifarefinder.com/main.php?city=Budapest-Hungary&lang=en. Taxis are usually plentiful outside the station, but as always make sure you use a clearly-marked city taxi and make sure they start the meter.
Taxi tip: Budapest's official taxis come in two varieties, taxi companies and freelancers. Both are yellow. To reduce the chances of being overcharged, avoid those which say Freelancer on the front doors and use taxis which have a company logo on the doors. Trustworthy companies include Főtaxi, Citytax & Bolt. There is no Uber in Budapest.
How to transfer from Keleti to Deli station...
By metro, take metro line 2 direct. It's just 7 stops, see bkk.hu.
By tram, walk 13 minutes along the main boulevard (Rákóczi út) towards central Budapest to the Blaha Lujza tér tram stop and take tram 4 or 6 to Széll Kálmán tér which is 9 minutes walk from Deli Pályaudvar. Tram line 4 & 6 crosses Rákóczi út from left to right and you'll find the tram stop a few metres up the street on your left. Buy a ticket from a ticket vending machine before boarding the tram and remember to validate the ticket in the validator on bard the tram. See www.bkk.hu.
By taxi it is 5.5 km, journey 14 minutes, fare around 2,500 forint.
By metro, use metro line 2 for three stops between Keleti pályaudvar and Deák Ferenc then metro line 3 for two stops between Deák Ferenc and Nyugati pályaudvar. See bkk.hu. Check metro website as there may be engineering work on line M3.
By tram, walk 13 minutes along the main boulevard (Rákóczi út) towards central Budapest to the Blaha Lujza tér tram stop and take tram 4 or 6 to Nyugati pályaudvar. Tram line 4 & 6 crosses Rákóczi út from left to right and you'll find the tram stop a few metres up the street on your left. Buy a ticket from a ticket vending machine before boarding the tram and remember to validate the ticket in the validator on bard the tram. See bkk.hu.
By trolleybus, take trolleybus 73 from the bus bays on the south side of Keleti station (the station plan shows the exact stop), this goes directly to Nyugati station.
By taxi it is 3 km, journey 9 minutes, fare around 1,600 forint.
On foot it is 2.8 km and takes around 36 minutes.
Kelenfold is a secondary station with limited facilities on the outskirts of the city. Many trains call at Kelenfold on their way into/out of Budapest Keleti, trains into/out of Budapest Deli also call there. However, you wouldn't normally want to join or alight at Kelenfold, it's better to use Keleti or Deli where the train starts/finishes. There's one good reason to use Kelenfold: If you're travelling from Zurich/Munich/Salzburg/Vienna to the Lake Balaton area (or vice versa) it's better to make an easy same-station change at Kelenfold than to continue into Budapest Keleti, change stations by taxi or metro to Budapest Deli for a train to Balaton (which calls at Kelenfold again on its way out of Budapest).
Tip: Annoyingly, journey planners sometimes suggest Kelenfold as your Budapest arrival/departure station. If that happens, do some more checking! Unless there's some unusual engineering work going on, your train will almost certainly continue to Deli or Keleti station (if arriving in Budapest), or start at Keleti or Deli (if leaving) and it's better to join/alight there as they're much closer to the centre and have more facilities.
If you need a budget option close to the station try the inexpensive Baross City Hotel just across the road or the Elit Hotel two minutes walk down the road.
For something special and historic go for the New York Palace Hotel originally opened in 1894 and housing the famous New York Cafe on its ground floor. It's just 14 minutes walk from the station and gets fabulous reviews. As luxury hotels go, it's pretty affordable.
And if you like grand historic hotels, you can also try the Corinthia Hotel, formerly the Grand Hotel Royal and also a famous hotel dating from the late 19th century. It's 20 minutes walk from the station or 9 minutes by taxi.
---