Budapest's beautiful Nyugati Pályaudvar was built by the Eiffel company in 1877, roughly on the site of Budapest's first station dating from 1846. Nyugati Pályaudvar simply means west station. Although most international trains use Budapest's Keleti (east) station, the EuroCity trains to/from Bratislava & Prague switched to using Nyugati instead of Keleti in December 2017. The Ukrainian sleeper train from Budapest to Lviv & Kiev also uses Nyugati. You can read more about the station's history at en.wikipedia.org/wiki/Budapest-Nyugati_Railway_Terminal.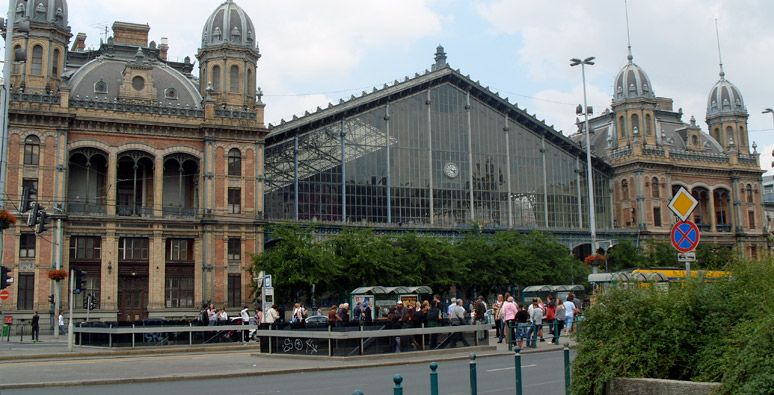 The station's beautiful facade, built by the Gustave Eiffel Company in 1877. Platforms 10-13 are inside that glass-fronted trainshed. Photo courtesy of Charlie.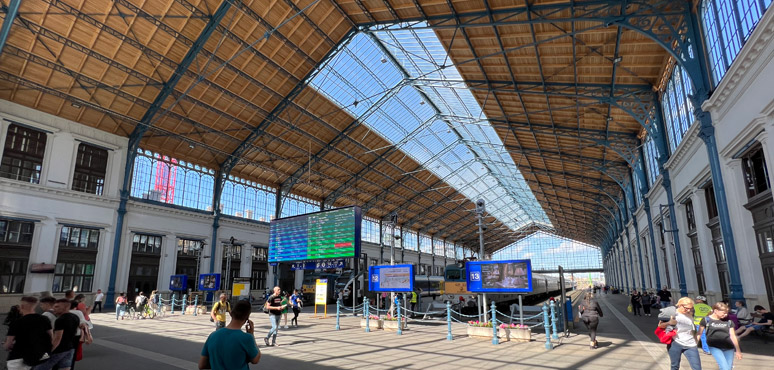 Inside the trainshed at night, showing platforms 10-13, the main departure boards, a pair of yellow ticket collection machines and some air-conditioned Hungarian InterCity cars. Photo courtesy of Daniel Mawdesley.
Budapest Nyugati is a terminus with 17 platforms, numbered from left to right as you look towards the trains. The platforms fall into 3 groups: Platforms 1-9 are set back a bit from the station facade on the north side. Platforms 10-13 are the longer platforms that come right in to the beautiful original trainshed as seen in the photo above. Platforms 14-17 are then also set back a bit from the station facade, on the south side.
Being a terminus, there's easy level access to all platforms. There are no ticket gates or barriers, there's free and open access from street to concourse to platforms. Tickets are checked on board the trains.
The main departure boards will tell you which platform your train leaves from, but you can sometimes see which platform your train is due to leave from at the Hungarian Railways website www.mavcsoport.hu. Look up your train using the journey planner and when the list of trains appears, click on the orange arrow against your train. Often the platform is given, but not always. Remember that platforms may change on the day, so always check the departure boards.
The domestic ticket windows are in a magnificent ticket hall next to platform 13. The international ticket windows are in a smaller hall next door, open every day from 05:10 to 19:00.
Lockers are located in the ticket hall near platform 13. There are large and small lockers, most accepting Forint coins, a few accepting euro coins, see the left luggage page for current prices. There is a change machine if you only have Forint notes.
There's at least one ATM cash point inside the station, near the buffer stops for platform 10, shown on the station plan.
Unfortunately there is no first class lounge at Budapest Nyugati, although there's a first class lounge at Budapest Keleti.
There's a McDonald's at Budapest Nyugati in what I believe is the original station restaurant of 1877. It's located in the building immediately to the right of the right-hand tower in the main facade as you look at the front of the station. Whether you like fast food or not, you can't knock the magnificent surroundings! If you find other suggestions, let me know!
There's a Spar supermarket directly across the road from the station if you need to stock up for a journey.

McDonald's cafe & burgers at Budapest Nyugati station. Photo courtesy of Philip Dyer-Perry.
Walking... There's no reason why you can't walk from the station to the inner city and the river, but it will take you 40 minutes, see Google map of Budapest. You may prefer to take the metro or a taxi.
Metro: Budapest Nyugati has a metro station underneath it on Metro line 3. If you don't fancy the walk to the river, the metro will get you there, or to Budapest Deli, Budapest Keleti or Kelenfold stations if you need to reach them. For Budapest metro information see bkk.hu, click English top right for English, then click maps for a metro map. Metro stations are marked 'M' on this Google map of Budapest, so you can easily find the metro station closest to where you want to go.
Taxis: For a taxi fare calculator see www.taxifarefinder.com/main.php?city=Budapest-Hungary&lang=en. Taxis are usually plentiful outside the station, but as always make sure you use a clearly-marked city taxi and make sure they start the meter.
Taxi tip: Budapest's official taxis come in two varieties, taxi companies and freelancers. Both are yellow. To reduce the chances of being overcharged, avoid those which say Freelancer on the front doors and use taxis which have a company logo on the doors. Trustworthy companies include Főtaxi, Citytax & Bolt. There is no Uber in Budapest.
How to transfer from Nyugati to Deli station...
By metro, go two stops on metro Line 3 to Deák Ferenc then four stops on metro line 2 to Deli Pályaudvar see bkk.hu.
By taxi it is 5.5 km, journey 15 minutes, fare around 2,500 forint.
How to transfer from Nyugati to Keleti station...
By metro, use metro line 3 for two stops between Nyugati Pályaudvar and Deák Ferenc then metro line 2 for three stops between Deák Ferenc and Keleti Pályaudvar. See bkk.hu.
By tram, take tram 4 or 6 from Nyugati Pályaudvar to the Blaha Lujza Ter then walk 13 minutes along the main boulevard away from central Budapest to the Keleti Pályaudvar. See bkk.hu. Buy a ticket from a ticket vending machine before boarding the tram and remember to validate the ticket in the validator on bard the tram.
By trolleybus, take trolleybus 73 from outside Nyugati station, this goes directly to the bus bays on the south side of Keleti station.
By taxi it is 3 km, journey 9 minutes, fare around 1,600 forint.
On foot it is 2.8 km and takes around 36 minutes.
If you need an affordable hotel close to the station try the 3-star T62 Hotel just across the road or the even cheaper 3-star Star Inn Budapest Centrum a few minutes walk away, both with good reviews. The 4-star Radisson Blu Béke Hotel is just one block along the road from the station.
For something special and historic go for the New York Palace Hotel, opened in 1894 and housing the famous New York Cafe on its ground floor. It's 21 minutes walk or 6 minute taxi ride from Nyugati station and gets fabulous reviews. As luxury hotels go, it's pretty affordable.
And if you like grand historic hotels, you can also try the Corinthia Hotel, formerly the Grand Hotel Royal and also a famous hotel dating from the late 19th century. It's 15 minutes walk from Nyugati station or 4 minutes by taxi.
---