Station overview...
Budapest's beautiful Nyugati Pályaudvar was built by the Eiffel company in 1877, roughly on the site of Budapest's first station dating from 1846. Nyugati Pályaudvar simply means west station. Although most international trains use Budapest's Keleti (east) station, trains to/from Bratislava and Prague will start using Nyugati instead of Keleti as from the timetable change on 10 December 2017. The Ukrainian sleeper train from Budapest to Lviv & Kiev also uses Nyugati. You can read more about the station's history at en.wikipedia.org/wiki/Budapest-Nyugati_Railway_Terminal.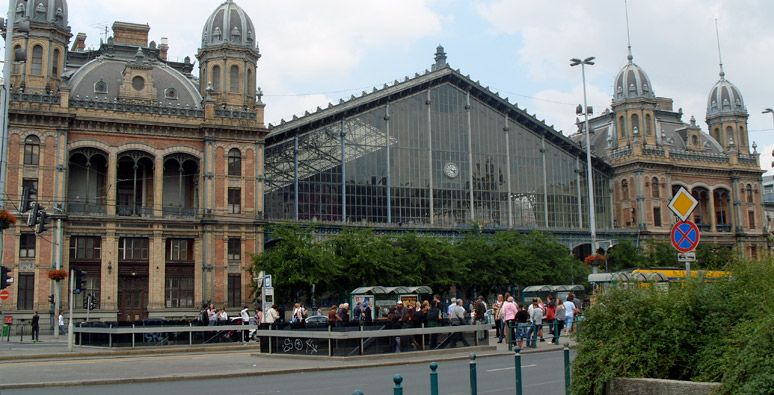 The station's beautiful facade, built by the Gustave Eiffel Company in 1877. Platforms 10-13 are inside that glass-fronted trainshed. Photo courtesy of Charlie.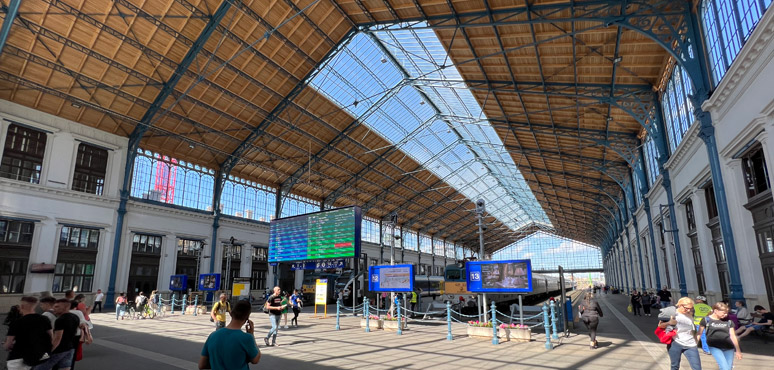 Inside the trainshed at night, showing platforms 10-13, the main departure boards, a pair of yellow ticket collection machines and some air-conditioned Hungarian InterCity cars. Photo courtesy of Daniel Mawdesley.
Budapest Nyugati is a terminus, so there is easy level access to all platforms. The station has 17 platforms, numbered from left to right as you look towards the trains. The platforms fall into three groups: Platforms 1-9 are set back a bit from the station facade on the north side. Platforms 10-13 are the longer platforms that come right in to the beautiful main trainshed. Platforms 14-17 are then also set back a bit from the station facade, on the south side.
The main departure boards will tell you which platform your train leaves from, but you can sometimes see which platform your train is due to leave from at the Hungarian Railways website www.mavcsoport.hu. Look up your train using the journey planner and when the list of trains appears, click on the orange arrow against your train. Often the platform is given, but not always. Remember that platforms may change on the day, so always check the departure boards.
The ticket windows are in a magnificent ticket hall next to platform 13.
Tickets bought online at www.mavcsoport.hu must be collected from the self-service ticket machines, either the small blue collection machines if collecting Hungarian domestic tickets (pictured below centre) or the larger yellow self-service ticket vending machines if collecting international tickets (pictured below right). There are various machines around the station. Use the touch screen to switch it to English, select the option to collect tickets, enter your reference number, click Bevitel (enter), and your tickets will print. Easy!
| | | | | |
| --- | --- | --- | --- | --- |
| | | | | |
| The magnificent ticket hall. Courtesy Nev Ball. | | A blue machine... | | A yellow ticket machine... |
Lockers are located in the ticket hall near platform 13. There are large and small lockers, most accepting Forint coins, a few accepting euro coins, see the left luggage page for current prices. There is a change machine if you only have Forint notes.
Unfortunately there is no first class lounge at Budapest Nyugati, although there's a first class lounge at Budapest Keleti.
There's a McDonald's at Budapest Nyugati in what I believe is the original station restaurant of 1877. It's located in the building immediately to the right of the right-hand tower in the main facade as you look at the front of the station. Whether you like fast food or not, you can't knock the magnificent surroundings! If you find other suggestions, let me know!
There's a Spar supermarket directly across the road from the station if you need to stock up for a journey.

McDonald's cafe & burgers at Budapest Nyugati station. Photo courtesy of Philip Dyer-Perry.
Walking... There's no reason why you can't walk from the station to the inner city and the river, but it will take you 40 minutes, see Google map of Budapest. You may prefer to take the metro or a taxi.

Metro: Budapest Nyugati has a metro station underneath it on Metro line 3. If you don't fancy the walk to the river, the metro will get you there, or to Budapest Deli, Budapest Keleti or Kelenfold stations if you need to reach them. For Budapest metro information see www.bkk.hu, click English top right for English, then click maps for a metro map. Metro stations are marked 'M' on this Google map of Budapest, so you can easily find the metro station closest to where you want to go.

Taxis: For a taxi fare calculator see www.taxifarefinder.com/main.php?city=Budapest-Hungary&lang=en. Taxis are usually plentiful outside the station, but as always make sure you use a clearly-marked city taxi and make sure they start the meter.
Transfer from Nyugati station to Deli station...
By metro, go two stops on metro Line 3 to Deák Ferenc then four stops on metro line 2 to Deli Pályaudvar see www.bkk.hu.

By taxi it is 5.5 km, journey 15 minutes, fare around 2,500 forint.
Transfer from Nyugati station to Keleti station...
By metro, use metro line 3 for two stops between Nyugati Pályaudvar and Deák Ferenc then metro line 2 for three stops between Deák Ferenc and Keleti Pályaudvar. See www.bkk.hu.

By tram, take tram 4 or 6 from Nyugati Pályaudvar to the Blaha Lujza Ter then walk 13 minutes along the main boulevard away from central Budapest to the Keleti Pályaudvar. See www.bkk.hu. Buy a ticket from a ticket vending machine before boarding the tram and remember to validate the ticket in the validator on bard the tram.

By taxi it is 3 km, journey 9 minutes, fare around 1,600 forint.

On foot it is 2.8 km and takes around 36 minutes.
---
Back to 'Rail travel to Europe' general page