Budapest Déli Pályaudvar (which simply means Budapest South Station) handles the international trains to/from Ljubljana & Zagreb, and domestic trains to Lake Balaton also leave from 'The Déli'. No statues of Stephenson or elegant Eiffel Company steelwork here as at Keleti & Nyugati: There's been a station here since 1861, but the original station suffered heavily damage in WW2 and the current concrete structure was finally completed in 1975.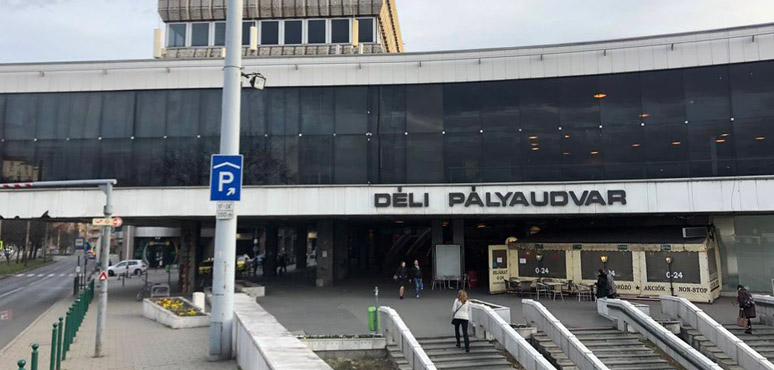 Budapest Déli exterior. The platforms & main concourse are one level up from this street level. Photo courtesy of Nicholas Kuqali.

Inside Budapest Deli, upper level immediately behind the platforms. Courtesy of Sturla Berg-Olsen.
Budapest Déli has 12 platforms, numbered from left to right as you look towards the trains. It's a terminus, so there's easy level access to all platforms. There are no ticket gates or barriers, so there's free and open access from street to concourse to platforms & trains. Tickets are checked on board the trains.
You'll usually find the international trains to Zagreb & Ljubljana on platform 5, but always check the screens as it can vary.
The main departure boards will tell you which platform your train leaves from, but you can sometimes see in advance which platform your train is due to leave from at the Hungarian Railways website www.mavcsoport.hu. Look up your train using the journey planner and when the list of trains appears, click on the orange arrow against your train. Often the platform is given, but not always. Remember that platforms may change on the day, so always check the departure boards.
Go upstairs to the upper concourse, on the same level as the platforms, behind the smoked glass in the top photo above. The international ticket office is on the left-hand side of this upper concourse, on the platform 1 side of the station, see station plan. Opening hours 06:00-10:00, 10:20-14:00, 14:25- 17:35. You can pay with cards or cash, in forints or euros.
The domestic ticket office is on the right-hand side of the upper concourse, open most of the day, cards or cash, but only forints accepted. See station plan.
Tickets bought online at www.mavcsoport.hu must be collected from the self-service ticket machines, either the small blue collection machines if collecting Hungarian domestic tickets or the larger yellow self-service ticket vending machines if collecting international tickets. There are various machines around the station. Use the touch screen to switch it to English, select the option to collect tickets, enter your reference number, click Enter, and your tickets will print. Easy!
There are left luggage lockers at Budapest Déli, in the middle of the main concourse. There are large and small lockers, most accepting Forint coins, a few accepting euro coins, see the left luggage page for current prices. There is a change machine if you only have Forint notes.
There are a couple of ATM cash points inside the station, shown on the station plan.
There is no first class lounge at Budapest Déli, only at Keleti.
For a meal before or after your train, try the Vagon Etterem (www.vagonetterem.hu), directly across the road from the station. It's instantly recognisable as you eat in an old railway dining-car, and the food gets great reviews. A pedestrian underpass links the station with the side of the road outside the restaurant. How about lunch before the afternoon train to Zagreb?
For a beer, try the Déli Terasz Söröző, a simple bar just inside the station on the left bas you look at the facade from outside, deli-terasz-sorozo.business.site.
There are various cafes and food outlets including a bakery in the station.
Walking... There's no reason why you can't walk from the station to the inner city and the river, the 2km walk from Deli station to the Erzebet Bridge takes about 25 minutes, see Google map of Budapest.
Metro: Budapest Déli has a metro station underneath it on Metro line 2. For Budapest metro information see www.bkk.hu, click English top right for English, then click maps for a metro map. Metro stations are marked 'M' on this Google map of Budapest, so you can easily find the metro station closest to where you want to go.
Taxis: For a taxi fare calculator see www.taxifarefinder.com. Taxis are usually plentiful outside the station, on a rank on the platform 1 side of the station or out of the side exit near platform 12, but always make sure you use a clearly-marked city taxi and make sure they start the meter.
Taxi tip: Budapest's official taxis come in two varieties, taxi companies and freelancers. Both are yellow. To reduce the chances of being overcharged, avoid those which say Freelancer on the front doors and use taxis which have a company logo on the doors. Trustworthy companies include Főtaxi, Citytax & Bolt. There is no Uber in Budapest.
How to transfer from Déli to Keleti station...
By metro, take metro line 2 direct. It's just 7 stops, see www.bkk.hu.
By tram, walk 9 minutes to Széll Kálmán tér ram stop and take tram 4 or 6 to the Blaha Lujza tér tram stop. It's then 13 minutes walk to Budapest Keleti. Buy a ticket from a ticket vending machine before boarding the tram and remember to validate the ticket in the validator on bard the tram. See www.bkk.hu.
By taxi it is 5.5 km, journey 14 minutes, fare around 2,500 forint.
How to transfer from Déli to Nyugati station...
By metro, go four stops on metro Line 2 to Deák Ferenc then two stops on metro line 3 to Nyugati Pályaudvar see www.bkk.hu.
By taxi it is 5.5 km, journey 15 minutes, fare around 2,500 forint.

The train to Zagreb about to leave Budapest Deli. Photo courtesy of Martin Messias.
---