Any problems booking? You can also book by phone, see the advice here.

In the 'From' box, type 'Lon' and select London (any station) or type the name of any British station. In the 'To' box, type 'Doug' and select Douglas Isle of Man.

To buy tickets starting on the Isle of Man simply type 'Douglas Isle of Man' in the 'From' box and any station you like in to 'To' box to buy one-way or return tickets from Douglas to any station in Britain.

You'll need to make a ferry reservation: Your train & ferry ticket will not include a ferry reservation. You can just turn up at the port and show your train & ferry ticket as there's almost always spaces available, but I recommend calling the IoM Steam Packet Company on 01624 661 661, say you have a SailRail ticket and ask their friendly staff to make you a foot passenger reservation on your chosen ferry departure(s).

Ticket delivery: Tickets can be collected at any main British station including London Euston, but can't be collected on the Isle of Man. If you're on the IOM, book by phone!

Booking fee: Loco2 charges no booking fee at all if you use a debit card. If you use a credit card there's a fee of around 2%.

Which journeys can this system book? It can book tickets between any station in Britain and Douglas Isle of Man, one-way or return, in either direction.

Which route? Click More options and enter Heysham or Liverpool in the 'via' box if you want a specific route, leave it blank to see journeys via both ports.

If you have any problems booking online, book by phone: 08719 774 222
It's a well-kept secret! You can buy a special SailRail train & ferry ticket between any rail station in Britain and Douglas on the Isle of Man, one-way or return in either direction at www.loco2.com. You hop on a train to either Heysham (just north of Blackpool) or Liverpool and take a comfortable ferry to Douglas on the Isle of Man with the famous Isle of Man Steam Packet Company. One ticket covers both train & ferry, centre to centre, no airport hassles, no flights. What's the journey like?
London to Douglas from £111 return
Manchester to Douglas from £68...
Isle of Man to York from £75 return
Little Kimble to Douglas from £111...
Little where ? Exactly! Any station in Britain to Douglas. Even Little Kimble. See details.

Ferry schedules to the Isle of Man

Ferry schedules from the Isle of Man

How much does it cost?

How to buy tickets

What's the journey like?

Hotels & accommodation

Tourist offices, Isle of Man bus & TT race info

Manx Electric Railway

Snaefell Mountain Railway

Isle of Man Steam Railway
No airports, no flights, just relaxed train & ferry...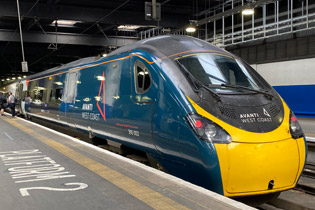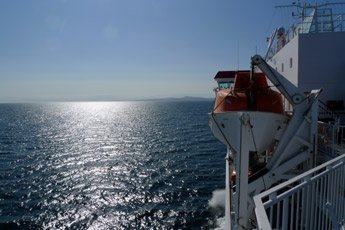 London to Douglas by fast train to Liverpool or Heysham, then a relaxing ferry to the Isle of Man.
London, Birmingham, Manchester ► Isle of Man
SailRail train & ferry tickets to or from the Isle of Man...

Douglas, Isle of Man, to or from:

Anytime

One-way

Economy

return

Low Saver

return

London or any rail station in the Greater London area

£105.50

£114.50

£142

Zone A: Any station in Lancashire, Greater Manchester, Merseyside

£70

£70

£88

Zone B: Any station in Cumbria, Yorkshire, Staffordshire, Shropshire, Cheshire, Clwyd, northern Gwynedd (inc Holyhead, Bangor)

£75

£77.50

£105

Zone C: Any station in Lincolnshire, Derbyshire, Nottinghamshire, Leicestershire, Northamptonshire, West Midlands, Warwickshire, Hereford & Worcester, Powys, southern Gwynedd (inc Pwhelli), Tyne & Wear, Northumberland, Durham, Cleveland, Borders, Strathclyde, Dumfries & Galloway, Central, Fife, Lothian

£90

£92.50

£124

Zone D: Any station in Greater London, Buckinghamshire, Berkshire, Oxfordshire, Bedfordshire, Wiltshire, Gloucestershire, Avon, Hertfordshire, Cambridgeshire, Essex, Suffolk, Norfolk, Dyfed, Glamorgan, Gwent

£105.50

£114.50

£142

Zone E: Any station in Cornwall, Devon, Somerset, Dorset, Hampshire, Surrey, Sussex, Kent, Highland, Grampian, Tayside

£136

£138.50

£168
About these SailRail fares...
How do you use these tickets?
You can buy SailRail train & ferry tickets to the isle of Man:
London to Liverpool or Heysham by train... This is a Virgin Trains 125 mph Pendolino train boarding at London Euston. The trains have air-conditioning, WiFi (free in 1st class, charged in 2nd class), and a shop selling newspapers, drinks and snacks. These trains tilt into the corners at high speed on the curvaceous West Coast main Line...
| | | |
| --- | --- | --- |
| | | |
| Heysham to Douglas aboard the ferry Ben My Chree... This is the Ben My Chree arrived at Douglas Sea Terminal. Unlike the airport, the Sea Terminal is in Douglas city centre at the south end of the promenade, a few minutes walk from all the main hotels, see map. | | More relaxing than flying... The ferry Ben My Chree is small but perfectly formed. It has a self service food lounge (above), cafe-bar, shop, and open decks. WiFi is available for a small fee. Smoking is permitted on deck. |
| | | |
| --- | --- | --- |
| | | |
| Premium Lounge: A top tip when phoning to make your ferry reservation is to pay for a reserved seat in the Premium Lounge (above). Leather seats, complimentary tea, coffee, biscuits, and the steward will bring you drinks from the bar or food from the restaurant on request. The Ben My Chree's Premium Lounge is at the front of the ship directly below the bridge, giving excellent forward views of the Isle of Man approaching... | | Isle of Man ahead! With the sun glittering on the waves, the Isle of Man emerges from its blanket of mist. This mist is known as Manannan's Cloak, Manannan is the mythical being that protects the Isle of Man. There's a diagram on the top deck identifying the hills you can see. Douglas is in the gap between the hills, to the right of Douglas the tallest peak with two masts at the summit is Snaefell, 2,036 feet. |
| | | |
| --- | --- | --- |
| | | |
| Or Liverpool to Douglas on the fast ferry Manannan, seen here at Liverpool landing stage, next to the famous Liver Building, 15-20 minutes walk from Lime Street station or there are taxis waiting on the quayside. See map. | | The Premium Lounge on the Manannan is at one side of the smaller upper deck. Complimentary tea, coffee, biscuits, and at-seat food and drinks service. The Manannan is all non-smoking, even on the outside deck areas. |
Douglas Sea Terminal. You can buy SailRail tickets from the Steam Packet Company travel shop. The tourist information office is here.

Douglas' Victorian promenade, looking south from the Manx Electric Railway station towards the Sea Terminal.

---
Isle of Man TT motorcycle race...
Bus, train & tramway information for the Isle of Man...
---
Douglas ► Laxey ► Ramsey
Between March and November, the Manx Electric Railway links Douglas with Laxey & Ramsey. Ramsey is the Isle of Man's second biggest town, Laxey is the stop for the famous Laxey wheel and the mountain railway up Snaefell. The ride on the MER to Ramsey should not be missed, it's a wonderfully scenic ride on a unique tramway, twisting and turning, up and over the hills and along the coast. The Manx Electric Railway runs every 30-60 minutes from mid-morning to late afternoon, taking 30 minutes to Laxey and 1 hour 15 minutes to Ramsey. Timetables and fares are at www.iombusandrail.info. Map showing tram terminus in Douglas.
| | | |
| --- | --- | --- |
| | | |
| A Manx Electric Railway tram at Douglas (Derby Castle) terminus, at the north end of Douglas' 2-mile-long promenade. There's a small ticket office, and a pub next to the terminus if you need refreshment. | | Each tram has one enclosed car and one open-sided car. The narrow-gauge two-track electric railway twists and turns, climbing steeply out of Douglas alongside the road, the sea visible over the cliffs. |
| | | |
| --- | --- | --- |
| | | |
| At Laxey station, you can change for the Snaefell Mountain Railway. The connecting tram to Snaefell summit is seen here on the left. The station has a welcome tearoom. | | The famous Laxey Wheel is the world's largest working waterwheel, and a Manx icon. It's a 10-15 minute walk up the valley from Laxey station. |
| | | |
| --- | --- | --- |
| | | |
| On its way to Ramsey the railway passes through some of the Isle of Man's most beautiful scenery. The line was opened to Laxey in 1893, and to Ramsey in 1899. | | This is tram 6 at Ramsey. All the trams are original, the oldest dating from 1893, the newest dating from 1906. The trams run round their trailer car at each terminus. |
---
Laxey ► Snaefell Summit
A simple change of tram at Laxey station gets you onto the Snaefell Mountain Railway. An offshoot of the Manx Electric Railway opened in 1899, it links Laxey with the summit of the Isle of Man's one and only true mountain, the 2,036-feet-high Snaefell. It runs April to October, mid-morning to early afternoon, usually every half an hour. On leaving Laxey station, it climbs up the opposite side of the valley to the famous Laxey Wheel, giving great views of the wheel, then curving round the top of the mountain to arrive at the tram terminus and restaurant/tearoom at the summit. You can see the whole island from up there. Highly recommended! Timetables and fares are at www.iombusandrail.info.
| | | |
| --- | --- | --- |
| | | |
| At Snaefell summit, 2,036 feet above sea level. Time for a cup of tea... | | The view from the summit, looking towards Laxey. The Laxey Wheel is just visible to the naked eye. |
---
Douglas ► Port Erin
The delightful Isle of Man Steam Railway links Douglas with Castletown and Port Erin to the south, from March to November with roughly hourly departures mid-morning into the afternoon. Timetables and fares are at www.iombusandrail.info. Map showing steam railway station in Douglas.
| | | |
| --- | --- | --- |
| | | |
| The Steam Railway station is at the south end of town, just inland from the Sea Terminal. The booking hall-cum-tea-room features old maps showing how the steam rail network once reached Peel and even Ramsey. | | The Isle of Man Steam Railway is a wonderful way to travel between Douglas and Castletown and the sleepy seaside town of Port Erin. You'll see coastline and green scenery from the train. |
---
You can book hotels in Douglas and on the Isle of Man, or almost anywhere in Britain through www.hotelscombined.com, just use the search box below.
◄◄

Hotel search & price comparison

.

www.hotelscombined.com checks all the main hotel booking sites at once to find the widest choice of hotels & the cheapest seller. It has been named as the World's Leading Hotel Comparison Site in the World Travel Awards and I highly recommend it, both to find hotels in even the smallest places and to check that another retailer isn't selling the same hotel at a cheaper rate.

►►

My recommended booking site:

www.booking.com

www.booking.com is my favourite hotel booking site, and unless HotelsCombined throws up major price differences I prefer doing my bookings in one place here.

You can usually book with free cancellation - this allows you to confirm your accommodation at no risk before train booking opens. It also means you can hold accommodation while you finalise your itinerary, and alter your plans as they evolve - a great feature I use all the time when putting a trip together.
Hotels in Douglas...
In Douglas, most of the hotels are arranged along the promenade, a few minutes walk from the sea terminal. The most famous and luxurious hotel in town is the Sefton, the Empress is also a good choice.
---
Sponsored links...
---