Buy tickets from €29.90 at www.bahn.de...

Buy direct from Deutsche Bahn with cheap fares from €29.90 in 2nd class or €59.90 in 1st class, you print your own ticket.

Booking Opens 60 days before departure

Breakfast in a Polish WARS restaurant car...
Berlin to Warsaw in 5h28 from €29.90...
Three or four smart Berlin-Warsaw EuroCity trains link Berlin Hbf and Warsaw Centralna every day, 570km (356 miles) in 5h28. There's also one train a day from Berlin to Gdynia & Gdansk. Change in Poznan for Wroclaw, change in Warsaw for Krakow. The trains have air-conditioned 1st & 2nd class seats and a bistro-restaurant car. Seat reservation is compulsory for journeys to, from or within Poland, this is automatically included in the price of the ticket. See travel tips...
COVID-19 update: Berlin-Warsaw trains now running normally, check times bat www.bahn.de.

Timetable

How to buy tickets

What are the trains like?

Food & drink on board

Travel tips

Route map
Berlin ► Warsaw

Days of running:

Mon-Sat

daily

daily

daily

daily*

daily

Berlin Hbf depart:

05:43

09:37

12:37

13:42

15:43*

17:43

Poznan arrive:

08:30

12:30

15:30

16:30

18:30*

20:30

Gdansk Glowny arrive:

|

|

18:25

|

|

|

Gdynia Glowna arrive:

|

|

18:55

|

|

|

Warsaw Centralna arrive:

11:33

15:33

-

19:29

21:10*

23:26
Timetable
westbound
Warsaw ► Berlin

Days of running:

Mon-Sat

daily*

daily

daily

daily

Mon-Fri, Sun

Warsaw Centralna depart:

04:30

06:40*

08:45

-

12:30

16:20

Gdynia Glowna depart:

|

|

|

08:57

|

|

Gdansk Glowny depart:

|

|

|

09:27

|

|

Poznan depart:

07:26

09:26*

11:26

12:26

15:26

19:26

Berlin Hbf arrive:

10:16

12:16*

14:16

15:16

18:16

22:16
Times good from 15 December 2019 to 12 December 2020.
]Always check times for your date of travel at www.bahn.de as they can vary.
* = The 15:43 from Berlin & 06:40 from Warsaw runs from 14 June 2020 onwards.
Buy tickets at the German Railways website www.bahn.de and print your own ticket. To book on a mobile device, use this link.
Children under 15 travel free when accompanied by an adult, if you book at www.bahn.de. You can now also buy tickets from Polish Railways at www.intercity.pl, sometimes more cheaply. You print your own ticket.
1st class car...

A Berlin-Warsaw EuroCity train at Berlin. Yellow stripe = 1st class car.
There's usually just one 1st class car on each train, usually a classic compartment car with a side corridor & comfortable carpeted 6-seater compartments like this. The best seats are obviously the two at the window. On some departures you'll find it's an open-plan car, called 'saloon' on bahn.de. Click the images for larger photos.
2nd class cars...

A Berlin-Warsaw train at Berlin. Green stripe = 2nd class cars.
Some 2nd class cars are compartment cars like this with a side corridor & 6-seater compartments. Click the images for larger photos.
...but there's usually at least one car with open-plan saloon seating like this. Click the images for larger photos.
Berlin-Warsaw EuroCity trains have a Polish restaurant car, staffed by Wars, the Polish train caterers. Treat yourself to a meal and linger in the restaurant for an hour or two over a beer and a meal. A tasty sausage soup, main course of schnitzel, potato & salad served on proper china, a beer and coffee for only around €10. Euros & zlotys are both accepted, you must pay in cash whilst in Germany but when the train is in Poland they will normally accept credit cards too. Of course, you're also free to bring your own picnic and beer or wine along and eat at your seat.

The restaurant car on a Berlin-Warsaw express train. Red stripe = catering car. Photos courtesy of DiscoverbyRail.com.

The restaurant car on a Berlin-Warsaw express. You don't need to reserve a table, just go along and sit down. A steward will take your order... These photos courtesy of DiscoverbyRail.com. Larger photo.
| | | |
| --- | --- | --- |
| | | |
| The bar. Larger photo. | | Decent food, served on proper china... |
1st or 2nd class?

2nd class is absolutely fine for most travellers, there's no need to go 1st class unless you don't mind the extra cost. The only difference is in the seating comfort. But see what prices you get at www.bahn.de because sometimes 1st class doesn't cost much more than 2nd. 1st class simply means more leg and elbow room and usually a quieter environment.
Do you need to book in advance?

Reservation is compulsory on these Berlin-Warsaw trains and a reserved seat will automatically be included with your booking. However, there are normally plenty of places available even on the day, the issue is price not availability: In advance, fares start at €29.90, but on the day you will pay the full-flex fare, over €66. Better to book ahead!
Seating plan & train formation...

You can check the train formation and see a numbered seating plan for each car at www.vagonweb.cz - Change cs to English upper left, then click Train formations, scroll down to Poland and click EIC then select your train number. Click the camera logo under each car for photos, click the plan logo under each car for a seating plan, if available.

In 2nd class you can choose whether you want to sit in an open-plan saloon or a classic compartment when you book at www.bahn.de. Some people prefer classic 6-seat compartments, especially if they are a family or a group of friends, I personally prefer open-plan seating as it feels more spacious, feels less confined and you get a better view through multiple windows. It's your choice! In 1st class, all seats are normally in 6-seat compartments on these trains.
Boarding your train...

As with virtually all European trains, there's no check-in. Just stroll into the station, find your train and get on, any time before it leaves. The doors may be closed a minute before departure. At Berlin Hauptbahnhof, trains to Warsaw use the east-west platforms above ground level, as opposed to the north-south platforms below ground.

At stations, a poster on the platform shows where each car will stop along the platform. This saves you running up and down like a headless chicken trying to find your car. It also helps to know that on these Polish trains a yellow stripe above the windows means first class, a red stripe means catering car, a green stripe means 2nd class, as you can see in the photos above.
First class lounge...

If you have a 1st class Flexpreis ticket (but not advance-purchase Sparpreis or Supersparpreis or a railpass) for the Berlin-Warsaw Express you can use the excellent DB Lounge at Berlin Hbf located up one level from the main station entrance, on the left. This has complimentary food, tea, coffee, beer & wine plus free WiFi. There is no first class lounge in Warsaw.
Luggage...

You take your luggage with you onto the train and simply stick it on any suitable luggage rack. Anything up to and including backpack-size will easily fit on the overhead racks above your seat. The 2nd class open-plan car has a large luggage area at one end of the seating saloon - so perhaps choose the open plan car if you have vast suitcases. More information about luggage on European trains.
WiFi & power sockets...

WiFi is often available on the Berlin-Warsaw EuroCity trains, although not all cars are fitted. Similarly, some cars will have power sockets, but not all are fitted. There's reasonable mobile data coverage along the route.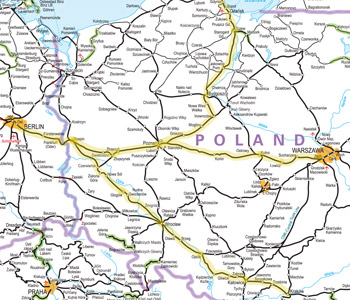 Click for larger map Green = scenic sections of line. Red = new high-speed line.
Reproduced from the excellent European Rail Map with kind permission of the European Rail Timetable people. Buy this European Rail Map for your travels and perhaps a copy of the European Rail Timetable at www.europeanrailtimetable.eu with shipping worldwide.
---