Buy tickets from a train operator at official prices with no booking fee. For faster booking, enter KGX to YRK

Bookings open 8-12 weeks ahead.

If you select E-ticket you can show the ticket on your phone or laptop.

What are Advance, Off-Peak & Anytime fares?

Can't find cheap fares? See the advice here

If you prefer, you can collect your tickets from the self-service machines: Touch collect tickets on the screen, insert your credit card, enter the reference & tickets will print. You need the original credit card.
London to York from £21.40...
An LNER train links London & York roughly every 30 minutes through the day, 188 miles in as little as 1h51, city centre to city centre at up to 125 mph. This page helps you buy the cheapest tickets and get the most from the journey.
Trains leave London Kings Cross for York almost every half-hour through the day, taking between 1h51 & 2h10.

Check train times at any train operator site such as www.tfwrail.wales or www.lner.co.uk Booking for British trains usually opens up to 3 months ahead.
If you book in advance, no refunds, specified train only...

2nd class from £21.40 each way.

1st class from £51.20 each way.

Advance fares are only good for the specified train, no refunds, limited changes, price varies depending how far ahead you book & how popular that date, day or time is, just like air fares.
If you buy a ticket on the day or want to stay flexible...

Anytime = £160.30 one-way or £308.20 return, good for any train you like.

Super Off-Peak = £130.50 one-way or £131.50 return.

Super Off-Peak is good for any train you like at weekends. On Mondays-Fridays good for any northbound train except those due to leave London before 09:06 or from 14:59 to 18:59 (18:15 on Fridays), or any train southbound except those due to arrive in London before 11:17.

Super Off-peak, Off-Peak & Anytime tickets have unlimited availability & a fixed price, they cannot sell out. You can use them with or without a reservation on any train on which they are valid. That time restriction was correct when written, but check when you buy.
What are the trains like?
LNER introduced new Azuma trains in 2019-2020, replacing older Mk4 InterCity 225 carriages from the 1990s and a few even older InterCity 125 Mk3s. The journey from London to York is all-electric at up to 125 mph. See the Azuma video. LNER run the main London-York service every half hour, although there are 5 trains a day between London & York run by open access operator Grand Central, booking systems show all trains.

An LNER Azuma train from York to London at York station platform 5...
| | | | | |
| --- | --- | --- | --- | --- |
| | | | | |
| Complimentary food & wine is served at your seat in 1st class on Mondays-Fridays... | | An electronic display shows which seats are reserved and which are free. | | You simply put your luggage on the racks. |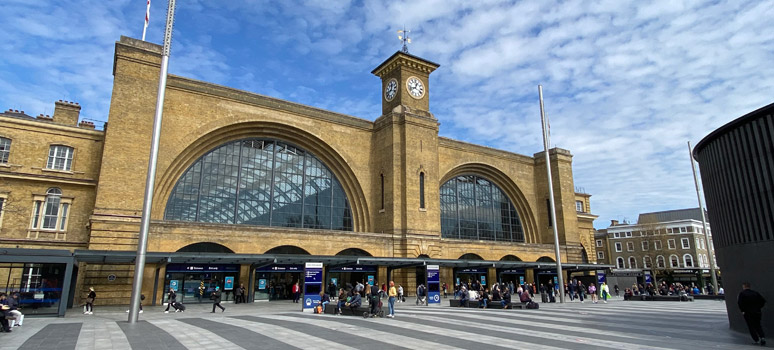 Kings Cross station, showing Cubitt's elegant facade of 1852 which faces the Euston Road. The ugly 1970s extension which sat in front of it for 40 years has been removed, opening up the area as a pleasant square occasionally now used for a farmers' market. More information on the station's history. You can find a plan of the station at www.nationalrail.co.uk/stations, enter KGX.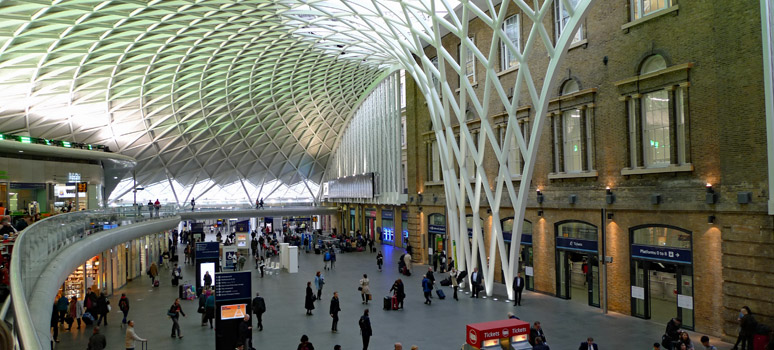 A spacious new concourse has been built alongside the original station, on the left hand side as you look at Cubitt's original facade. This photo was taken from the balcony where you'll find various food outlets. The ticket office is on the right. The Harry Potter trolley is almost dead centre in the photo, and the excellent Parcel Yard pub is at the back.
Access to/from the platforms is though automatic ticket gates, so have your ticket handy. In this photo the gates are just out of shot to the right, go through them and walk behind the buffer stops to the platform for your train...
| | | |
| --- | --- | --- |
| | | |
| One of the station clocks, on the platforms inside the trainshed. | | Harry Potter fans can have their photo taken on the concourse. Though JK Rowling was thinking of Euston when she came up with platform 9¾, as explained here. |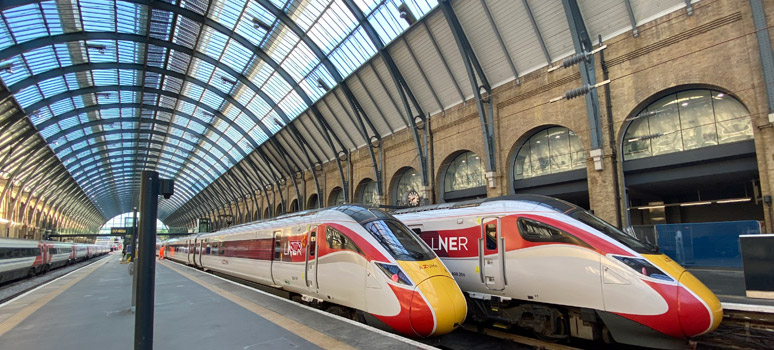 One of the two magnificent arched roofs at Kings Cross, with platforms 8, 7, 6 & 5.
Anyone with a 1st class ticket over £10 for travel via the East Coast route can use the LNER first class lounge with complimentary tea, coffee, snacks & soft drinks. The door to the lounge is to the left of the blue neon glow (actually a row of ATMs) in the centre of the concourse photo above. The lounge is upstairs, accessed via a lift. The lounge was refurbished again in July 2019, this photo is courtesy of Douglass Scott. A first class lounge will open at York station in 2021.
If you can't get into the 1st class lounge, head for the excellent Parcel Yard pub at the back of the concourse, a great place to have a meal or beer while waiting for your train. Or for a special meal, the excellent upmarket Rails Restaurant is located the first floor of the Great Northern Hotel, with an entrance directly off the new Kings Cross station concourse.

1. The train leaves Kings Cross and immediately plunges into the short Gasworks & Copenhagen tunnels. It then it accelerates through the London suburbs.
| | | |
| --- | --- | --- |
| | | |
| 2. A few minutes after leaving Kings Cross you'll see Emirates Stadium on the right, the home of Arsenal Football Club and one of the largest football stadium in the UK after Wembley & Old Trafford. | | 3. Alexandra Palace with its large radio & TV mast is on the left 10 minutes or so after leaving Kings Cross. It was from 'Ally Pally' that the BBC broadcast the world's first regular public television service in 1936. |
4. Suburbia soon gives way to open country, woods & fields as the train powers on at 125 mph. It's a 4-track main line, but all trains have to squeeze onto just two tracks to cross the Welwyn Viaduct, which is something of a bottleneck! The woods and fields eventually give way to the flat Cambridgeshire fenlands...

7. York station, 188 miles from London. As you approach York, you might glimpse the towers of York Minster which are just visible over the top of the station's beautiful 19th century roof. York is home to the National Railway Museum, www.nrm.org.uk.

York station. The York Tap is just visible on the right. The Principal Hotel is just out of shot on the right.
| | | |
| --- | --- | --- |
| | | |
| The station clock... | | York station footbridge... |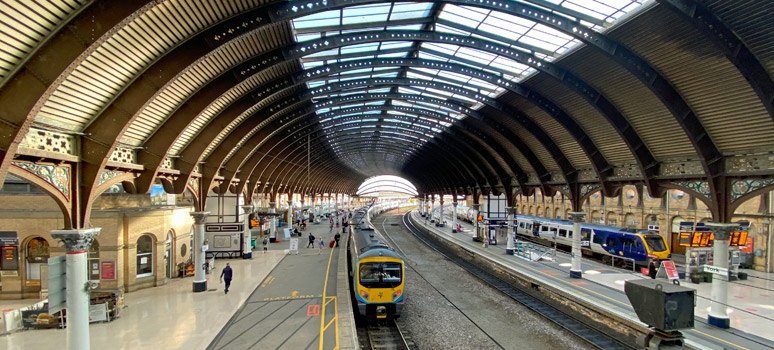 The main platforms at York. Most (but not all) trains from York to London leave from platform 3, seen here in the foreground. Most (but not all) trains from London arrive at platform 5, the empty platform on the right here.
| | | |
| --- | --- | --- |
| | | |
| The York Tap, recommended for a pint of real ale before your train back to London. See yorktap.com. | | York station concourse. The main entrance & ticket office are behind the camera. |
1st or standard class? Standard class is absolutely fine. First class is usually priced for business travel, but if you pre-book you can find some affordable first class Advance tickets. First class gets you wider seats with more legroom, fewer families & kids and more businessmen & laptops. You'll get complimentary food and wine served at your seat on weekdays, although just tea, coffee, sandwiches & biscuits at weekends. Another advantage of first class is that you can choose a solo seat if you're travelling alone or a face-to-face table for two, by far the nicest arrangement for couples. You also get access to LNER's first class lounges at London Kings Cross and York.

Last minute upgrade to 1st class? If you have a cheap Advance ticket for standard class, you can bid for a last minute upgrade to 1st class with food & drink included by downloading the Seatfrog app onto your phone at seatfrog.com/lner.html. This is new from September 2017, it's only possible on trains with plenty of empty 1st class seats, but see how it goes. But if you want to be sure of travelling in 1st class I'd just book a normal 1st class advance fare. Feedback would be appreciated!

Train seating plans: You'll find seating plans here for the Azuma trains used on almost all London-York departures, and for the few remaining InterCity 225 electric trains. The first class cars K, L & M are normally at the London (south) end of the train.

Which platform at London Kings Cross? Trains to York leave from platforms 0 to 8 in the main trainshed, they don't go from suburban platforms 9-11. There may not be a platform 9¾, but there really is a platform 0, on the far eastern side of the station beyond platform 1. Trains typically board 15-30 minutes before departure. You can find a plan of the station at www.nationalrail.co.uk/stations, enter KGX.

Tip: Platform numbers are only posted when they are certain, 10-30 minutes before departure. However, the website www.realtimetrains.co.uk and phone app UK Live Trains show the planned platform before the actual platform is posted, unlike the station departure boards (and most official apps) which keep you guessing until the last moment. If you know in advance what platform your train is expected to use, it reduces stress and you can position yourself ready near that platform. Just remember that the actual platform sometimes differs from planned!

First class lounges at Kings Cross & York: If you have a first class ticket you can use the LNER lounge at Kings Cross before departure or after arrival, with complimentary refreshments & free WiFi. There's also now an LNER first class lounge at York, this opened in July 2021.

A beer or meal at Kings Cross station: The Parcel Yard pub on the north side of the concourse makes an excellent departure lounge if you can't use the first class lounge. They serve food, too. For a really special meal, the excellent Rails Restaurant is on the first floor of the Great Northern Hotel on the south side of the concourse.

York is a fabulous city to visit, home to the UK's National Railway Museum, www.nrm.org.uk and York Minster, yorkminster.org. You can leave your luggage at a left luggage facility near the station, leftluggageyork.co.uk. The top choice of hotel is the Principal Hotel, York.

A beer at York station... I heartily recommend the station's own classic pub, the York Tap (yorktap.com) as a place for a pint or two of real ale while waiting for your train. Or indeed, while staying in York.

A decent meal at York station... The pub-style restaurant at the Principal Hotel next to the station does great food if you want a decent meal. The hotel has a direct entrance from the platform 3, near the York Tap.

Luggage & bikes: You can take whatever luggage you like within reason, there are no weight limits and no-one will measure your bags, just remember you have to handle them yourself, taking your bags onto the train and putting it on the luggage racks, see the photo above. The overhead racks above your seat take anything up to & including backpack-size, the racks at the end of the car inside the entrance doors take larger suitcases. London-Edinburgh trains also carry bikes in a bike rack area, reservation is necessary, see the bike page at www.lner.co.uk.

WiFi & power sockets: There's free WiFi & power sockets at all seats in both classes.

Complimentary food & drink in first class: Complimentary food & drink is served in 1st class, meaning tea, coffee, juice, sandwiches, bacon rolls and (on weekdays) a selection of one or two hot dishes. Complimentary red & white wine and beer are offered after 11:00.

Food & drink in standard class: There's a buffet counter serving tea, coffee, beer, wine, snacks, which you take back to your seat. Or you are free to bring your own food & drink. There are plenty of food outlets at stations to stock up for the journey.

Have food & drink delivered to your seat: Why trek to the buffet car? In standard class, you can order food & drink from the buffet counter menu to be delivered to your seat. 1. Use the camera on your phone to scan the QR code on the seat back in front of you, it will prompt you to open the link in a browser. 2. It knows which train you are on, simply select your carriage letter and enter your seat number. 3. Make your food & drink selection and it will be delivered to your seat. Payment only leaves your account once the food order has been delivered.
The video is London to Leeds, but the London-York route is identical as far as Doncaster, and it shows an Azuma train.
The East Coast Main Line as railwaymen call it, was built around 1850 by three railways working together: The Great Northern from London to just north of Doncaster, the North Eastern Railway from there to Berwick, and the North British Railway from Berwick to Edinburgh. All three railways became part of the LNER (London & North Eastern Railway) in 1923 when Britain's many small railway companies were grouped into the Big Four regional companies, the LNER, LMS, GWR & Southern. The Big Four were nationalised in 1948, becoming British Railways, shortened to British Rail in the trendy 1960s. Privatisation in 1995 has seen several companies run the East Coast franchise, and was operated by Virgin Trains East Coast, 90% owned by Stagecoach, 10% by Virgin Group, until June 2018. It's now for the moment run by a government-owned company and rebranded LNER, a nod to the old historic LNER. The line is now electrified, but the InterCity 225 electric trains &InterCity 125 diesel trains inherited from British Rail have now given way to modern Azuma trains. More information at en.wikipedia.org/wiki/East_Coast_Main_Line.

The World Steam Speed Record... The LNER ran its famous A3 & A4 steam locomotives on the route from London to York & Edinburgh and it is the celebrated A4 class Mallard which still holds the World Steam Speed Record, 126mph achieved in 1938 on a section of the same London-York line that you travel over today. Today, Mallard can be found in the National Railway Museum at York (www.nrm.org.uk). More information at en.wikipedia.org/wiki/LNER_Class_A4 4468_Mallard.
York is home to Britain's National Railway Museum (NRM), a few minutes walk from the station (see walking route from York station to the NRM). It's a superb collection, which includes LNER's A4 Pacific locomotive Mallard, holder of the world record for steam traction, the prototype Intercity 125, prototype Deltic, and various royal trains. For more information including opening hours, see www.nrm.org.uk. Photo courtesy of the National Railway Museum.
York is a great city to wander around, from the city walls, the Minster, and the little narrow street of small shops known as The Shambles. For tourist information see www.visityork.org. See walking route from York station to The Shambles, a 15-minute walk.
No visit to York is complete without seeing York Minster. It's a 13-minute walk, see walking route from the station to York Minster. See yorkminster.org to plan your visit.
York's 4-star Principal Hotel is one of my favourite hotels, formerly the North Eastern Railway's York Royal Station Hotel. Built in 1878 and set in its own grounds right next to York station, it still has a secondary entrance directly from the station, off platform 3 next to the York Tap. Indeed this was once the hotel's main entrance with reception originally located here, but the main entrance now faces the car parking area and hotel grounds on the opposite side of the building. The Standard rooms are mostly in a modern annexe called The Sidings, so book a Superior grade room or above to make sure you're either in the original building dating from 1878 or the Klondyke Wing added in 1896. As their name suggests, Minster rooms get a view of the Minster. The city centre, the Shambles and York Minster are just a few minutes walk away. The hotel has a restaurant that serves great food and wine, too. Check the reviews and book the hotel.
| | | |
| --- | --- | --- |
| | | |
| The Principal Hotel in its own grounds right next to York station. Built in 1878, the Klondyke Wing (tall part at far end) was added in 1896. | | Minster room, with view of York Minster. This is the bedroom, it also has a sitting room. Larger photo. |
---