Free or reduced rate European train travel: An amazing perk if you work for a UK train company!
If you have worked for a British train operating company for over 12 months and are entitled to reduced rate or free travel on British trains, you are almost certainly entitled to free or reduced rate travel on most European trains as well. Your partner and dependent children also qualify. This is an amazing perk, though it's often not 'advertised' by your employer. Network Rail safeguarded staff employed before 31 March 1996 also get this perk, although NR staff who joined after this date don't.
So how does it work?
There are two basic options for travelling in Europe on 'privs': (1) using an FIP International Reduced Rate card to get a discount or (2) using FIP International Free Travel Coupons for (in most cases) completely free travel.
(1) FIP International Reduced Rate Card & how to get one...
You can apply for an 'FIP' International Reduced Rate card from your staff personnel office at any time, giving at least 6 weeks notice.

I recommend you get an FIP Reduced rate card right now, even before having any firm travel plans, as it's valid for 6 years. You can then order free coupons when you have a specific trip in mind.

The card is valid for 6 years, and it gives you reduced rate travel on most European railways, including Eurostar, any time you want to go. Just show your card at a European station, and you can buy tickets with the relevant discount or special fare. The card covers most trains in most countries, notably except Russia, Ukraine, Belarus and Sweden.

Most European national railways simply give either 50% or 75% off their normal full-price fares, but Eurostar and a few other services such as Thalys and Lyria offer special cheap priv fares for holders of this card.

The class of travel is the same as you get in Britain. So if you are entitled to first class priv travel in Britain, you'll get first class priv train travel in Europe too. Although in a handful of cases including Eurostar, you can choose to buy a 1st class FIP ticket even with a 2nd class FIP card.

With an FIP card, Eurostar from London to Paris or Brussels in costs £34.50 each way in standard class or £52.50 each way in standard premier. (1st class). There are lower fares for safeguarded (ex-BR) staff, £23 in standard or £38 in standard premier, available from Eurostar ticket offices at St Pancras, Ebbsfleet, Ashford or from Rail Canterbury on 01227 450088.

As you need to apply for your reduced rate card at least 6 weeks before travel, I recommend applying for an International Reduced Rate Card now even if you don't have any firm travel plans. It lasts for 6 years, so you'll have one when you need it, even if that's at short notice, or you find yourself abroad unexpectedly needing to buy a train ticket!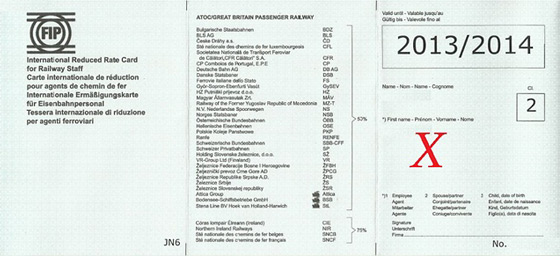 Example of an FIP Reduced Rate Card for rail staff...
The three pages shown here fold into a little booklet. You can read the list of train operators which is covers. 'Attica' group ferries means Superfast and Blue Star ferries on routes such as Ancona or Bari in Italy to Patras in Greece. From 2013 the year is printed, rather than using sticky year labels as before.
(2) FIP International Free Coupon Tickets & how to order them...
At least 3 weeks before you want to travel , you can order an 'International Free Coupon Ticket' from your personnel office for each of the countries you intend to visit. You'll get one free travel coupon ticket for each country you ask for, see the example below. The notice period was reduced from 6 to 3 weeks in 2011.

You are entitled to order one International Free Coupon for each European country per year, or 2 per year in a few cases such as the Netherlands and (if you're salaried staff) France and Belgium.

Each coupon has 4 boxes printed on it, and when you write the date in a box it gives you 48 hours free travel on that country's national rail network from 00:00 on day 1 to 24:00 on day 2. Most inspectors understand that it's 48 hours not 24 hours, but in my experience in a few cases you'll have to politely insist that this is the case (on day 2 of the 48 hours, watch inspectors carefully to see that they don't start writing the date in a second box!)! For international journeys, you simply need a coupon for each of the countries through which your route passes.

Note that these International Free Coupons don't work at all on Eurostar (London-Paris, London-Brussels), Thalys (Paris-Brussels-Amsterdam/Cologne), Lyria (Paris-Switzerland), Thello (Paris-Italy sleeper trains) or Paris-Italy TGVs, plus a handful of other services, as these offer special FIP Leisure Fare with the FIP Reduced Rate Card instead.

The class of travel is the same as you get in Britain.

The coupons are valid for 3 months from the date they're issued.

If you use a coupon in a neighbouring or adjoining country, you cannot return to your home country, then go back and start travelling in those neighbouring or adjoining countries again using the unused boxes or coupons within the same booklet. For the UK, 'neighbouring or adjoining countries' are defined as SNCF (France), SNCB (Belgium), NS (Netherlands), NIR (Northern Ireland) and CIE (Ireland). So for example, if you were a UK railway employee who went to France and used part of an SNCF coupon in a booklet containing SNCF, SNCB and DB (German Railways) coupons, and then you returned to the UK, you would not be allowed to go back to either France or Belgium and use the unused SNCF boxes or the unused SNCB coupon (as France and Belgium are 'neighbouring or adjoining countries' to the UK), but you could go on a trip to Germany within the overall 3 month validity of the coupons, and use the unused DB coupon there as Germany isn't an neighbouring or adjoining country.

Obviously, even if you go with the International Free Coupon option, it's best to get an FIP card as well as backup, and for use on those services where the coupons don't work.
Example of an FIP International Free Coupon Ticket...
This is one for travel on SNCF French Railways, issued to a member of staff working for SNCB (Belgian railways). Each time a date is written in biro in one of the four boxes, it gives 48 hours free travel, from midnight on day 1 to midnight on day 2. You must sign at the bottom.
How to make reservations...
More information, a discussion forum & to read up on the small print...
How to apply...
More information welcome...
Feedback would be welcome, if you're a member of rail staff and use your free or reduced rate European travel facilities.
Sponsored links...
---