Basel SBB is the main station in Basel, the third-largest city in Switzerland after Zurich & Geneva. It's a major hub for Swiss domestic trains and you'll often find yourself changing trains here. The SBB simply refers to Swiss Federal Railways, to distinguish it from Basel's other mainline station, Basel Bad Bf.
A station first opened on this spot in 1854, but the current station building dates from 1900-1907. It's a through station (not a terminus) with a historic station building and booking hall on the northeast side of the tracks and a large modern footbridge (the Passerelle) lined with retail units spanning the tracks, with escalators down to each platform. See a 3D plan of Basel SBB station at plans.trafimage.ch/basel-sbb (please let me know if this link stops working).

Basel SBB's main station building on the northeast side of the tracks, dating from 1900-1907. The two main station entrances are directly beneath the clock towers.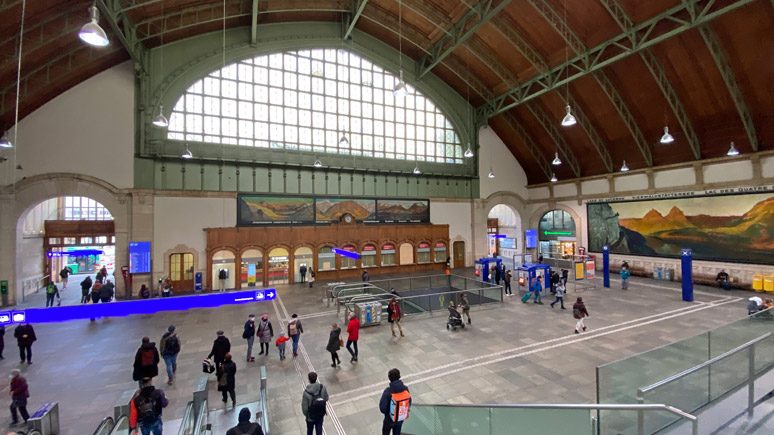 Basel SBB booking hall, taken from the top of the escalators up to the footbridge (Passerelle) over the tracks. The two main station entrances/exits can be seen on either side of the photo. The escalators in the centre lead down to a lower level, where you'll find the left luggage office & lockers.
Since this photo was taken, the ticket office has been moved to a new walk-in SBB travel centre, opening off the side of this hall that's just out of shot to the right. A Migros supermarket now occupies the space where the ticket office is in the photo.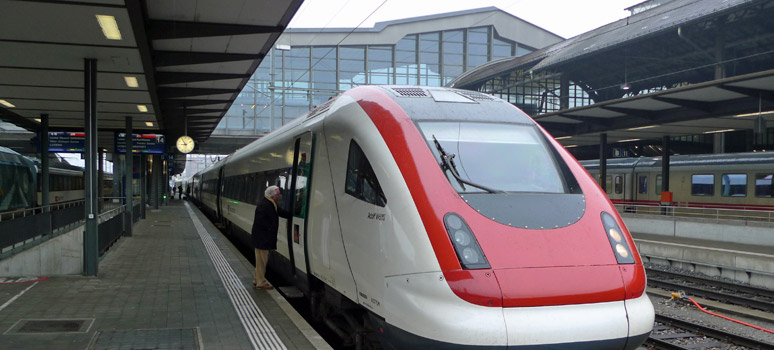 A tilting ICN train at platform 14. In the background you can see the large footbridge (Passarelle) linking all the tracks, lined with retail units.
Left luggage, ticket office, ATMs, WiFi...
Supermarkets & shops...
More information...
Basel Badischer Bahnhof (usually abbreviated to Basel Bad Bf.) is a secondary station in the north of the city. The name refers to the Duchy of Baden State Railways, whose station this once was. Trains between Germany & Switzerland call here before or after using Basel SBB. Although located in Switzerland, most of the station is run by Deutsche Bahn (German Railways) although as Germany & Switzerland are now in the Schengen area, the old customs controls are no longer used. If you're connecting for other destinations in Switzerland, you should use Basel SBB station.
---