Belgrade's original main station closed in June 2018...
The original historic Belgrade station, as used by the Orient Express and located walking distance from the old town, closed permanently on 30 June 2018. All trains now use Belgrade Centar station, apart from the international trains to/from Montenegro, to/from Skopje & Thessaloniki and the summer-only direct train to/from Sofia which use Belgrade Topcider station to the south of the city centre, see stations location & city map. You can check times of trains in Serbia and leaving Belgrade for Budapest, Sofia or Montenegro using the journey planner at www.srbvoz.rs/eng/timetable.html.

Belgrade's original main station - closed 30 June 2018

Belgrade Centar station - now handling all trains except those to/from Montenegro & (in summer) Sofia

Topcider station - used by trains to/from Montenegro & (in summer) Sofia

Novi Beograd station - an alternative for trains to/from Zagreb.

Visiting Belgrade

Station location map
Belgrade had a classic Balkan station, built in 1884. This closed permanently on 30 June 2018. It was well located, just a 10 minute walk to the Knez Mihailova, the main pedestrianised street running through Belgrade's old town, although it was uphill. Unlike most main stations in Europe, there was no overall roof - the concourse was open-air, although canopies covered the actual platforms. See Wikipedia entry. See map of Belgrade showing station.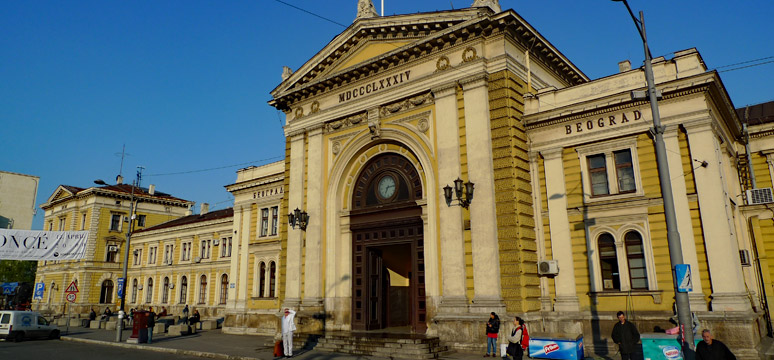 Belgrade's old main station, eastern facade...
Belgrade Centar station is a rather ugly modern station several kilometres to the south of Belgrade's original station, see city & station location map. It is the new central station now that the old station has closed, and it's sometimes known as Prokop.
The station is largely underground, accessed by stairways down from street level. The platforms sit below a concrete slab that will one day have an office block above but is currently empty space. You can read more about the Belgrade Centar station project at en.wikipedia.org/wiki/Belgrade_Centre_railway_station.
Ticket office & facilities...
The station has 10 tracks (only 9 of which have a platform as one is a through line). There are toilets, an ATM and a small domestic ticket office adjacent to platform 10 (opening hours not known, but credit cards are accepted).
There is a separate international ticket counter to the right of the toilets, inside the office opposite the domestic ticket office, it is marked International office in the upper left of the exterior window.
In December 2018 a small cafe opened on platform 10, open 7 days a week, 06:00-22:00. Tip: There are no shops at Belgrade Centar, so stock up for the journey in town when leaving from Belgrade. Ideally, have some Serbian dinars with you when arriving by train for the bus or taxi to the city centre.
How to get there...
A taxi between Belgrade Centar & the Hotel Moskva on the edge of the old town takes 13 minutes and costs around 644 dinars (€5.50), see www.taxifarefinder.com/main.php?city=Taxify-Taxi-Belgrade-Serbia.
Bus 36 runs a circular route linking Beograd Centar and the old station nearer the old town. The fare 150 dinars (€1.25) paid in cash and runs every 20 minutes (alternately clockwise or anticlockwise around the route).

Belgrade Centar station. Courtesy of Peter Binnersley.
| | | |
| --- | --- | --- |
| | | |
| Platform 10, with ticket office up those steps. Photos courtesy of Peter Binnersley. | | The station entrance at street level. A concrete slab with a station underneath it. |
| | | |
| --- | --- | --- |
| | | |
| The station cafe, with the ATM just visible in the background. Photo courtesy of Alan Elliott. | | Station plan - click to enlarge... |

Belgrade Centar platforms. Courtesy of Iain Henshaw.
Belgrade Topcider: For trains to Montenegro & Sofia...
From June 2018, the trains to and from Montenegro and the summer-only direct train to/from Sofia are using Belgrade Topcider station, located on the edge of Topcider Park, see city & station location map. The station was destroyed in WW1 and rebuilt in 1931 with a royal waiting room attached. The 1930s station was in turn destroyed in WW2, but the royal waiting room remains and is now the passenger hall, for its history see en.wikipedia.org/wiki/Top%C4%8Dider_railway_station. When using the Serbian Railway timetable at www.srbvoz.rs/eng/timetable.html it is listed as plain Topcider.
Getting to Topcider on foot, by tram or by taxi...
It's 4.4 km south of the old historic Belgrade station, a 57-minute walk.
Tram line 3 links the city centre and area near the old station with Topcider station in 30-35 minutes, fare 150 dinars. The tram allegedly takes contactless MasterCard/Maestro or you can buy tram tickets from local shops. Unfortunately, the shop near the Topcider tram stop doesn't sell tram tickets. At Topcider, the tram stop is just across the road from the station, if you are arriving by train and taking the tram into the city you want the far platform on the side away from the station. Tram 3 was out of action for a while in 2019 due to track maintenance, but it has now resumed.
A taxi from central Belgrade to Topcider station takes 15-20 minutes and should cost around €5.50 according to www.worldtaximeter.com. Just make sure the taxi driver knows where Topcider station is!
Ticket office
The small ticket office is open daily 06:00-22:00 and it accepts credit cards. It's not located in the station building but in a separate building roughly 100m away and marked only with a fairly small sign above the entrance door, see the photo section below so you know what to look for.
Station facilities & restaurant...
There are few facilities at Topcider. There is a rustic restaurant adjacent to the ticket office, reportedly open 07:00-11:00 & 16:00-18:00 (please let me know if this changes), although the restaurant's name, website (if any) are not known. There is no ATM, so have currency with you for purchases. There's a well-stocked shop across the road at the tram stop.

Topcider station (platform side) in the evening, waiting for the sleeper train to Montenegro. Courtesy of Angus Wheeler.
| | | |
| --- | --- | --- |
| | | |
| Topcider station, seen from the street. Photos courtesy of Peter Binnersley. | | No.3 tram links Topcider with the city, the tram stop is across the road from Topcider station. |

The tram stop at Topcider station. You know it's the right stop when you spot the yellow shop on the left as tram 3 pulls into this tram stop from Belgrade city centre. Courtesy Simon Forth.
| | | |
| --- | --- | --- |
| | | |
| Tiopcider ticket office, a separate building about 100m from the station building. Photos courtesy of Pawel Stepniewski. | | The rustic restaurant next to the ticket office. Courtesy Pawel Stepniewski. |
Novi Beograd: An alternative for trains to/from Zagreb...
Novi Beograd (New Belgrade) is to the west of old Belgrade, just the other side of the river on the line coming in from Zagreb. Eastbound trains from Zagreb stop at Novi Beograd 7 minutes before arriving at Beograd Centar, and westbound trains to Zagreb stop at Novi Beograd 7 minutes after leaving Beograd Centar. Novi Beograd station is further from the city centre than Beograd Centar (4 km versus 3 km), but arguably has better transport links so you may prefer to get off here. If you have any feedback, please let me know!
Trams 7 & 9 run every 5-10 minutes from Novi Beograd station to the tram stop at the site of the old defunct Belgrade station (Glavna Zeleznicka Stanica), from where it's 10 minutes walk up the hill to the Hotel Moskva and old Belgrade's main pedestrianised shopping street. The tram fare is 150 Serbian dinars (about €1.50) and you can just pay the driver, or they are introducing a new contactless payment system using MasterCard & Visa, feedback would be appreciated. The tram ride is 7 stops and should take around 15 minutes. Ignore tram 13, this goes to the southwest of the city.
It might best to only use Novi Beograd when when arriving from Zagreb, because of its decent tram links. Then take a taxi from your hotel to Beograd Centar when leaving for Zagreb, as Novi Beograd hasn't got many facilities and isn't the best place to wait for a train. Novi Beograd has a small kiosk selling train tickets, but it's not known if this can sell international ones. Note that there steps between street level and platforms, no lifts or escalators.

The somewhat desolate and seemingly unstaffed platforms at Novi Beograd. The tracks sit on a viaduct above street level. Photos courtesy of Peter Binnersley...
| | | |
| --- | --- | --- |
| | | |
| Street level below the tracks. There are stairs between street & platforms, but no escalators or lifts. | | Trams 7 & 9 link Novi Beograd station with the site of the original Belgrade station in downtown Belgrade... |
For a hotel in Belgrade, check out the historic Hotel Moskva. Opened in 1906, anyone who is anyone who has visited Belgrade has stayed here, from British author Graham Green to Ethiopian emperor Haile Salassie. It was used as Gestapo Headquarters in 1941-44. It was ideally located right in the centre of Belgrade at the end of the pedestrianised main street that leads to Belgrade fortress. Immaculate rooms, friendly staff and a good cooked breakfast. Book the Hotel Moskva.
Belgrade is not your typical tourist hotspot, but it's a lovely city to visit with lots to interest the visitor. Here's just a taster...
| | | |
| --- | --- | --- |
| | | |
| Victor Plaza in Belgrade fortress, with a great view of the confluence of the Danube & Sava rivers. | | Belgrade's parliament building... |
| | | |
| --- | --- | --- |
| | | |
| Knez Mihailova is Belgrade's main pedestrianised shopping street, leading from the Moskva Hotel to the fortress. | | In 2013, the Serbian Ministry of Defence still hadn't been repaired after NATO bombing in the 1990s conflict. |
Marshall Tito's mausoleum is a little way south of central Belgrade. Tito was Serbia's head of state between 1945 & 1980. There's also a museum with many of the gifts which Tito received during his lifetime.
---