Marseille has one main central railway station, called Marseille St Charles. It's a terminus, with 14 dead-end platforms lettered A to N from right to left as you stand on the concourse and look towards them. The station has all the usual facilities, ticket office, waiting room, shops, food kiosks.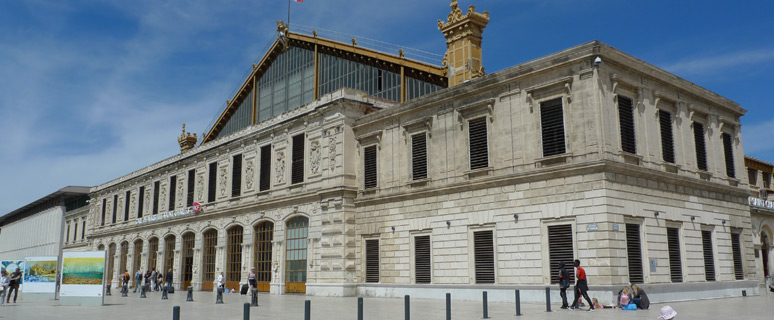 Marseille St Charles station...

Marseille St Charles stands on a low hill. When you walk out onto the forecourt you'll find a terrace with fabulous views over the city. There are steps down to the road to your left, visible here on the left of this photo. This photo also shows the famous Eglise Notre Dame de la Garde on its hill, to the south of the Vieux Port.
Inside Marseille St Charles station...
| | | |
| --- | --- | --- |
| | | |
| The train to Milan (sadly now discontinued) on platform A. | | A double-deck TER regional train from Marseille to Nice. |
An Intercité from Marseille to Toulouse & Bordeaux boarding on platform F...
The station has a staffed left luggage office, outsourced to La Bag Mobile, www.bagmobile.fr. Walk off the platform and across the concourse. At the back of the main concourse, go down the escalators or steps towards the metro (there's also a lift). At the bottom of the escalator on level 0, turn right and walk out of the exit door marked with the vertical arrow in the photo below, past Starbucks to La Bag Mobile. See here for opening times & prices. Photo courtesy of Barry Parks.
Getting around...
It's a 1.4 km 17-minute walk from the station to the Vieux Port. Personally, I have always simply walked it. See city map.

Metro... Marseille has two metro lines, see www.rtm.fr. Metro line 1 can take you from Marseille St Charles station to the Vieux Port in just 2 stops.

Ferries... For schedules and online ticket for the local ferries from Marseille Vieux Port to the Chateau d'If and the island of Frioul, see www.frioul-if-express.com.
Visiting Marseille...
Marseille is a fabulous place to spend a few days, plenty to see from the Vieux Port to the Eglise Notre Dame de la Garde to the infamous Chateau d'If on it's island out in the bay, France's own 17th century Alcatraz. There are plenty of good seafood restaurants in the old town, too. If you can manage a stopover, do so...
| | | |
| --- | --- | --- |
| | | |
| Steps from station terrace down to the road... | | Ferry to the Chateaux d'If... |

Marseille's Vieux Port, with the Eglise Notre Dame de la Garde on its hill. This is an early morning view from my room at the Grand Hotel Beauvau. The terminal for ferries to the Chateau d'If is in the centre of this photo. The roads on the left are full of seafood restaurants...
Inside the Eglise Notre Dame de la Garde...

Pictures given to the church by those who escaped accidents...

The Eglise Notre Dame de la Garde, the symbol of Marseille. See Wikipedia entry
---