Munich's main station...
Munich has just one main station, a large modern station known as Munich Hauptbahnhof and used by almost all trains serving the city. Hauptbahnhof simply means main station and it's often abbreviated to Hbf. Some trains call at Munich Ost or Munich Pasing on their way into or out of Munich Hbf and these secondary stations are also shown on the map below. Munich Hbf is a major rail hub and you'll often find yourself changing trains here, whether travelling from London to Budapest, Amsterdam to Zagreb or Berlin to Rome.
Station location...
Munich Hbf is a modernist post-war station built in the 1950s, but it's light and airy and a pleasant place to be with lots of shops and kiosks. It's a terminus for mainline trains, so as you can see in the photo below there is easy level access from street to concourse to platforms without any steps or stairs, so no problem at all changing trains with luggage. It's a safe place to be at any time of day or night. There's more about the station's history & layout at en.wikipedia.org/wiki/M%C3%BCnchen_Hauptbahnhof and you can find a station plan at www.bahnhof.de/bahnhof-de/Muenchen_Hbf.html.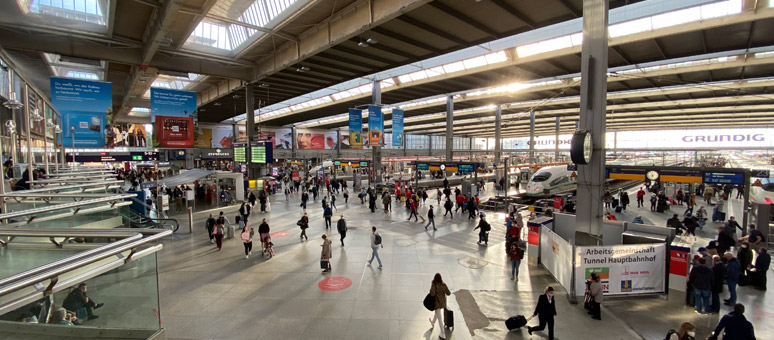 The main concourse at Munich Hbf, showing platforms 11-26.
Finding your train: The station departure board will show which platform your train leaves from, but you can find this out in advance by running an enquiry at www.bahn.de, finding your train and clicking show details. Alternatively you can see arrivals & departures with planned platform numbers by entering Munich Hbf into reiseauskunft.bahn.de.

Platforms 1 & 2: These are the underground S-bahn suburban platforms, also known as Munich Hbf tief (tief is German for deep). Unlike all the other platforms, they're through platforms not a terminus. Although numbered 1 & 2, they are located to the north of the main station and you'll find escalators from the main concourse down to these S-bahn platforms near platform 26. The frequent S-bahn trains to & from Munich Airport use these platforms.

Platforms 5-10: These terminus platforms are in the Holzkirchen wing to the south and west of the main station building, accessed by walking down platform 11. Few international travellers will need these as they are used by local trains. There's one notable exception, sometimes the hourly Meridian regional trains to Salzburg use these platforms.

Platforms 11-26: These are the main platforms inside the main station building and they're the only ones most international travellers need to know about. If you stand on the main concourse, platforms 11-26 are lined up in front of you, numbered from left to right (south to north). All international express trains use these platforms including trains to/from Paris, Salzburg, Innsbruck, Vienna, Budapest, Ljubljana, Zagreb, Zurich, Rome, Florence, Verona & Venice. If your train is an IC, ICE, Railjet, Nightjet, EuroCity or EuroNight it will almost certainly use platforms 11-26.

Platforms 27-36: These terminus platforms are in the Starnberger wing to the north of the main station building, accessible by walking down platform 26. Few international travellers will need these as they are used by local trains. There's one notable exception, the regional trains to Garmisch, Mittenwald & Innsbruck (via the slower more scenic regional route) use these platforms.

Platforms at Munich Hbf - just freely walk off the concourse onto platforms 11-26.
If you have a 1st class ticket (but unfortunately not a 1st class InterRail or Eurail pass, nor a 1st class ticket on the trains to Prague which aren't run by DB), you can use the excellent DB first class lounge. It offers free WiFi, tea, coffee, beer, wine and snacks. You'll find similar lounges at other major German stations. The entrance is on the main concourse near the northeast corner and the lounge is on the first floor, follow signs to DB Lounge - if you look at the photograph of the concourse in the station overview section above, I took that photo through the windows of the DB Lounge which overlook the concourse.
| | | |
| --- | --- | --- |
| | | |
| Inside the DB Lounge at Munich Hbf... | | Concourse & main departure boards... |
There are plenty of left luggage lockers if you need to leave your bags, see the luggage lockers page for details.
There are ATMs in various locations.
The station has WiFi, but only the first 30 minutes are free. The network to select is Telekom.
You can easily walk from the station to Munich's cathedral or the Marienplatz, the main pedestrian square in the heart of Munich. It's just a 16-minute walk (1.3 km) from Munich Hbf to the Marienplatz, much of it down a pleasant pedestrianised shopping street, see map of Munich. You basically walk directly out of the front of the station and keep going.
If you have time for dinner while changing trains in Munich, for local Bavarian food and a beer or two try www.augustinerkeller.de at Arnulfstrasse 52, to the north side of Munich Hbf. There are various eateries in the station itself if you prefer. If you get an interior or exterior photo of this restaurant or the food, do let me know!
Hotels close to Munich Hbf with good or great reviews include the Sofitel Munich Beyerpost, Eden Hotel Wolff, InterCity Hotel or (budget) the Pension Locarno, all ideal for staying overnight between trains.
Taxis: For a taxi fare calculator see www.taxifarefinder.com/main.php?city=Munich-Germany&lang=en. Taxis are usually plentiful outside the station.
U-Bahn & S-bahn: Munich Hbf served by U-bahn (underground metro) and S-bahn (suburban train) networks, see www.mvv-muenchen.de for network maps and journey planner.
---