Zurich Hauptbahnhof is Zurich's main station, often abbreviated to Zurich HB. It's a major terminus used by almost all trains serving the city and you'll often find yourself changing trains here. It's the largest station in Switzerland.
A station first opened on this spot in 1847, but the current station building dates from 1871. It's obvious when you know it, but the main hall (Haupthalle) shown in the photo below where passengers now circulate is the original 1871 trainshed where the tracks & platforms were until the 1930s. The buildings on the north of the Haupthalle are called the Nordtrakt, those on the south the Sudtrakt. In 1933 new platforms were built a couple of hundred metres short of the old buffer stops, covered by a series of glass-and-steel arched roofs, allowing station capacity to be increased. This 1933 trainshed covers the main terminus platforms 3 to 18 used by all international trains and many domestic trains, which are behind me when I took the photo below. A modern shopping mall has been built underneath the Haupthalle, and below that there are now a series of underground platforms mostly handling local trains but also some Swiss mainline trains. There's a 3D plan of the station and its underground shopping levels at www.sbb.ch - but it's easier to Google for plan Zurich HB.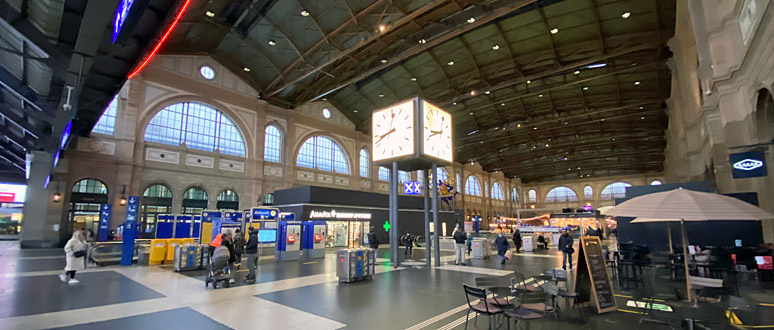 This is the main hall (Haupthalle) at Zurich HB. It was the original 1871 trainshed where the tracks & platforms were prior to 1933. The buffer stops for platforms 3 to 18 are behind me as I took this photo.

Platforms 3-18 are under the 1933 steel and glass trainshed, originally intended as temporary I believe, but still with us and now a listed historic structure. This photo shows a Swiss ICN tilting intercity train at platform 8. It was taken with my back to the main hall or Haupthalle.
Left luggage, ticket office, ATMs, WiFi, 1st class lounge...
| | |
| --- | --- |
| | |
| | Schnitzel and a beer at the Brasserie Federal. |
Supermarkets & shops...
More information...
---