Buy Prague-Vienna
train tickets at

or

from €19

= $21 or £15

From €29 in first class

From €44 in business class
Vienna to Prague in 3h56 from €19...
Modern air-conditioned Railjet trains with restaurant car link Vienna Hauptbahnhof with Prague Hlavni every couple of hours taking just 3h56 from city centre to city centre with free WiFi and draught beer on tap. It's as fast as flying, but much cheaper and far more enjoyable - and vastly superior to a cramped long-distance bus...

Train times

How much does it cost?

How to buy tickets

What's it like on board the train?

Travel tips.
Sleeper = sleeping-car & couchettes, see here for Vienna-Prague, see here for Prague-Vienna.
Always check times for your date of travel at www.cd.cz or www.oebb.at.
Advance-purchase fares start at €19 in 2nd class, €29 in 1st class or €44 in business class if you pre-book. These sparschiene fares (the Austrian term) or First Minute fares (the Czech term) are only valid on the specific train you book, no refunds, no changes to travel plans. They vary in price and sell out close to departure, but you'll often find them available even just days in advance.
Flexible full-price tickets cost around €64 if you buy from Austrian Railways ÖBB or around 1132 CZK = €42 for exactly the same ticket bought from CD Czech Railways. Tickets can be bought on the day a the station at those prices, with unlimited availability so they can't sell out, valid on any train that day - but even if you were in Vienna, it'd be cheaper to use your smartphone to book online from the Czech Railway website for €42 than buy at the station from the Austrians for €64! Don't ask me why they charge different prices for the same thing.
You can buy tickets in either direction from Czech Railways www.cd.cz or Austrian Railways www.oebb.at.

Booking usually opens around 90 days ahead, but often less than this if the mid-June or mid-December timetable change is approaching.

Tip 1: These two sites sell tickets for exactly the same trains, but one can be cheaper than the other for the same departure, so check both and buy from whichever is cheaper. I find www.cd.cz is usually the cheapest, but not always.

Tip 2: When using www.cd.cz, change the Czech flag to the UK flag at top right for English.

Tip 3: Choose a direct Railjet train marked No transfers (RJ), don't choose the alternate-hour departures marked 1 x Transfer at Breclav EC/EC as these involve a tight change of train at Breclav which is more trouble than it's worth.

Tip 4: Seat reservation is optional for a small extra charge, around €3 per seat. If you choose not to add a seat reservation to your booking you simply sit in any unreserved empty seat, but reserving a seat is a good idea in summer or on Friday & Sunday afternoons or at any time in 1st class or if you are a group of several people. You can add a reservation during the booking process or make a reservation-only booking to go with an existing ticket or railpass at www.cd.cz, simply by clicking I want a reservation only against the train you want in the search results. See the travel tips below.

Tip 5: Only one lead passenger name is necessary to support a print-at-home ticket, even if that ticket is for two or more people.

Tip 6: You print your own ticket on A4 paper, but U.S. Letter size is fine. Or on this route you can simply show it on your smartphone, iPad or laptop screen.
Do not buy tickets from third party resellers such as Rail Europe as these can only sell expensive full-flex tickets for this route with a booking & postage fee added, they cannot access the cheap advance-purchase fares from €19 nor can they issue print at home tickets. Only the Austrian & Czech Railways websites sell the cheap First Minute (Czech) or Sparschiene (Austrian) advance-purchase fares with print-your-own ticket delivery and zero extra fees. It really is a no-brainer...
The Prague-Vienna train service is operated jointly by Czech Railways (CD) & Austrian Railways (ÖBB). Most departures are operated by blue Czech Railways Railjet trains as shown below, a couple are operated by red Austrian Railways Railjet trains as shown on the Austrian Railjet page - I explain how to check whether your departure will be Czech or Austrian railjet in the travel tips section below. Railjets are capable of 230 km/h (143 mph), but usually don't exceed 160 km/h (100 mph) in the Czech Republic. They're push-pull trains, which means they have a powerful electric locomotive at one end and a driving cab at the other, so they can go in either direction. See virtual tour inside a Czech Railways railjet...
| | |
| --- | --- |
| | |
| | The restaurant car has draught beer on tap! |
| | |
| | There are luggage racks in several locations within each car - plenty of room for large suitcases, accessible throughout the journey... |
| | |
| | On-board TV screens tell you the train number, car number, destination, calling points and even the speed of the train... |
Will my train be a blue Czech railjet or red Austrian one? You can check the train formation at www.vagonweb.cz, which will also show you whether your departure is scheduled to be a blue Czech CD railjet or a red Austrian ÖBB railjet. Select the UK flag for English, select composition, then select RJ against either Czech Republic or Austria.

Seating plan: Click for railjet seat numbering plan. You'll need to check whether it's a Czech or Austrian railjet first. The business class car is usually at the Prague end of the train, the economy class cars at the Vienna end of the train. You can therefore work out which seats face forwards.

Which class to choose?

Economy (2nd class) is absolutely fine for the majority of travellers, there's no need to go 1st class unless you don't mind the extra cost. But see what prices you get because sometimes 1st class doesn't cost much more than 2nd. 2nd class seats are arranged 2+2 across the car width, mostly unidirectional but with a few tables-for-four which are ideal for families. There's usually a refreshment trolley, or you can visit the restaurant car.

First class gets you more legroom and elbow room, with leather seats arranged 2+1 across the car width rather than 2+2 as in economy. So on one side of the aisle you'll find solo seats which are ideal if you're travelling alone, and a few face-to-face tables-for-two which are ideal if you are a couple. Food & drink are not included, but orders are taken at your seat so you don't need to visit the restaurant car as the food is brought to you.

Business class is the top class. On the Czech railjets it consists of just 6 luxurious fully-adjustable leather cradle seats in a small open saloon at one end of the train, arranged 1+1 across the car width. Austrian railjets have 16 similar leather cradle seats in several semi-compartments, see the Austrian railjet page. To travel in business class you pay a €15 reservation fee on top of any first class ticket or railpass. You get a complimentary welcome drink - perhaps sparking wine - and a small snack. Food is not included, but food orders from the restaurant car menu are taken by the steward and delivered to your seat. Business class is an extravagance, but a treat.

The train is all non-smoking like most European trains, and there are wheelchair spaces & accessible toilets.
Free WiFi... Both the Czech and Austrian Railjets offer free WiFi in all classes on this route.

Power sockets & toilets: There are power sockets at all seats in all classes. Every car has at least one toilet.

Bicycles: Bicycles can be taken on Railjets, but bike spaces are limited and must be booked in advance at the station.

Children: Children under 6 travel free, no ticket necessary. There's a small children's play area with a TV showing cartoons at one end of car 21 on both Austrian and Czech railjets.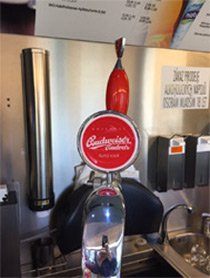 The restaurant car has draught beer on tap!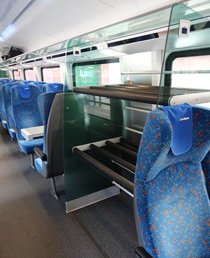 There are luggage racks in several locations within each car - plenty of room for large suitcases, accessible throughout the journey...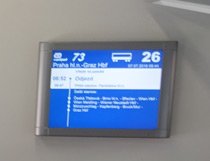 On-board TV screens tell you the train number, car number, destination, calling points and even the speed of the train...
---
---