This page explains how to travel by train from Oslo & Norway to other key European cities, and how to buy the cheapest tickets. Click here to for journeys starting in another city. Train information current for 2017.
I want to go from Oslo to...
Before you buy your tickets...
I recommend taking a moment to read these important tips for buying European train tickets. It answers all the usual questions, such as "Do I need to book in advance or can I just turn up & buy at the station?", "How far ahead can I book?", "Can I stop off?", "Are there Senior fares?" and that old favourite, "Should I buy an $800 railpass or just go online & buy a €35 point-to-point ticket?".
European train travel FAQ...
---
Oslo to Bergen, Stavanger, Trondheim & other destinations in Norway...
---
| | | | | |
| --- | --- | --- | --- | --- |
| | | | | |
| X2000 trains now link Oslo & Stockholm... | | 2nd class seating on the X2000. All seats have power sockets for laptops & mobiles... | | Self-service buffet car on the X2000 to Stockholm. |
---
Option 1, by train overland...
| | | |
| --- | --- | --- |
| | | |
| Option 1: Oslo to Gothenburg by Norwegian train... This is the Norwegian train from Gothenburg to Oslo, arrived at Oslo Sentral. Photos courtesy of Ivor & Ines Morgan. | | NSB Komfort class on the train to Oslo. |
...then Gothenburg to Copenhagen by train. Take an Öresund Train (Öresundtåg, pictured above) from Gothenburg to Copenhagen. The train crosses from Denmark to Sweden on the 1999-built Öresund Link tunnel & road/rail bridge...
Option 2, by overnight cruise ferry to Copenhagen - comfortable, scenic and time-effective...

The huge DFDS luxury overnight cruise ferry to Oslo, at its terminal in Copenhagen... Courtesy of Andrew Leo.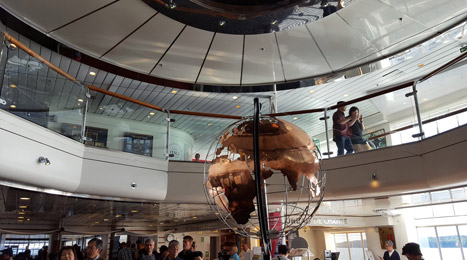 The ferry is a floating hotel, with cabins, suites, restaurants, bars and entertainment. Courtesy of Andrew Leo.
Commodore Class suite on board the DFDS superferry to Oslo... Courtesy of Andrew Leo.

Sunset at sea on the voyage to Norway... Courtesy of Andrew Leo.
---
---
Oslo to Amsterdam, Brussels, Paris, Berlin, Prague, Vienna, Zurich & other European destinations...
Option 1, via Copenhagen...
Option 2, via the overnight Color Line cruise ferry from Oslo to Kiel in Germany - easy, comfortable & time-effective...

The Color Line ferry in Kiel...
| | | |
| --- | --- | --- |
| | | |
| A 5 Star Suite on the ferry... | | More cruise liner than ferry! The restaurant. |

The view from the ferry....
---
Hotels in Oslo & other cities
◄◄

Hotel search & price comparison

.

www.hotelscombined.com checks all the main hotel booking sites at once to find the widest choice of hotels & the cheapest seller. It has been named as the World's Leading Hotel Comparison Site in the World Travel Awards and I highly recommend it, both to find hotels in even the smallest places and to check that another retailer isn't selling the same hotel at a cheaper rate.

►►

My recommended booking site:

www.booking.com

www.booking.com is my favourite hotel booking site, and unless HotelsCombined throws up major price differences I prefer doing my bookings in one place here.

You can usually book with free cancellation - this allows you to confirm your accommodation at no risk before train booking opens. It also means you can hold accommodation while you finalise your itinerary, and alter your plans as they evolve - a great feature I use all the time when putting a trip together.
Other hotel sites worth trying...
Backpacker hostels...
---
---