Archived news items from 2001 to 2011. For current items, see the news page...
December 2011
Caledonian Sleepers not only saved, they're to get £100m of investment in new trains...
Transport Scotland's consultation document asked about the future of the Caledonian Sleeper service linking Scotland with London. Should it be improved, or scrapped? Good news, the Scottish government has now voted to more than match the UK government's pledge of £50m to invest in a new sleeper fleet, not only to keep the Caledonian Sleepers running, but to transform them to the most modern standards.
Changes to SailRail fares from 2 January 2012...
From 2 January 2012, SailRail tickets from UK stations to Dublin & Ireland will change. Instead of open tickets with a requirement to have a reservation for the ferry, there will be two types of SailRail tickets: Advance, which can be booked until 18:00 the day before travel, with reservations included (and required) for each train on which seat reservations are possible and Walk-up (a.ka. Standby) which is available on the day of travel for a pound or two more. The UK zones used for the fares will also alter. The new fares from London-Dublin by train+ship will be £38 Advance, £43 Walk-up. London to Dublin by train+Swift will be £43 Advance, £48 Standby. Advance tickets have been made 'reservation compulsory' throughout the journey not to limit numbers, but to ensure all passengers have a reservation on the ferry, as passengers had been sold tickets without reservations and turned up to find the ferry full on busy dates. Full details now updated on the UK-Ireland page.
London to Amsterdam or London to Cologne from just £45 one-way, £79 return with www.eurostar.com...
Eurostar have really stepped up their game on through fares to Amsterdam and Cologne, with new £45 one-way, £79 return through fares from London to Amsterdam and Cologne by Eurostar and high-speed Thalys train, book at www.eurostar.com. It's the cheapest return fare to Amsterdam I've seen in 10 years, even cheaper than the Eurostar+InterCity £89 return to 'any Dutch station', which unfortunately seems to have disappeared from the Eurostar website (you can still book a ticket to Any Dutch Station online at www.nsinternational.nl). To Cologne, the fares are only valid via Thalys between Brussels and Cologne, not the German ICE, a pity, as this means only half the potential departures are being sold by Eurostar. DB's 'London Spezial' fares from 49 euros to any station in Germany, even Berlin or Munich or Hamburg, remains the cheapest option for journeys beyond Cologne or for journeys to Cologne via Eurostar+ICE, see the Germany page.
DB's direct London-Cologne and London-Amsterdam ICE trains delayed till 2015...
Rats! It seems delays in production of the new class 407 ICE trains mean Deutsche Bahn's direct London to Cologne and London to Amsterdam ICE trains planned for December 2013 will not now start until 2015.
Northern Italy to Sicily direct sleeper trains culled...
With no advance warning (the Italians are always late with their data for the new timetable) it seems that from yesterday the Venice to Sicily, Milan to Sicily and Turin to Sicily night trains are discontinued. You will no longer be able to board a wagons-lits on the banks of the Grand Canal and travel overnight in your personal hotel room to Sicily. You will now need to sit in a seat on a high-speed train to Rome and board one of two remaining Rome-Sicily sleeper trains. A shame!
Summary of changes to European train services from 11 December...
I am currently updating the European pages to reflect the new timetable starting 11 December 2011. So far, here are the main known changes which will come into effect from 11 December:
Odds & ends this month...
November 2011
Daily Telegraph Reader's Travel Awards...
Someone kindly pointed out to me that on 26 October, the Daily Telegraph announced the winners of it's Readers' Travel Awards. In the 'Favourite Travel Website' category, Tripadvisor was the winner, with The Man in Seat 61 and Alistair Sawday as the two runners up. I'm very grateful for all the DT readers who voted for the site, I'm quite chuffed (no pun intended) to have come runner up to Tripadvisor!
It's been a while since my own Trans-Siberian trips, and my own scanned-in pre-digital Trans-Siberian photos have been creaking at the edges, not properly reflecting the changes that have happened over the years, or being sharp enough for display on today's higher-resolution computer screens. And having blown all my accumulated 'Man Miles' for the trip away from wife and kids to Vietnam and Cambodia to overhaul those two pages, there is little hope of me having the time to do a three-week Trans-Sib refresher for seat61. But fortunately, I've now been able to overhaul the Trans-Siberian page and create a new 'Moscow to Beijing in pictures' page thanks to fresh digital photos from recent Trans-Sib trips sent to me by travellers Tony Willis and Peter and Janet Jackson, with a few remaining photos from my own trips. I've combined the Trans-Siberian main page and the Trans-Siberian timetable page, reducing duplication and simplifying presentation. the Moscow-Beijing journey page replaces the Trans-Siberian picture gallery page. I hope you approve of the new layout and pages - feedback (or further pictures, especially of the train sleeper interiors on the Rossiya, Baikal or train 3/4 and 19/20) is always appreciated!
The Cambodia page now has details of bus services within Cambodia, the Saigon-Cambodia bus service, and the Bangkok-Cambodia journey by train, tuk tuk and road transport via Poipet.
I'm just back from a research trip to Vietnam, and have relaunched the Vietnam page with updated information and photos. A refreshed and updated Cambodia page will follow shortly...
Odds & ends this month...
October 2011
Thanks to James Chuang, I've been able to overhaul the Australia page, adding up to date photos of the Indian Pacific and Ghan sleepers and lounges as well as some of my own journey photos, to hopefully better showcase these two superb trains.
Thanks to Jeroen van Marle, I've been able to overhaul the South Africa page, and add photos of the sleepers, scenery, food and stations on the Johannesburg to Cape Town Shosholoza Meyl tourist class train service. This train gets great reports from almost everyone who uses it - comfy sleepers, a shower at the end of the corridor, a restaurant car serving full meals, beer and South African wine, and fabulous scenery at ground level, all for an absolutely incredible R430 (about £38 or $59) or so. Why on Earth doesn't every budget traveller use these excellent trains when they need transportation between Cape Town & Jo'burg or Jo-burg and Durban or Port Elizabeth, instead of a soulless flight or nightmare long-distance bus? It may be ignorance that such a service exists, or misleading advice from some middle class South Africans who think all trains in SA are unsafe when they've never been near one. If seat61 can help open people eyes to the possibilities for civilised, rail-borne travel around SA, that would be great!
Thanks to visits to Peru by two friends of mine (but sadly not myself, at least not yet!) I've been able to improve the information and illustrations on the Peru page.
I've improved the Indonesia page with photos, additional routes and information on how to travel by train & ferry between Jakarta, Surabaya and Bali, and between Sumatra and Java.
I've significantly reduced duplication on the Italy page by combining the London-Milan/Verona/Venice section with the London-Bologna/Florence/Rome section. I've also added more photos and journey information about the Paris-Modane-Milan route by TGV via the Fréjus pass, and the Paris-Zurich-Milan route via the Gotthard pass. The page will be further simplified as December approaches, when I can remove the need to maintain two versions of the sleeper train section, one for pre-10-December when Artesia operates the Paris-Italy sleeper trains, and one for trael after 11 December explaining the new arrangements when Thello takes over these trains, see the next paragraph...
Coming soon... 'Thello' sleeper trains from Paris to Verona & Venice...
Well, they have a name at last. The consortium of Trenitalia and Veolia that will take over the existing 'Artesia' Paris-Venice and Paris-Florence-Rome sleeper trains as of 11 December will be called 'Thello', www.thello.com. It remains to be seen whether 'Thello' will merely be Artesia (a consortium of Trenitalia and SNCF French Railways) under a different name, with the same poor standards and appalling mismanagement, or whether it will be truly different. If I were Veolia senior management, I'd be on the case of my Trenitalia partners 24/7 to ensure on-time starts from Paris, sleeping-car toilets with toilets seats attached, water systems that actually work, staff that give acceptable on-board service and proper catering standards. One report suggests sleepers with en suite toilet and shower are planned for the future, so maybe there's at least one positive sign.
But no Paris-Florence-Rome sleeper train at all until June 2012...
The latest news is that although Thello will start running its Paris-Milan/Verona/Venice sleeper train from 11 December 2011, it will not be in a position to start its Paris-Florence-Rome sleeper train until June 2012. That means there will cease to be any Paris-Florence-Rome sleeper train between 11 December 2011 and June 2012.
New faster seat61 server...
Webhost www.ultraspeed.com has given me a new faster server. If you can see this, the switch has happened. It should make browsing a bit quicker!
Stena Line worsens ferry service to Belfast, switching ferries from rail-connected Stranraer to middle-of-nowhere Cairnryan...
Sadly, Stena Line are worsening their ferry service to Northern Ireland, switching their ferries from historic, rail-connected, integrated Stranraer to dis-integrated un-connected Cairnryan, in the middle of nowhere with poor connections. I'd been hoping they would abandon this misguided project, save money and stay put, ensuring easy train//ferry connections via Stranraer for future generations. But unfortunately, as from 22 November 2011, instead of a comfortable train from Glasgow to Stranraer, then simply walking from train up the gangplank onto the ferry to Belfast as people have done for over 100 years, you'll have to take a train from Glasgow to Ayr, then endure a one-hour bus journey to Cairnryan before boarding the ferry to Belfast. Hardly an improvement, and so much for integrated transport... The new timetables from 22 November are now shown on the Northern Ireland page. Passengers from London to Belfast and from Scotland to the Republic of Ireland may wish to divert via Holyhead from 22 November, using Irish ferries Holyhead-Dublin.
Odds & ends this month...
September 2011
No sleeping-car between Sofia & Istanbul until at least the end of 2011...
News just in, Bulgarian railways (BDZ) are very short of serviceable sleeping-cars. Not only have the 'new' second hand ones from Germany disappeared from international services to be replaced once again by the old 1960s ones, there is unlikely to be a sleeping-car at all on the Belgrade-Sofia and Sofia-Istanbul overnight trains at least until the end of 2011. If you're travelling from London to Paris to Istanbul, the route via Bucharest is now most definitely the one to take.
I have moved and expanded the sections about Georgia, Armenia and Azerbaijan from being an addendum to the Turkey page to being a new 'Caucasus' page in their own right. Incidentally, before anyone emails me, whilst these countries are technically in Europe, I have resisted lumping them in with the more familiar European countries at least for the time being, as this might detract from the clarity of the UK-Europe section.
Condé Nast Traveller readers vote Seat61.com as one of the top 10 travel websites...
I'm really chuffed (no pun intended) that seat61 has made it to number 10 in the list of Top 10 Travel Websites, as voted for in the prestigious Condé Nast Traveller magazine Readers Travel Awards 2011, www.cntraveller.com/awards/readers-travel-awards/the-readers-travel-awards-2011/travel-companies. Seat61 may be in tenth place, but with the other nine including such household names as Booking.com, LastMinute.com and Expedia, all probably the result of multi-million pound investment, tenth place isn't bad for a site started with £2.95. The overall and very worthy winner was Mr&MrsSmith.com (another Smith, of course!).
Buenos Aires and Montevideo to be linked by passenger train?
It seems that passenger trains are to return to a route linking Argentina and Uruguay, which may in due course be extended to link the two capitals - see www.railwaygazette.com/nc/news/single-view/view/by-rail-from-buenos-aires-to-montevideo.html#.TmCJ8ftZTrM.email.
New Ankara-Konya high-speed train now operational in Turkey!
High-speed train services between Ankara and Konya at up to 250 km/h started on 24 August, and are now shown on the Train travel in Turkey page. A roundabout journey taking over 10 hours now takes just 1 hour 40 minutes. An initial four trains a day will be built up to an hourly service in due course.
Couchette cars are now substituting for a lack of serviceable sleeping-cars on the Paris-Venice 'Stendhal', and the same problem now seems to be affecting the Paris-Rome 'Palatino', with sleepers 'closed for sale' in much of August and September, meaning that even if sleeping-cars do operate on that train, no-one can book them. Frankly, I now recommend avoiding the incompetently-run Paris-Italy Artesia sleepers and using daytime Paris-Milan TGV trains, or daytime trains via Switzerland with an overnight stop, or even the efficient German-run Paris-Munich sleeper then the similarly-efficient German and Austrian-run EuroCity trains from Munich to Italy through the scenic Brenner Pass. I have changed the recommendations and warnings on the London-Italy page accordingly, and also added a daytime option via Munich with overnight hotel. Who'd have thought 30 years ago that a round-about London-Italy route via Munich would have to be recommended because of so many problems with the previously wonderful Paris-Italy sleeper trains? Artesia (the consortium of Trenitalia & SNCF) will cease to exist in December 2011, perhaps no bad thing, and 'new' Paris-Italy night trains will be operated by Trenitalia and new partner Veolia. It remains to be seen if this is a new dawn for the Paris-Italy overnight trains or merely the same old mismanagement. I'll keep you posted! Latest update: Now the Stendhal has lost its restaurant car, replaced with a food trolley from September onwards.
Direct sleeping-cars Berlin-Odessa and Berlin-Simferopol discontinued
Ukrainian Railways (UZ) have announced that the direct sleeping-cars running several times a week from Berlin to Odessa and Berlin to Simferopol in the Crimea will be discontinued as from early September, with last departures around 9 or 10 September. The main train Berlin-Kiev will continue, but you'll now need to change trains in Kiev to reach Odessa or the Crimea, so I've added connecting train times from Kiev to Odessa, Simferopol & Sebastopol to the main London-Kiev section. Direct sleeping-cars between Kiev and Prague, Kiev and Vienna, and between Warsaw and Odessa, Warsaw and Simferopol are also discontinued. Warsaw-Kiev will remain running normally.
Odds & ends this month...
August 2011
More interactive maps...
Hot on the heels of the Southeast Asia interactive map (see below), I've made the southern Africa map interactive, and the map on the Trans-Siberian page interactive. Hopefully this will make it easier to find the information relating to each route shown on the map.
New interactive map of Southeast Asia
I've created a new, larger and (hopefully) clearer map of train routes in Southeast Asia with connecting bus and ferry routes, and made it interactive so that clicking on any train, bus or ferry route takes you to the relevant part of the relevant page. Let me know if you find it useful!
Non-availability of sleeping-cars on Paris-Italy & domestic Italian night trains until further notice...
Trenitalia are easily the most useless and incompetent national railway in Europe. They have just sent a message to all their retailing agents saying that "As from July 28th until December 10th, WL coaches on the trains listed on the file attached are not available on the sale systems further to negotiation in progress with the company in charge of maintenance." The list includes most or all domestic Italian night trains plus the Paris-Venice Artesia train 'Stendhal', but fortunately not (it seems) the Paris-Florence-Rome Artesia 'Palatino'. According to a report in newspaper La Republica, it seems that staff at the company who maintain them haven't been paid for 4 months and have gone on strike. Each sleeping-car has been replaced by a couchette car, and passengers who have already booked sleepers will get single, double or triple occupancy of a 6-berth couchette compartment. It remains to be seen exactly what's going on, and the 'until 10 December' may as well be read as 'until further notice'. The 4 and 6 berth couchette cars on these Italian night trains are not affected, it's only the 1, 2 or 3 bed sleepers. I will update this entry as I find out more...
Online booking in Thailand is back...
Having at long last introduced online booking in 2009, State Railways of Thailand suspended it again in September 2010. But from 1 August it's back and better - you can now book 1st or 2nd class seats or sleepers on most routes, for up to 4 people at a time, 2 to 60 days in advance. Details on the Thailand page.
Odds & ends this month...
July 2011
| | | | | |
| --- | --- | --- | --- | --- |
| | | | | |
| BBC Top Gear: Yes, it really is an Audi pulling four caravans... | | | | |
The Man in Seat 61 on BBC TV 'Top Gear'
Yes, I know it's the most unlikely show for me to appear on. But this week, Hammond and May were building a train and needed some 'train experts' as guinea pigs. An Audi S8 pulling four caravans on rail trolley wheels, it was the noisiest and most vibration-ridden conveyance I have ever ridden. You also can't see how swelteringly hot that second class caravan was on that bright sunny day on the Great Central Railway at Rothley. Still, lucky I didn't end up in Scum Class... I did try out the first class car later in the day, with fewer windows and carpet it was a fraction less noisy and a tad cooler. That was one crazy day... UK residents can watch on BBC iPlayer until www.bbc.co.uk/iplayer/episode/b012qrz1/Top_Gear_Series_17_Episode_4/
Online booking in Egypt...
They've had a very basic online booking system for ages, but it didn't accept non-Egyptian credit cards, and only covered the Cairo to Alexandria route. But now it does accept non-Egyptian cards - I am the proud owner for a 1st class Cairo to Luxor ticket which I bought five minutes ago for LE94, about £10, but will sadly not be using. And it allows booking up to 2 weeks ahead of express trains between Cairo, Luxor and Aswan as well as Alex. I have added online booking instructions to the Egypt page. Interestingly, you can select 'United Kingdom' and happily book a daytime express train up the Nile from Cairo to Luxor, with no sign of the tourist restrictions which theoretically mean they won't sell you a ticket for these trains (only for the privately-run deluxe overnight sleeper, which is not covered by the online system). So, a good way to get around the restrictions, too! As always, feedback from travellers would be appreciated.
The Isle of Man now features photos and improved info following a recent trip there.
New Beijing to Shanghai high-speed train service started on 1 July: 819 miles in 4 hours 48 minutes...
The new 300 km/h (186mph) Beijing-Shanghai high-speed line opened on 1 July. I've located and de-coded a Chinese timetable for the new service and added it to the China page. Timetable for the new Beijing-Shanghai high-speed train service.
Singapore's historic station is now closed: All trains to Malaysia are starting from Woodlands...
As advised earlier this year, in an act of vandalism worse than any criminal's, Singapore's government has brought about the closure of Singapore's beautiful 1932 station, with all trains to Malaysia starting from Woodlands as from 1 July, some 15 miles north of central Singapore, just south of the causeway across the Johor Strait. The Malaysia and Thailand pages have largely been updated to reflect this, though I expect some final tweaking will be necessary here and there. A great shame, an era has ended... See the Singapore & Malaysia page for details of why this has happened.
Odds & ends this month...
Vietnam: Thanks to traveller Barbara Tumova sending me a scanned ticket, I've added a 'How to read Vietnamese train tickets' section to the Vietnam page.

Thailand: Thanks to veteran Thai traveller Steve252, the information for taking bicycles on Thai trains has been improved.

Norway: I've added a 'short cut' route to Kristiansand and Stavanger via Hirtshals in northern Denmark, avoiding the run through Copenhagen & Sweden.

South Africa: Shosholoza Meyl's website is back up, and guess what, there's now online booking that works! You can now book your Cape Town to Jo'burg train ride online, from just 430 Rand (about £39) with sleeper berth!

New Zealand: Trans Scenic's 'TranzCoastal' between Picton and Christchurch will resume running on 15 August and will revert to its historic name, Coastal Pacific'. It had been replaced by a bus since the earthquake, not because the tracks were damaged, but because there were so few tourists!

Turkey: The line from Izmir & Selçuk (for Ephesus) to Denizli (for Pamukkale) reopened last month, after major long-term engineering work, and I have finally updated the new times to Denizli, sorry about the delay! There's no news of the Istanbul-Denizli 'Pamukkale Express' resuming, but at least you can now travel from Istanbul to Izmir and Izmir to Denizli.

Kenya: The Nairobi-Mombasa train, reduced from thrice-weekly to twice weekly in May, will resume 3-times-a-week operation as from 3rd August 2011.

Malta: I've updated the Malta page to recognise that Arriva took over buses in Malta from 3 July 2011. All the traditional route numbers changed as the network was completely overhauled, prices have changed (in some cases they're cheaper). However, it will be a shame if those wonderful traditional orange vintage Maltese buses give way to modern buses in the ubiquitous blue-and-cream Arriva colours.

Eurostar: Eurostar has opened bookings for the Olympics, 16 July to 15 August 2012. Ski train bookings for winter 2011/12 are also now open.
June 2011
New Bernina Express page...
I've added a new Bernina Express page, which explains how to travel from London or Paris to Italy via the ultimate scenic route, using the fabulous 'Bernina Express' from Chur or St Moritz to Tirano in northern Italy, with connections for Milan. Well worth slowing down for!
New ferry service Sri Lanka - India...
After many years of being cut off from each other, a new overnight cruise ferry service has started twice a week between Colombo and Tuticorin in India. All passengers travel in comfortable cabins, and the fare includes a fixed-menu dinner and a non-alcoholic 'welcome aboard' drink. See the Sri Lanka page for more info.
Thailand PDF format train timetable...
Thai rail expert Dave Bernstein has produced a superb PDF format timetable for the whole of Thailand, with details of fares, refunds, through ticketing to Ko Samui and Phuket, and much more. I've now made this available for download in the 'general information' section on the Thailand page. Ideal for printing out and taking with you if you're travelling around Thailand!
Europe-wide timetable change from 12 June...
Europe's train timetables change again on 12 June, the new timetable is valid until 10 December. There are very few major changes. Seat61 pages have now been updated to reflect the new times.
Odds & ends this month...
Trans-Siberian: Train 20, the Vostok from Moscow to Beijing, has switched days, from a time-honoured Friday to Saturday nights from Moscow, Westbound, it remains a Saturday departure. Train 4 from Moscow to Beijing via Mongolia still leaves on its time-honoured Tuesday night slot.
May 2011
Odds & ends this month...
Russia has decided to remain on summer time (GMT+4) all year round from summer 2011 onwards, and will not switch to GMT+3 in winter.

Spain: Brittany Ferries have now taken over P&O's Portsmouth-Bilbao route, but have made a last-minute decision to no longer use the convenient Santurzi ferry terminal, a stone's throw from Santurzi metro station for trains to central Bilbao. The ferry now arrives at the Zierbena terminal 3km further away from Bilbao, a 10 euro taxi ride to Santurzi metro station. Oh well, at least there's still a ferry! Spain page now updated.

Kenya: It seems that the originally daily Nairobi-Mombasa train, reduced a while ago to running 3 times a week, has now been further reduced to running only twice a week. It's not yet clear why they have done this, or if it is temporary or not.

Eurostar: Eurostar have tweaked their fares as from 24 May. Going from London to Lille or Calais used to be cheaper than going to Paris or Brussels (from £65 return rather than £69), but it's now same price as to Paris or Brussels. Youth & Senior reductions have been virtually eliminated, they now exist only as a £3 reduction (£66 instead of £69 return) off the very cheapest price level IF that level is available. There's now no youth or senior reduction on any of the other price levels, so effectively the youth or senior reduction on Eurostar is now merely a token one.

Caledonian Sleepers: I've improved the explanation of the long list of fares that you get when you try and book. For example, I know that 'Sleeper Standard Single' appears twice with two different prices because one price is peak, the other off-peak, and the computer (being stupidly logical as only computerised systems can be) shows both, as it reasons that both price levels are valid on an off-peak train. I've met with Thetrainline.com and discussed how they could improve how they show sleeper fares. See the Caledonian Sleeper page.

Isle of Man: I've added better information on booking a train & ferry trip to the IoM, as I have now booked my own tickets for a trip in June. There's really no substitute for going through the booking process yourself, for real! It seems the rail industry system doesn't currently provide ferry reservations, but it's easy to make these by phone with the ferry company. Look out for more info and photos on the IoM page in late June!

Route maps now added to the Poland, Czech Republic, Hungary, Romania, Slovakia, Bosnia pages.

Poland: Szczecin, Gdansk, Zakopane & Łódź added as destinations.

Serbia: Novi Sad & Niš added as destinations.

Finland-Russia: The new twice-daily Allegro tilting train service from Helsinki to St Petersburg, taking only 3½ hours and introduced in December 2010, will be doubled to four daily trains each way as from 29 May 2011. The number of passengers travelling by train between these two cities is already up 34.8% in the first quarter of 2011.
April 2011
Irish Ferries launches online booking for SailRail tickets from Dublin or any rail station in Ireland to London or anywhere in Britain!!
Good news for anyone living in Ireland!! Irish Ferries have enabled online booking of the amazingly cheap SailRail train & ferry tickets from any rail station in Ireland (including Dublin, Galway, Cork, wherever) to any Rail station in Britain (including London, Brighton, Manchester, Glasgow, wherever). Dublin to London, Brighton, Norwich, Plymouth or Edinburgh costs just 40 euros (ship) or 46 euros (Swift fast ferry) any sailing, any day, even bought on the day of travel. Cork, Galway, Tralee or Limerick to London costs 60 euros (ship) or 66 euros (Swift fast ferry). With luxurious superferries and a scenic journey along the North Wales coast on a modern 125mph InterCity train, this is a low-price but remarkably high-quality way to travel. My own top tip? Pay the extra £16 (you can upgrade when you book online) for Club Class, with complimentary tea or coffee, red & white wine and canapés. The clever money takes the train and ferry! Tickets can be sent to any Irish address by registered post, sent to any address worldwide by normal post (at your own risk) or collected at Dublin Ferryport. See www.irishferries.com/ie/sailrail.asp.
SailRail tickets any station in Britain to Cork, Galway, Limerick or any station in Ireland now bookable online at www.thetrainline.com...
Hot on the heels of Irish Ferries launching an online SailRail booking system at the Irish end, www.thetrainline.com can now book cheap SailRail tickets from any station in Britain to any station in Ireland, one-way or return in either direction. One ticket covers a British train to Holyhead, the ferry to Dublin, and the Irish train to your Irish destination. London or anywhere in the southeast, East Anglia, the South West or Scotland to Cork, Galway, Limerick, Tralee, Kilkenny, wherever, costs £50.50 one-way, £101 return, and that's a fixed price available any day, any date, even if you need to travel tomorrow. Yes, Inverness to Tralee for £50.50; Brighton to Kilkenny £50.50. Norwich to Cork for £50.50. Amazing! See the seat61 Ireland page.
Info on weekly Zimbabwe to Mozambique train service added...
Thanks to traveller Richard Walsh, the weekly train service from Bulawayo in Zimbabwe to Maputo in Mozambique is now shown on the Zimbabwe and Mozambique pages.
Additional modern train in Vietnam from April 2011...
An additional train, SE19/SE20, has been put into service between Hanoi, Hue and Danang, consisting of modern air-con coaches with upgraded interiors, designed to appeal to visitors. Fares are about 10% higher than other SE trains. Details on the Vietnam page.
Good news from the UK: Trains gain passengers from domestic flights on all key domestic air routes...
The latest research into market share by ATOC, the UK's Association of Train Operating Companies, shows a continuing switch from air to rail for domestic journeys in the UK. Rail's market share on the 400-mile London-Glasgow route has climbed from a low of 6% in 2001 to 10% in 2006, 12% in 2008, 16% in 2009 and now 20% in 2010 following the modernisation of the West Coast Main Line. Meanwhile, London-Glasgow airline journeys decreased by 22.4% between 2006 and 2010, according to CAA figures. From Birmingham to Edinburgh, a 14% market share in 2008 became 31% in 2010, also following major improvements to the train service. As well as improved train services, airport stress and a desire to cut their carbon footprint have all played their part, and the trend seems to be continuing... see Virgin Trains press release.
Odds & ends this month...
New Zealand: After the earthquake in Christchurch in February, the TranzAlpine has resumed running to Greymouth, but the TranzCoastal (linking Christchurch to Picton for the ferry to Wellington) is currently replaced by a bus. It should resume running from August 15th 2011. Annoyingly, this isn't because the tracks or stations are damaged by the earthquake - they're fine. It's because with fewer tourists and other passengers to/from Christchurch there aren't enough passengers for them to bother running a train, so they're running a bus instead, to the same timetable. Better stay away until they've sorted themselves out!

Egypt cancels daylight saving tine for 2011.
March 2011
Improved information on the Spain page...
A recent trip to Madrid & Barcelona with the assistance of Rail Europe, Renfe, Elipsos & Railbookers.com has enabled improved photos and information to be provided about both the trainhotel from Paris to Madrid and high speed AVE trains in Spain, as well as the new Barcelona to Paris high-speed service. See the London to Spain page.
Improved information on the Poland, Ukraine, Russia pages...
A recent trip to Warsaw has enabled improved photos and information to be provided about the Jan Kiepura sleeper train from Amsterdam & Cologne to Warsaw (there's now a new Jan Kiepura page), the Kiev Express from Warsaw to Kiev, the Polonez sleeper train from Warsaw to Moscow, and about Warsaw Centralna station and Warsaw city itself...
Odds & ends this month...
Croatia page: Another travel option has been added, using the Munich to Zagreb 'Lisinski' sleeper train. This gives a good connection into the train from Zagreb to Sarajevo, without the need to stay overnight in Zagreb, so the Bosnia page has also been revised.

Zambia: It seems trains from Dar es Salaam to Kigoma have been drastically reduced, with no trains at all to Mwanza now. It's not clear whether this is temporary or permanent.

Norway: There will be a 6-week closure of part of the Gothenburg to Oslo main line in summer 2011. The Copenhagen-Oslo overnight ferry may be the better option during this period.

South Africa: Shosholoza Meyl lumbers on, making yet more short term changes to its services due to its locomotive crisis. If there is any long term good news, it's the story in the International Railway Journal that a huge order for modern long distance passenger coaches has been placed, to give South Africa a large modern fleet. Will this revitalise South Africa's passenger trains? I hope so!

Finland: It's reported that Tallink's 4 times a week Rostock to Helsinki ferry is to be discontinued from August 2011. However, Finnlines will continue running its 3 times a week year round service on the same route.

Zimbabwe: Good news! It's reported that the Bulawayo to Victoria Falls train, reduced to running 5 days a week for several years, has now been restored to 7 days a week operation.

Kenya: More good news, it's reported that the Nairobi to Kisumu train, reduced to running once a week in summer 2010, has now been restored to 3 times a week operation. The Kenya page now features photos of Kisumu station and the Kisumu to Nairobi train, thanks to traveller Tim Siegenbeek van Heukalom.

Vietnam page: More photos provided about the Beijing to Hanoi train ride, thanks to traveller ChrisonAdventures...

Romania & Turkey pages: Thanks to Andy Brabin of www.railbookers.com, new photos have been posted to show the new air-conditioned Romanian sleeping-car now in service between Budapest and Bucharest on the EuroNight sleeper train 'Ister'. Some compartments even have en suite toilet and shower!
February 2011
Christchurch in New Zealand hit by earthquake...
The TranzAlpine & TranzCoastal trains were suspended following the quake. The TranzAlpine will resume running from 7 March, the TranzCoastal will initially be replaced by a bus from 7 March onwards until further notice.
Recent trip to Singapore, Malaysia and Thailand...
I spent 12 days away at the beginning of this month travelling from Singapore to Bangkok on the fabulous Eastern & Oriental Express and returning on scheduled trains. The Singapore/Malaysia, Thailand & Bridge on the River Kwai pages have all now been updated as a result of the trip. I hope you like the improvements!
New 'Eastern & Oriental Express' page...
Another result of that trip is a new page about the fabulous E&O from Singapore to Bangkok, see here.
One million visitors in January...
1,012,744 visitors came to seat61.com in January, a new record for a month without any volcanic ash!
New 'Man in Seat 61 - Worldwide' book to be published on 17 February...
My second book, the Man in Seat 61 - Worldwide' is due to be published on 17 Feb (originally 3rd Feb). It has details of train travel around the world, beyond Europe.
Greece now cut off from the rest of eastern Europe...
It's now reported that international trains to and from Greece will indeed stop running from the 12 February, see the January news item below.
Odds & ends this month...
Syria page: The weekly Mersin-Adana-Aleppo train linking Turkey and Syria stopped running in December - though reports suggest it may return for the summer season in May 2011.

France page: The daily Lille-Limoges-Brive direct TGV, so handy for travellers from the UK to Brive, has been reduced to running only 4 times a week, Thursday-Sunday outwards, Friday-Monday back.
January 2011
Greece cuts itself off from the rest of Europe: Greece suspends all its international trains from 1 Jan 2011...
It seems Greece is to become a third world country, separated from the rest of Europe. With their economic situation dire, their government has just announced massive rail cuts to be implemented from1 January 2011. This includes the cancelling from 1 January until further notice of all international trains between Greece and Sofia, Belgrade, Bucharest & Istanbul. If this goes ahead, Greece will be cut off from the rest of Europe, except by ferry from Italy. Effectively, it will become an island. Stupidly, the international trains from Belgrade will terminate on the Macedonian side of the Greek border at Gevgelija, just 79 km short of their proper destination at Thessaloniki, Greece's 2nd city. The train 'Romania' from Bucharest and Sofia will presumably terminate at Kulata on the Bulgarian side of the Greek border, 144 km short of Thessaloniki, though in this case I suppose they may cut it back to terminate in Sofia. The recently-upgraded (and very scenic) Thessaloniki-Larissa-Athens main line and (when completed) the Athens-Patras standard gauge line will continue, as may branches to Volos and Kalambaka (Meteora). However, many branch lines including those to Olympia and Kalamata in the Peloponnese will be shut.
Update, 16 January 2011: It's reliably reported that the Belgrade-Thessaloniki trains are in fact still running normally, as is the Thessaloniki-Istanbul 'Filia Dostluk Express' train. It's not clear whether these trains have been given a reprieve, or if they are being run by OSE staff in spite of Government instructions to stop them! At least one train from Sofia to Thessaloniki is also running. However, I have not received any info to confirm if the 'Romania' Bucharest-Sofia-Thessaloniki train is running or not.
Update, 6 February 2011: It's now reported that the Istanbul-Thessaloniki train will stop running 'until further notice' from 12 February, and I suspect the other international trains to and from Greece will do likewise.
Odds & ends this month...
The daily Beijing-Lhasa (Tibet) train is speeded up thanks to the opening of a new section of line, avoiding Xian. Fares have decreased because the distance decreases.

The Istanbul-Tehran 'Trans-Asia Express' now leaves Istanbul on Tuesdays rather than Wednesdays, and runs a day earlier westbound, too.

Stena Line have cancelled all fast ferry sailings between Holyhead & Dun Laoghaire until 1 April 2011. Passengers should use Irish Ferries via Dublin instead. I have adjusted the Ireland and Northern Ireland pages. It's a shame, as you can no longer travel from Belfast or Galway, Limerick etc to London in a day, as there's now no afternoon Dublin-London service, only morning ones which don't allow enough time to get to Dublin from outlying areas.

There's a possible new ferry service to the Canary islands from Huelva in Spain, likely to be better and cheaper than the existing one from Cadiz, advice added to the Spain page.

I have heavily revised the Italy page to make the choice of routes to key Italian cities more logical and easy to follow.

I have added Cadiz, Jerez de la Frontera (for the sherry!) & Huelva as new destinations on the Spain page.

Site updated to take account of various minor January fares increases. London-Amsterdam by Dutch Flyer now £39 not £35, London-Dublin by train & ferry now £33.

A seat61 correspondent has pointed out that South Eastern Trains' poorly-publicised day tripper day return ticket from London to Calais for £33.90 (valid on any train to Dover and any P&O ferry to Calais!) is much cheaper even for one-way trips than buying a £34 one-way ticket to Dover plus a £30 foot passenger fare for the ferry. I've added this tip to the London to Paris by train and ferry page.
December 2010
I've created a new California Zephyr page illustrating a journey across America from New York to San Francisco on Amtrak's Lake Shore Limited and California Zephyr. This compliments the existing Train travel in the United States page which will continue to contain all the factual and practical information. Any feedback gratefully received!
European timetable change on 12 December 2010
European countries all change their timetables together, on the second Sunday in June and on the second Sunday in December. This year, the winter change is on 12 December.

Reservations are now open for dates after 11 December. French reservations opened on 13 October, German reservations opened on 2 November.

There are still data problems with some train services, which means they won't show up when you use the relevant online systems to book or enquire for dates after 11 December: In Italy the new timetable is still not loaded into trenitalia.com or bahn.de, and the Amsterdam/Cologne-Copenhagen sleeper train isn't yet loaded into bahn.de because of late agreement on the train path with the infrastructure operator in Denmark (Update: Cologne-Copenhagen became bookable from mid-November). Just sit tight, and they'll all appear in due course. It's crazy that all these timetable-change-related problems happen every year just before Christmas...
What changes are expected from 12 December 2010?
The new timetable brings some exciting developments:
Brand-new TGV service from Paris to Figueres in Spain: New London to Barcelona opportunity by daytime trains...
On 19 December, two daily direct TGV Duplex trains are due to start operation over the new high-speed line to Figueres in Spain, with connections to Barcelona. One of these will have a Eurostar connection from London. You'll be able to leave St Pancras by Eurostar at 10:25 arriving Paris Nord at 13:47, take the metro to the Gare de Lyon for the 15:20 TGV from Paris Gare de Lyon, arriving in Figueres at 20:45, reaching Barcelona by connecting train at 22:45. Northbound, leave Barcelona at 09:05 to connect with the new 11:09 TGV from Figueres to Paris, this will connect you with the 18:13 Eurostar to London arriving 19:34 (1 hour later on Saturdays). Figueres is home to the amazing Salvador Dali museum, well worth a stop in its own right. In a few years time the high-speed line will be extended to Barcelona. See here for details of the new London-Barcelona daytime train service.
Brand-new 'Allegro' high-speed tilting trains between Helsinki & St Petersburg.
Russian & Finnish Railways (RZD & VR) have formed a joint venture (Karelia Trains) to launch a Helsinki-St Petersburg high-speed service called 'Allegro'. From 12 December, two daily Allegro 'pendolino' tilting electric trains will link central Helsinki with central St Petersburg in an airline-beating 3½ hours, down from the current 5½ hours of the lumbering 'Sibelius' and 'Repin'. The new service will be speeded up to 3 hours flat with four daily departures in a year or two's time. The trains use the existing track, the time is saved by track upgrading, tilting trains, no longer requiring a time-consuming locomotive change at the frontier, and streamlined border checks. The 'Tolstoi' direct sleeper train between Helsinki & Moscow will remain. Photos. Details on the Finland page.
Paris-Hamburg City Night Line sleeper train reinstated!
The German City Night Line sleeper train company will reinstate the direct Paris-Hamburg sleeper train withdrawn a few years ago, once more giving the chance to leave London in the afternoon and arrive Hamburg in time for business next day.
Paris-Berlin & Paris-Munich City Night Line sleepers return to daily operation all year round...
More good news from City Night Line. A few years ago, these key sleeper trains were reduced to running 4 times a week in the depths of winter, on the busier nights of the week. From 12 December, they will return to running every day of the week, all year round. Update 26 November: The Germans are having trouble getting the extra train paths agreed with the infrastructure operator so these trains can go daily. But it looks as if they will indeed run daily. Booking was supposed to open today (26 November) for the 'missing' weekday trains, but is now delayed again by a day or two. I will confirm on that date that the change has indeed happened, and will then update all the relevant pages.
Faster & more frequent Paris-Geneva TGVs.
What was a single-track local line in southeast France has been rebuilt as a main line cutting quite a few miles off the Paris-Geneva distance. Paris-Geneva journey time will be cut from 3h20 to 3h04, and 7 daily TGVs will be increased to 9, most with connections from London by Eurostar.
Copenhagen-Stockholm faster as Malmö City Tunnel opens...
Shaving almost 15 minutes off the Copenhagen to Stockholm X2000 journey time, as trains will no longer have to reverse in Malmö's terminal station.
But sadly, much worse London-Germany services from 12 December...
Sadly, Eurostar, Thalys & DB have not co-ordinated their London-Brussels & Brussels-Cologne timetables at all. In fact, from 12 December the London-Cologne timetable will be the worse it has been for years. The last train from Cologne to London, currently 17:44 arriving 21:33, becomes 16:44 but still arriving 21:33 with an extra hour wasted in Brussels. As a result, some journeys, such as Copenhagen-London in a day, London-Prague in a day, London-Vienna in a day, cease to be possible without an overnight stop or using a sleeper train. Perhaps the worst example is this: On Saturdays, if you arrive in Cologne at 08:42 on the sleeper train from Vienna, the earliest you can get back to London will be 19:03, a remarkable 11 hours from your arrival in Cologne! When this sleeper train used to run through to Oostende, connecting with a 4-hour ferry crossing to Dover, then a 90mph boat train to Victoria, you also arrived in London around 19:00, so what is the point of all the expensive high-speed infrastructure? The start of direct London-Cologne services in 2013 will help resolve this, but in the meantime the fragmentation and lack of co-operation between European train operators is beginning to show. Billions of euros of investment in high-speed lines is being wasted because services aren't being properly co-ordinated as a network.
Budapest-Sofia through sleeper withdrawn: London-Istanbul now 4 nights, not 3...
The direct sleeping-car between Budapest & Sofia via Bucharest is withdrawn. Not only does this knock out one of the suggested London-Sofia options (fortunately leaving the faster one, via Vienna), this through sleeper used to guarantee the connection between the Budapest-Bucharest 'Ister' arriving 11:47 and the Bucharest-Istanbul 'Bosfor' & Bucharest-Thessaloniki 'Romania' leaving at 12:24. As the onward train will no longer wait for a late-arriving 'Ister' I can no longer recommend a direct 24 minute connection in Bucharest, instead I recommend a 24hour (24 hours 24 minute!) connection, extending the London-Istanbul journey from 3 to 4 nights.
Odds & ends this month...
November 2010
Seat61 wins 'Best Low Carbon Transport & Technology' at the Virgin Holidays Responsible Travel Awards 2010...
I'm delighted that seat61.com has won the 'Best Low Carbon Transport & Technology' category in the Virgin Holidays Responsible Travel Awards 2010. The awards were presented at the World Travel Market at Excel in London's Docklands on 10 November.
London to Ireland via Rosslare for just £32...
After a delightful return trip from Ireland via Rosslare-Fishguard for just £32 all the way from Ireland back to my local station, I've put photos and improved information in the London-Rosslare section of the Ireland page. The Dublin-Rosslare line has to be the most scenic in Ireland, hugging the rocky coastline south of Dublin then winding through the Wicklow Hills whose golden autumn leaves rival New England in the fall.
Thomas Cook Overseas Timetable to cease publication after 30 years...
Unbelievably, the celebrated Thomas Cook Overseas Timetable will cease publication after its Nov/Dec 2010 edition, after 30 years. It was my own life-changing inspiration, and it will be sorely missed by all serious overland travellers everywhere. The internet may be a suitable substitute for travel in western countries now, but in much of the Asian, African and South American world rail, bus and ferry companies do not have websites, or have very poor websites that are not always in English. The absence of any printed timetable for world overland travel will make finding out about alternatives to air that much harder. For the avoidance of doubt, the Thomas Cook European Rail Timetable will continue to be published.
October 2010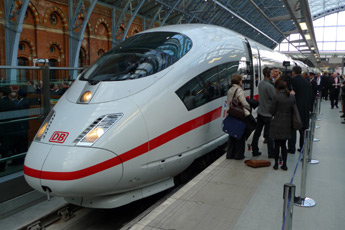 A taste of things to come: DB present a high-speed ICE train to the press at St Pancras in London on 19th October. Three trains a day will link London with Amsterdam (3h55), Cologne (3h55) & Frankfurt (5hours) from 2013.
Direct trains from London to Amsterdam, Cologne & Frankfurt from 2013...
German Railways (DB) show off their ICE train in London on 19 October... DB (German Railways) intend to start a direct high-speed train service from London to Amsterdam, Cologne & Frankfurt with three departures a day from 2013, if they can get certain regulations changed regarding what trains may pass through the Channel Tunnel. They're very serious about it - an ICE was brought to London and shown to the press on 19 October, and yours truly was invited. The ICE (see this page) is arguably the most civilised high-speed train in Europe. Bring it on...
Right: the ICE at St Pancras...
Eurostar to buy 10 new trains...
Meanwhile, perhaps trying to upstage the Germans (see above), Eurostar have announced that they are refurbishing their existing trains over the next few years and have ordered 10 new 'e320' trains, each with 900 seats and capable of 320km/h. They will be fully interoperable with other high-speed networks, allowing them to run through to places beyond Paris & Brussels such as London to Amsterdam, Geneva, Marseille, Cologne. However, unlike the Germans they have not committed themselves as yet to any specific new destinations.
Changes to Eurostar's 'Any Belgian station' tickets...
A Eurostar ticket from London to Brussels has always been automatically valid to any Belgian station. This was a fantastic deal for passengers, but less fantastic for Belgian national railways (SNCB) as they received no revenue from the arrangement. As from 12 October 2010, a ticket to Brussels will no longer be valid to any station in Belgium, only to Brussels itself. You'll still be able to buy a ticket to Any Belgian Station, but this will cost £5.50 one-way or £11 return more than a standard class Eurostar ticket to Brussels (or in first class, £7.50 one-way, £15 return added to the price of a Standard Premier or Business Premier ticket to Brussels). In other words, from £80 return, which is still extremely good value.
Buy a ticket to Any Dutch Station at www.eurostar.com, from £51 one-way, £89 return.
Eurostar have at long last enabled online sales of the special fare from London to Any Dutch Station at www.eurostar.com, from £51 one-way, £89 return (youth under 26 from £59 return, seniors over 60 from £69 return). It's valid on the specific London-Brussels Eurostar you choose when booking, then by any suitable connecting train(s) to Amsterdam or any Dutch destination you like within 24 hours of your arrival in Brussels, as long as you don't use a high-speed Thalys or Fyra train, or German ICE.
Odds & ends this month....
These are some of the issues that have come up this month...
September 2010
Cruise to Spain with Brittany Ferries: Increase to 5 sailings a week from 2011...
A recent travel trade dinner cruise on the superb ship Pont Aven was a great opportunity to improve coverage of this excellent way to reach Spain, see the improved Spain by ferry section on the UK to Spain page. Brittany Ferries say that their passenger numbers have been growing whilst airline passengers to France and Spain have been falling. Last year they added a twice-weekly Portsmouth to Santander service last year to their existing once or twice weekly ferry from Plymouth to Santander, and they've now announced yet another twice-weekly ferry to Spain from March 2011, this time Portsmouth to Bilbao. Which is handy, as P&O Ferries have just ceased operating on that route. Brittany Ferries will therefore be offering an unprecedented 5 sailings a week from the UK direct to Spain for most of 2011.
New sleeper train service from Moscow to Nice...
Russian Railways (RZD) have introduced a weekly direct sleeper train from Moscow to Nice, taking 2 nights and leaving Moscow every Thursday afternoon. It runs via Warsaw, Vienna, Innsbruck, Milan and Genoa.
UK domestic travellers switching from plane to train?
ATOC (the UK's Association of Train Operating Companies) have just issued a press release with some remarkable figures, no doubt helped by volcanic ask earlier this year: "Figures show that in recent years, rail's market share on routes that have traditionally been dominated by domestic air travel, has risen significantly. Over the last 18 months, rail's market share has seen a particularly sharp surge, as tough economic times have led to increasing numbers of people taking advantage of value for money rail tickets:
• For London to Glasgow, rail's market share has risen from 12% in 2008 to 21% in June 2010"
• For Birmingham to Edinburgh, rail's market share has risen from 14% in 2008 to 31% in June 2010
• For London to Manchester, rail's market share has risen from 69% in 2008 to 85% in June 2010
• For Birmingham to Glasgow, rail's market share has risen from 15% in 2008 to 27% in June 2010
It's the only way to cross... If you ever wanted to visit the United States without flying, this new page will help you plan, book and make a transatlantic trip by sea aboard Cunard's superb Queen Mary 2. I've tried to add value to Cunard's own site, telling you the important details that even they don't tell their passengers before they step on board the fabulous QM2. Indeed, Cunard always have their 'cruise head' on and seldom seem to present critical transatlantic timetable and sailing date information in a form most useful to travellers who simply want A to B transatlantic travel rather than a whole list of various irrelevant 'cruise' options, so I have aimed to create a page to put that right too!
Eurostar downgrades 'Leisure Select' to 'Standard Premier' from 1 September...
Eurostar currently offers three classes, first class for business (Business Premier), first class for leisure (currently branded Leisure Select), and Standard class. Until 31 August, 'Leisure Select' first class passengers received the same hot meal and complimentary drinks (including champagne) as 'Business Premier' first class passengers. Sadly, from 1 September 2010, 'Leisure Select' will be re-branded 'Standard Premier', and will no longer include the hot meal, instead a simpler cold tray meal will be provided. The complimentary drinks service will include one round of wine or beer but not champagne. Prices will remain the same, a hefty £120 premium over the equivalent Standard class fare. In spite of confusingly being called 'standard' premier ('standard' being a recognised term for 2nd class in the UK), Standard Premier will still consist of 1st class seating. Initial reports from travellers used to the original hot meals have all been negative, and Eurostar is reportedly receiving many complaints as a result of the downgrade. Update: Having now tried Standard Premier myself, the food isn't bad, and I was readily given a second small bottle of wine when I asked. Yes, it's disappointing if you've been used to being served the full hot meal and the small glass of champagne, but if you have never tried Eurostar first class before so don't know what you're missing, the new cold tray meals are not bad.
Taking train & ferry to Dublin or Amsterdam can reduce your CO2 emissions by up to 80%...
Calculating CO2 emissions for ferry travel has previously been problematic, as there has been no agreed way of allocating the vessel's CO2 emissions between foot passengers, motorists and freight. The Department of Energy and Climate Change (DECC) and the Department for Environment, Food and Rural Affairs (DEFRA) have now allocated CO2 emissions from ferries on the basis of weight, giving a figure of 22.54 grams of CO2 per passenger for ferry foot passengers. I'm no expert on environmental matters, but using www.ecopassenger.org to calculate the train connections and the alternative flights, this suggests that taking the train & ferry option from London to Dublin can reduce CO2 emissions per passenger by up to 73% compared to flying, and taking the Dutch Flyer rail and sail service from London to Amsterdam can make an 80% saving. More information.
Passenger numbers on the Auckland - Wellington 'Overlander' up 24%...
A train that nearly died (yet which links New Zealand's economic and political capitals) has made a convincing comeback, with passenger numbers up 24% in the last financial year. From making a NZ$2m loss, revenue is up significantly and the Overlander is now 'making a financial contribution to KiwiRail operations'. See press story here. In my book, this 12-hour journey right across New Zealand's North Island on the historic Main Trunk Railway is one of the Great Railway Journeys of the world. Next time you visit NZ, ditch the internal flights for an eye-opening train ride! See the Overlander page.
Odds & ends this month....
These are some of the issues that have come up this month...
August 2010
Eurostar Explorers Train...
I was delighted to travel with the Eurostar Explorer's Train on 24 to 26 August, which sent 300 passengers (including Eurostar photo competition winners) off to Bruges, Amsterdam, Cologne, Lyon & Avignon in search of hidden treasures. You can see what some of the Explorers found at http://europe.eurostar.com/explorers-discoveries/. Me? I headed for Avignon with 4 year old Nate, and we found a superb traditional French restaurant, l'Epicerie, in a backstreet square behind the Palais des Papes.
Rail line to Istanbul reopens after repairs...
With the line blocked by landslides after heavy rain earlier this year, the international trains from Bucharest, Belgrade & Sofia to Istanbul had been terminating at Cerkezköy with a replacement bus the final 115km into Istanbul. As from 23 August, the line has been repaired and trains are once more running all the way into Istanbul Sirkeci station. See the Turkey page.
Norfolkline's Rosyth - Zeebrugge ferry to fold...
Sadly, Norfolkline have announced that their three-times-a-week passenger service from Rosyth near Edinburgh to Zeebrugge is to be withdrawn permanently from December 2010. A great shame. Amazingly, they put this down to an 'expansion' of freight service, if so it's a type of expansion we could all do without!
New timetable in Malaysia...
The Malaysian railway operator KTM has introduced a new timetable. Some trains have been speeded up, and there are now 3 trains daily instead of just one or two between Kuala Lumpur & Penang (Butterworth), namely two daytime and one sleeper. Details have now been updated on the Malaysia page.
All Shosholoza Meyl long-distance passenger trains in South Africa cancelled... Some routes have now resumed...
Due to a dispute over maintenance, and reportedly only 16 out of 130 locomotives being serviceable, Shosholoza Meyl has cancelled all long-distance passenger trains in South Africa. It's not clear when they will resume, the new passenger rail authority (Prasa) has got itself into quite a shambles. By late August, the Cape Town-Jo'burg and Jo'burg-Durban routes have reportedly resumed. See the South Africa page for updates.
Yet more complaints about the Artesia sleeper trains from Paris to Italy
I always loved travelling on these great sleeper trains between Paris and Florence, Rome and Venice, but Trenitalia (Europe's most incompetent railway) seem to be running them down badly, with poor food, service, cleanliness and timekeeping. They are now generating many complaints, and it remains to be seem how long they will survive. How I wish someone competent would take over the management of these important trains! The daytime options to Italy (which require an overnight stop in Paris, Milan or Switzerland if travelling beyond Milan) are now the higher-quality choice.
June 2010
European timetable change, 13 June 2010
A new timetable starts on 13 June all over Europe. Relatively few changes have been made from the Dec 2009-June 2010 timetable, and the site has now been fully updated. One change that will take place, though perhaps of limited interest to travellers from the UK, is the sad withdrawal of the Barcelona to Seville/Cadiz 'trenhotel' sleeper train.
New Stena Line superferry 'Stena Hollandica' named on 8 June...
I was lucky enough to be invited to join Stena Line for the naming of their new Harwich-Hoek superferry 'Stena Hollandica'. She is a superb ship, and at 63,000 tons she's the largest RoPax ferry in the world. She now offers free WiFi throughout, with every cabin coming with an en suite shower & toilet and satellite TV. Just £35 buys a train and ferry ticket from London (or any National Express east Anglia rail station) to Amsterdam or any rail station in the Netherlands, plus £24 for a single cabin or £37 for a double one. A bargain, and the clever way from London to Amsterdam! See the Netherlands page for details, it has now been updated to show the new ship and its enhanced facilities.
Line to Istanbul blocked by flood damage: Line will reopen from 20 June.
Flooding has damaged the line and a tunnel between the Bulgarian border at Kapikule and Istanbul, and as a result all international trains between Bucharest/Sofia/Belgrade/Salonika and Istanbul are temporarily cancelled while repairs are carried out. No alternative transport is being provided, although for anyone stranded there are plenty of regular buses between Sofia and Istanbul, an 8 hour bus journey. The latest news is that the line should reopen and trains resume running as from 20 June 2010. This comes from a forwarded email from TCDD (Turkish Railways) themselves. If I hear anything more, I will post it here as well as on the Turkey page.
Lowest train fare ever from London to Lyon, Avignon, Marseille: £69 return, call 08432 186 186
Eurostar have launched a trial 'code share' deal with French Railways, and are offering tickets from just £69 return on two daily Eurostars to Lille and connecting TGV to Lyon, Avignon, Aix en Provence and Marseille. To get the lowest £69 rate you'll need to call as it's not available online. No refunds, no changes to travel plans, limited availability. This is probably the lowest train fare ever to the south of France.
Singapore station to close by July 2011 - trains will start from Woodlands instead...
It's been on the cards for decades. But now it's reported that the historic 1932 art deco station in Singapore will close by July 2011, with trains transferred to start/terminate at a new station at Woodlands, near the causeway to Malaysia and miles way from Singapore city centre, see this article. Sadly, in Singapore they know the value of absolutely nothing except office blocks and shopping centres, and you'd have thought they had quite enough of those. By summer next year, taking a train from this wonderful historic building will be a thing of the past. You will have to take a bus to Woodlands in the north of Singapore island and pick up the trains to KL, Penang & Bangkok there.
May 2010
Yours truly was a guest on the Holiday Show on TV's Travel Channel on 24 May.
Trans-Siberian 'Baikal' diverted to run from St Petersburg rather than Moscow...
The long-standing Moscow-Irkutsk Trans-Siberian train 9/10 'Baikal' is being diverted to run from St Petersburg rather than Moscow as from 1 June 2010.
Irish Rail to close Rosslare Harbour to Waterford line...
Yes, volcanic ash grounds planes, everyone has to switch to traditional train & ferry again, but Irish Rail is closing the line between Rosslare Harbour and Waterford after over a century of operation. The line was Waterford's link with London via the direct Fishguard route, although you can still travel between London & Waterford via Holyhead.
BBC Radio 4 Travellers' Tree
Yours truly is a guest on Radio 4's The Travellers' Tree at 16:30 on Monday 17 May.
This weekend's Sunday Telegraph travel section includes a front page article on train travel by yours truly. My return from Croatia to the UK on 18 April was my inspiration, particularly the Zagreb-Vienna train ride - made at a time when no-one was flying anywhere as flights were grounded. I'd been on a press trip to the medieval villages, olive groves and wineries of Istria when the volcanic ash cloud struck, and without sounding too smug about it (no, really!), the journalists who'd been dropped at the airport on the same day I'd left Croatia by train were still waiting for their flights days after I got home spot on time. A modern-day case of the tortoise and the hare?
Another omission corrected, thanks to traveller Andy Spencer who has provided information and photos for the train service between South Africa and Maputo in Mozambique.
My recent trip to Croatia & Slovenia has allowed me to split the combined Croatia/Slovenia/Bosnia page into three separate pages, each with more information & illustrations.
New ferry service to Egypt!
After a break of some years, a new weekly ferry service is due to start on 20 May 2010 between Venice in Italy and Alexandria in Egypt. www.visemarline.com will carry vehicles and passengers. A London to Cairo journey is likely to take 4 nights, without flying.
April 2010
Volcanic ash grounds flights - seat61 gets over 1.3 million visitors...
On 20 April I returned from a press trip to wonderful Istria in Croatia, land of olive oil, wineries and picturesque medieval villages. Naturally, I went from the UK to Croatia and back by train. I found out just before leaving Istria that flights were grounded, and met Icelandic refugees at Zagreb trying to buy train tickets back to Blighty. Seat61 visitor numbers have gone ballistic over the last few days, total visitors in the last 30 days exceeding one million for the first time ever. On Sunday 18 April, visitors exceeded 136,000. I'm sorry I have not been able to reply to all your emails during that time, as I was away and simply could not cope with the volume. If you still have an unanswered question sent in an email between 10 and 20 April, please re-send it, as I've given up trying to clear the backlog.
New 2010 edition of the Man in Seat 61 book out now...
The revised and updated edition of the Man in Seat 61 book is now in the shops. Based on the website, it's a complete handbook for travel from the UK to almost anywhere in Europe without flying, by train...
A TV series called 'The Man in Seat 61' is proposed. We've filmed a 'taster' to show you what the series might be like, which you can watch below. In the taster, The Man in Seat 61 helps actor Kenneth Cranham travel from Trafalgar Square to Waterloo battlefield on the first leg of an overland journey to St Petersburg, on the trail of Napoleon. Let us know what you think! Latest news: We're still looking for a TV Channel to fund and broadcast the series, if you can help, get in touch!
March 2010
London-Venice 5-night round trip including the fabulous Venice Simplon Orient Express, for £1,579 per person
This really does warrant a special mention. Book before 24 March and Railbookers are offering outward scheduled rail travel from London to Zurich by Eurostar & Lyria TGV (see photos), a night at the superb 4-star Hotel Schweizerhof, onward travel on the Gotthard route (the most scenic of all the mainline routes through the Swiss Alps) to Venice, 3 nights at the superb 4-star Palazzo Giovanelli right on the Grand Canal, then the wonderful Venice Simplon Orient Express back to London with meals included, for £1,579 each. That's about the same as the normal £1,595 one-way price for the V-S-Orient Express without outward travel or hotels! If you're ever going to take a loved one on the VSOE, now's the time to do it! Book by 24 March for this price.
Save the Waterford-Rosslare line...
It seems the Waterford-Rosslare line in Ireland is under threat, www.facebook.com/group.php?v=info&gid=367387502018. And this at a time when Galway & Limerick are once again linked by a re-opened rail line, with other local lines also reopening. Please see the Facebook link, and if you can help, please do so...
Visit the Great Wall of China - by train!
Most tourists visit the Great Wall of China at Badaling on a one-day bus tour from Beijing. Unfortunately, this often gives only 30 rushed minutes to see the Wall. But there are regular air-conditioned trains from Beijing North to Badaling, ideal for those who want to travel under their own steam and see the Wall without the rush. The fare is only RMB14, about £1.50 or $2. See the new Great Wall section on the China page, put together with help from traveller Simon Penny.
New 2010 edition of the Man in Seat 61 book now due out on 15 April...
The revised and updated edition of the Man in Seat 61 book, originally due out on 18 march, has been delayed slightly due to the publisher shifting to a new warehouse. It is now due out in early April. I'm sorry for any inconvenience caused by this delay (as we railway folk say)...
Ferry changes: Swansea-Cork, Rostock-Helsinki...
The Swansea-Cork ferry returns this month, with a 3-times-a-week overnight cruise ferry linking Britain directly with Cork in southern Ireland. Local businesses campaigned for years to get the ferry reinstated, many small investors finally making it possible. See www.fastnetline.com. I wish them every success. Meanwhile, Tallink has suspended its Rostock (Germany) to Helsinki ferry, allegedly for the ship to be refitted, at least until April. But rival operator Finnlines (www.finnlines.com) has started its own 3 times a week service, so will the Tallink ferry ever return? I have updated the Estonia & Finland pages to reflect this.
Save New Zealand's 'Capital Connection' commuter service, Palmerston North to Wellington!
The Palmerston North to Wellington commuter service is under threat of withdrawal, see their Facebook page and help save the train...
February 2010
Vladivostok - Japan ferry changes...
The time-honoured Russian Far East Shipping Company (FESCO) appears to have succumbed to the recession and gone out of business. Their Vladivostok-Fushiki service is no more. However, a new ferry, the Eastern Dream, now runs weekly all year between Vladivostok, Korea and Japan. The Korea and Trans-Siberian pages have been updated accordingly.
"Best Travel Website" Silver Award at Wanderlust Travel Awards 2010...
Seat61.com has once more been voted into the top three travel websites (of many hundreds of nominated websites) by readers of Wanderlust Magazine, this year picking up the Silver Award. And my favourite rail journey, Scotland's West Highland Line, came top of the 'Best rail Journey' category for the second year running.
Trains to Machu Picchu cancelled due to heavy rail, flooding & landslides...
The railway to the Inca citadel of Machu Picchu in Peru is blocked by landslides caused by heavy rain. All trains were cancelled as of 23 January. It is likely to take at least 8 weeks before services resume, so we're talking late March at the earliest, though no-one will give an exact date yet. See the Peru page.
German ICE approved to run through the Channel Tunnel...
In December, Eurotunnel approved DB's (German railways') ICE3 high-speed train for running through the Channel Tunnel. This paves the way for direct ICE services from Cologne to London, should DB wish to run them, in the next few years. Previously, only Eurostar trainsets were authorised for the tunnel, because trains had to be of a minimum length and be capable of splitting in the middle so half of the train could be driven out backwards in an emergency, a facility never actually used. DB is a very good train operator, and this is one German invasion I'd be very glad to see!
Update: It now seems that the news items in the press about the ICE being approved for the Channel Tunnel were premature, the result of misleading briefing by a Eurotunnel executive. The ICE has not been approved for use in the Tunnel, and approval will take some time. Those pesky Tunnel safety rules still have to be officially relaxed for ICE to operate.
January 2010
A new Ethiopia page covering the thrice-weekly train from Dire Dawa to Djibouti has been added, thanks to feedback from traveller Richard Gennis.
New 'senior' & 15-day InterRail passes for 2010...
The 2010 InterRail Pass line-up includes a new 15-days continuous pass, and a cheaper 'senior' price for each pass type for anyone over the age of 60. Te senior passes cannot currently be bought online, you need to call Rail Europe. See the InterRail pass page.
More problems from Trenitalia, easily Europe's most incompetent railway...
After (1) withdrawing their Switzerland-Rome and Nice-Rome sleepers leaving long daytime journeys as the only alternative, (2) forcing Austrian railways to run a bus(!) between the Austrian frontier and Venice as Trenitalia won't run a train, (3) forcing Slovenian railways to do the same from the Slovenian frontier as Trenitalia won't run a train, (4) causing endless complaints due to their poor management of the Paris-Italy sleepers, (5) forcing the 3 daily Paris-Turin-Milan TGVs down to 2 per day (one of which only goes as far as Turin) due to wrangles with French railways, (6) running a poorly-translated website that only accepts (by my rough estimate) 60% of UK credit cards and 20% of US ones, (7) causing the collapse of the Swiss-Italian Cisalpino consortium, Trenitalia's poor management have struck again. This time at virtually no notice they have suddenly ceased running their Milan-Genoa-Monaco-Nice trains beyond the French frontier at Ventimiglia. So much for us all being in the EU! It's no wonder German and Austrian railways have broken a major precedent and partnered with little-known regional train operator LeNord (instead of the Italian national operator Trenitalia) to run their new Munich-Innsbruck-Verona-Bologna trains. And even here, Trenitalia is playing games to the detriment of passengers, running slow train in front of the new high-quality German/Austrian services to make sure they miss useful connections in Bologna or Milan. When will Trenitalia grow up? I look forward to new private operator NTV taking over the high speed routes linking Milan, Venice, Florence, Rome & Naples in due course, see www.ntvspa.it.
Avoid London with the Newcastle-Amsterdam DFDS Seaways cruise ferry...
Thanks to DFDS' friendly and proactive management in Newcastle, the Man in Seat 61 was able to sample the overnight Newcastle-Amsterdam cruise ferry over Christmas. The ships really are 'cruise' ferries, with great restaurants and cabins, the excellent 'Commodore Deluxe' cabins being as good as any 4 star hotel. If you live in the north or Scotland, this ferry is a great way to avoid the trek south to London, sailing overnight direct to Amsterdam then taking onward trains to destinations all over Europe. Or using it instead of flying for a romantic getaway to Amsterdam or even business trip. DFDS have just reported a very successful year on this route in spite of the recession, with passenger numbers up 10% in 2009. Perhaps people really are getting fed up with the hassle of flying! Following the trip I've added photographs and more information to the 'North of England & Scotland to...' sections on my Netherlands, Germany, Austria, Switzerland, Italy, Poland and Czech pages. See the Netherlands page.
P&O to withdraw Portsmouth-Spain ferry in September 2010...
P&O Ferries have announced that their Portsmouth-Bilbao ferry will cease after the 27 September departure. The Pride of Bilbao's charter ends, and they say they cannot justify another ship on a loss-making route. Meanwhile, Brittany Ferries have not only speeded up their excellent Plymouth-Santander in recent years, they've added a second weekly ferry from Portsmouth, also sailing to Santander. A very good alternative to the P&O service!
Eurostar snowbound at Christmas...
Eurostar's problems just before Christmas were well publicised in the press. Eurostar is no stranger to snow, sending a train twice a week to the French Alps every winter. But it seems snow conditions were a bit different this time. Snow was sucked into the power cars and caught on the filters, where it melted. Water vapour then condensed on the electrical equipment in the humid heat of the Channel Tunnel, causing electrical arcing and shutting down the train. This happened not just to one train but several at the same time. The technical solution is one thing, the handling of the situation with so many people stuck on several Eurostar trains in the tunnel is another, and Eurostar have promised a full independent review to see how they can improve if a similar situation ever happens again. Will it put me off using Eurostar? No, I've used Eurostar too many times without a problem over the last decade and a half. Indeed, on a day to day basis Eurostar achieves 95% on time or within 15 minutes whereas competing airlines struggle to reach 68%, making Eurostar a very reliable option. I genuinely think they will learn the necessary lessons from this and put it behind them. However, if you were caught up in it, or had your trip cancelled as a result, you have my heartfelt sympathy. It was only luck that this year we went away for Christmas by ferry rather than Eurostar.
December 2009
The 'Orient Express' makes its last run on 12 December 2009...
The famous name 'Orient Express' lives on in the official timetables, albeit in a much truncated form as an Austrian Railways Strasbourg-Vienna sleeper train. But make no mistake, this is indeed the true descendant of the original 1883 Orient Express, cut back from running Paris-Vienna in 2007, cut back from running beyond Vienna to Budapest & Bucharest in 2001. However, the Strasbourg-Vienna Orient Express will finally be withdrawn permanently as from the Europe-wide timetable change on 13 December 2009. The name 'Orient Express' will then finally disappear from Europe's official timetables. For a full explanation, see the Orient Express page.
Paris-Milan Artesia TGV shambles...
Due to wrangles between the French Railways SNCF and the (increasingly incompetent) Italian Railways over the fitting of special in-cab signalling equipment, the normal 3 daily Artesia TGVs from Paris to Turin and Milan have been cut back to just one Paris-Turin-Milan, one only running as far as Turin, and one cancelled completely. Naturally, the one remaining Paris-Milan TGV is the morning one from Paris, afternoon one from Milan, not one of the two which actually allow same-day connections with Eurostar to/from London, as that would be too sensible (sigh!). Artesia hope to return to normal service from 4 July 2010. The Italy page has been updated to reflect the current situation, or at least, the situation until they change their minds again in 5 minutes time...
Timetable change on 13 December
Just a reminder that all European timetables change on 13 December. Most seat61 pages have now been updated, though domestic trains in Spain, Italy and a few other countries may still need tweaking here and there for the new timetable. As at the end of November, some post-13-December trains in Spain and Italy are still not loaded in the various online reservation databases...
Take a trip to Waterloo station (in Belgium, that is!)... Possible 'Man in Seat 61' TV series...
The Belgium page now includes a short section on taking Eurostar to Brussels & a connecting train to the original Waterloo station, to visit the 1815 battlefield. The pictures & information were obtained thanks to a 2-day trip filming a 15-20 minute 'tester' film for a potential 'Man in Seat 61' TV series with actor Kenneth Cranham (of 'Shine on Harvey Moon' and 'Rome' fame, amongst many other credits) & Guerrilla Films (www.guerilla-films.com). The short film will be used to float the series concept with TV companies, and it is planned to post the video on seat61.com once the footage is edited, some time in the New Year.
November 2009
Even in mid-November, many European trains are still not loaded into online booking systems for travel after 19 December...
Every year, the European railways endure a massive self-inflicted loss in revenue, as they stupidly change their timetable just before Christmas, and never manage to get the new data loaded into booking systems in time to maintain the theoretical 90 days advance booking period. French train bookings for travel dates between 13 Dec & 4 Jan went live on 14 October (so squeezing the 90 days to just 60), the Germans were even later, but in line for this years 'most incompetent rail managers of the year' award are Trenitalia, who as at 17 November still haven't got any data loaded into trenitalia.com for travel dates after 13 December. The Artesia Paris-Milan TGVs are a particular problem, where passengers are losing out because of inter-railway wrangling.
Seat 61 'highly commended' in the Virgin Holidays Responsible Travel Awards 2009...
I'm delighted that seat61.com was chosen as one of 3 finalists for the 'Best Low Carbon Transport & Technology' category at the Virgin Holidays Responsible Travel Awards 2009, announced at the World Travel Market in London on 11 November. Alcatraz Cruises won the category, with seat61.com and the Swiss Travel System 'highly commended'.
European motorail: Düsseldorf & s'Hertogenbosch are the new 'Calais'!
Sadly, Rail Europe announced in October that they will not be running their French Motorail service from Calais to southern France in summer 2010. The withdrawal follows rising costs and poor exchange rates. However, although it at first seems a long way round, both Dutch Motorail from the Netherlands and German Motorail from Düsseldorf (a 3 hour 45 min drive from Calais) will continue to run motorail trains to the South of France as well as Italy & Austria, with high-quality trains including proper sleepers and a bistro or restaurant car and (in the case of German motorail), cheap advance purchase fares from just 129 euros for car and driver each way. The motorail page has now been updated with new pictures and information about travelling on the excellent Dutch and German motorail services, thanks to journeys provided courtesy of RailSavers/AutoSlaapTrein & DB Autozug.
A recent trip by rail & sail to Dublin & Belfast proved just how cheap and relaxing train & ferry travel can be. The Ireland page and Northern Ireland page have been updated with new pictures and information. I can especially recommend the T-Mobile WiFi on Virgin Trains to Holyhead, and the Club Class Martello Lounge on Irish Ferries 'Ulysses' with its complimentary red & white wine, tea & coffee, juice, smoked salmon canapés and cheese & crackers. London-Dublin costs just £29 each way, any day, any date, even on the day of travel, London-Belfast £41, with a chance to relax, get some work done or catch up on your reading, airport- and flight-free.
European timetable change from 13 December...
Most seat61 European pages have now been updated with the new times as from 13 December 2009. When the new timetable starts on 13 December across Europe, there will be a few key changes:
October 2009
BBC TV 'Eggheads' quiz...
Well, I never, real fame at last... www.seat61.com became the subject of a question on the BBC Quiz 'Eggheads' on 15 October. "The Man in Seat Sixty-One is a website aimed at helping (a) Rail travellers, (b) theatre goers or (c) couch potatoes? We'll have none of the latter here at seat61, please!
Seat61 short listed for the Virgin Holidays Responsible Travel Awards 2009...
I'm delighted that seat61.com has been short listed for an award at the Responsible Travel Awards 2009, in the 'Best low-carbon transport & technology' category. The winners will be announced at the World Travel Market in London on 11 November. Fingers crossed...
Seat61 short listed for 'Website of the Year 2009' award from thegoodwebguide.co.uk...
I'm also delighted that seat61.com is one of the 24 sites shortlisted for 'Website of the year' with www.thegoodwebguide.co.uk, out of 1,000 sites nominated. The winner will be announced on 3 November. If you'd like to support seat61's nomination, you can comment at www.thegoodwebguide.co.uk/awardfeedback. Update November 2009: Sadly, seat61 didn't quite make the 'website of the year' award!
Going back twenty years, the sleeper trains from Paris to Florence, Rome, Verona or Venice used to be amongst my favourite trains, and I've used them many times. Dinner in the restaurant car as the sun sets over pretty French villages, snuggling between crisp sheets and waking up to Italy next morning. Wonderful! These sleeper trains have always been busy and popular. However, Trenitalia's management of these sleeper trains has steadily declined in the last few years, generating increased complaints about delays, cleanliness, food service and carriage maintenance. I have finally decided to reword the London to Italy page to suggest people take daytime trains to Italy, even if this involves an overnight stop. New high-speed routes mean the journey to Italy isn't in fact that much longer (although a 100mph sleeper train still beats a 198mph train plus a 0mph hotel!) and the scenery through the Alps on the route via Zurich is superb.
European train bookings for 13 Dec 2009 to 4 Jan 2010 won't open until 14 October...
Normally, European train bookings open 90 days before departure (Eurostar is an exception, opening 120 days ahead). However, this often gets squeezed to less than 90 days for travel immediately after the twice-yearly Europe-wide timetable change because there's always a delay in getting the timetable finalised and the new data into the system. With unbelievable stupidity, the European Railways and the EU chose the second Sunday in December as the date for their big Europe-wide timetable change, right before the busy Christmas travel period. As anyone with a brain can see, the second Sunday in January would have been the correct choice. It's now been announced (surprise, surprise) that bookings for trains within France & out of France to Spain, Italy, Switzerland and Germany for 13 Dec 2009 to 4 Jan 2010 won't open until 14 October, closer to 60 days ahead than 90, precisely at a time when people need to make travel arrangements further ahead than normal. This is not the first time, this seems to happen every year. Just take comfort in the fact that no-one else can book up all the seats before bookings open, either.
SeaFrance no longer providing a Dover-Calais passenger service...
Sadly, ferry operator SeaFrance (www.seafrance.com) now refuses to carry passengers between Dover & Calais as from the end of September 2009. It will continue to carry freight and a few motorists, but all other passengers should switch to alternative ferry operator P&O (www.poferries.com) who will continue to offer a fully-featured ferry service on the Dover-Calais route, with proper facilities for passengers. The train+ferry option between London & Paris via Dover/Calais is explained on the London-Paris by train+ferry page.
September 2009
Flooding blocks the rail line to Istanbul... (Update 26 September: Line now reopened)
On 11 September 2009, severe flooding damaged the railway west of Istanbul. Turkish Railways have suspended all service west of Istanbul (domestic and international to/from Sofia, Thessalonica, Bucharest) while the line is repaired. Update 26 Sept: Line cleared and trains now running again.
Swansea-Cork ferry to resume in 2010...
At last some good news from the world of ferries. Fastnet Line has finally secured a ship, the Julia, to resume the Swansea-Cork ferry service after a break of several years. The ferry is due to start operating in March 2010. Built in 1982, the Julia previously operated for the Color Line in Scandinavia. She has 300 cabins and capacity for over 400 cars and 1,800 passengers.
International bookings now possible at www.renfe.es...
The Spanish Railways website, www.renfe.es, has long been the cheapest way to buy train tickets for journeys wholly within Spain, with cheap 'Web' & 'Estrella' advance purchase fares available that aren't shown anywhere else, and no booking or postage fees to pay, you simply print out your own ticket. But it has always steadfastly refused to book any international trains. However, that has now changed, and renfe.es will now book the international 'Trainhotel' sleeper trains linking Paris with Madrid, Paris with Barcelona, Zurich with Barcelona, Milan with Barcelona, and Madrid with Lisbon. On the run from Paris to Madrid or Barcelona, prices are the same as on the French Railways website or Rail Europe's site, but because renfe.es accesses a separate pool of tickets held on the Spanish as opposed to the French reservation system, you can often find cheap tickets still available on renfe.es when they are sold out on the other sites. Plus, cheap 'Web' & 'Estrella' fares are now available for the Madrid-Lisbon 'Lusitania Trainhotel' which aren't available through Rail Europe or the French Railways site, making it far cheaper to book this particular train direct with Renfe. These cheap Web & Estrella fares are now shown on the Portugal page, and both the Spain and 'How to buy European train tickets' pages have now been updated. There's a step by step guide to using renfe.es here.
August 2009
High-speed from London to Holland from December...
The new high-speed line from Brussels to Amsterdam will finally open on 13 December 2009. Paris to Amsterdam will then take 3 hours 10 minutes by direct Thalys high-speed train, London to Amsterdam will take as little as 4 hours 6 minutes by Eurostar to Brussels then Thalys onwards. From central London to central Amsterdam, it'll be faster than flying! Details will be posted on the Netherlands page nearer the time.
Buy tickets online to Douglas on the Isle of Man from London or any station in Britain...
Seat61 is now the only website explicitly selling that well-kept secret, inclusive train+ferry tickets from any station in Britain to Douglas on the Isle of Man. London to Douglas costs £82 return (£103 return on Fri, Sat, Sun June-September), Manchester-Douglas from £49.50 return, Leeds-Douglas from £54.50 return, Birmingham-Douglas from £66 return. No airport hassles, and no flights required. See the Isle of Man page.
Buy tickets online to Belfast from London or any station in Britain...
Online ticket sales are once again possible from London or any station in Britain to or from Belfast, thanks to RailEasy.co.uk. London-Belfast costs just £41 each way via Holyhead & Dublin or from £44 each way via Stranraer, centre to centre without flying! An online booking system has been added to the London to Northern Ireland page. Coupled with online bookings to Dublin from any station in Britain now possible on the Ireland page, it's never been easier to ditch the plane and travel the classic civilised flight-free way to Ireland.
Norfolkline's resurrected Scotland-Belgium ferry hitting its targets...
Norfolkline report that loadings on their resumed Edinburgh (Rosyth) to Zeebrugge ferry are meeting or exceeding projections. The ferry sails overnight, three times a week. See www.norfolkline-ferries.co.uk.
July 2009
New Premier Classe sleeper train from Johannesburg to Kruger National Park...
July 9 sees the launch of another 'Premier Classe' affordable deluxe sleeper train in South Africa, this time linking Johannesburg every Thursday evening overnight to Hoedspruit for the Kruger National Park. Aimed at both budget-conscious tourists and South Africans themselves who want a safe, civilised train travel experience, 980 Rand (£73) gets you a private deluxe sleeper, dinner and breakfast in the deluxe restaurant car and complimentary tea or coffee in the spacious lounge car. They hope to increase it to thrice weekly in due course. Highly recommended! Other Premier Classe routes include Cape Town to Jo'burg, Jo'burg to Durban, Cape Town to Port Elizabeth.
London-Amsterdam 'Dutch Flyer' train+ferry bookings up a remarkable 39%...
Stena Line report a remarkable 39% year-on-year increase in train+ferry ticket sales from London to any Dutch station in the first 6 months of 2009. They also report a change in their clientele: Train+ferry to Amsterdam is no longer the sole preserve of budget-conscious backpackers, but young professionals keen to avoid airport stresses and lower their carbon footprint, as well as travel overnight in a cabin an save expensive accommodation costs in Amsterdam. Read the article by Richard Hammond. Details of the Dutch Flyer service on seat61.com.
The Rail Europe Snow Train will not run in winter 2009/10...
Sadly, Rail Europe have just announced that after running for many years their special Snow Train from London to the French Alps will not run in the 2009/10 winter season. Put down to the general economic situation plus a weakening pound, Rail Europe say they haven't taken this decision lightly. The Eurostar Ski Train will continue to run in 2009/10, and regular trains are also available, see the Ski by Train page.
Online tickets from London (or any station in Britain) to or from Dublin...
Online ticket sales are once again possible from London or any station in Britain to of from Dublin Ferryport or Dun Laoghaire, thanks to RailEasy.co.uk. London-Dublin costs just £29 each way, centre to centre without flying! An online booking system has been added to the London to Ireland page, and the page has been overhauled to make it clear just how easy it is to reach Ireland the traditional way, by train & ferry.
Problems with the seat61 RailShop...
There are problems with the Seat61 RailShop (which sells railpasses and reservations to go with railpasses) at the moment, which are likely to last a little longer while the company concerned sorts them out. Please buy passes by phone if you have any trouble getting them online.
June 2009
New European train travel helpline, 0906 80 20 284
(60p per minute, lines open 08:30-18:00 Mon-Fri, 09:00-13:00 Sat, UK callers only, provided by Erail)
There isn't an official European rail travel enquiry line, and there's only one of me so I can't handle phone calls, just the occasional email. So I've talked to Erail, a European rail ticketing agency in London, and we've set up a helpline so at least there's now someone to call with those knotty European train travel problems. They charge 60p per minute which pays for the staff (seat61 also gets a small commission), lines are open 08:30-18:00 Mon-Fri, 09:00-13:00 Sat, UK callers only. It's not intended for fare quotes or to buy tickets, as you can do this at normal call rates on normal phone numbers, it's for in-depth help and assistance with European train travel questions & problems, without necessarily buying tickets. Feedback will be very welcome, as we'll improve the service as we gain experience. More information.
Scotland's very own deluxe cruise train which showcases the history, scenery & culture of the Highlands, The Royal Scotsman now has its own seat61 page giving the inside story. Trips on the Royal Scotsman don't come cheap, but if it's a special occasion or time & comfort are the issues rather than cost, you won't be disappointed by this train...
Success for New Zealand's Auckland-Wellington Overlander...
It's reported that passenger numbers have increased by over 25.5% in the last 11 months on the Auckland-Wellington 'Overlander', in my view one of the world's most historic and scenic train journeys. This comes after the train was saved from withdrawal a few years ago, and new nationalised train operator kiwi Rail has pledged to improve and expand the service. They have just announced that it will run daily (as opposed to 3-times-a-week) for a longer season this summer, becoming daily from 25 September 2009 until May 2010, instead of 30 November to April.
No more Berlin-Kazakhstan through sleeping-car...
Kazakhstan Railways has announced it will withdraw its weekly Berlin-Astana direct sleeping-car from June this year. Through cars from Berlin to Novosibirsk, Saratov & Rostov-on-Don on this remarkable train will remain. You can still easily travel from western Europe to Kazakhstan by changing in Moscow, see the Silk Route page.
At last! Now you can buy European train tickets at St Pancras...
The Eurostar ticket office at St Pancras can only sell Eurostar tickets to Paris, Brussels, and a few other destinations. It has never been able to provide a proper European train ticketing service. But now Trains Europe (www.trainseurope.co.uk) has stepped into the breach and opened a European train ticketing desk in the East Midlands Trains travel centre at St Pancras. The new Trains Europe desk can sell train tickets & railpasses for train journeys almost anywhere in Europe, and make European seat, couchette & sleeper reservations. The new desk was opened by travel journalist & celebrity Simon Calder on 4 June...
New Eurostar fare structure...
Eurostar has revised its fare structure from 16 June 2009, and at long last this now features sensible one-way fares right across its fare range. The cheapest 2nd class fare remains £59 return to Paris or Brussels, though the cheapest 1st class fare has risen. Seat61 will be fully updated to reflect the new fares over the next few days.
New! www.eurostar.com now sells tickets to Switzerland...
Eurostar has teamed up with Lyria, the consortium of the French/Swiss railways running the Paris-Switzerland high-speed TGV trains, to offer train tickets from the UK to Switzerland. It can sell special through fares from London & over 130 key towns & cities across the UK to key destinations in Switzerland, including Zurich, Basel, Geneva, Lausanne, Bern, Montreux. Fares start at £99 return - if the cheapest fares are available (but note the 'if') this will be the cheapest way to buy train tickets to Switzerland. However, experience suggests that the number of cheap tickets made available in the reservation system will be crucial. If it's anything like London-Amsterdam, it will often still be cheaper to use www.raileurope.co.uk and add a cheap London-Paris ticket to a cheap Paris-Switzerland ticket (which also gives you the flexibility to stop over in Paris). My advice is to check both systems!
RailJet, and where to eat before boarding your sleeper to Germany...
A trip from London to Budapest & back courtesy of Deutsche Bahn's UK office has allowed me to experience the superb new RailJet train linking Munich, Vienna & Budapest. Photos & information about this train now appear on the Austria, Hungary, Romania, Bulgaria, Greece & Turkey pages, along with many other snippets of useful information gleaned from the trip. I can recommend dinner at the Brasserie Terminus Nord just across the road from the Gare du Nord in Paris before boarding your sleeper to Germany, and how about the typically Bavarian Mongdratzerl restaurant for breakfast on arrival in Munich, located in Munich hauptbahnhof itself.
May 2009
Daily Hanoi-Halong tourist train starts in Vietnam...
The Vietnam page now includes details of a new daily train aimed at both Vietnamese and overseas tourists, between Hanoi & Halong for the beautiful Halong Bay.
No more 'Flandres Riviera' Lille-Nice overnight train...
French Railways SNCF have announced that the Lille-Nice overnight sleeper train will not now run this summer, or for that matter ever again. It was so handy for travellers from the UK, even though it had become a summer-only seasonal train for some years. UK passengers wanting to save time over daytime travel on high-speed TGVs will now need to travel via Paris, using the all-year-round 'Train Bleu' sleeper train from Paris to Cannes, Nice & Monaco.
Easier planning & booking for the Trans-Siberian Railway...
The Trans-Siberian page now includes a 'widget' linking to Real Russia's innovative Trans-Siberian trip planner. This allows travellers to plan & book a Trans-Siberian journey any of the three routes, eastbound or westbound, with stopovers wherever they like for as long as they like, ordering tickets all in one transaction.
April 2009
At last: A new Night Riviera sleeper page all about the overnight train from London to Cornwall...
I've lost count of the emails I've received asking me why I haven't covered the 'Night Riviera' sleeper to Cornwall as well as the better-know Caledonian Sleepers to Scotland. Well, thanks to a trip provided courtesy of First Great Western, I've been able to research that sleeper service and give it its own page. The page includes not only train times, fares & information for the sleeper, but information about branch line connections to places like St Ives, Falmouth & Newquay, and bus & ferry connections to Land's End, the Eden project and even the Isles of Scilly. I hope you find it useful the next time you plan to visit Cornwall...
Seat61 Facebook page...
Following suggestions from visitors (and not least my wife Nicolette, a Facebook regular) I've created a Seat61 page on Facebook. It might make it easier to keep up with developments and share the site with your friends...
New credit card fees & postage fees at Rail Europe...
The credit crunch is biting, and the various European railways have reduced the commission they pay to ticketing agencies. As a result, www.raileurope.co.uk has now imposed a £1.95 postage fee and 2% credit card fee, although they can be avoided by collecting tickets at the station and by using a debit card. Or indeed, avoided by using French Railways own website instead, www.voyages-sncf.com. Ironically, SNCF will send tickets from France to the UK for free (with no credit card fee, either) whilst its own UK subsidiary charges £1.95 to send them out from its office in Kent. Yes, really!
March 2009
Why not by-pass London? Scotland, north of England & East Anglia to Europe...
You can of course take a train up to London and head to the Continent on Eurostar. But if you live in Scotland, the north of England or East Anglia, why not by-pass London by taking a cruise ferry overnight from Harwich, Hull or Newcastle to Holland, then a direct train from Amsterdam to Zurich, Warsaw, Moscow, Prague, Milan, Munich, Frankfurt, Berlin, Vienna etc.? I've added details of how to do this to the Netherlands, Germany, Austria, Italy, Poland, Russia & Switzerland pages.
City Night Line sleeper trains...
A recent trip to Prague, courtesy of DB's UK office, has allowed me to improve the information about travelling on these excellent trains, with more pictures too. See www.seat61.com/citynightline.htm. The Czech page has been revised with more pictures, information & advice about visiting Prague by train, with not a flight in sight.
Norfolkline's new ferry: £5 fare (plus £255 for the cheapest cabin, please)...
Norfolkline's new overnight ferry from Edinburgh (Rosyth) to Zeebrugge starts soon, and it's good to know it will now carry foot passengers as well as freight and motorists. A recent test booking produced a fare of just £5 and initially appeared to show a (not unreasonable) cabin cost of £65 for sole occupancy. But on proceeding, a mysterious cabin surcharge was added, totalling £255. I thought the website was malfunctioning and I called their telesales line to confirm. Yes, that'll be £5 for the fare plus a compulsory cabin surcharge of £255. I'm sure their cabins are very nice, but worth the same as night at the Ritz? At those prices, a train ride to Newcastle or Hull then an affordable crossing with DFDS or P&O remains a better option...
New train service to Vientiane, Laos...
With the rails now laid on the Friendship Bridge across the Mekong River from Thailand into Laos, The overnight Bangkok-Nong Khai train is due to be extended into Laos this month, to the new station at Tha Naleng just outside Vientiane. This is the first railway in Laos. Details are on the Thailand page.
250 km/h high-speed trains now operating in Turkey...
The Ankara-Eskisehir section of Turkey's new 250 km/h Istanbul-Ankara high-speed line was opened in early March, and brand-new high-speed trains now link Eskisehir with Ankara, with connecting conventional trains between Istanbul & Eskisehir. When fully completed, Istanbul to Ankara will take just over 3 hours, even beating airlines. The new service is shown on the train travel in Turkey page.
New Turkey-Syria train service...
A new twice-weekly overnight train started running in early March between Mersin & Adana in southern Turkey and Aleppo in Syria. Details on the Syria page. However, the weekly Toros Express through sleeping-car between Istanbul & Aleppo still hasn't resumed following engineering work on the line, perhaps it will in April or May.
Passenger trains withdrawn in Botswana & Namibian train service cut back...
Sad news, Botswana is reverting to third world country status, withdrawing the overnight Lobatse-Gaborone-Francistown train as of 1 April 2009, having withdrawn the daytime train in 2006. This leaves Gaborone and most of Botswana without any passenger trains for the first time in around 100 years. This follows several minor StarLine passenger train routes in Namibia being withdrawn from January.
February 2009
Recently voted 'Best Rail Journey' at the Wanderlust Travel Awards, beating train journeys in Peru, Switzerland, Canada & Australia, a recent trip courtesy of ScotRail has allowed a new page to be added, all about the London-Ft William sleeper (in my opinion, the best train in Britain) and the superb train journey through the Scottish highlands up to Mallaig.
"Best Travel Website" Award at Wanderlust Travel Awards 2009...
Sat61.com has once more been voted into the top three travel websites (of over over 600 nominated websites) by readers of Wanderlust Magazine. I was at the Times Destinations Show at Earl's Court, London, to received the award on 5 February.
Eurostar back to full strength from 23 February...
Last year's fire damage in the Channel Tunnel has finally been repaired, and the damaged section of the Channel Tunnel is now back in action. Eurostar introduced a new timetable as from 23 February 2009 to take advantage of this. Most seat61 pages have now been updated to reflect this (as at 24 Feb), but the last few will be done by 26 Feb.
A recent trip courtesy of ScotRail has allowed me to update and improve the Caledonian Sleeper page, with new photos and information. A 'West Highland Line' page may follow, recently voted 'Best world rail journey' in the Wanderlust travel awards 2009, and rightly so.
Helped by a recent trip to Bourg St Maurice & Les Arcs on the Rail Europe Snow Train, a new 'Ski by train, not plane' page has been added, pulling together all the information for skiers who prefer to enjoy the train rather than the stress of the plane.
At last, State Railways of Thailand have dipped their toe in the water with online ticket sales. Starting 1 Feb 2009, 2nd class sleepers on a few key trains on a few key routes will be bookable online, with more to come once the system beds in. More details and any feedback will be posted on the Thailand page.
Cancellations in Australia affecting The Ghan & Indian Pacific...
The economic tourist downturn has prompted train operator Great Southern Railway to take the unprecedented step of cancelling many off-season departures of their Adelaide-Alice-Darwin 'Ghan' & Sydney-Adelaide-Perth 'Indian Pacific' trains, effectively reducing them from twice a week to just once a week in the off-season. Information is now posted for travellers on the Australia page. At the time of writing, this vital information is not even posted on GSR's own official website (which thus still maintains the fiction that the trains run twice a week all year round), nor have they apparently issued any press release.
January 2009
Ready for 2009...
I've now updated the site for 2009, and all Southampton-New York Queen May 2 sailing dates, Beijing-Hong Kong sleeper train running days, Venice Simplon Orient Express departure dates, Vladivostok-Japan ferry sailings and innumerable other vital details should all now reflect 2009 schedules. If you find something that I've missed, please let me know!
Daytime train travel to Europe...
Journeys such as London to Rome, Copenhagen, Stockholm or Vienna are simply too far to go in one day. Overnight sleepers are the traditional, time-effective way to reach these places, but some people prefer daytime train travel and would rather stop overnight in a hotel. I've now added daytime travel options with an overnight stop at a suitable location from the UK to key destinations in Italy, Austria, Switzerland, Denmark & Sweden.
Currency fluctuations...
With the pound going from £1=$2 to £1=$1.6 in a matter of weeks, and sliding from 1.40 euro to a ridiculous 1.1 euro, I've given up trying to keep pace with the latest currency fluctuations. Treat quoted exchange rates as a rough guide and use the link to xe.com to check the latest rates.
December 2008
European timetable change 14 December 2008
All European timetables changed on 14 December 2008, and Seat 61 has now been updated to reflect the new times. The biggest change affecting UK travellers is the revamp of the City Night Line sleeper trains between Paris & Berlin, Paris & Hamburg, Paris & Munich. Thanks to high track access charges levied by Belgian Railways, German Railways (who own & operate City Night Line sleeper trains) have diverted their Paris-Berlin service to avoid Belgium. UK travellers can no longer leave London after 18:00 and pick up the sleeper to Berlin in Brussels, they must leave London at 15:00 and travel via Paris. The sleeper to Hamburg sleeper is withdrawn completely, although Paris-Hamburg passengers can travel overnight Paris-Hanover and change at Hanover for Hamburg. That's a long way round from the UK, however! The Paris-Munich sleeper now runs combined with the Paris-Berlin sleeper as far as Mannheim, so it has to leave Paris earlier, necessitating a 15:00 departure from London rather than 17:35. In addition, as the economic situation bites, the Paris-Berlin & Paris-Munich sleeper trains will no longer run daily all year, but daily March-November and on 4 peak days a week outside that period. Not good news, and well done Belgian Railways, you've lost the revenue but probably saved nothing, so everybody loses! On the plus side, the Paris-Munich sleeper now makes an earlier connection in Munich for Zagreb, and a safe connection in each direction to/from Vienna & Budapest. It therefore becomes the most logical route for travellers from London or Paris to Istanbul or Athens, and the Turkey and Greece pages (as well as the Romania & Bulgaria pages) now show the route via the Paris-Munich sleeper as the recommended option.
Also affected are the Amsterdam-Munich & Amsterdam-Switzerland City Night Line sleepers, which also go down to 4 times a week outside the core March-November season. The Amsterdam-Cologne-Vienna/Milan sleeper becomes 3 times a week Amsterdam-Cologne-Vienna/Milan and 4 times a week Dortmund-Cologne-Vienna/Milan. At least it's still daily between Cologne & Vienna!
Unconnected with City Night Line, but also affected by the economic downturn, the Paris-Madrid trenhotel sleeper train which has run daily since 1981, drops it's Monday & Tuesday departures from Paris & Tues/Wed departures from Madrid until the busier season starts in March. A daily alternative is available, using sleeper train Paris to the Spanish frontier and a daytime high-speed train on to Madrid. This is now shown on the UK to Spain page.
November 2008
Seat61.com updating for European timetable change, 14 December...
All European railways change their timetables in mid-December and mid-June, and seat61 pages are now being updated on by one to reflect the new Dec 2008 to June 2009 timetable. Some internal train times within places such as Spain or Italy won't be fully updated until early December, so please bear with me and use online systems to double-check times if need be.
October 2008
Seat61 wins 'Best Travel Website' at the Guardian & Observer Travel Awards 2008
I travelled to Fes in Morocco last week (by train and ferry, naturally, allowing me to update that page of the site!) for the Guardian & Observer Travel Awards. I'm absolutely delighted that seat61.com has won the 'Best Travel Website' award for 2008. Eurostar was voted 'Best Train Company', too...
Channel Tunnel / Eurostar update:
With two-thirds of the northern rail tunnel back in action, Eurostar are running 93% of their normal service levels, but a revised timetable will apply from 1 October to 13 December (and possibly beyond this). All seat61 pages have now been updated to reflect the new Eurostar timetable. .
September 2008
Channel Tunnel damaged by fire:
Eurostar services will remain disrupted until 26 September, while the damage is repaired, see www.eurostar.com for the latest update. Normal service is expected from the beginning of October.
Ferry cutbacks...
Sadly, two ferry services bite the dust this September, victims of high fuel costs an budget airlines. DFDS withdraws it's ferry service between the UK and Norway, leaving no regular ferries at all between the UK and anywhere north of Denmark after hundreds of years of maritime links between these countries. Superfast withdraws its Rosyth-Zeebrugge service. In addition, Tallink has reduced the daily Germany-Helsinki service to 4 times a week. The Estonia & Finland pages have now been updated to reflect this, and recommend the daily London-Helsinki service taking just 2 nights via Copenhagen, Stockholm & Turku.
Re-routing of Paris-Berlin sleeper & withdrawal of Paris/Brussels-Hamburg sleeper, from Dec 2008
Allegedly due to unreasonably high haulage & infrastructure charges imposed by Belgian Railways (SNCB), German Railways is diverting it's Paris/Brussels-Berlin City Night Line sleeper via Mannheim from the timetable change on 14 December, and it will no longer serve Brussels. UK travellers will need to leave London slightly earlier and pick up the sleeper to Berlin in Paris, rather than late at night in Brussels (in some ways a nicer option!). The Paris/Brussels-Hamburg sleeper is being withdrawn, UK travellers will need to use daytime trains between London & Hamburg. So, well done to Belgian National Railways for torpedoing EU international links - Perhaps the EU should move to Cologne, rather than being stick at the end of a branch line in Brussels!
Sicily by ferry...
The options to travel from the UK to Sicily using an overnight cruise ferry from Genoa or Naples have been added to the Italy page, following an emailed suggestion.
August 2008
French Motorail, Calais to the South of France...
This is a painless way to get you, your family, your car and all your luggage from the UK down to the South of France. Following a recent trip, the Motorail page has been updated with information and photos showing what to expect, and how the service works. A new map shows European motorail routes and connecting ferry lines of interest to UK travellers.
UK to Corsica by train & ferry?...
Why not, it's a wonderful way to get there! Following a recent trip, improved information and pictures have been provided for this journey, see the UK-Corsica section on the France page.
Free WiFi at St Pancras International...
Eurostar have now installed free WiFi throughout St Pancras International station. You can now connect to the net free of charge with your laptop, in the departure lounge or anywhere else in the station, whether you're travelling first class or standard class. Full marks to Eurostar!
Railtours Ireland - Short breaks to Ireland, without flying...
At last, a company called Railtours Ireland (www.railtoursireland.com) has started offering short breaks to Dublin and key attractions all over Ireland, by train & ferry instead of flying. They offer tours departing London Euston station at 9am every weekday arriving Dublin around 6pm, with 2 nights hotel in Dublin. You can combine this with tours to the Giant's Causeway or Blarney Castle to kiss the Blarney stone, and much more. See the Ireland page.
Rail Europe now offering 'ticket on departure'...
Until recently, you couldn't book train travel to Europe at www.raileurope.co.uk if you were planning to leave in less than 7 days time, as there wasn't time to send out your tickets. However, you can now choose to collect tickets on departure, using the self-service machines at St Pancras in London, or (if your journey starts in France) from any main French station. This means you can book today and leave tomorrow if you like, a significant improvement.
June 2008
"The Man in Seat Sixty-One" book is published..!
I've written an essential handbook for train travel from the UK into Europe, based on this website, published by Bantam Press on 30 June. It's available now from Amazon.co.uk. I hope you like it!
New page: Rocky Mountaineer...
After a quick canter around the Canadian Rockies on the Rocky Mountaineer Fraser Discover, Kicking Horse & Whistler Mountaineer routes, I've put together a Rocky Mountaineer page to complete the Seat61 Canada page. I've also revamped the Canada page, with larger photos. The Rocky Mountaineer page is intended to complement the official Rocky Mountaineer site, helping you choose the best route, decide whether to travel Red Leaf or go for Gold Leaf Service, and understand what you're likely to see from the train.
New European timetable
The new June-December 2008 timetable brings very few real changes, except the surprise withdrawal of the Nice-Rome & Nice-Venice overnight sleeper trains, which have been in the timetable for over a century. Obviously, nothing is sacred! This is no high-speed route where faster daytime trains make sleepers obsolete - the alternative is a 10-hour daytime journey from Nice to Rome with a change of train. You clearly can't leave anything to the Italians...
Ferries disappearing...
More sad news is just in that both the Superfast Ferries Edinburgh-Zeebrugge and the DFDS Seaways Newcastle-Norway ferry services will close for good in September. This leaves no ferry from the UK to either Norway or Sweden, after over a hundred years. The alternative to Norway is now a round-about train journey via Brussels, Cologne and Copenhagen.
May 2008
Now train travel within these two popular European countries is covered, with step-by-step instructions on how to buy tickets cheaply direct from the relevant operator's website. Hopefully, Spain will follow...
April 2008
'The Man in Seat 61' book is on its way...
I've now written a book based on this site, which is due to be published by the Bantam Press on 30 June 2008. It's an essential handbook for train travel from the UK to Europe, with all the tips, resources, suggested routes, train times, how to buy tickets and approximate fares, but in convenient printed 'browse-in-your-armchair' form. You can pre-order it at Amazon.co.uk. A second book, this time on worldwide rail travel, is due out next year.
New online booking system at Rail Europe UK...
The team at Rail Europe (www.raileurope.co.uk) have been getting as fed up as you have with the unreliability and quirks of the French Railways (SNCF) online booking system. So they told SNCF (which happens to be their parent company) that they are breaking away and creating their own system. The new system went 'live' on Monday 21 April 2008, and it's now easier to use, more reliable, and more capable, booking more trains on more routes in more countries than the old SNCF system. It's a huge improvement, making European train travel much simpler to book for us Brits!
London to Dhaka overland, anyone...?
There have been several news articles lately about train travel from Europe to India or even Bangladesh, prompted by Calcutta-Dhaka trains resuming after 40 years and the planned completion later this year of the final gap in the rails between Bam and Zahedan in southeast Iran. It's true, if and when the Bam-Zahedan section is finally completed (it's been allegedly "under construction" for decades) the rails will indeed stretch all the way from St Pancras to Dhaka, with just a mile or two gap across the Bosphorus in Istanbul. Such a two- or three-week trip should not be undertaken lightly, as it will take a lot of D.I.Y. organisation with all the bureaucracy involved in getting an Iranian visa, and there are security concerns with bandit attacks in southeast Iran. But if you want to try it, see the new Europe-India overland page.
It's been asked for several times, so here it is, a page with information for train travel within Namibia on its 'StarLine' passenger trains and the tourist-orientated Desert Express, and for train/bus travel between Namibia and South Africa, Zimbabwe & Zambia.
Take your bike on Eurostar...
At last, from 7 April 2008 you'll be able to call Eurostar and pre-book one of their bicycle spaces on the same train as you from London to Paris, Lille or Brussels, for £20 each way. A major improvement over the previous two options, either dismantling your bike and putting it in a bike bag, or sending it as registered luggage when they won't guarantee it will be avaiolable for collection until 24 hours after you check it in! See the bicycle section on the Europe page.
January - March 2008
Half a million visitors....
January saw over 500,000 visitors to seat61 for the first time.
December 2007
Up the Jungfrau: Altitude 11,333 feet by train...
There's now a short section on Europe's highest railway, the famous Jungfraubahn up the North Face of the Eiger to the Jungfraujoch, just below the Jungfrau summit. See the new Jungfrau section on the Switzerland page.
Better photos & information for City Night Line sleeper trains...
A recent trip to Switzerland aboard the City Night Line 'Pegasus' has allowed me to improve the photos of the couchettes and double-decker sleeping cars used on all the City Night Line sleeper trains, not just on the Austria & Germany pages, but on the Czech Republic, Hungary, Romania, Denmark, Greece & Turkey pages.
New Eurostar through fares from 68 UK towns & cities...
You can now book through fares from 68 UK towns & cities to Paris, Lille or Brussels online at www.eurostar.com. This makes it both easier and cheaper to travel by train from outside London into Europe. And if your UK train arrives at Euston, Kings Cross or St Pancras, interchange with Eurostar is easy, you don't even need the Underground or bus or a taxi.
New timetable from 9 Dec 2007...
A new Europe-wide timetable was introduced on 9 December. A highlight is that a whole range of overnight trains from Germany to Prague, Copenhagen, Warsaw, Moscow & Vienna have been extended to start in Amsterdam. Amsterdam is now better connected to the rest of Europe by train than it has been in years. DB Nachtzug (German Railways sleeper trains) and CityNightLine (German-owned operator of international night trains crossing Germany) have merged and been re-branded as City Night Line. They offer amongst the best night trains in Europe, so this is good news indeed.
November 2007
Eurostar in big switch to St Pancras on 14 November...
The very last Eurostar left London's Waterloo station on 13 November. On 14 November, the new St Pancras International station opened, along with the final section of UK high-speed line that has shaved another 20 minutes off the London-Paris and London-Brussels journey times. Journey time to Paris are now as little as 2 hours 15 minutes, to Brussels just 1 hour 51 minutes. The Man in Seat Sixty-One was on board that first commercial Eurostar to Paris, the 12:30 on 14 November, naturally in seat 61 (car 8). Information about the move to St Pancras & new timetable on the Eurostar website.
Seat61 has now been updated to show the new Eurostar service from St Pancras, and photos showing the breathtaking new St Pancras International station now feature on the Eurostar page. Most European pages have also been updated to show the new Dec 2007 to July 2008 timetable, and remaining pages will updated shortly.
New through fares from UK towns & cities to Paris & Brussels...
At long last, Eurostar are arranging through fares from many UK towns & cities to Paris & Brussels, in conjunction with the UK train operators. From 14 November, these can be bought from Eurostar's telesales line on 0870 5 186 186 to buy these through tickets, but from December 2007 they should be available online at www.eurostar.com. Click here to see the range of UK places served by the new through tickets, and cheapest prices.
New Eurostar one-way fares...
One-way fares for Eurostar have always been a problem, with cheap returns starting at £59, but official one-way fares costing £155. At long last, Eurostar has introduced a trial £44 one-way fare, at least on a trial basis, for journeys from January until May 2008. Keeping up with the best dodges to get affordable one-way fares has been an effort!
Improved France page...
Travel broadens the mind, and it also means better information for seat61.com... A recent trip to Nice has allowed the France page to be updated, with better TGV information including illustrations of the impressive double-decker TGV Duplex, information about changing trains at Lille Europe, a better account of the TGV journey to the South of France, and info on extra destinations such as St Tropez, Villefranche sur Mer, Beaulieu sur Mer.
Amsterdam better connected from December...
Long-distance international trains to/from Amsterdam were cut back a year or two ago, but German Railways is bringing them back with a vengeance. DB will extend the Cologne-Vienna, Cologne-Prague, Cologne-Milan, Cologne-Copenhagen and even the Polish Cologne-Warsaw/Moscow sleeper trains to start/finish in Amsterdam, as from 9 December 2007.
Changes to German sleeper trains from December...
From the timetable change on 9 December, German Railways 'DB Nachtzug' sleeper trains and CityNightLine sleeper trains (in which DB is the major shareholder) will be combined under the brand 'City Night Line'. A key change to reservation arrangements is that it will no longer be possible for solo travellers to book individual berths in a 2 or 3 bed sleeper compartment and share with other passengers of the same sex. Solo passengers will only be able to book a single-bed sleeper, or trade down to couchettes (in which passengers will still be able to book berths in shared 4 & 6-berth compartments). This will include DB's international sleepers from Paris & Brussels to Hamburg & Berlin, and from Paris to Munich.
October 2007
New seat61 guestbook...
The original seat61 guestbook provider decided to withdraw its guestbook service, so I've switched to another provider. It hasn't been possible to transfer the existing guestbook entries, so it means starting a new guestbook from scratch. Thanks to everyone who has contributed over the last few years.
New destinations...
London to Santiago de Compostela, Vigo and A Coruña have been added to the Spain page. London to Ravenna and Modena have been added to the Italy page. If there are other key tourist destinations that you think could usefully be shown on seat61.com, let me know!
Christmas train bookings...
As usual, the normal 90 day advance booking period is squeezed to just two months before the timetable change on 9 December, just as people want to book trains for Christmas. Reservations for trains within France and from Paris to Spain, Switzerland and Italy for the period 9 December 2007 to 22 January 2008 should now open on 11 October. Bookings for this period within or via Germany should open on 1 November. Just remember that no-one else can book before bookings open, either!
September 2007
Improved and updated Italy page...
As the first benefit of running seat61 full-time, I've been able to hop on a train down to Italy for a quick trip to Florence, Siena and Rome. The London to Italy page has now been revised, with new photos and updated information about the 'Artesia' overnight trains from Paris to Italy, as much had changed since the original information was collated.
Seat61 goes full-time...
Having been run as a hobby, sandwiched between a day job and busy home life, seat61 became a full time job on 18 September. This should at last give me the time to keep the site properly updated, and expand it..!
August 2007
Over 405,000 visitors in July...
Another record broken!
New hotel booking system...
HotelsCombined.com searches all the major hotel booking websites, so you don't have to. Not only this, but at last there's a booking site that actually features many of my own favourite historic/atmospheric hotels, such as the Pera Palas in Istanbul, Windamere in Darjeeling, Continental Hotel in Saigon, Strand Hotel in Rangoon, Raffles in Singapore - although the Baron's Hotel in Aleppo has yet to be added! I've recently tried it out myself to arrange hotels in Italy, and I've been sufficiently impressed to add a hotel booking page.
July 2007
New: Seat61 Ferry Shop...
Seat61 now includes a Ferry Shop, where you can book almost any UK or European ferry route and operator, all in one place. Great for comparing operators, or finding out what ferry routes go where. However, Seat61 will continue to show the ferry operators' own website addresses, and you can book through either.
New page: Glacier Express, Switzerland's most scenic train ride...
The new Glacier Express page sets out all you need to know about Switzerland's most scenic train journey, with times, fares, photos and an account of the trip.
Train & ferry passengers increase as passengers switch from flights...
Eurostar have announced that the number of passengers travelling by train to destinations beyond Paris such as Perpignan, Bordeaux, Marseille and Nice increased by a staggering 39% in 2006, as people switched from flights. DFDS Seaways have just announced that ferry passengers from the UK to Norway, Denmark and the Netherlands are up 17% on last year, as people switch from flying. Virgin Trains have reported a 55% increase in train ticket sales between London & Glasgow in 2006/7, as air travel between those cities fell for the first time in years. Both environmental pressures and the sheer hassle and frustration of modern short-haul air travel seem to be driving this trend...
New Calcutta-Dhaka train service...
A trial run with officials has been completed successfully, and direct Calcutta-Dhaka train service is due to start in late August or September 2007. When known, details will be posted on the Bangladesh page.
June 2007
New Zealand page updated, extended and improved...
A trip to New Zealand in May has allowed a major update and expansion of the New Zealand page, with information on the superb train journeys between Auckland, Wellington, Christchurch and Greymouth, and bus connections to Dunedin, Invercargill and Queenstown.
New European Timetable from 9 June 2007...
European railway timetables change on 9 June. All the seat61 European pages are now being updated, please bear with me. A major change is the opening of TGV-Est, with new high speed trains between Paris and Strasbourg, Basel, Zurich, Luxembourg, Stuttgart, Munich and Frankfurt. A major downside is the withdrawal of the Paris-Vienna, Paris-Frankfurt and Paris-Zurich sleeper trains.
March 2007
New Tallinn-St Petersburg train...
The Tallinn-St Petersburg sleeper train was withdrawn in 2004, a victim of bus competition. But a new daily daytime train is due to start from 31 March 2007, with competitive timings and a fare of 350 kroons (£15).
February 2007
Seat61.com wins "Best Travel Website" in Wanderlust Travel Awards 2007...
The Man in Seat Sixty-One has been voted "Top Travel Website" by readers of Wanderlust Magazine in the prestigious Wanderlust Travel Awards 2007. I'm delighted that the site has been recognised in such a high-profile way, and am very grateful indeed for everyone who voted for the site. I'm also delighted that the results seem to show a remarkable shift in the way people are thinking about their travel. In last year's Wanderlust awards, four airlines featured in the list of top ten best travel websites. This year Seat61 is in first place, followed by the (in my opinion, at any rate!) attractive and imaginatively-written Eurostar.com in second place. Only one airline (Flybe.com) now makes it into the list, at number 10. Could the shape of travel really be changing towards more environmentally-sound and rewarding ways to go..? I hope so..!
Record 364,000 visitors to Seat61.com in January...
Easily a record, beating the previous best (267,000 in a month) by a huge margin. The most popular pages are (in descending order of popularity) the home page, London to Europe general information page, London to Italy page, UK travel page, Train travel in China page, Train Travel in Malaysia page, Train Travel in India page, Trans-Siberian page, Train Travel in Thailand page, London to Spain page, London to France page, London to the Netherlands page, London to Germany page.
Travelling to Europe from somewhere other than London?
The UK to Europe page now offers advice for buying special UK train tickets to connect with Eurostar if your journey starts from a UK town or city other than London. Special Saver fares to a destination called 'London International CIV' allow you to travel at the affordable Saver rate, with no time restrictions even on Monday-Friday mornings, if you're connecting with a Eurostar or rail+sea ticket via Harwich-Hoek. Other options are featured, such as direct cruise ferries from Plymouth, Poole or Portsmouth to France followed by a domestic French train to Paris, or using direct ferries from Scotland or the north of England to Europe, such as the overnight cruise ferries from Edinburgh to Zeebrugge, Hull to Rotterdam or Newcastle to Amsterdam.
Helsinki or Tallinn, anyone..?
The Finland and Estonia pages have been extended to show the option of travelling by Eurostar and sleeper train to Berlin, then via the direct Superfast Ferry from Rostock in northern Germany to Helsinki and Tallinn. The ferry has cabins, bars, restaurants, even a health club with sauna and jacuzzis. This non-flying thing is hell, isn't it..?
Eurostar goes from strength to strength...
Eurostar have announced that the punctuality of their London-Paris and London-Brussels trains reached an all-time high of 91.5% on time or within 15 minutes during 2006. This compares with typical performance of 70%-79% on time or within 15 minutes for competing short haul airlines. Eurostar carried 28% more passengers in 2006 than in the 12 months before the first section of UK high-speed line opened, and after the first 11 months of 2006 had cornered 69% of the London-Paris air/rail market. With Heathrow closed due to fog in December, this is likely to exceed 70% for the whole year. Eurostar are now looking at how to capitalise on the move to St Pancras in November 2007, when journey time will be cut to 2 hours flat, London to Paris. Better through booking from UK cities, and better through booking to destinations such as Amsterdam and Cologne are also being looked at. A London-Amsterdam journey time of 4 hours 10 minutes (city centre to city centre) is only a couple of years away. Eurostar now think that with airline security problems, extended check-ins and lower on-time performance, train can compete head-on with air travel for journeys of up to 4 hours or so. Eurostar have also announced their best ever skiing season, with bookings for the direct ski train to the Alps up 43%.
TGV Est opens June 2007...
The new TGV Est high-speed line will open on 10 June 2007, slashing Paris-Strasbourg journey time from 4 hours to just 2 hours. It will also slash Paris-Basel journey time from 5 hours to 3.5 hours, and Paris-Stuttgart to 3.5 hours too. Advance train times are now shown in the relevant sections on the London-Switzerland and London-Germany pages. Sadly, the new TGV services mean the demise of both the Paris-Vienna 'Orient Express' sleeper, the Paris-Frankfurt sleeper, and the Paris-Zurich-Chur sleeper.
January 2007
Seat 61 shortlisted for "Best Travel Website", Wanderlust Magazine Travel Awards...
Coming soon after winning 'Best Personal Contribution' in the Responsible Travel Awards 2006, Seat61.com has been shortlisted for the category of 'Best Travel Website' in the annual travel awards run by Wanderlust Magazine, based on votes by Wanderlust readers. The winner will be announced at The Times Travel Destinations Show, Earl's Court, London, on 1 February. Fingers crossed! I'm delighted the site has been shortlisted, and I'm very grateful to everyone who voted for seat61.
UK to Spain, by trainhotel...
A week in Spain allowed my wife and I (and 8 month old Nate) to sample Gran Classe on the excellent Trainhotel from Paris to Madrid. Gran Classe features 2-berth rooms with private shower and toilet, evening meal with wine and breakfast included, for a fare of £107 per person each way. There really is no better way to travel to Spain. The London to Spain page has now been updated with illustrations and information about train travel from the UK to Spain.
In our case, taking Eurostar and the trainhotel to Spain was not only more relaxing than flying, it was actually faster. On the day we left London, Heathrow was fogged in and all flights were cancelled. We reached Seville by train from London 6 minutes ahead of schedule and ahead of most air passengers, a modern day case of the tortoise and the hare. And we still have all our luggage!
December 2006
New timetables across Europe from 10 Dec 2006
Pages are now being updated for the new timetables starting on 10 December in all European countries. There are no major changes to report, though significant changes are expected at the next timetable change in June 2007, when the new TGV-Est high-speed line opens between Paris and Strasbourg. This will allow new high-speed services between Paris and Basel, Zurich, Stuttgart, Frankfurt & Munich. The downside is the planned withdrawal of the Orient Express Paris-Vienna sleeper train, and the Paris-Zurich-Chur sleeper train. 2007 could be the year when the name 'Orient Express' really does disappear from the timetables...
New seat61 'Rail Shop' to sell railpasses and world train travel...
Seat61 has teamed up with International Rail to provide the Seat61 RailShop, for easy online access to European railpasses and tickets, and railpasses for the USA, Canada, Australia, New Zealand and Japan. At present, there is only a UK-based railshop, but similar railshops for residents of North America and residents of Australia are planned.
Travel from London to Germany can now be booked online...
At last, the Eurostar website now allows online booking from London to Cologne. As the German Railways website already allows easy online booking of trains onwards from Cologne to any destination in Germany, it's suddenly become possible to book daytime trains from London to anywhere in Germany online. See the London to Germany page for details.
New routes and destinations for the London-France page...
The London to France page has been updated and improved, with train times added for London-Nice or London-Marseille via Paris, and for London to Limoges, Brive and Toulouse.
November 2006
Seat61 wins "Best personal contribution" in the Responsible Tourism Awards 2006...
I'm delighted (and still stunned) that seat61.com is this year's winner in the 'Best personal contribution' category in the First Choice Responsible Tourism Awards 2006, sponsored by ResponsibleTravel.com, The Times newspaper and Geographical Magazine. The winners were announced at the World Travel Market event at London's Excel exhibition centre on 8 November. Thank you to everyone who nominated seat61.com.
New webhosting provider...
Webhosting for Seat61 is now provided courtesy of Ultraspeed. Seat61 was switched to the new servers on 19 November, and the new hosting service should make the site more reliable. Some emails may not have got through during the changeover period, I apologise if you haven't had a response, please try again now.
October 2006
Seat61.com shortlisted for the First Choice Responsible Tourism Awards 2006...
This website has been shortlisted for an award in the First Choice Responsible Tourism Awards 2006, sponsored by First Choice holidays, The Times newspaper and Geographical magazine. The award ceremony will be held at the World Travel Market exhibition at Excel in London's docklands on 8 November. Fingers crossed..!
Shosholoza Meyl re-instate sleeping-cars to East London, Messina, Komatipoort...
In July, South Africa's Shosholoza Meyl passenger trains were split into two types. Some routes (Johannesburg to Cape Town, Durban & Port Elizabeth) got a Tourist class train with sleepers and restaurant plus a separate Economy class train with economy seats. Other routes (such as Johannesburg to East London, Komatipoort & Messina) just got an economy class train with seats, ending all civilised sleeper service to these destinations. It's good to report that Shosholoza Meyl have seen the error of their ways and will reinstate sleepers on these routes from 1 November 2006.
Major rescheduling of trains in Burma (Myanmar)
All mainline trains between Rangoon and Mandalay have been rescheduled to run by day rather than overnight as before. The new times are now shown on the Burma page, thanks to Sanay Travel of Rangoon. It's not clear whether this is permanent or temporary. It's also now been confirmed that the Thanlwin bridge is open to train traffic and the new Moulmein station is now open. Trains are now running direct Rangoon to Moulmein, previously the railway terminated at Moatama for a ferry across the river.
Irish Ferries & Stena Line reschedule Holyhead-Dublin ferries...
Irish Ferries has changed its sailing schedule between Holyhead and Dublin, and the London to Dublin timetable on the Ireland page has now been revised to reflect this. With Stena Line now offering only one 'HSS' service a day and none on Sundays, Irish Ferries is now easily the best choice to Dublin, and it now comes before Stena Line on that page with its Ulysses cruise ferry and Dublin Swift fast ferry both offering daily rail connected sailings. Stena Line has also made a 30 minute change to one of it's sailings.
Taftan Express Iran-Pakistan suspended...
You can travel all the way from London to Bombay by train, with just a short gap at Istanbul (where you cross the Bosphorus by ferry) and in Iran where there's still a gap in the rail network between Kerman and Zahedan. Unfortunately, it's been reported that the gap has just got bigger. The twice-monthly 'Taftan Express' from Zahedan in Iran to Quetta in Pakistan has been suspended because of repeated bomb attacks on the line. Buses remain available as an alternative.
September 2006
Web hosting problems...
I changed web hosts in August, switching seat61.com from shared hosting to a Virtual Personal Server with a UK IP address at interhost.co.uk. The good news is that Google now knows that seat61 is a UK site, so it shows up in searches for 'UK sites only'. The bad news is that I've had some downtime problems in the month since then, including an outage all afternoon on Sunday 24 September and the site going down for brief periods on several other occasions. I'm keeping an eye on the site and contacting InterHost.co.uk as soon as I see a problem, but please bear with me. If the site disappears, it won't be permanent, seat61 will be back as soon as I can get the problem sorted. If the problems persist, I will need to rehost again. Note that if the site goes down, my email goes down with it..!
Good news: The Auckland-Wellington "Overlander" reprieved at the eleventh hour...
New Zealand's "Overlander" train between Auckland and Wellington has been reprieved at the eleventh hour, within days of its intended closure. All train service between NZ's two most important cities was due to cease on 30 September 2006 with the withdrawal of this last remaining train. Such was public support that the service has been saved, albeit running 3 times a week in the off-season, daily during the Christmas, Easter and summer high-season periods. Details on the New Zealand page.
Photos of the wonderful new train journey to Tibet...
Many thanks to Keith Crane for allowing use of some excellent photos from his recent trip on the train to Lhasa.
DFDS Seaways closes Newcastle-Gothenburg ferry service...
Sadly, DFDS is closing down its long-standing Newcastle-Kristiansand-Gothenburg ferry service in early November. DFDS has bought Fjord Line's ship 'Fjord Norway' and will take over Fjord Line's Newcastle-Norway service, but this leaves Sweden with no direct ferries to and from the UK. This is a shame, it would have been far more sensible to have dropped the Fjord Line route and maintained a link with both Norway and Sweden, as Gothenburg is a far more convenient arrival point with direct trains to Stockholm every hour taking just 3 hours, for onwards ferries to Finland, Estonia and Latvia. Dumping passengers in Norway, a difficult train ride away from Stockholm and its onwards connections, is not helpful and it leaves a nasty hole in the 'non-flying' European transport network... The Sweden, Norway, Estonia, Latvia and Finland pages have been updated with news of the withdrawal, more information about alternative routes will be added in due course.
New page: Train travel in Taiwan...
The new seat61 Taiwan page has links for train information in Taiwan, and details of the ferry service connecting Taiwan with Japan. If you can help supply more information or photos to develop this page, please email me..!
Online booking for trains in Turkey...
Thanks to Philip Dyer-Perry whose Turkish is rather better than mine, the Train Travel in Turkey page now features step-by-step instructions for non-Turkish speakers to use the Turkish-language online booking system on the TCDD (Turkish Railways) website. Trains make a great way to get around Turkey cheaply and in comfort and enjoying the fabulous Turkish scenery at ground level, and it's now easy to book tickets online, too.
19,000 visitors in one day...
A new record for a single day was set on 4 September, following articles featuring seat61 in the Financial Times, Mail on Sunday, Italy's La Republica and an article written by Robert MacPherson syndicated in Yahoo and papers around the world.
August 2006
Over 267,000 visitors in August... Airport chaos...
A new record. Last month, China ousted Malaysia as the most popular page on the site after the home page, almost certainly driven by people looking for information on the new line to Tibet. This month, the London to Italy page went into the lead for the first time ever, probably driven by UK travellers eager to reach Italy in spite of the air travel chaos. On Thursday 10 August when the UK's airports virtually came to a standstill, seat61 received over 12,000 visitors against around 7,000 on a typical Thursday.
July 2006
TGV Est opening 2007... Withdrawal of the Orient Express...
The new TGV Est high speed line from Paris to Strasbourg opens next year. German ICE trains will link Paris and Frankfurt in just 3 hours 45, French TGVs will links Paris and Munich in about 4 hours 45. Two daily trains will link Paris & Zurich in 4 hours 45. On the down side, the Paris-Frankfurt sleeper train will cease, and so will the Paris-Vienna Orient Express, finally removing this famous name from the timetable after 120 years.
Bad news from New Zealand: No trains from Auckland to Wellington from 1 October 2006...
The Overlander from Auckland to Wellington is being withdrawn permanently on 30 September 2006. This follows the withdrawal of the overnight 'Northerner' last year, and it means that from 1 October 2006 there will be NO TRAINS AT ALL between Auckland & Wellington, the two most important cities in a supposedly developed country. Your only option is then to be strapped to a seat on a plane or stuck all day in a bus seat. Perhaps you should visit a more developed country instead, like Australia..!
New page: Nepal
A new Nepal page now shows information about train travel from London to Kathmandu, and overland train/bus travel from Delhi and Varanasi to Kathmandu. It's not a journey I've yet made myself, so feedback (or photos) from travellers would be very welcome..!
London-Amsterdam by train+ferry from January 2007...
It's reported that Stena Line will withdraw their Harwich-Hoek van Holland HSS fast ferry service from Jan 2007, as budget airlines have reduced the number of people taking their car abroad by ferry. However, they plan to upgrade their existing daytime and overnight conventional ship sailings (at present mainly used by cars & freight vehicles rather than foot passengers). It's not yet certain whether train+ferry tickets will continue on this route using the conventional ferries, but hopefully they will. Details will be shown on the Netherlands page as soon as they are confirmed.
Thanks to everyone who's helped...
Once again, a big thank you to everyone who's e-mailed me with updates, travellers' reports and extra information. It has really helped to keep the site updated for future travellers.
June 2006
New Railway to Tibet...
Passenger trains start running from Beijing to Lhasa in Tibet on 1 July 2006, over the world's highest railway. Fares start at just $102 for a hard class sleeper, though trains are booked solid already for the first few months. Details are now on the China page. A direct train from Guangzhou to Lhasa is now on the cards for October.
Seat61 in the papers: The Times, The Guardian
Short travel articles written by yours truly, The Man in Seat Sixty-One, are due to be published this month in both the Times and the Guardian travel sections... The Guardian article is the start of a monthly column.
261,000 visitors in May
A cool quarter million, and a new record.!
European timetable change, 28 May
All European pages are now updated for the May-December European timetable. Very few major changes have taken place, although the new Berlin Hauptbahnhof station has now opened as the main Berlin transport interchange, and all long distance trains now stop there.
Cape Town-Johannesburg by train...
The hitherto daily 'Trans-Karoo' from Cape Town to Johannesburg & Pretoria has been cut back to run Cape Town to Johannesburg only, and the sleepers will run only 4 times a week from July. But it's still a bargain, at £30-40 one way including sleeper..! On the positive side, South African railways have doubled the affordable deluxe 'Premier Classe' service from Cape Town to Johannesburg from once a week to twice a week. It is no longer attached to the Trans-Karoo, it now runs as a separate train in its own right, with increased passenger capacity and lower fares (from £137/$240 one way including meals). See the South Africa page and look for 'Premier Classe'.
May 2006
Updates....
April 2006
The Observer's Guide to Rail Travel, Sunday 9 April...
Watch out for 9 April edition of the Observer, which will feature a guide to rail travel to Europe written by yours truly, the Man in Seat Sixty-One...
243,000 visitors in March...
A new record, and it's still only March - perhaps over 2 million visitors in 2006? We'll see..! In the meantime, please keep your feedback coming, as up-to-date information from recent travellers really helps keep the site updated. I try to reply to all emails, but it can sometimes be difficult..!
March 2006
New page: Bangladesh
With basic train travel info for Bangladesh, including Dakha-Chittagong trains. Feedback from travellers to add to this page would be particularly welcome.
In the papers this month...
Seat61 featured in Lighter Life magazine, Adventure Travel Magazine and Cornucopia magazine this month. Also in 'Rail Travel' by Ginny McGrath in The Times Online, and on CNN Online in Ultimate train journeys - The Orient Express.
New page: Motorail
People often ask about 'motorail' car-carrying trains in Europe, so the information has been expanded and given its own page. A new weekly overnight motorail from Brussels to Bologna and Alessandria in Italy starts in June this year, which is bound to be popular.
January 2006
220,000 visitors in January...
Thanks for everyone's support - January 2006 has been the busiest month for the site yet. Please keep the feedback coming in - travellers' reports and suggestions help keep the site updated. I'd be glad to hear from you..!
New page: Laos
A new Laos page has been added, covering overland travel to Laos, including the rough but scenic Hanoi to Vientiane bus. Feedback from travellers to add to this page would be particularly welcome.
1.7 million visitors in 2005...
It's been the busiest year since the site started in 2001. The Malaysia page remains the most popular after the home page (with Singapore to Bangkok the train trip everyone wants to make, 1,200 miles in 48 hours for just £35/$50 with sleepers..!) , with the Rail Travel to Europe page next, then Thailand, Trans-Siberian, France, India, Italy, Netherlands, Spain and Russia.
December 2005
Timetable update...
European pages have now been updated for the new timetable that came into effect in all European countries on 11 December.
Syria and Jordan
A few extra photos have been added to the Syria and Jordan pages to show some of the sights that can be seen there.
November 2005
172,000 visitors in October...
A new record, up from 159,000 in September, but in a month where summer travel season should be over. Top page after the home page is Malaysia, then Thailand, France, India, Europe, Trans-Siberian, China, Italy, Netherlands, Spain, Australia... The least-visited pages are Botswana, Moldova, Andorra, Gibraltar, Malta and Iceland...
October 2005
New page: Sri Lanka
By popular demand, a page about train travel in Sri Lanka has been added. It features train times for the most popular Colombo-Kandy route and links to other sites for more information. Comments and help with developing this page would be very welcome.
New page: Pakistan
Also by popular demand, a page about train travel in Pakistan has been added, with basic information, train times for key routes.
Google Adsense...
I've added some Google-generated adverts to most pages on the site to help fund both site costs and to support the travelling that generates the information. The site remains a hobby, and I hope the ads aren't too obtrusive. This site has always been provided free to travellers to help and inspire their travels, and it will continue to be free.
September 2005
Improved page: London to Greece
It's easy to reach Greece without flying, in comfort by train and ferry in just 48 hours. My wife and I travelled to Greece this way for a friend's wedding in August, and the London to Greece page now has more info and photos to tell you how to plan and book this trip. A wonderful way to get there..!
Improved page: London to Istanbul
If you've ever wanted to travel from London to Istanbul by train, the London to Turkey page tells you how... I returned from Istanbul to London a few weeks ago, and I've now updated this page with the latest information and photos of what the journey is like. The new Romanian sleeping-cars running from Istanbul to Bucharest and from Bucharest to Budapest are excellent. They were bought second-hand from Germany, and they make this journey surprisingly comfortable. Just make sure you always book a sleeper for a journey like this, and not just a basic sit-up-all-night seat. The sleeper supplement is just 15 euros per person to share a 3-berth sleeper, so there's just no need to rough it..!
Improved page: Jordan
After a recent trip by train from London to Petra in Jordan and back, I've been able to revise the Jordan page, with practical info and photos for the wonderful Damascus-Amman train journey along part of the old Hedjaz Railway (as blown up by Lawrence of Arabia - the passenger coaches looked as if they HAD been blown up by Lawrence...). I've also added bus info Damascus-Amman (as these operate daily) and for Amman to Petra and Aqaba.
Improved page: Syria
The trip to Jordan again took me on the weekly 'Toros Express' from Istanbul to Aleppo, 868 miles for £29 including sleeper berth. I've updated information about the journey on the Syria page, with photos, and also improved information on the Aleppo-Damascus trains which are an excellent way to do this journey. Contrary to (uninformed) popular opinion, Syria is one of the safest and most interesting countries to visit, with some of the most hospitable people you will meet anywhere...
August 2005
158,000 visitors in August...
A new record... It's also becoming increasingly common for environmental reasons to be given as a reason by people researching train travel to Europe. Short haul flights are, after all, one of the most polluting forms of transport known to man, and they put the pollutants right where they can do most damage. Is this the start of a budget airline backlash..?
July 2005
New sleeper train Thessaloniki - Istanbul
From 8 July 2005, a new air-conditioned sleeper train started up between Istanbul and Thessaloniki. At just 48 euros per person sharing a modern 2-bed sleeper, it's a comfortable, time-effective travel option which saves you a night in a hotel, too. See the Train Travel In Turkey page, now updated from personal experience.
New page: Indonesia
Several correspondents have commented on the lack of a page on Indonesia... I've now added an Indonesia page, although it's still in development. If you can help with information or suggestions for this page, please let me know..!
June 2005
151,000 visitors in May...
May 2005
Larger text on all pages...
I've finally managed to revise the whole site with larger text in an easy-to-read font. Let me know if you like it ..!
London to Ireland by train+ferry:
- cheaper and simpler fares from 12 June 2005...
London to Dublin by train+ferry is now £24 one-way £48 return, valid any time, any day, except in July & August when it's £27 one-way, £54 return. These aren't limited-availability special offers: these are the regular flexible fares, with unlimited availability, you can buy them any time even on day of travel, and leave the return open if you like. And it's exactly the same price from any rail station in the South East, East Anglia, Devon and Cornwall, wherever. It's just a shame that EasyJet, Ryanair and even Eurolines are advertised everywhere, but these train+ferry fares are a well-kept secret..! Fares are available from ANY mainland UK station to ANY Irish station. See the London to Ireland page for times and fares. When comparing with air fares, remember to add £12 one-way or £24 return to the air fare to allow for the train ride from London to the airport..!
Cheaper ways to Warsaw, Moscow and Prague...
If budget airlines are good for anything, they're good at getting train operators to lower their fares to compete. Cheap fares on the sleeper trains from Brussels to Warsaw and Cologne to Prague (from just £28 one-way including couchette), and a new cheap deal (starting at just £69 return) from London to Cologne by Eurostar and connecting trains mean that train travel from London to Warsaw, Moscow and Prague has never been as affordable. London to Moscow, where there are few if any cheap flights, can now cost as little as £138 one-way including one night in a couchette and one night in a sleeper. London to Warsaw or Prague costs from £115 return including a couchette.
Romania & Serbia join the European reservation computer network...
Trains within (and starting in) Romania and Serbia can now be easily reserved from the UK via the computer systems used by UK European ticketing agencies. Previously, reservations could only be made when you got there. It's now easy to travel to Istanbul (for example) using a comfortable and secure sleeping-car all the way, as the Bucharest-Istanbul sleeper can now be reserved from the UK. Similarly, trains from Bucharest back to Budapest or Vienna, and from Belgrade back to Vienna or Munich, can now be booked from the UK.
Warsaw-Vilnius sleeper train withdrawn...
Sadly, from 29 May 2005 the Warsaw-Vilnius overnight sleeper will stop running indefinitely, the victim of bus competition and cutbacks by Polish Railways, who run the train. So much for them all joining the EU..! There remains a daytime service of connecting trains, and the Latvia and Lithuania page has been updated to reflect this.
The Man in Seat Sixty-One 'live' on air....
The Man in Seat Sixty-One was interviewed 'live' on the Charlie Jordan show on LBC Radio, London, on 15 May.
April 2005
Istanbul - Pamukkale sleeper train modernised...
In April, the 'Pamukkale Express' from Istanbul to Denizli was modernised, and given brand-new 'TVS 2000' air-conditioned sleeping-cars, couchette car, reclining pullman seats and restaurant car. This train is now the clean, comfortable and modern way to travel cheaply and time-effectively from Istanbul to see Pamukkale. Guidebooks directing travellers towards cramped and basic long distance buses had better wise up..! There are now photos of the sleeper on the Train Travel in Turkey page.
Cambridge University Railway Club - 29 April
I gave a talk about the creation of 'seat61.com' at Cambridge University Railway Club on 29 April 2005, at the Gordon Cameron Lecture Theatre, Fitzwilliam College. All are welcome - see www.cam.ac.uk/societies/curc/termcard.htm.
March 2005
125,000 visitors in March
Another record, with 125,500 visitors in March, 271,000 page views. The most popular pages remain (in descending order) the home page, Malaysia page, Europe - general information page, Trans-Siberian page, London-Italy, London-France, China, London-Netherlands, London-Spain, Thailand, railpass page, India, London-Germany, London-Russia, Vietnam, Egypt, UK travel, London-Ireland. The least popular page is Botswana..!
February 2005
Myanmar (Burma) page...
Following a recent visit, the Myanmar / Burma page has been completely revised, to make it what I hope is the most comprehensive guide on the internet to travelling around Burma by train and river steamer.
New page: Silk Route
The other route between Europe and China is now covered in a Silk Route page... Feedback is welcome, as the page will be developed further in the coming months.
January 2005
New page - South America
It's only a summary of train services in South America, but it fills a gap and will be expanded in due course.
Hong Kong - Hanoi
I've lost count of how many people have asked me about this journey - but with no obvious direct train service, it's always been a difficult one to answer. Details of what I think is the best option are now shown on the Vietnam page. If you know of a better route, let me know..!
December 2004
European timetable change - Dec 12th
The timetable changes throughout Europe on 12 December 2004. No major changes are expected except for a reorganisation of the night-trains to Italy, and some of these Paris-Italy changes have already been introduced in September. The pages on this site will be updated shortly. In the meantime, please use the current times as a guide and double-check exact departure times when you book.
Improved page: Andorra
New photos and information from a recent trip have meant a better account of the train and bus journey from London to Andorra.
November 2004
New page: Iceland
I've finally added another 'missing' page, this time for Iceland. The sea journey from the UK to Iceland isn't the shortest or easiest of routes, but it's quite possible, changing ships at the Shetland Island onto Smyril Line's weekly service en route from Denmark. Well, now you know...
October 2004
Still over 100,000 visitors a month, even in October...
Seat61 registered over 105,000 visitors in October, even beyond the end of the summer season. It seems that as trips from the UK to Europe reduce after the summer, people start planning their trips to SE Asia, India and so on...
New page: Moldova
By popular demand - well, following at least one email - I've added a page on Moldova, one of the few remaining countries in Europe not already covered by the site. Maybe an Iceland page will follow in due course..! I'd like to thank Pieter Beelen of the Netherlands for permission to use his photographs of the Bucharest-Chisinau sleeper train to illustrate this page.
Improvements...
The emails I get drive improvements to the site, so keep them coming. After a steady trickle of emails about getting to Langkawi Island in Malaysia, I've added a Langkawi paragraph to the Malaysia page with a link to the Langkawi ferry company. After regular emails about the ability to 'stop off' while making a Singapore to Bangkok or Hanoi to Saigon journey, I've made this clearer on the Malaysia and Vietnam pages. After several emails about how to book a table for dinner in the restaurant car of the Paris-Italy sleeper trains, I've added a line about this is the 'guide to onboard accommodation' on the Italy page.
September 2004
Korea - new page...
A new Korea page has been added, covering train travel within South Korea, sea travel between South Korea and both China and Japan, and train travel between North Korea, Moscow and Beijing. Thanks go to Shigeyuki Kaneko of Japan for advice and for photos of the new high-speed KTX from Seoul to Pusan.
Cuba - better photos and fares information...
Thanks to Gregory Moreton and Peter Jackson, the Cuba page now shows good photos of what the new 'Tren Frances' is like between Havana and Santiago. A range of fares from Havana to most main destinations is now shown.
July 2004
Over 100,000 visitors again in July...
Seat 61 had 103,946 visitors and over 223,000 page views in July. Most popular pages are (most popular first) the home page, Malaysia, Europe (general information page), France, Netherlands, Trans-Siberian, Italy, Thailand, Spain, Railpass page, UK travel, India, links page.
June 2004
Over 100,000 visitors for the first time...
Seat 61 had 100,828 visitors and over 211,000 page views in June, a new record.
European timetable change...
European timetables changed on 13 June. All pages have now been updated. The one major change was the extension of the Cologne-Warsaw-Moscow train to operate Brussels-Warsaw-Moscow. The London to Poland and London to Russia pages have been updated to show the new service.
Numerous improvements...
Numerous small improvements continue to be made, in many cases following your feedback, so keep it coming.
The Turkey page has now been separated into a London to Turkey page and a train travel in Turkey page, the latter now including timetables as the official Turkish website is now unfortunately in Turkish only.
The London to Ireland page has been improved and now includes more photos, more journey details, clearer timetables for London - Dublin services via Stena Line and via Irish Ferries, and a complete set of fares from any station in the UK to Dublin. The London to Northern Ireland page has also been improved with a full range of fares from any UK station to Belfast.
Numerous new links have been added, for example a link to the Hong Kong - Macau jetfoil operator on the China page, to a map of the new Bangkok metro on the Thailand page, and so on. Relevant suggestions are always welcome..!
April 2004
New page - Burma / Myanmar...
Although there are arguments for and against visiting Burma (which I won't attempt to tackle on this site), Burma has an extensive rail network yet no official national rail website. The new page has train times and approximate fares for the main routes.
March 2004
Another record...
'Seat61' clocked up 89,288 visitors and 209,164 page views in March, a new record.
BBC World...
The site made BBC World with a mention on 'Click Online' on 11th March. It was also mentioned in The Times on 13 March.
February 2004
As seen on TV...
Seat61.com made prime-time TV for the first time on 2 February when it was recommended on BBC TV 'Holiday 2004'.
January 2004
Record visitor numbers to seat61.com..!
In January 2004, over 61,000 visitors looked at over 144,000 pages on seat61.com, the highest numbers yet. The most popular pages (after the home page) were the Trans-Siberian page, Europe (general information) page, Malaysia page, Thailand page, Italy, France, Netherlands, India, Spain, Russia, Egypt, UK travel page, links page. The site was recommended in 'Rail' magazine, in 'ComputerActive' Magazine, and in the travel section of The Observer.
December 2003
New pages - Zambia & Botswana
New Botswana and Zambia pages have been added, showing national and (where relevant) international train services in those countries. If you have any further information that would improve these pages, or any suitable photographs to illustrate train travel in these countries, please drop me a line..!
European timetable change
A new European timetable starts on 14 December 2003, and most pages have now been updated to show the new times. The biggest change is that the overnight Brussels-Vienna train (which in one form or another has been in the timetable for over a century) has been withdrawn, as has the Brussels-Switzerland night train.
New sleeping-cars Brussels-Berlin and Brussels-Hamburg
On a positive note, brand new sleeping-cars have now been introduced on the Paris-Brussels-Berlin and Paris-Brussels-Hamburg night train. Three compartments in each of these sleeping-cars have en suite shower and toilet.
Improved page: Lithuania
Following a recent trip, new photographs and information have been added to the Lithuania page.
November 2003
Withdrawal of the Brussels-Munich-Vienna 'Donauwalzer'
A direct Brussels-Vienna sleeper train has existed for over a century, but this useful train (currently called the 'Donauwalzer') will be withdrawn as from 14 December 2003. It will still be possible to travel from London to Vienna with just one change, taking Eurostar to Paris then the Paris-Vienna 'Orient Express' (the real one, not the expensive tourist one). The Austria page now also includes times and fares for an alternative service with two changes (at Brussels and Cologne) using the excellent (and recently personally experienced) 'CityNightLine' hotel train from Cologne to Vienna.
Special fares from London to Hamburg, Berlin, Stuttgart, Munich...
I now have details of German Railways' special inclusive fares from London to Hamburg, Munich and Berlin using Eurostar plus a connecting overnight train from Paris or Brussels. These are a significantly cheaper than buying separate Eurostar and night train fares - London to Hamburg starts at £153 return including Eurostar to Brussels and a couchette on the night train from Brussels to Hamburg, London to Munich or Berlin starts at £159 return including a couchette. These fares are taken from a current German Railways Night Train leaflet, converted from Euros to at an estimated rate of exchange - actual fares charged in the UK may be slightly different from those shown, which are only intended as a guide. The special fares also make it cheaper to travel from London via Germany to Poland, Austria, Denmark, and so on.
Vilnius, Latvia...
A recent trip by train from London to Vilnius and back has allowed more detail to be added to the Latvia page. The overnight sleeper journey on the 'BALTI' from Warsaw to Vilnius was a very comfortable and pleasant way to reach Lithuania. Photos will be added shortly...
Online train times and fares for Japan...
The excellent Japanese 'hyperdia' website giving train times and fares for Japan has stopped providing this information in English. If anyone knows of a English-language replacement, please let me know..!
October 2003
London to Iran by train...
Thanks to Arjan Veersma of Amsterdam, the London to Iran page now has photographs illustrating the journey from Istanbul to Tehran on the Trans-Asia Express.
September 2003
Eurostar times from 28 September...
The first section of the new UK high speed line through Kent will open on 28 September. Journey time to Paris and Brussels will be cut by 20 minutes, to just 2 hours 40 minutes London-Paris and 2 hours 20 minutes London-Brussels. The times shown on this website have now been updated to show the new Eurostar timetable as from 28 September.
Sleeping-cars on France-Germany night trains
It's good to report that the night trains Paris-Brussels-Berlin, Paris-Brussels-Hamburg and Paris-Munich once again have comfortable sleeping-cars as well as the more basic couchettes. The sleeping-cars were temporarily withdrawn following a fire on a sleeping-car in December 2002. Brand-new sleepers, some compartments with en suite shower and WC, are due to enter service on these trains in October.
New timetables in Vietnam, Thailand, Kenya, Morocco...
New timetables have been introduced in these countries over the summer, and seat61 has now been updated. In Thailand, the 'International Express' has been speeded up and now arrives Bangkok at 09:55 instead of 12:10. In Morocco, Tangier sees a 50% increase in trains to the South, from 4 a day to 6, and there is now a fast air-conditioned 'rapide' every two hours on the main line Marrakech - Casablanca - Rabat - Meknes - Fez, making it easily one of the best train services in Africa.
Updated Kenya page...
The Kenya page has been updated with photographs and travel advice. Thanks go to David Pinney for providing the photos of the Nairobi-Mombassa train, both inside and out, and for useful tips on travelling with Kenya Railways. Unfortunately, it is now reported that the overnight Nairobi-Kisumu train may no longer run.
New Northern Ireland page...
Travel information for London to Belfast and Northern Ireland has been given its own page, separate from the main UK travel page. This should make it easier to find..!
July 2003
New pages: Kenya, Senegal & Mali
Neither the Senegal - Mali (Dakar-Bamako) or Kenya (Nairobi-Mombassa) railways have official websites, so a new Senegal & Mali and Kenya pages have been added. Admittedly only basic information is provided at the moment, and I can't add anything from personal experience, but I hope to add to the information available in due course. Feedback (and photos) from anyone who has travelled on these services would be very welcome.
June 2003
New European timetables from 15 June
The European railways changed their timetable on 15 June, and I have now updated most pages. There have been relatively few changes of any significance, although the withdrawal of the Cologne-Prague night train means a re-routing of UK-Prague passengers via either Frankfurt or Berlin.
May 2003
Online train times, fares & booking for UK trains
An online form for checking UK train times and fares and for booking UK train travel has been pout on the UK page, thanks to TheTrainline.com.
Irish fares...
The London to Ireland page has been improved, with much more information about fares to Ireland, both from London and other cities in the UK.
More improvements ...
Numerous pages have had extra photos added to illustrate the journeys, more links have been added, and missing fares information added here and there. Keep the feedback coming..!
March 2003
A new look for 'seat61'...
After two years, it was time for a bit of a make-over... I hope you like the new look, it should make the site easier to navigate, with the country-specific pages in the vertical menu, the site-related pages across the top. Let me know what you think!
The most wonderful train in Britain..?
Without a doubt, the best train journey in Britain is London to Fort William on the Caledonian Sleeper. Find out why in the new 'London to Scotland by overnight sleeper' section on the UK Travel page. The most civilised, romantic and time-effective way to travel from central London to the Highlands of Scotland..!
'Seat61' successfully re-hosted...
You may have noticed 'seat61' go off the air for a few days 22-24 March. My previous host could not cope with the bandwidth (the traffic caused by the sheer number of visitors to 'seat61') so I have had to move it to a new web-hosting company on a 'business' account that allows more bandwidth. It has taken some time, but they finally moved the domain name on 22 March. This meant that when you tapped in 'www.seat61.com' you saw the new host's server with no pages on it and got a strange message - the domain name was changed to point at the new server just as I went away for the weekend, but I have now uploaded my site to the new server. Thank you for your patience. Hopefully the new host will make 'seat61' both faster and more robust.
Eurostar cuts fares: London to Paris / Brussels £59 return...
Eurostar has made its promotional fare of £59 from London to Paris / Brussels permanent, making it the cheapest regular Eurostar fare. There is no advance booking deadline, so you can book the day before if you like, but book as early as you can because only a limited number of seats will be sold at this price. You must spend a Saturday night away. The long-established £79 'leisure apex' returns remain on sale with lots of seat availability, but they must be booked at least 14 days in advance.
UK to Spain by train...
It's easy to travel from London to Spain using Eurostar and the overnight 'trainhotels' from Paris to Madrid and Barcelona. Thanks to a recent long weekend to Madrid and Salamanca, I've been able to update the London to Spain page with more photos and details of what it's like to leave the cheapo flights brigade behind and take the civilised, overland 'trainhotel' to Spain... Oh yes, and the Rioja and the smoked salmon in the restaurant car aren't bad, either...
Buying train tickets for China
The UK agency www.chinarailtravel.com, which up till now has been recommended on seat61 for anyone who needs to make a Chinese rail reservation from outside China, has set up a special website specifically for people who want to buy Chinese rail tickets - www.china-train-ticket.com. Bookings will be handled by its Beijing office, and although tickets cannot be posted abroad, they can be delivered to your hotel so you can pick them up when you get to China. The main UK agency, Chinarailtravel.com, will concentrate on inclusive tours by train, and will no longer do rail-only bookings.
New timetable in Cuba
The Cuba page has been fully updated for 2003, and extra information added. Thanks go to Oscar Jalice of Miami for information on the new timetable now in operation in Cuba.
February 2003
New page - New Zealand
A gross omission has been resolved..! Information on train and ferry services in New Zealand can now be found on the new New Zealand page.
January 2003
Server problems...
You may have tried to access 'seat61' recently (around 14-16 January) and found that the site was unavailable - a blank page with 'access forbidden' came up. The high number of visitors which 'Seat61' is now getting has caused problems for my web host, leading to a fault. I am moving to a new host with greater capacity, but this is taking a little time. Please bear with me - if 'seat61' goes down again, rest assured it will be back as soon as I can sort out the problems.
Site map
To help you find your way round the site, I have now added a site map.
December 2002
European timetable change 16 December 2002
The site's European pages have now been updated to show the new timetables introduced by most European railways on 16 December, and running until June 2003.
November 2002
India
The 'Rail Travel in India' page has now been comprehensively updated with more information and illustrations about how to travel round India by train.
China
A new 'Rail Travel in China' page has been created to bring together the information about Chinese rail travel previously hidden away on the Trans-Siberian timetable page.
Egypt and Morocco
New timetables have been introduced in Morocco and Egypt, with a few significant changes. Both pages have now been updated with the new times.
October 2002
Ukraine & Russia
The Russia and Ukraine pages have both been thoroughly updated, with more information and photographs about travelling by train to and within Russia and Ukraine.
September 2002
Updates: Malaysia & Thailand
New timetables have been introduced in Thailand and Malaysia, and these pages have now been updated.
August 2002
Trans-Siberian picture gallery
To give you a better idea of what a journey on the Trans-Siberian Railway is like, a new picture gallery has been added with photos of what the trains are like inside and out, and the sort of scenery you are likely to see from the train.
Guestbook
The Seat61 guestbook has up until now been provided as a free service by BeSeen.com. BeSeen have now stopped providing this service, and I have had to find another guestbook provider. My new guestbook can be reached through the link on the home page, but until I can update all the other pages, the guestbook link may give you a 'page not found' error. Please bear with me, and use the home page guestbook link, until I can sort this problem out.
July 2002
Why not visit Albania..?
OK, so it's not everyone's first choice for a holiday destination. But Albania is well worth a visit, and it's now quite safe to visit (except for some border areas, and areas in the North), easy to get to and easy to get into - EU citizens don't even need a visa. Remember, this was the most mysterious country in Europe, almost completely closed to the outside world until the fall of its Stalinist government in 1991. See the newly updated Albania page for details of how to visit Albania, and what you might see there..!
www.seat61.com
'The Man in Seat Sixty-One' has now been successfully re-hosted, with room to expand further. The internet address is now www.seat61.com, and the old freespace.virgin.net/markgideon.smith/ address (phew, what a mouthful..) is now redundant. Please update your bookmarks if necessary.
Amtrak passes
You can now book Amtrak railpasses for the USA online using a direct link to RailChoice Ltd from the 'seat61' USA page. This is a great way to see the States at ground level, in comfort..!
The Orient Express...
The 'Orient Express' page has been updated. Learn the facts behind the hype about the world's most famous train..!
June 2002
Buying InterRail and Eurodomino online
As well as InterRail passes, you can now buy Eurodomino railpasses for individual countries online by clicking the button on the 'Rail passes' section of the Rail Travel to Europe page. This is provided in association with RailChoice.
June 16: European timetable change
Most European countries changed their timetables on 16 June 2002, and I have now updated all the European pages to reflect the changes. There are very few major changes: Eurostar times, especially at weekends, change slightly, the Cologne-Moscow sleeping-cars now leave Cologne one hour earlier on Saturdays and Sundays (but arrival time in Moscow is unchanged), and the Istanbul-Budapest through couchette car is attached to a later train from Bucharest to Budapest (which should make both it and the train it used to be attached to more punctual (!). Arrival in Budapest is now about 2 hours later)
May 2002
New page: Rail travel in Cuba
There's very poor little information currently available on the web about rail travel in Cuba. To try and resolve this, I've added a Cuba page, with basic train times and information.
New page: Rail travel in Japan
The journey from London to Japan has been covered by the 'Trans-Siberian' page for some time. However, whether you use the Trans-Siberian or fly, the Japanese rail system is the way to get around Japan. Rail travel in Japan now has its own Japan page, with links to online fares and train times. Let me know what you think..!
Taking your bicycle on the train to Europe
'How do I take my bike...?' is a question which crops up regularly. So I've improved the 'bicycles' section of the 'Rail travel to Europe' page. I hope you find it useful. Thanks go to my brother Julian (a keen cyclist) for explaining exactly what a 'bike bag' is, and for telling me (at some length, and on numerous occasions...) just how much of a pain it is to lug one across Paris on the Métro.
How to buy InterRail passes online
An agency called RailChoice can now sell you an InterRail pass online. InterRail passes are the famous Europe-wide railpass available to us European residents, both under and over 26 years of age. In conjunction with RailChoice, I've added a direct link to their online InterRail sales page. See the 'InterRail' section on the 'Rail travel to Europe' page for details of the types of InterRail pass available, what they cover, how to use them, and prices.
Timetable change in Europe 16 June 2002
Many European train timetables change on 16 June 2002. With one exception, no major changes are expected, and the suggested journeys shown on this website will not change much (if at all) after 16 June. However, please check your train times carefully if travelling after this date, as there may be small changes here and there, including to Eurostar times. The exception is Calais to Paris trains. All direct trains from Calais to Paris (other than TGVs) will be withdrawn from 16 June, and replaced by local trains between Calais and Boulogne, connecting with express trains between Boulogne and Paris. This will greatly affect the London to Paris rail-sea-rail service shown on the London to France page. I will revise the relevant timetables when I have details.
Cheaper fares in Vietnam
Vietnamese Railways have now abolished the practice of charging much higher fares to foreign visitors. This makes rail travel in Vietnam much cheaper. Sample fares at the new rates are now shown on the Vietnam page, thanks to information provided by Jon Hewson of www.wompom.ca.
April 2002
The Sunday Times...
'Seat 61' was featured in the 'Doors' internet section in the Culture Magazine of The Sunday Times on 7 April 2002. Thanks go to Matt Wall who wrote the article, Adam Hearn who organised the photoshoot at Waterloo International and photographer Mark Bourdillon. Two of the photos taken on that photoshoot now appear on the 'about me' page.
Booking European trains online
Rail Europe's online reservation system can be quite a good way to book rail travel from London to Italy or Spain. I've added links and instructions for booking the Paris-Italy night trains and the Paris-Spain 'trainhotels' to the 'Italy' and 'Spain' pages. I have not added these links to all European pages, as the system has some drawbacks for other destinations. For example, in the case of London to France, it doesn't hold information on the special inclusive through fares such as the special £115 return from London to Nice. For most journeys booking by telephone is still the best bet.
Rail Europe - now even easier to book European trains by phone
Rail Europe (www.raileurope.co.uk) have increased the opening hours for their telephone lines. You can now book rail travel from the UK to Europe from 08:00 to 21:00 on Mondays to Fridays, and from 09:00 to 18:00 on both Saturdays and Sundays. The telephone number is 0844 848 5 848.
Freedom Rail
A highly-recommended UK agency selling rail tickets to Europe, 'Freedom Rail' has regrettably now limited its sales to tickets for groups (5 people or more), but it will still sell railpasses or tickets for journeys wholly within Italy to individual travellers. The 'how to book' sections of this site have been amended to reflect this. Alternative agencies include the excellent Ffestiniog Travel, on 01766 512 340.
Russian & Trans-Siberian train times online at 'Seat 61'
6 April: Thanks to www.poezda.net, 'seat61' now offers online timetable enquiries for Russia and the ex-Soviet republics, including both domestic and international services via the Trans-Siberian Railway. The system can be found on the London to Russia and Trans-Siberian Timetable pages. I've also added details of a Russian agency, Svezhy Veter, who will book Russian trains for you for a small commission. I have no experience of using this agency myself, and feedback would be welcome.
February 2002
New page: Latvia & Lithuania
16 February: The new Latvia & Lithuania page fills a long-standing gap in the range of countries covered so far.
January 2002
New page: Egypt
20 January: A new 'Egypt' page has been added, to show both the rail & sea options from London to Egypt (sadly diminished with the demise of the Adriatica Line service from Venice, and the recent suspension of the Piraeus-Israel-Egypt ferry), and information about rail travel in Egypt.
Egyptian Railways does not appear to have a website, making this site one of the only sources of up to date Egyptian train times on the web (unless you know differently - if you do, please e-mail me, I'd be glad to hear from you!)
New page: Australia
13 January: By popular demand (it's one of the most common searches on my site...) I have added an Australia page. Although your chances of getting to Australia without flying are a little slim (unless you've £10,000 to and several months to spare, that is...) you certainly don't have to fly around Australia when you get there. This page shows you where the trains run, when they run and what they're like.
New page: Canada
9 January: Canada now has its own page, with more information about travelling across Canada from Toronto to Vancouver on 'The Canadian'.
United States:
7 January: The Trans-Atlantic page has been revised, with more information about travelling by train in the USA, an Amtrak route map, and extra photos.
Vietnam and Thailand: Booking trains from the UK
Details of two agencies with internet sites able to accept e-mail bookings for trains in Vietnam and Thailand respectively have been placed on the Vietnam and Thailand pages. These agencies might be very useful for anyone with limited time needing to be certain of a train booking before leaving the UK. I have not used these agencies myself, and would welcome feedback from anyone who has.
December 2001
New page: Zimbabwe
17 December: A new Zimbabwe page provides information on the excellent trains between Bulawayo and Victoria Falls, and between Bulawayo and Harare. It also describes the overland options for travel between South Africa and Zimbabwe.
New page: South Africa
15 December: A new South Africa page provides information about rail travel in South Africa, about the famous 'Blue Train' between Cape Town and Pretoria, and about shipping companies offering sailings between South Africa and the UK.
October 2001
New page: Travel within the UK
20 October: The new UK travel page explains how to find out train times and fares for the UK, and how to travel by rail and sea from London to Northern Ireland, the Channel Islands and the Isle of Man.
September 2001
30 September timetable change:
Most European railways changed their timetables with effect from 30 September 2001. The European train times shown on this website are now valid from 30 September 2001 until 15 June 2002.
New page: London to the Ukraine
30 September: A new London to the Ukraine page has been added, setting out the options for comfortable rail travel from London to Kiev.
New page: London to Estonia
29 September: A new London to Estonia page has been added, setting out the options for comfortable surface travel from London to Tallinn.
New page: Rail travel in Malaysia / Singapore
22 September: A 'Rail travel in Malaysia & Singapore' page has been added. Although the new page mentions the possibility of overland travel from London to Singapore via the Trans-Siberian Railway, it is primarily designed for people who want to use the trains to travel around Malaysia, and from Singapore to Malaysia and Thailand. Includes a brief look at the Raffles Hotel..!
New page: Rail travel in Thailand
16 September: A 'Rail Travel in Thailand' page has been added. Like the new Malaysia page, the new page mentions overland travel from London to Thailand, but is primarily designed for people who want to use the trains to travel round this fascinating country. The page includes information on rail travel between Bangkok, Malaysia and Singapore, and has a section on the famous 'Bridge over the River Kwai'.
12 September: The London to Switzerland page has been updated, with more destinations added, including Davos and Klosters. Details of the rail service between London and Kiev (capital of the Ukraine) have been added to the London to Russia page. News just in is that the Toros Express from Istanbul to Aleppo and Damascus has been further improved, and now includes a proper sleeping-car all the way from the Bosphorus to Syria (so make that overland trip to the middle east now..!). Thanks to Gokce Aydin of Turkey - Seat 61's man on the spot - for confirming this information.
August 2001
20 August: I've added a link to the official RATP (Parisian transport) site on the France, Italy, and Spain pages and the 'useful links' page, to help people cross Paris by bus or metro. The RATP site has a good quality map of the Paris Metro and Parisian bus routes. I am also indebted to Ulf of Germany for an update on visa requirements for Belarus, now needed by travellers to Moscow. This information has been added to the 'Russia' page.
New page: Rail travel in Vietnam
19 August: A 'Rail travel in Vietnam' page has now been added. Although it's possible to reach Vietnam overland from London via the Trans-Siberian Railway, this page is also designed for people who are flying to Vietnam, but who want to use the trains to travel around. A 'Thailand' and a 'Malaysia/Singapore' page will follow in due course.
The 'trainhotels' from Paris to Madrid & Barcelona...
17 August: With permission from Patentes Talgo SA (the manufacturers of Talgo rolling stock), photos of the accommodation on board the Paris-Madrid and Paris-Barcelona 'TrainHotels' are now shown on the London to Spain page. In spite of having travelled on these excellent overnight trains half a dozen times, I found I had no photos of my own for the site...!
Chinese connections...
14 August: Once you've reached Beijing all the way from London via the Trans-Siberian Railway, you may well want onward connections for, say, Xian (Terracotta Warriors), Shanghai, or Hong Kong. Details of principal trains from Beijing to these destinations are now shown on the Trans-Siberian timetable page.
New 'search the site' facility...
12 August: I've added a site search facility, thanks to Atomz.com, so you can quickly search the site for the destination you're interested in, or indeed for any key words or phrases.
More links...
8 August: Links to the websites for Brittany Ferries, P&O Ferries, Irish Ferries, Superfast Ferries (Italy-Greece) and Hellenic Mediterranean Lines (Italy-Greece, free for InterRail card holders) have been added to the 'Useful Links' page.
More destinations..
8 August: An entry for Pompeii, Sorrento, Capri & Amalfi has been added to the London to Italy page. An entry for Le Mans, Angers, Nantes and Rennes (with just one change from Eurostar to a fast TGV at Lille - no need to cross Paris) has been added to the London to France page.
July 2001
Israel & Cyprus
28 July: I have improved both the London to Israel and London to Cyprus pages, to give a better idea of how to make these journeys. Setting aside the current security situation, it's perfectly possible to take just three weeks off work, travel to Israel and back by rail and sea, spending 8 days in Israel and seeing Paris, Venice and Athens on the way. It can all be booked from the UK, and no airliner is required!
New page: India
22 July: I have been asked several times about overland travel to India. I've now added a page briefly outlining the route, although the Foreign Office currently warn against visiting Southern Iran towards the Pakistan border because of security problems.
However, even if you fly to India, one of the best ways to see it is by train using an IndRail pass. The new India page explains the types of IndRail pass available, tells you how and where to book your pass in the UK (a wonderful family-run agency called S D Enterprises in Wembley), and tells you a bit about Indian train travel. Let me know if it's useful..!
Bicycles
17 July: By popular demand, the 'Rail travel to Europe' general information page now includes a section on how to take your bicycle to Europe by train.
European Motorail
Also by popular demand, the 'Rail Travel to Europe' page includes a very brief summary of Motorail services from Calais and Belgium to the South of France, Austria and Italy, with information on how to book and links to key Motorail agencies.
Trans-Atlantic sailing timetable
Southampton-New York sailing dates 2001/2002 have now been added to the USA/Canada page.
June 2001
Country information
30 June: The country information panels have been redesigned, and information panels added to pages that lacked them, to show time zone, currency, tourist office website and other useful information for each country.
Tourist information
27 June: Links to national tourist office websites have been added to many country pages, although some are still to be done.
New European Summer Timetable
14 June: Pages have now been updated to reflect the European Summer 2001 timetable, which is valid until September 29.
Booking information
9 June: Although information on how to book European rail travel is included in my 'London to Europe' page, it is easy to miss, and I have often been asked about who to call to book trains to Europe. I have now included a 'How to make a booking' link on most European country pages. The link brings up a pop-up window with details about European rail travel agencies.
London to Italy
4 June: The fare you've all been waiting for has now been added to the 'London to Italy' page: The cost of taking your loved one to Pisa, Rome, Verona or Venice in the 'suite matrimoniale' of the de luxe 'Excelsior' sleeping-car, complete with double bed, TV/video, en suite toilet and shower, complimentary welcome drink of champagne, and light breakfast... No, I'm not going to tell you what it is here, you'll just have to look it up on the Italy page...
London to Ireland
4 June: At last, I have finally got around to adding times and fares from London to Dublin, via train to Holyhead and 'HSS', via train to Holyhead and Irish Ferries, and by overnight ship Liverpool-Dublin.
London to France, London to Monaco Monte Carlo
1 June: If you're thinking about travelling overnight to the South of France, you can now see what French couchette accommodation looks like.
London to Sicily
1 June: Photos of the 'InterCity' trains from Rome to Sicily added. Fares Rome-Sicily added on 4 June.
May 2001
London to Luxembourg
28 May: More comprehensive timetables added for London to Luxembourg.
London to Germany
27 May: More comprehensive timetables added for London to Cologne, Bonn, Koblenz, Mainz & Frankfurt.
London to France
26 May: Feedback suggests (not surprisingly, I suppose...) that France is a key destination from the UK. The 'London to France' page has been improved and updated with more comprehensive timetable information on train travel to Marseille, Toulon, Bordeaux, Lyon, Biarritz, Perpignan, Nimes, Montpellier, Avignon and others.
London to Italy
25 May: The 'London to Italy' page now includes an illustrated guide to travelling on the Paris-Italy night sleepers, including the new 'Excelsior' de luxe sleeping cars and the new air-conditioned 'Comfort' couchettes. Train times have been updated for the new Summer timetable from 10 June 2001. I can personally vouch for the effectiveness of the 'Excelsior' en suite showers!
New page: London to Iran
24 May: With the reinstatement in March this year of a direct weekly train from Istanbul to Tehran in Iran, a 'London to Iran' page has been added to the site.
London to Malta
23 May: The 'London to Malta' page has been improved and updated, with a photo or two, in the light of recent personal experience. Details of the weekly year-round Grimaldi Ferries service from Salerno to Valletta (which has been missed out by the Thomas Cook European Timetable) have been added.
London to Greece
23 May: A few improvements have been made to this page. Blue Star Ferries now sail earlier (17:00) from Brindisi to Patras, making rail connections difficult. I have changed the recommended service to that of Hellenic Mediterranean Lines (who offer a more sensible departure time later in the evening), but please check times when you book.
London to India
I have had several enquiries about the possibility of overland travel to India. Although the journey is by no means straightforward, I hope to add a 'London to India' page in the near future, outlining the options. Any feedback from anyone who has travelled on the London-Istanbul-Tehran-Kerman-Zahedan-Quetta route in the recent past would be very welcome. There remain a few problems on this route, including the need for an independent tourist visa for Iran, and the odd Kurdish rebel in parts of Eastern Turkey(!).
---